Hi, I'm Crystal!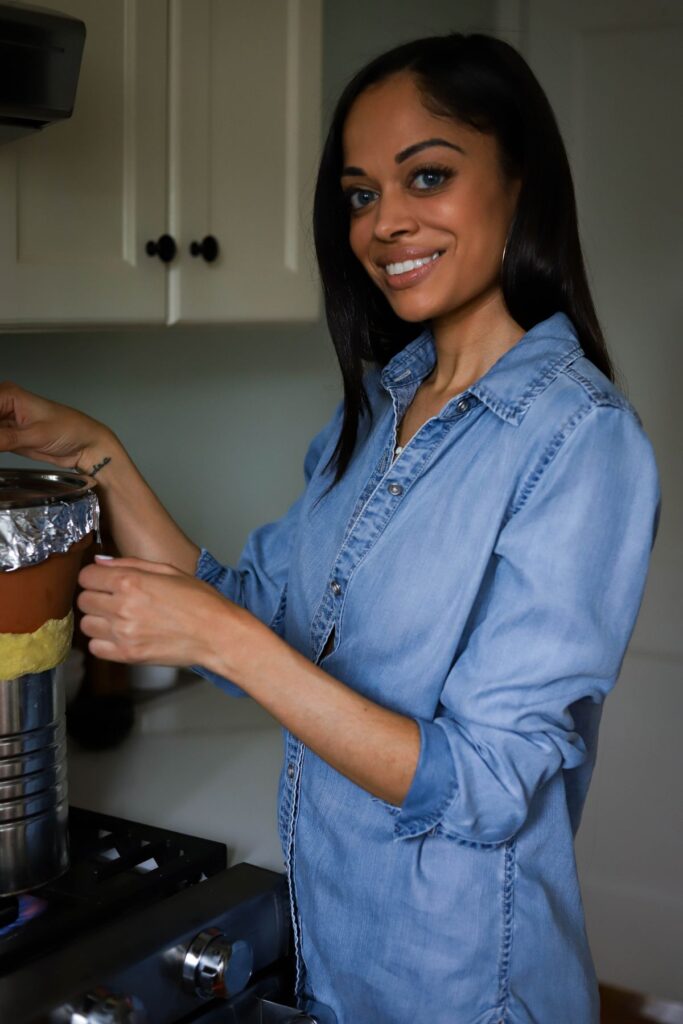 I was born in raised in Providence, Rhode Island to a large immigrant family from São Nicolau, Cape Verde. I've always been a foodie with a passion for island-inspired and global cuisine!
I started Crumb-Snatched as a blog centered around Cape Verdean recipes, but now I share recipes from other cultures like mine, who may not be at the forefront of the food space.
It's time we expand the meaning of comfort food!
It started back when
I developed a love for my culture from a young age and learned to speak Crioulo fluently at home. My father worked long hours so I was always by my grandmother's side. I was her little translator at the grocery store and she taught me everything I know about Cape Verdean food.
"I'm bringing Cape Verdean and global-inspired comfort food to the table!"
I grew up Cape Verdean but I also lived in proximity to other Africans and people from Portugal, Latin America and the Caribbean who ate similar foods. I fell in love with these dishes and started making them at home. The rest is history!
What you'll love about my blog
Each of my recipes include step by step photos and a detailed recipe card that lists ingredients, measurements and clear instructions. In some cultures, recipes are passed down by word of mouth and formal measuring doesn't exist which makes it hard for us to learn and keep these traditions alive!
I also includes tips for finding ethnic ingredients!
There's a full recipe index that displays all of my recipes sorted by cuisine, course or by season.
A weekly email series highlighting new and seasonal recipes!
More about Crumb-Snatched
Where does the name Crumb-Snatched come from?
When I picked a name for my blog, I had not yet decided on a direction. I was still a new mom, wanted the blog have something to do with food and was putting everyone and everything before myself. The name seemed appropriate and it stuck!
What cuisines do you highlight and are your recipes authentic?
Basically a little bit of everything but mainly dishes from Cape Verde, Portugal, the Caribbean, Latin America and soul food/Southern cuisine. Heavy on the African-influence.
I don't guarantee any of my recipes to be 100% authentic because there are so many adaptations across cultures. I try to make note of variations across cultures or adjustments that I've made to suit my own tastes.
Do you have any healthy or vegan recipes?
Not gonna lie, I don't specialize in healthy or vegan recipes, but I do provide healthy tips and substitutions where I can. You'll also notice that I don't use many processed ingredients. Aside from the occasional packet of sazón, box of pasta or Jiffy mix, I like to keep my readers away from processed foods!
Why are some dishes listed under multiple types of cuisine?
You're going to see a lot of dishes repeated under different categories. This is because dishes can overlap across cultures. For example, a lot of the same foods are eaten in Cape Verde, Brazil and other parts of Latin America. In cases like this, I'll include both names in the post and title it with the name that's searched for most.
Do you have plans to release a cookbook?
Short answer is yes, but the timing and details are still being determined. My top-priority for right now is growing the blog. Once I get through this season in my business I'll start working on that cookbook!
Crystal's favorite recipes:
Find me on Instagram, or join my community of readers in my Facebook group! I love connecting with readers and seeing them re-create my recipes!