Cachupa is Cape Verde's national dish. It's a rich stew of hominy, beans, seasoned meats and vegetables. Every family has their own version, and even within families, there are different variations.
Interested in learning to make other Cape Verdean dishes? Make sure to check out this list of 25 Cape Verdean foods! Each dish has a link to the recipe!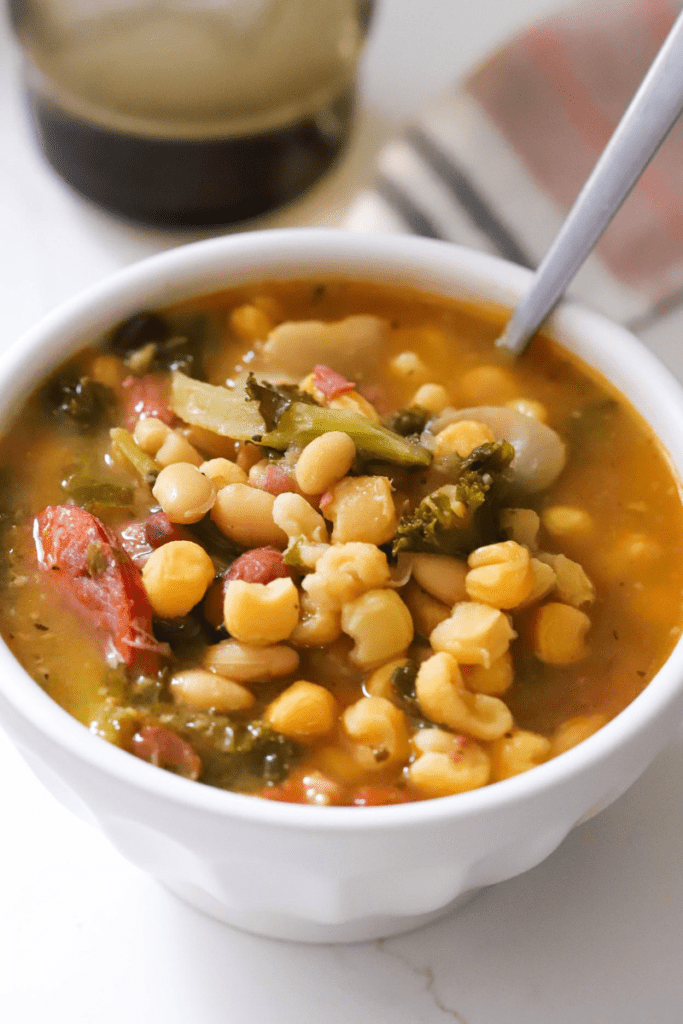 Normally, we make enough cachupa to feed an army. It can be tricky to scale that amount down if you live in a small household though. When I first started making cachupa on my own, I lived by myself and I really struggled to make just enough to fit in an 8 quart stockpot. The first few times, my pot was nearly overflowing!
This recipe is scaled down enough to feed about 8 people. I know that still seems like a lot, but it's nothing compared to the industrial-sized pot that my grandmother, Mamá makes. Cachupa takes a long time to cook! Like 4-5 hours long! It just doesn't make sense to spend all that time on a dish where everyone only gets one helping each. Plus you'll want to have some leftover to fry for breakfast the next day (we call this "cachupa guisod").
A few words about my family
Mamá and my dad are cachupa purists, and stern critics. You best believe I got sign-off from them before I published this post! If my recipe didn't measure up, I would have went straight back to the test kitchen. All three of us have our own versions that resemble each other's pretty closely.
My version resembles Mamá's more, since she uses whole kernels of hominy, and doesn't put potatoes in hers. My dad is less picky and will use either whole kernels or samp (cracked hominy). Potatoes are ok with him too. The more vegetables for him, the better. I don't have a huge pot, so the fewer ingredients for me, the better.
Cachupa vs. Munchupa
This topic is so controversial that I initially promised myself that I would wouldn't touch it with a 10 foot pole. But I changed my mind, because it's healthy discourse, and if you landed on my site, you could have been searching for either. This is a safe place, I promise!
Cachupa vs. munchupa seems to be generational debate. In my family, we exclusively call it cachupa. In Cape Verde, cachupa is the only name that is used, regardless of which island you're on. People who were raised in Cape Verde (and many 1st generation-ers) sometimes cringe when they hear the word munchupa.
On the other side of the debate, some Cape Verdeans whose families have been in the U.S. for generations, say munchupa. That's the name of the dish that's been used in their families for generations.
Regardless of whether you're Team Cachupa or Team Munchupa, most people have a strong attachment to their chosen name, and a very strong stance on which name is correct. I am firm in my own stance, but at the end of the day I respect people's family traditions. My advice? Call it what you want and get on with your life. Problem solved!
Cachupa: Main Ingredients
Here's a quick look at the main ingredients grouped by category:
Meat
While there are versions of cachupa in Cape Verde that are meatless, or that use fish, meat is usually a staple in cachupa. I use meat because it's rich in flavor. Some people go heavy on the meat, I don't, but feel free to use more or less depending on your preference.
Corned beef, salt pork and chouriço are the 3 types of meat that I use, and they're all seasoned the night before. Pork ribs are also commonly used, although I don't use them in my recipe.
I recommend trimming and discarding the fat from the corned -beef before seasoning it. Cut the salt pork in large chunks and leave the fat attached for flavor. It will come off during the cooking process and can be fished out easily. I discard the fat right before I add the vegetables to the pot.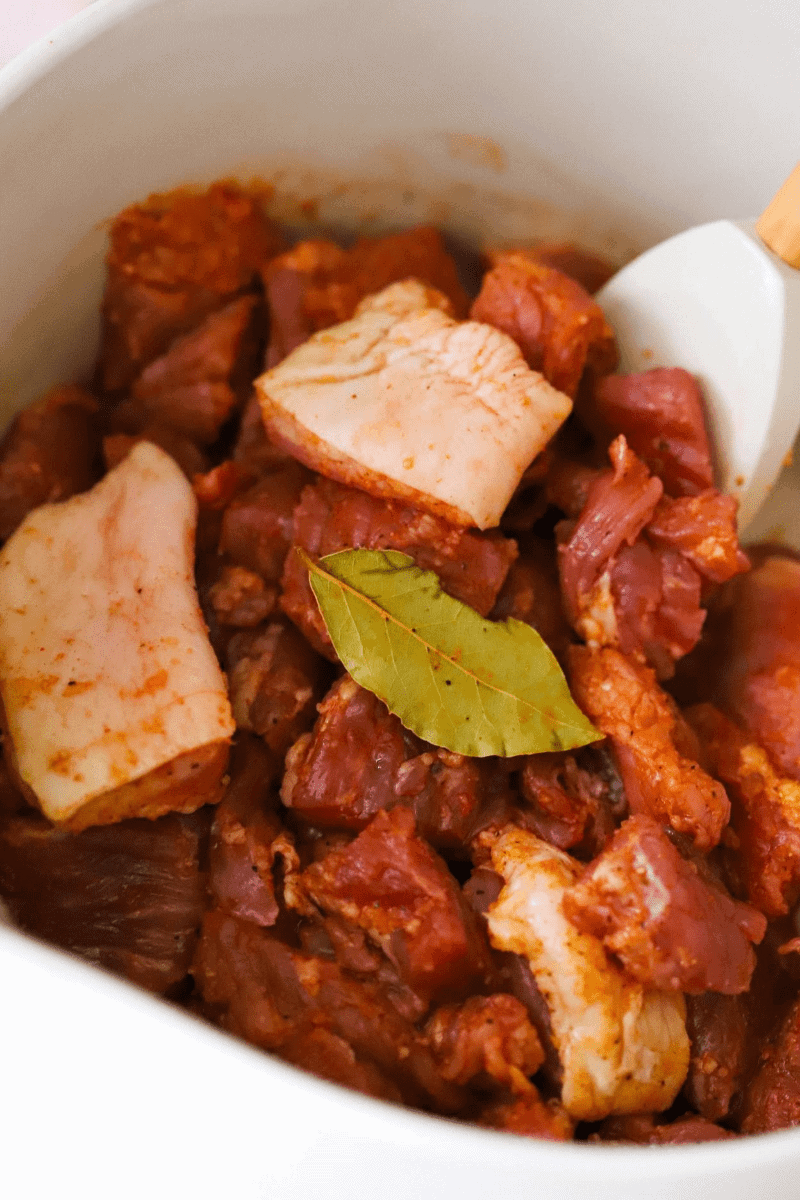 Hominy and beans
Cachupa is a corn and legume-heavy dish. Hominy (dried corn) is the main ingredient and beans always accompany the corn. I use a combination of dried cranberry beans, feijão pedra (translates to "rock beans", and white lima beans. I use whole kernels of hominy (shown in both photos below), but samp, which is the cracked version of dried hominy can also be used. Growing up, my family always used samp to make cachupa but Mamá started using the whole kernels once Cape Verdean ingredients became more widely-available in the U.S.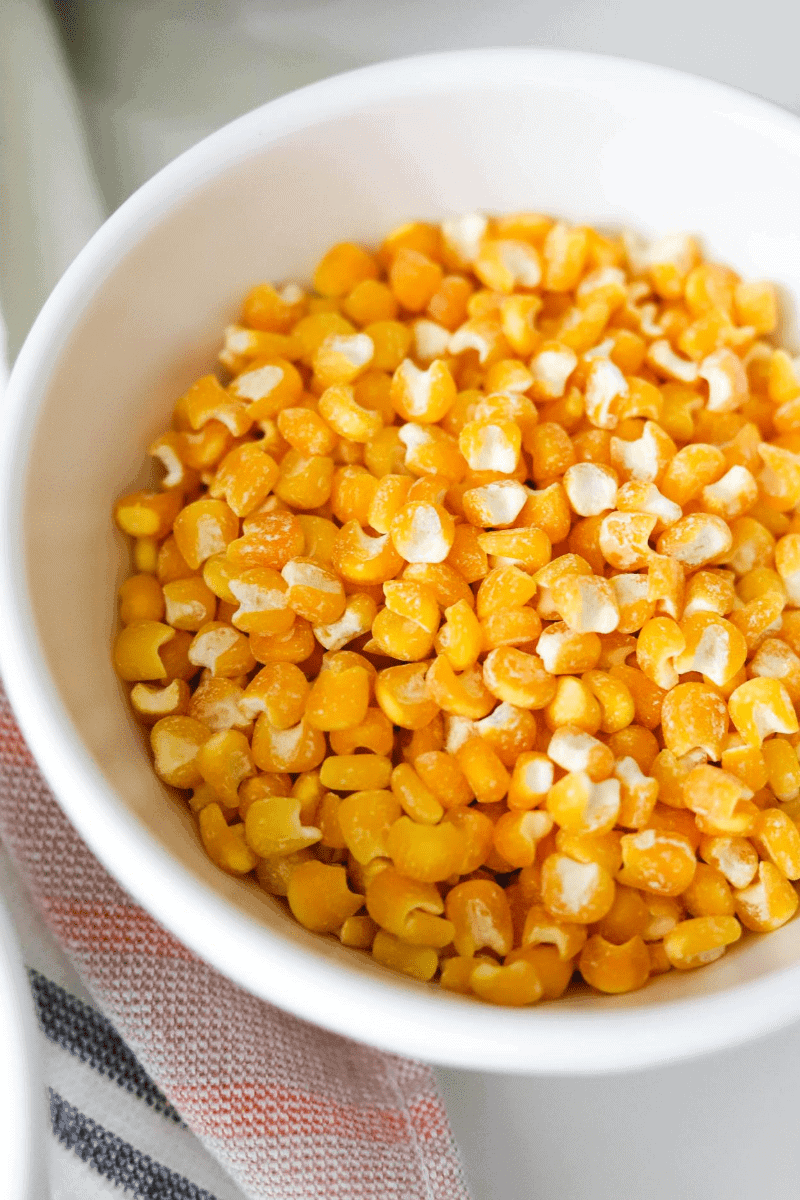 Using dried beans is a must, because the starch that comes off of the beans while cooking helps to thicken the stew. Cachupa is intended to simmer for a long period of time and canned beans won't hold up in this dish.
If you have a hard time finding feijão pedra (rock beans), a good substitute is navy beans. Pink beans (frijoles rosados), or small red kidney beans are good substitutes for cranberry beans if need be. You shouldn't have much difficulty finding the fava beans (aka large white lima beans), but during a pandemic, anything is possible! If worst comes to worst, you can skip the fava beans altogether.
Vegetables
Root vegetables are used cachupa, since they're a staple in Cape Verde. I personally use yuca, but sweet potatoes, squash, and carrots are all good additions and are often used in combination with each other. I only have an 8 gallon stock-pot, so I don't add too many root vegetables. One medium-sized mandioca (yuca) is all that is needed for me.
I cut the mandioca into 1 and ½ inch rounds and then cut the rounds in half, remove the peel and then cut each half round into 2 (I hope that makes sense!). Mandioca is a hard vegetable to cut through so make sure to use a sharp knife and safely apply pressure. Use a wooden cutting board! The peeling shouldn't be too hard once you've cut the rounds in half. There's a faint line where the skin meets the flesh of the yuca. Place the knife under the skin to loosen it from the flesh.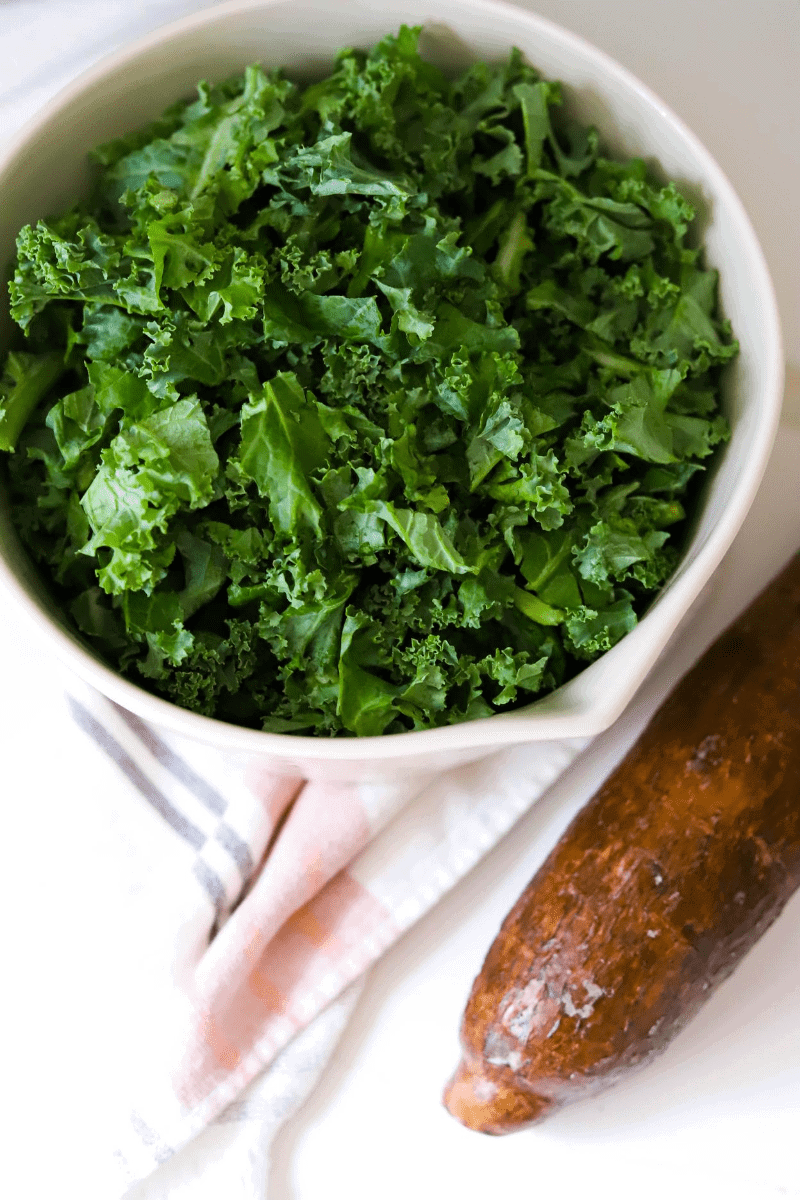 Greens also give cachupa great flavor! Collard greens are by my far my favorite and what I recommend. Kale is also a good option and is what is pictured below. I didn't have collard greens on the day that I shot these photos. Cabbage is another tasty option. If someone tells you that people don't put cabbage in cachupa, you can kindly let them know that's false.
Spices and seasonings
The great news is that you don't need to run out and buy any special seasonings for this dish. Crushed garlic, yellow onions, smoked paprika, a bay leaf, salt, pepper and a bouillon cube or 2, are all you need for this recipe.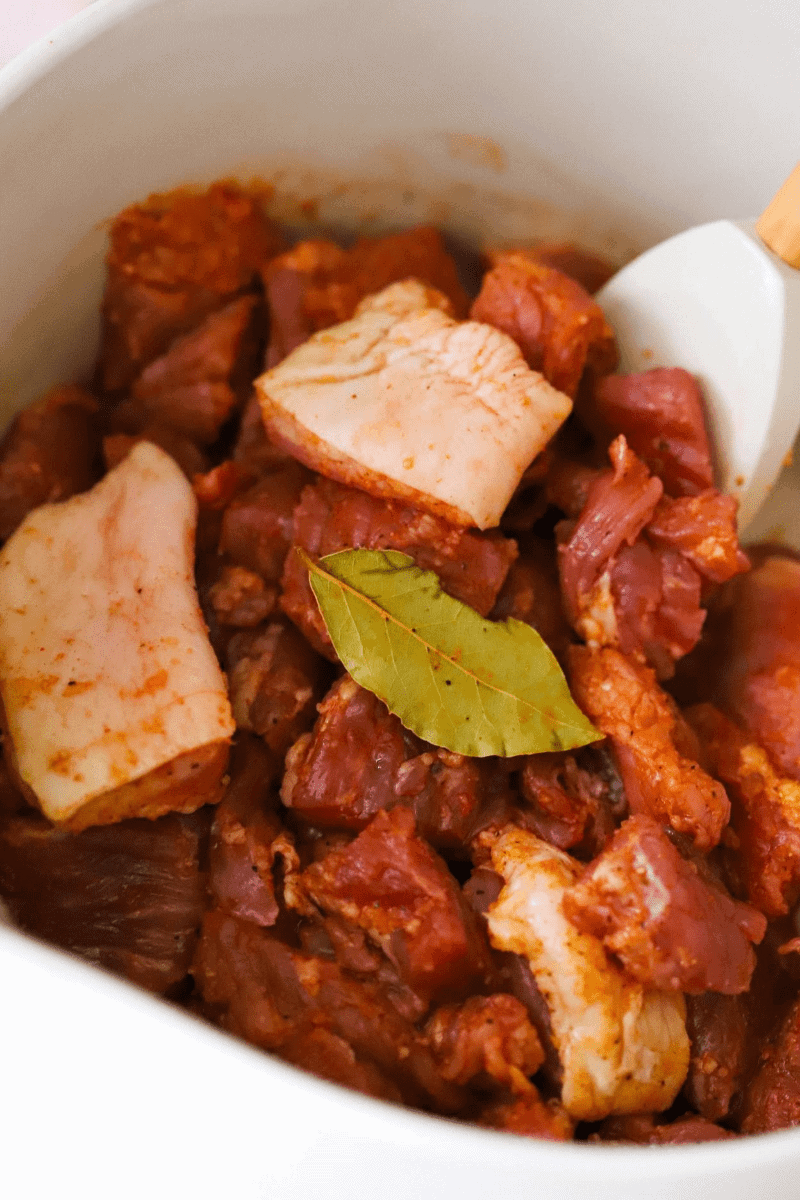 Depending on the meats you use, you can go pretty light on the added salt. Cured meats like salt pork and chouriço often contain high amounts of salt. Another thing to keep in mind is that the flavors in cachupa build slowly because you add the ingredients at different stages. If you add too much salt at the beginning you could end up with an overly-salted dish.
I start off by using 1 bouillon cube in the beginning stage of cooking and then adding another one near the end if I feel like the cachupa needs more flavor.
How to make cachupa
The full recipe is below so I'm just going to keep this very high level. Cachupa takes about 5 hours to make.
Season the corned-beef and salt pork in the same bowl and refrigerate it overnight. The chouriço doesn't need seasoning.
Also, soak the feijao pedra (rock beans) overnight. They take a very long time to cook otherwise.
Saute the aromatics, brown the salt pork and corned-beef and add the tomato paste and bouillon to the pot.
Bring the rinsed hominy and water to a boil, and let simmer for 1 hour.
Add the rinsed cranberry beans and feijão pedra (rock beans), and let simmer for another full hour.
Discard the pork fat, shred the corned-beed if desired, and return it to the pan with the fava beans, mandioca and greens. Let the pot simmer for about 45 minutes.
Add the chouriço to the pot, and let it cook for about 20 minutes. Once this time is up, taste the cachupa and add another bouillon cube if needed. The beans should be soft by now. You can test this by pinching each type of bean between 2 fingers. The hominy should be tender when you cool it and into it. Let the cachupa simmer for another 10-15 minutes.
Turn the flame off, and let the cachupa rest for 20-30 minutes. This step allows the flavors to settle.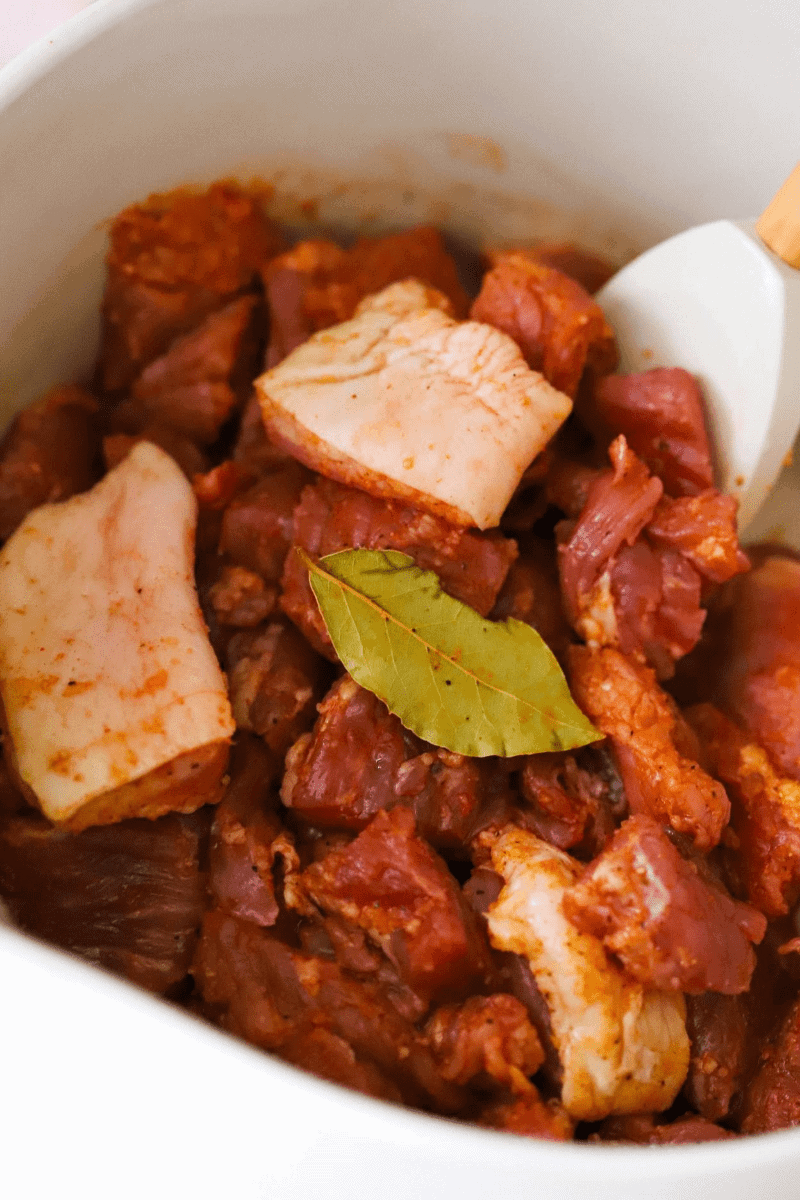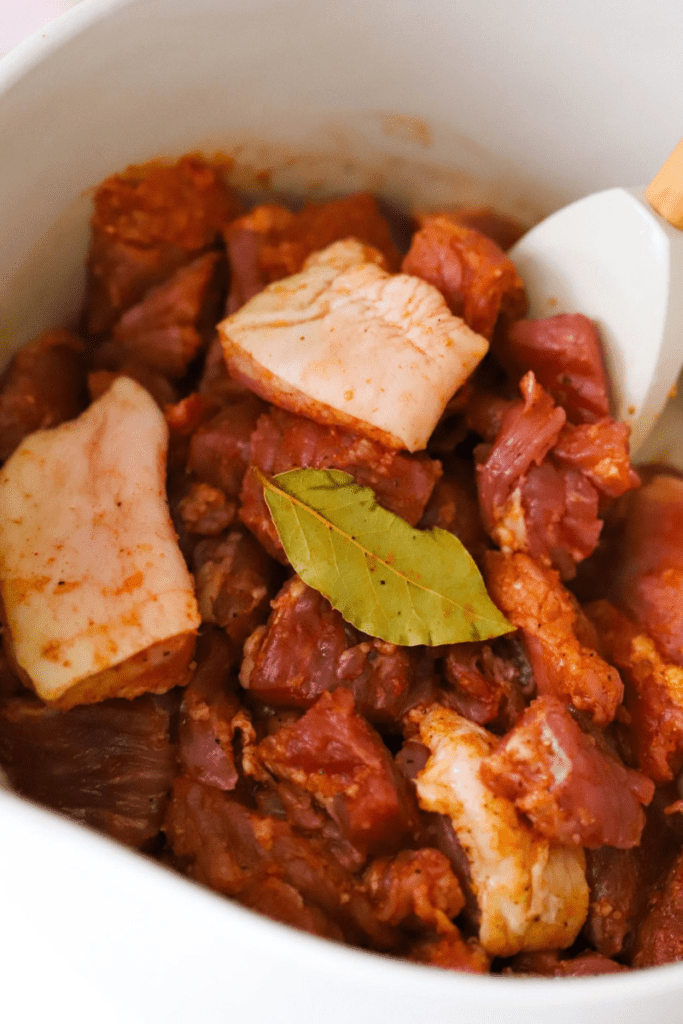 Cachupa tips and tricks
Cachupa takes a good 4-5 hours to cook so start it early in the day!
Some people soak the hominy overnight so that the cachupa cooks faster. Mamá doesn't soak the hominy, so I don't. Like I mentioned, I do soak the feijao pedra overnight because they take so long to cook otherwise.
Keep a kettle of boiling water on-hand to add more water to the dish as needed. If you keep the pot covered and the flame low at all times, the liquid shouldn't evaporate too much. If the liquid level falls below the handle of the pot, just level it off with some more hot water. Don't add cold water to the pot!
Make sure to stir the pot every 30 minutes with a spoon that's long enough to reach the bottom of the pan. Reaching the bottom of the pan helps to ensure that nothing sticks and burns.
It's a great idea to shred the meat after a few hours of cooking, to make room in the pot. Press a fork against the meat, you'll be able to shred it using barely any pressure. No need to use 2 forks.
Cachupa tastes great with a few drops of hot sauce. We normally don't add it to the pot, we use it as condiment with our meal. I like to use a chili sauce like Sambal Oelek. It's not from Cape Verde, but it reminds me of malagueta, which is our version of hot sauce made from chilis.
Now let's eat with our eyes!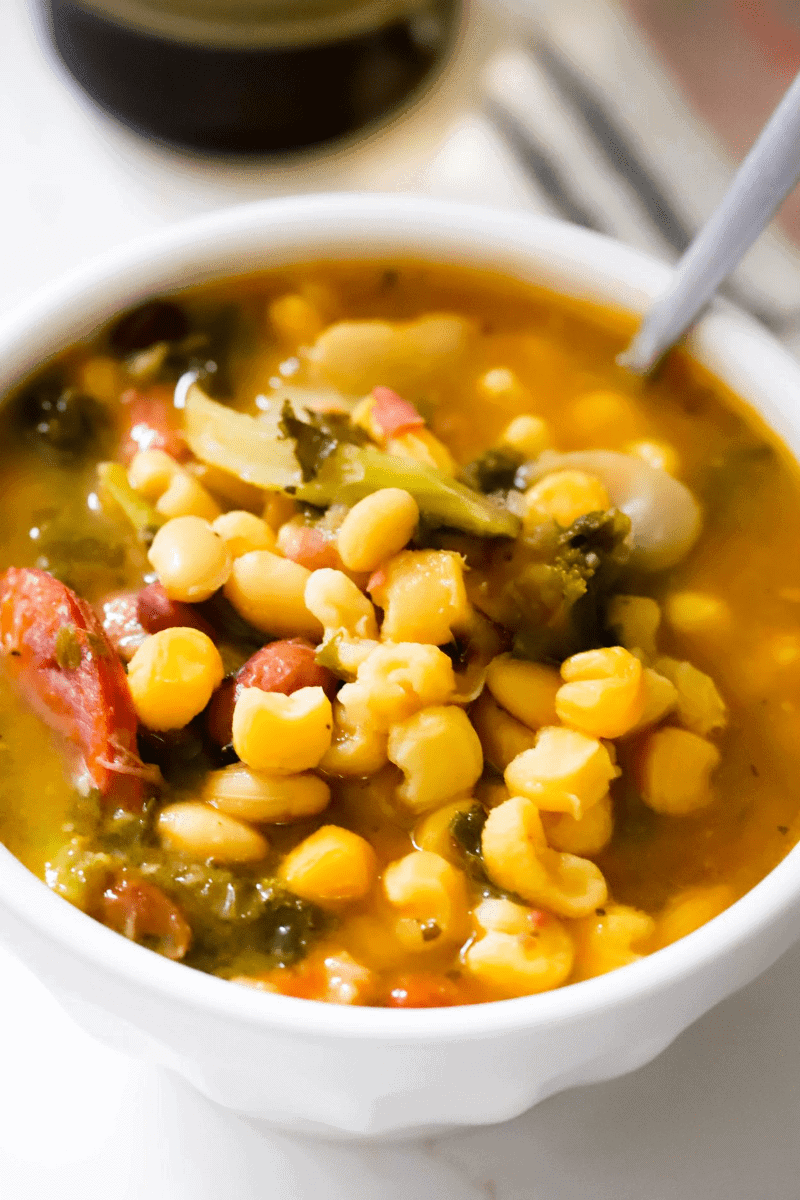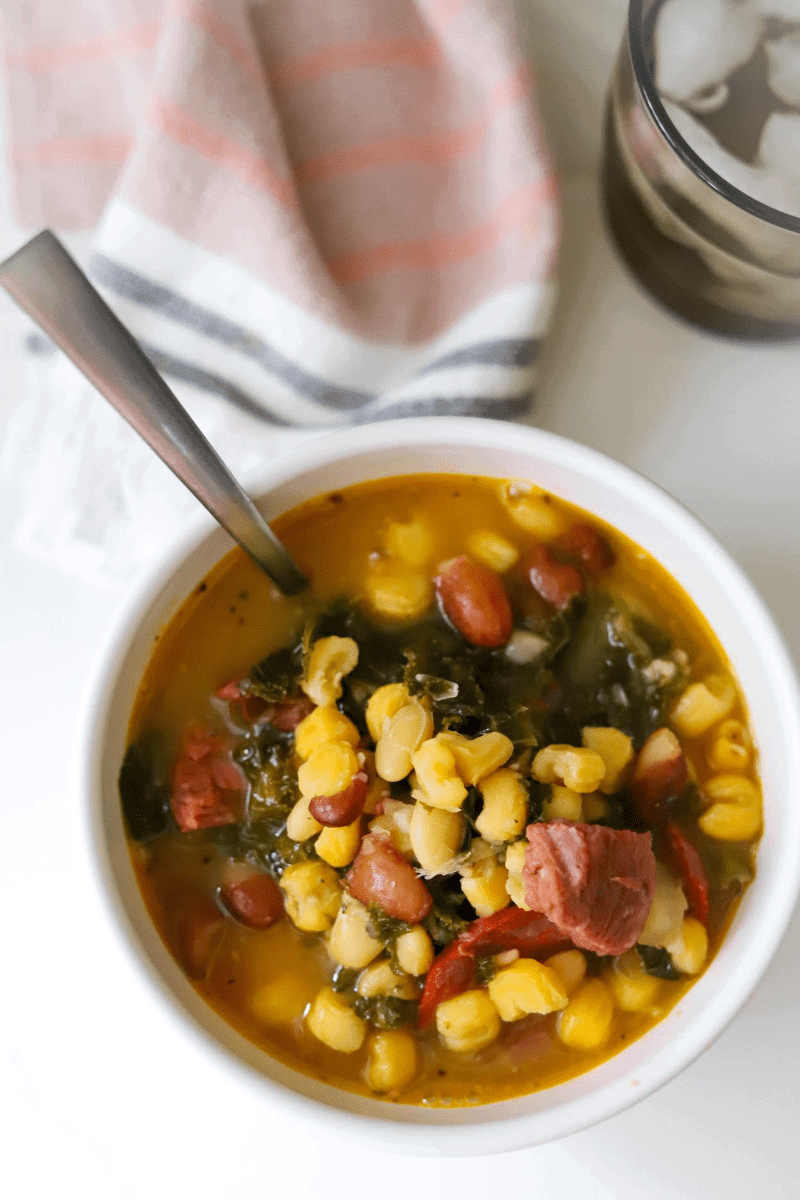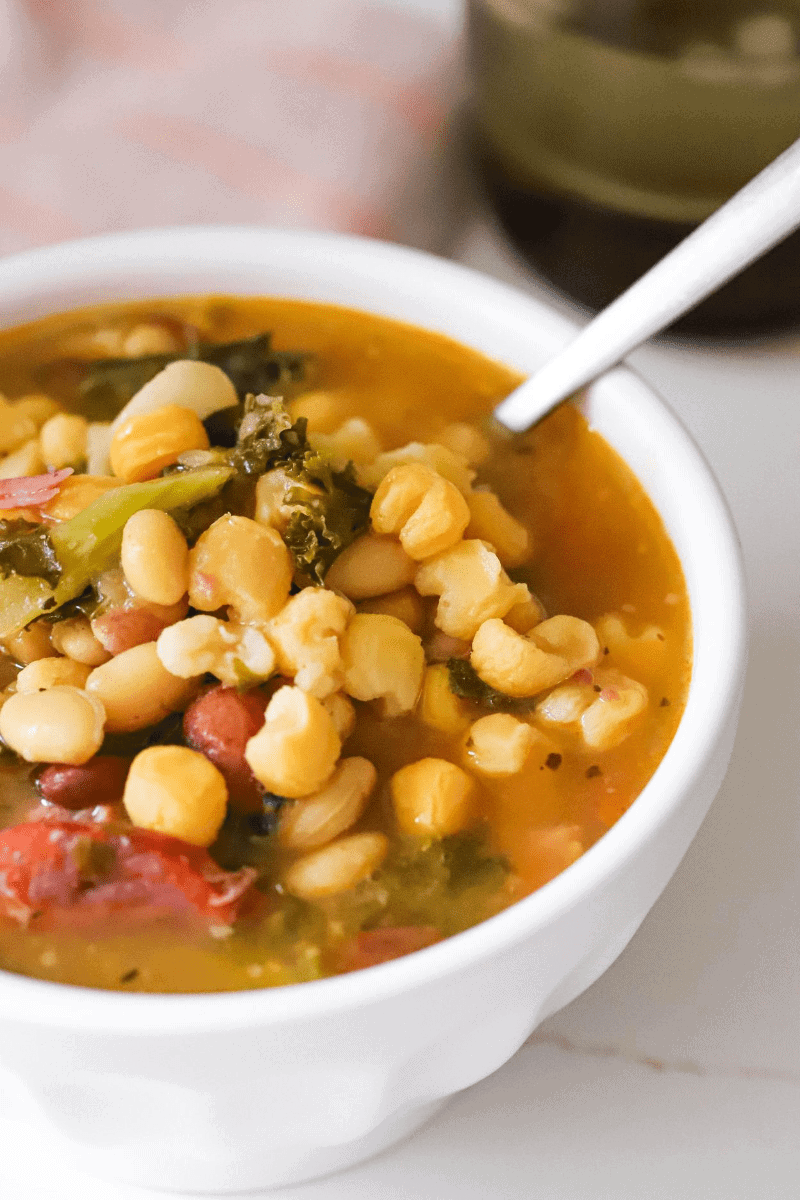 Cachupa Refogado
Did you know that we make our signature breakfast dish with with reheated leftover cachupa? Some people enjoy this reheated version of cachupa refogado the next day with a fried egg.
Some people refer to this reheated version as 'cachupa refogado' or 'cachupa guisod' depending on which island you're from.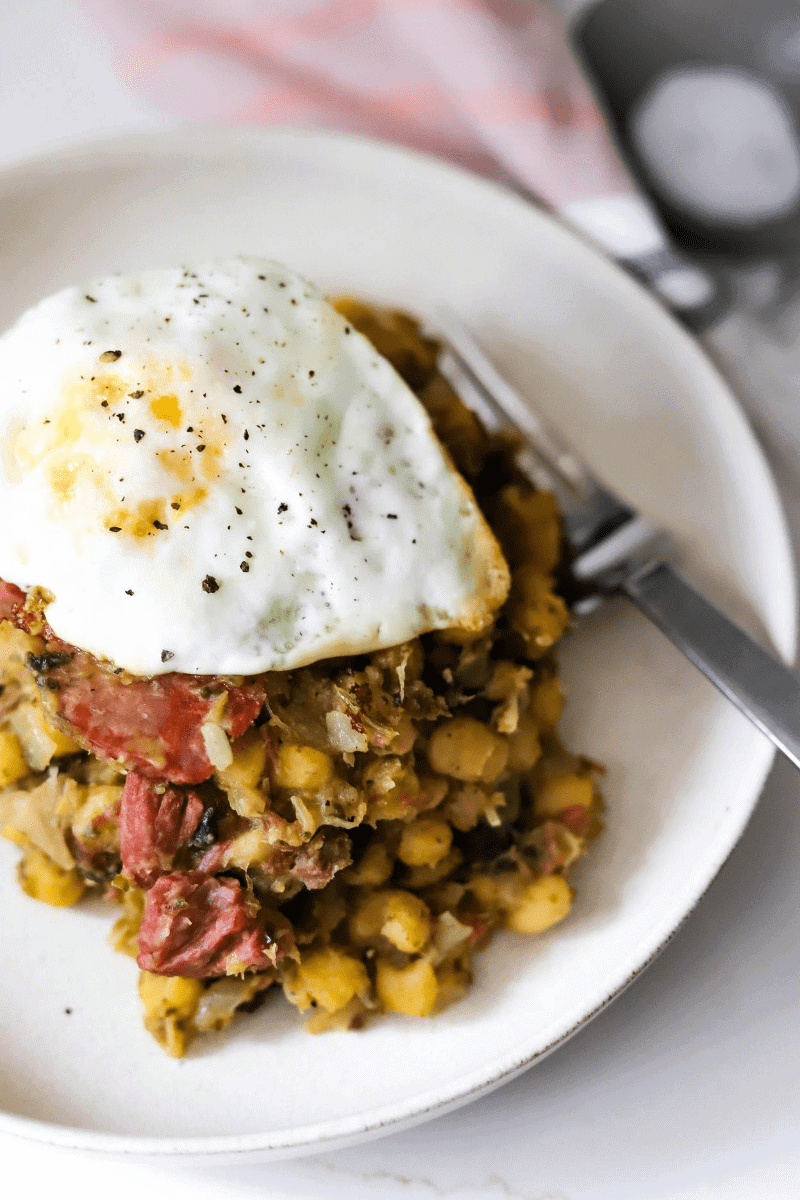 Other recipes you'll love
Love this recipe? Please leave a 5-star 🌟🌟🌟🌟🌟rating in the recipe card below & consider scrolling down and leaving me a review if you REALLY liked it. Thanks!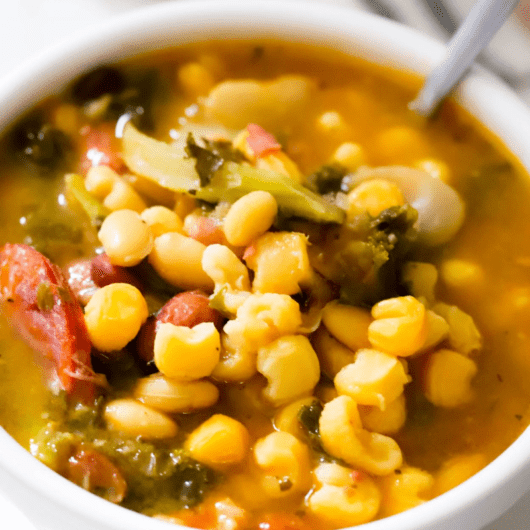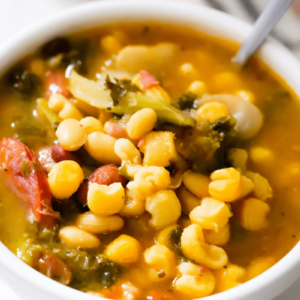 Cachupa: Traditional Dish of Cape Verde – Full Recipe
Cachupa is a rich stew from Cape Verde that's made with hominy, beans, vegetables and seasoned meats. This scaled down recipe feeds 8 people.
Ingredients
1 ½

pounds

corned beef brisket

cut into chunks

1

pound

salt pork

cut into large chunks

2

tablespoons

crushed garlic

divided

2

teaspoons

white vinegar

or apple cider vinegar

1

bay leaf

1

teaspoon

smoked paprika

1

teaspoon

salt

½

teaspoon

black pepper

2

tablespoons

olive oil

1

medium onion

chopped

1-2

bouillon cubes

extra large

2

teaspoons

tomato paste

18

cups

water

1 ½

dried yellow hominy

or samp

½

cup

dried rock beans

or pinto beans, soaked overnight

½

cup

dried cranberry beans

soaked overnight

⅔

cup

large white lima beans

dried

1

large yuca

4

cups

chopped collard greens

rinsed and chopped

1

pound

linguiça

or chouriço, sliced into rounds
Instructions
Season the corned beed and salt pork the night before with the vinegar, bay leaf, smoked paprika, salt, pepper and 1 tablespoon of the crushed garlic. Let the meat marinate in the refrigerator overnight.

Heat the olive oil over medium heat in a large stockpot and add the chopped onions, and other tablespoon of garlic. Transfer the bay leaf from the seasoned meat to the pot. Saute the onions until they are fragrant.

Add the marinated meats to the pan (in a single layer if possible) and let the meat brown for about 10 minutes (5 minutes on each side). Remove the meat from the pan and set aside.

Add 1 bouillon cube and the tomato paste to the pot and whisk until the bay leaf has dissolved and the the tomato paste is smooth. Add the meat back to the pot and add the water. The water level should reach the handles of the pot. Cover the pot with a lid.

Bring the pot to a boil and thoroughly rinse the hominy and add to the pot. Let it reach a boil again, and then turn the flame down to low. Cover the pot with the lid and simmer for 1 hour. Check on the hominy every 30 minutes to give it a stir and make sure that there is plenty of water. (It helps to have a kettle of boiling water on-hand throughout the cooking process, so you can add more water at any point if needed. use cold water.)

After the first hour is up, add the feijão pedra and cranberry beans to the pot, stir and cover it again with the lid. Stir and check the water level every 30 minutes. The liquid will thicken as it cooks.

Once the second hour is up, remove the meat from the pan (if desired), and shred it by lightly pressing a fork against the meat. Feel free to discard any fat that gets detached from the salt pork.

Add the meat back to the pot, stir it again and add the fava beans, yuca, and greens. (If the greens are too bulky add about half the greens at first, let them cook for 10 minutes and then add the rest) Let everything cook for about 45 minutes.

Add the chouriço, let it cook for about 20 minutes. At this point you want to stir and taste the cachupa. Add another bouillon cube if desired. Let everything simmer for another 10-15 minutes.

Turn of the flame and let the cachupa rest (covered) for 20-30 minutes. Ladle into bowls and serve.
Notes
*You can cut the beef brisket into bite-sized chunks or into rib-sized pieces. Do whatever your preference tells you to.
*White hominy or a mixture of yellow and white can be used (yellow and white are not packaged together). There is no difference in taste between white and yellow, I just like the color of the yellow.
Nutrition
Serving:
1
bowl
Calories:
962
kcal
Carbohydrates:
37
g
Protein:
31
g
Fat:
76
g
Saturated Fat:
26
g
Polyunsaturated Fat:
6
g
Monounsaturated Fat:
30
g
Cholesterol:
130
mg
Sodium:
3017
mg
Potassium:
815
mg
Fiber:
7
g
Sugar:
2
g
Vitamin A:
1261
IU
Vitamin C:
42
mg
Calcium:
109
mg
Iron:
4
mg
Craving more Cape Verdean food?
Cape Verdean Pastel -Pastel d'atum
Pudim d'Leite (Cape Verdean Style Flan)
Grao Bico (Cape Verdean Bacalhau with Chickpeas)