If you're looking for a quick way to become popular amongst Cape Verdeans, follow this recipe right here! Gufong is one of the most adored Cape Verdean treats that I can think of. They're little rolled pastries made of cornmeal and usually contain a binding ingredient like sweet potato or banana. They're fried and slightly sweet, firm on the outside and softer in the center. This recipe yields about 40-50 gufong. I know it sounds like a lot but they go fast!
The instructions to make gufong are pretty straight-forward and simple, so you should have no major problems making them! I will say that Cape Verdean cooking does rely a little bit on intuition, but I've included a few tips to help you if you get stuck!
Is it Gufonginho or Gufong?
Just like most Cape Verdean dishes, there are several variations as well as several names. Technically these pastries are called gufonginho, or fungine. I recently learned that gufong is a lesser-known baked version, similar to a loaf. Many people casually call this fried, log-shaped version gufong though. If you do a google search for gufong, you'll find that what actually comes up is gufonginho. You'll hear me use the word gufong and gufonginho interchangeably.
List of ingredients:
3 large sweet potatoes– the larger the better!
3 and ½ to 4 cups of pre-cooked fine yellow cornmeal: The brand I use is called La Venezolana. I usually don't mention brands in my recipes, but in the case of cornmeal, I mention the brand because it can get confusing. You can also use corn flour, but I prefer the texture of cornmeal, especially when fried.
¼ cup of granulated sugar– gufong is not an overly-sweet treat. Sweet potatoes have a natural sweetness already so I don't add much additional sugar.
2 teaspoons of baking powder-this will help the gufong expand a bit while frying
2 tablespoons of all-purpose flour
1 teaspoon of salt
Canola or vegetable oil for frying.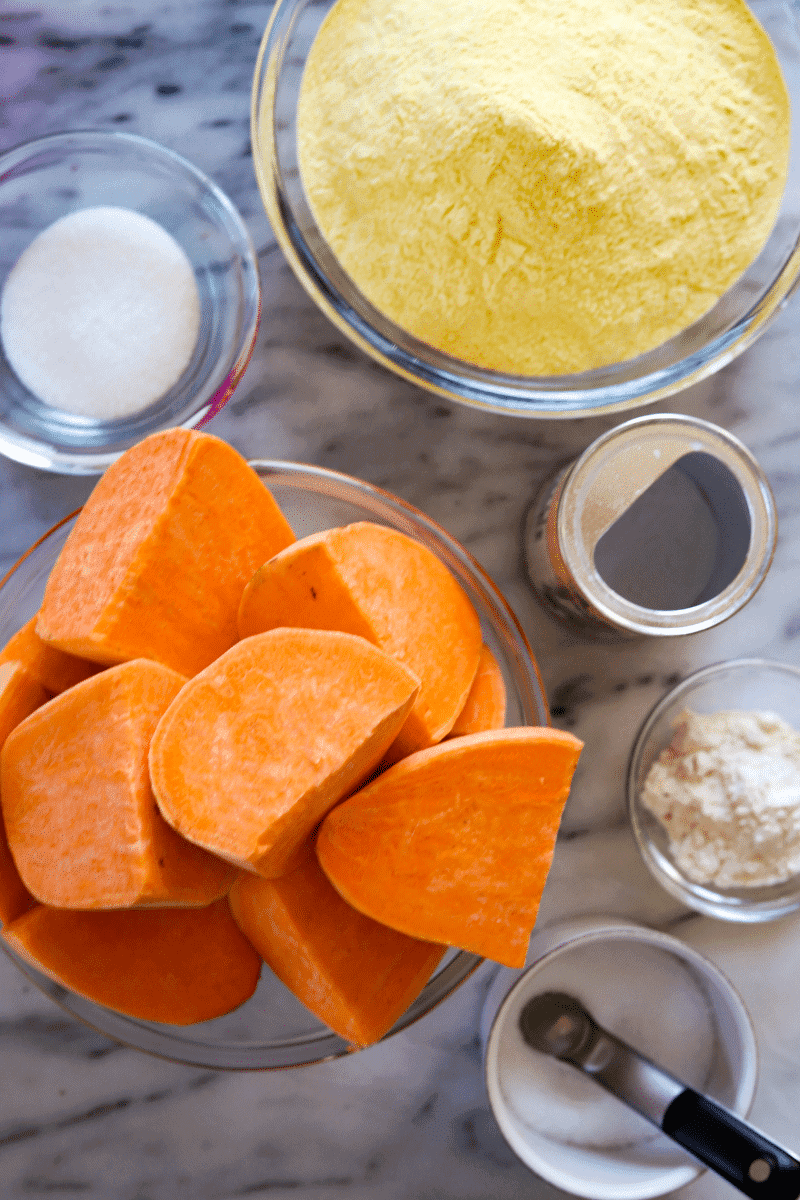 Her are a few tips and tricks that may help you along the way:
Tip #1: Use the largest sweet potatoes you can find. I find that Cape Verdean gufong are easier to roll when they have a good amount of potato in the recipe. You want to use sweet potatoes that are slightly over 1 pound each. Try to at least aim for the size in the photo below (this potato weighed slightly over a pound). It can be helpful to boil an extra sweet potato to use in the event that you add too much cornmeal and have trouble rolling the gufong.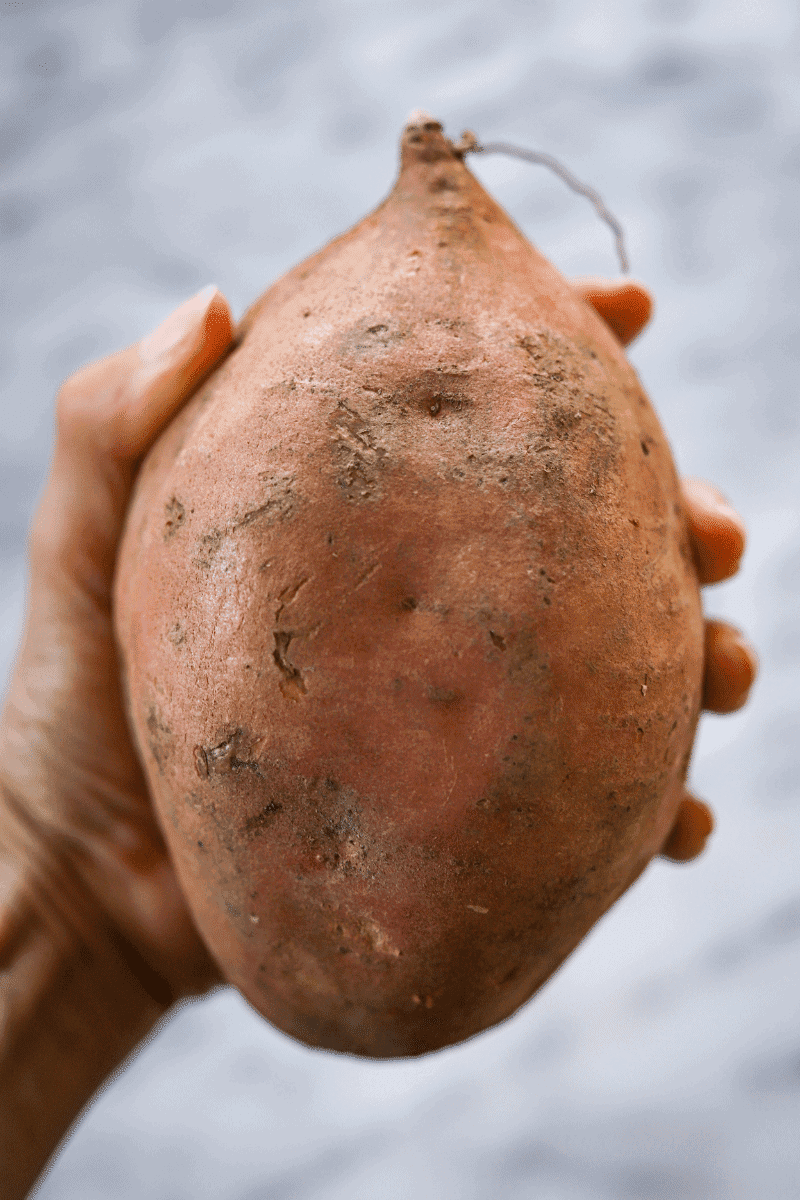 Tip #2: Measure everything in advance! It always helps to be organized and keep everything within arm's reach. That way you're not scrambling or losing track of measurements.
Tip #3: Use a food processor. Because sweet potatoes are fibrous, you really want to get the mixture to be as smooth as possible. This makes for a better texture and it will be easier to roll the gufong. You may need to work in batches, depending on the size of your food processor. I usually process the mixture in 2 batches, by dividing up the sweet potato, sugar, salt and baking powder, and then combining everything before you mix it with the cornmeal.
Tip #4: Add the cornmeal gradually and stop once the gufong is easy to roll. I know this is going to scare some of you, but I do have to rely a little bit on my intuition here because the amount of cornmeal you need will depend on how large your sweet potatoes are. If you have too much cornmeal and not enough sweet potato, the gufong will unravel as you're rolling it. If you use too little cornmeal the gufong will be too sticky and soft. When in doubt, take a small amount and try rolling it into a log. If it forms easily without sticking to your hands or falling apart, then I would say your dough is where you want it to be.
Tip #5: Keep the dough and rolled gufong covered with a damp cloth or paper towel at all times until you're ready to fry them. This keeps the dough from drying out and it keeps the rolled gufonginho from cracking. Once they're fried, you no longer have to cover them with a damp cloth.
Tip #6: Oil your palms lightly. This keeps the gufong from sticking to your hands as you roll them and keeps them from drying out before you fry them.
Tip #7: Measure out each gufong. I use 2 tablespoons of dough to make a single gufong. I like to measure so that all of the gufong are about the same size.
Tip #8: Roll the gufong on a flat surface. This step is optional but helpful if you want to shape them perfectly. For perfectly shaped gufong, I like to start rolling the dough out in my hands and then rolling them against a flat surface (cutting board is fine) to create a perfectly shaped log. Some people make perfect gufong just by rolling them between their hands, but I like using a flat surface since our hands and fingers are naturally contoured.
Are you ready? Let's get to work!
Step 1: Boil the sweet potatoes
Peel the potatoes and quarter them (you can cut them smaller if you wish). Place them in a pot and fill the pot with enough water to cover them. Boil the potatoes until you're able to pierce them easily with a fork. This takes about 40 minutes total. Once the potatoes are soft enough, drain them and move along to the next step.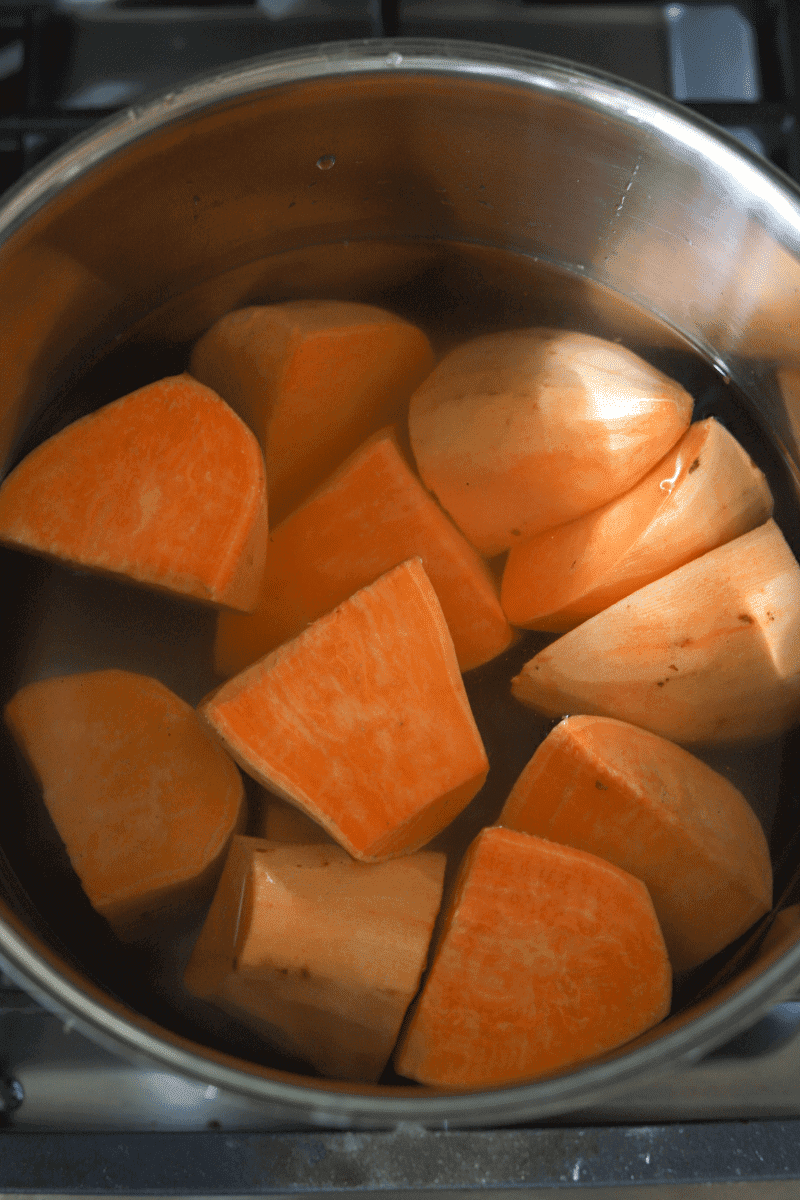 Step 2: Combine the ingredients in a food processor.
Add the potatoes, sugar, salt and baking powder to a food processor bowl. You may need to work in batches depending on the size of your food processor. Mix everything on high speed until the mixture is smooth and contains no visible lumps. If you need to stop the food processor and push down the potatoes so the blades reach everything, that's fine.
Looking into the bowl, the mixture will appear lumpy. It's helpful to examine the side of the bowl for any streaks or lumps. Once the sides look smooth, transfer the mixture to a large bowl.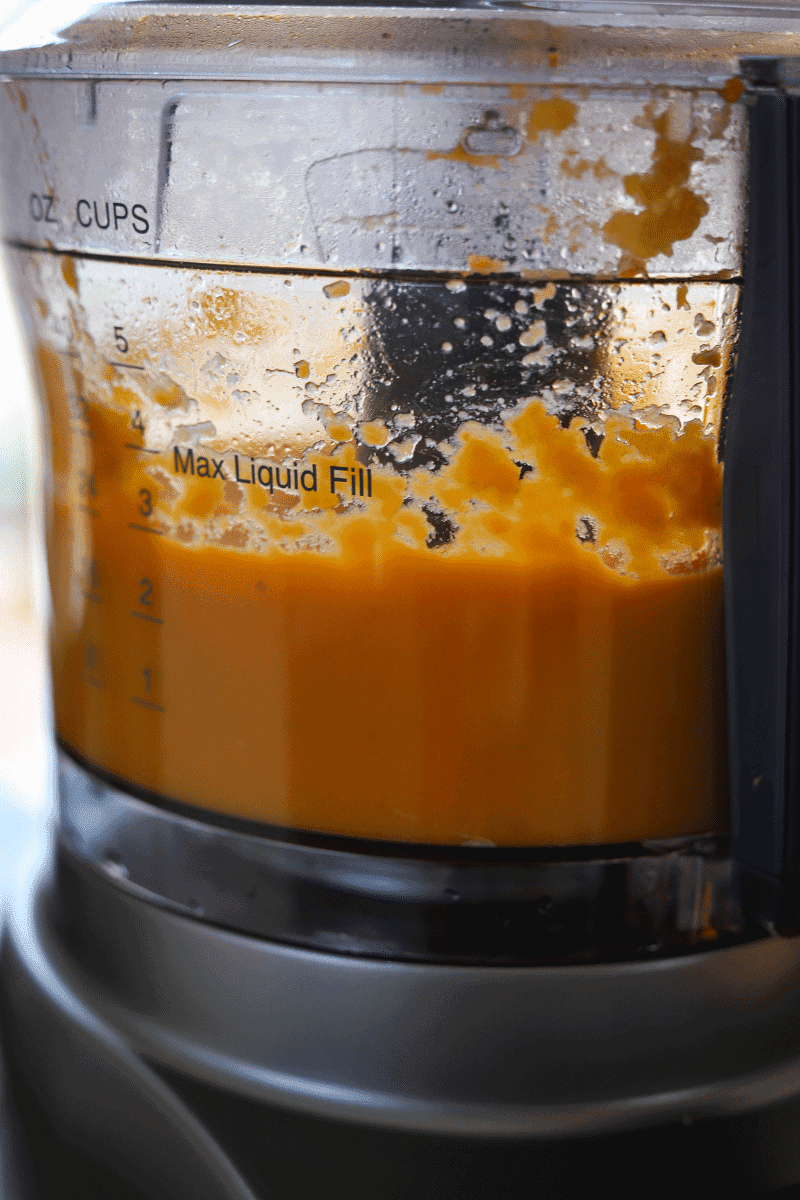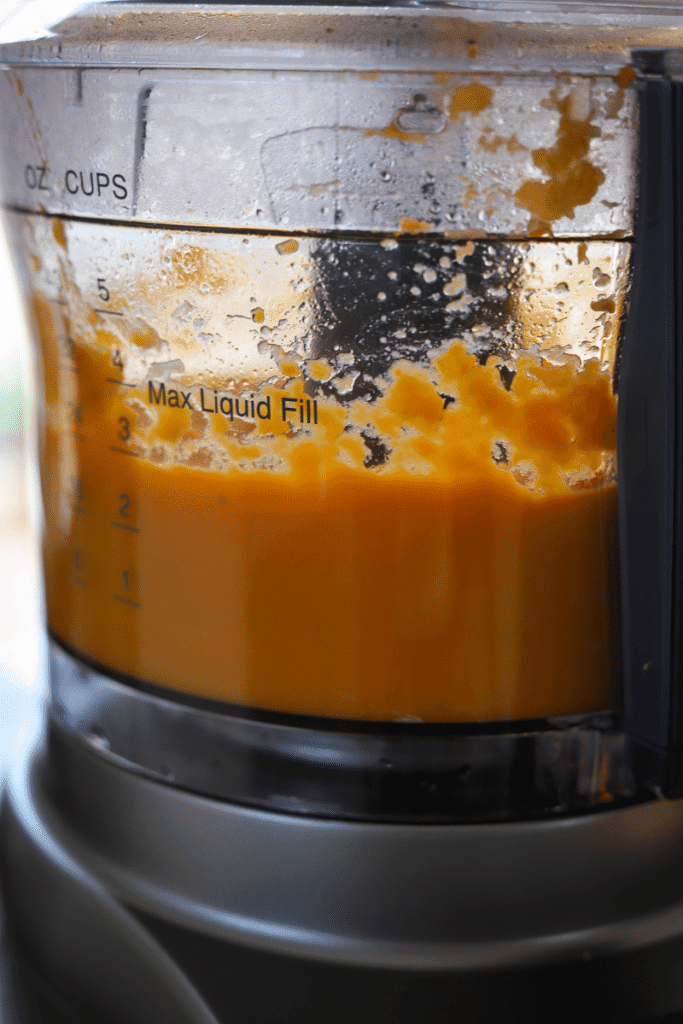 Step 4: Form the dough
Form a well in the center of the sweet potato mixture and add the flour. Mix it a few times (you can use your hands or a spatula) then add the cornmeal to the mixture. I recommend measuring out 4 whole cups of cornmeal and adding it the sweet potato mixture gradually to form a dough. You may have a small amount of cornmeal left over once you reach your desired consistency.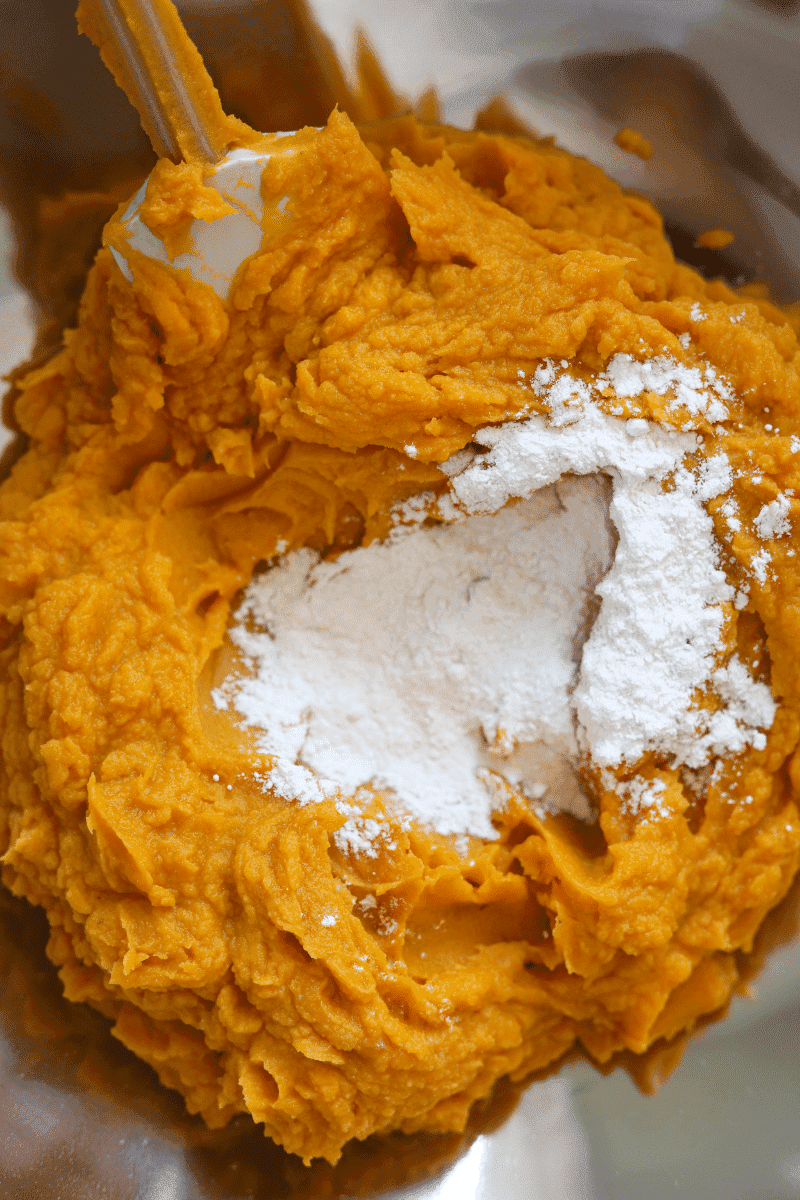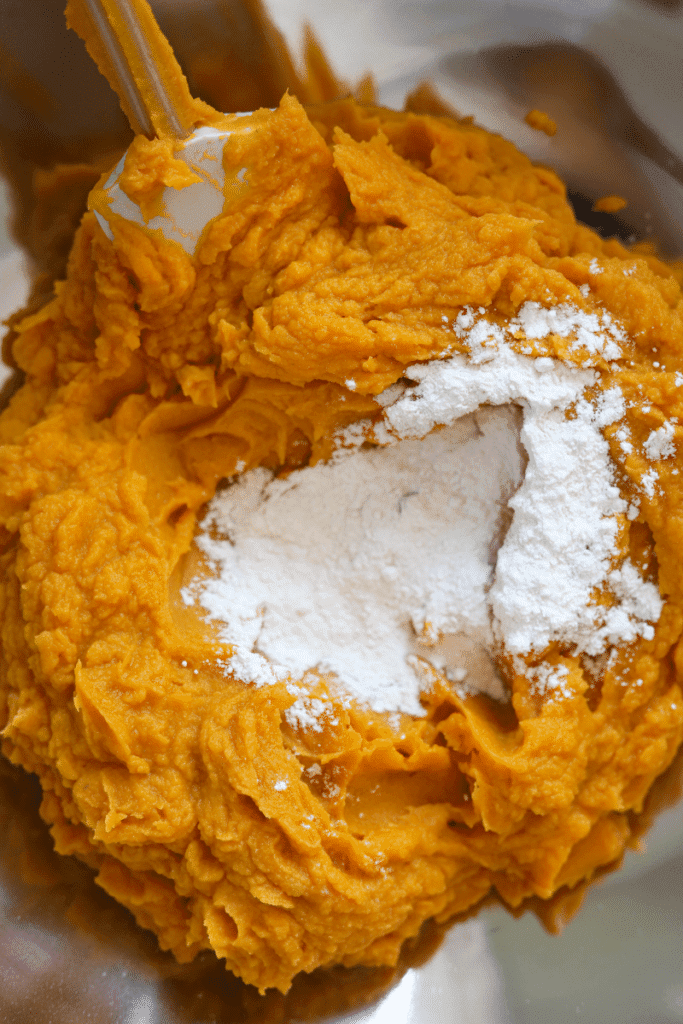 Add the cornmeal about ½ cup at time. The dough will become significantly lighter in color and less sticky. It should eventually start to look and feel like play-doh. Try rolling the dough into a little log. If it forms pretty easily, without sticking to your hands, your dough is pretty much ready.
Be careful not to add too much flour or the gufong will be dry, and may unravel as you shape them. Keep the gufong dough covered with a damp paper towel at all times so it doesn't dry out. If you find that it's getting dry, rub some canola oil between your palms and knead it a few times to moisten it, then cover it again with a damp cloth or paper towel.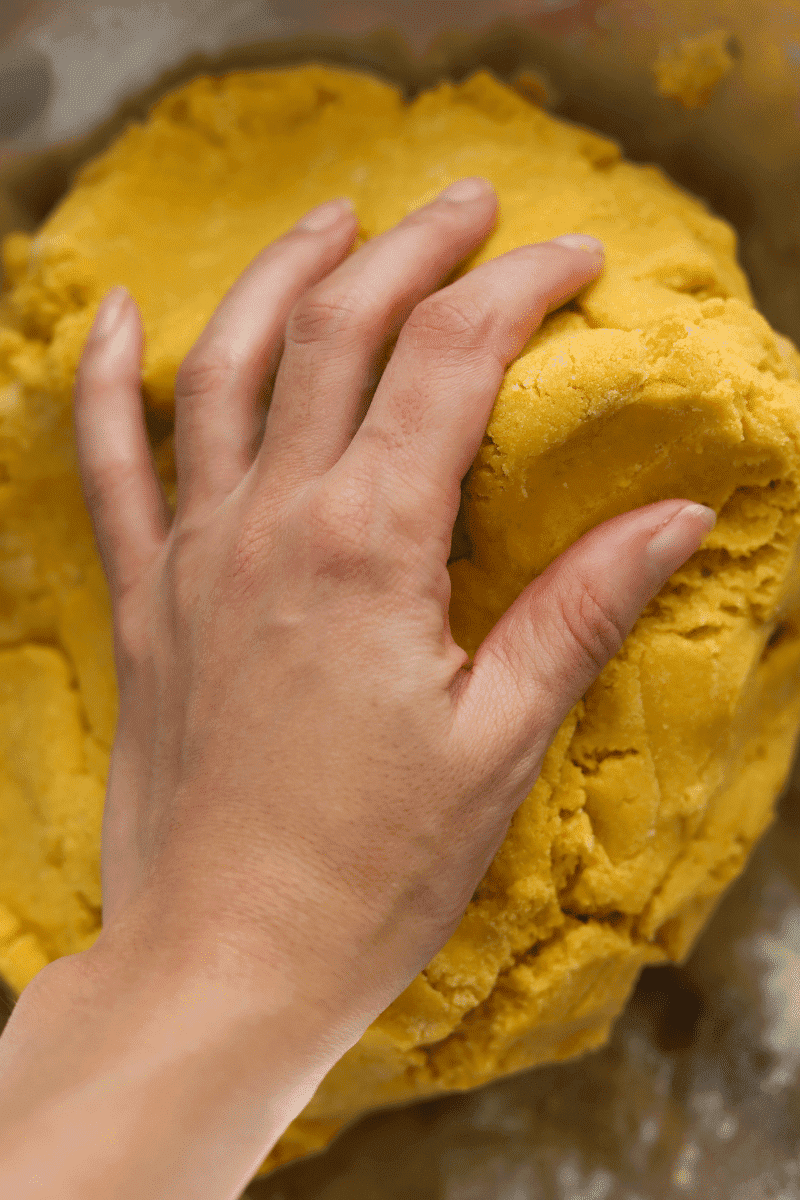 Step 5: Shape the gufong
This is the fun part! I use 2 leveled tablespoons of dough to form one gufong. I prefer to measure so that the gufong are all the same size. Start by oiling the palms of your hands and rolling the dough into a ball. Then roll the ball between your palms into a two and a half inch log. Once I have the log formed, I roll the gufong against a flat surface, so there are no ridges.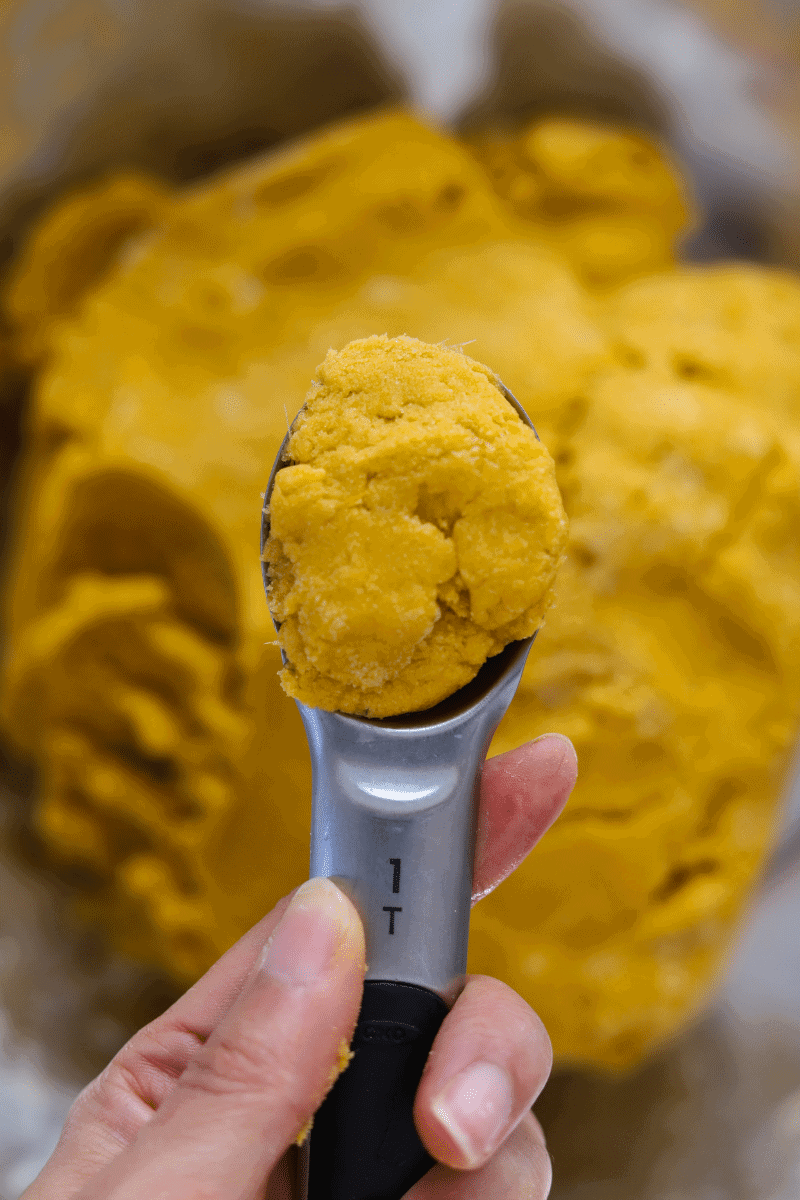 Continue to roll each of the gufong and place them on a parchment lined baking pan. If you have a hard time rolling the gufong, add a little bit of reserved sweet potato and oil to moisten them. It's ok to stack them up on top of each other, but if you want to separate the layers by parchment, you can do that too. I like to keep the rolled gufong well oiled by keeping my palms oiled at all times. It's also a good idea to keep the rolled gufong covered with a damp cloth (like we did with the dough) so that they don't dry out (when they're dry, it creates cracks in them).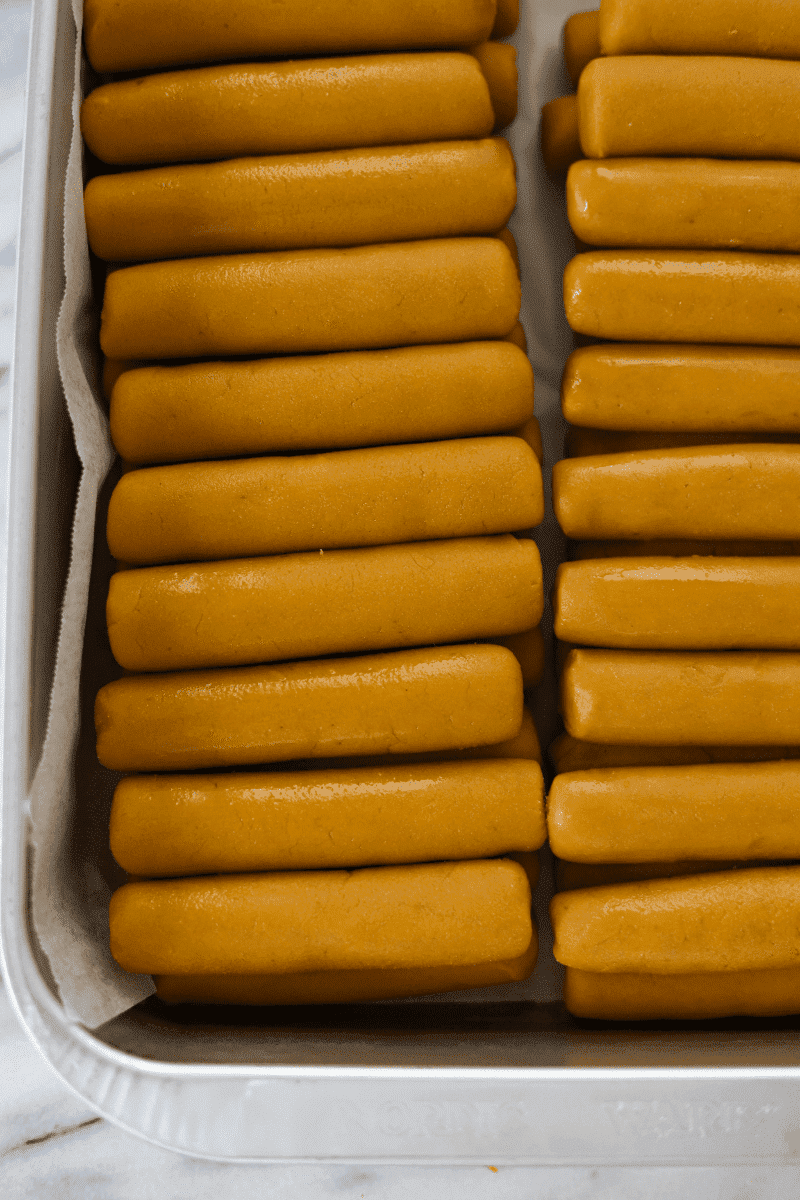 Step 6: Fry the gufong
Heat 4 cups of canola or vegetable oil in a dutch oven or pot with deep sides (you can also use a deep-fryer if you have one). Once the oil reaches 325°F, drop about 6 of the gufong into the oil. The oil should bubble up immediately and they should float. Fry them in batches of 6 for about 4-5 minutes per batch, until they are a deep golden color.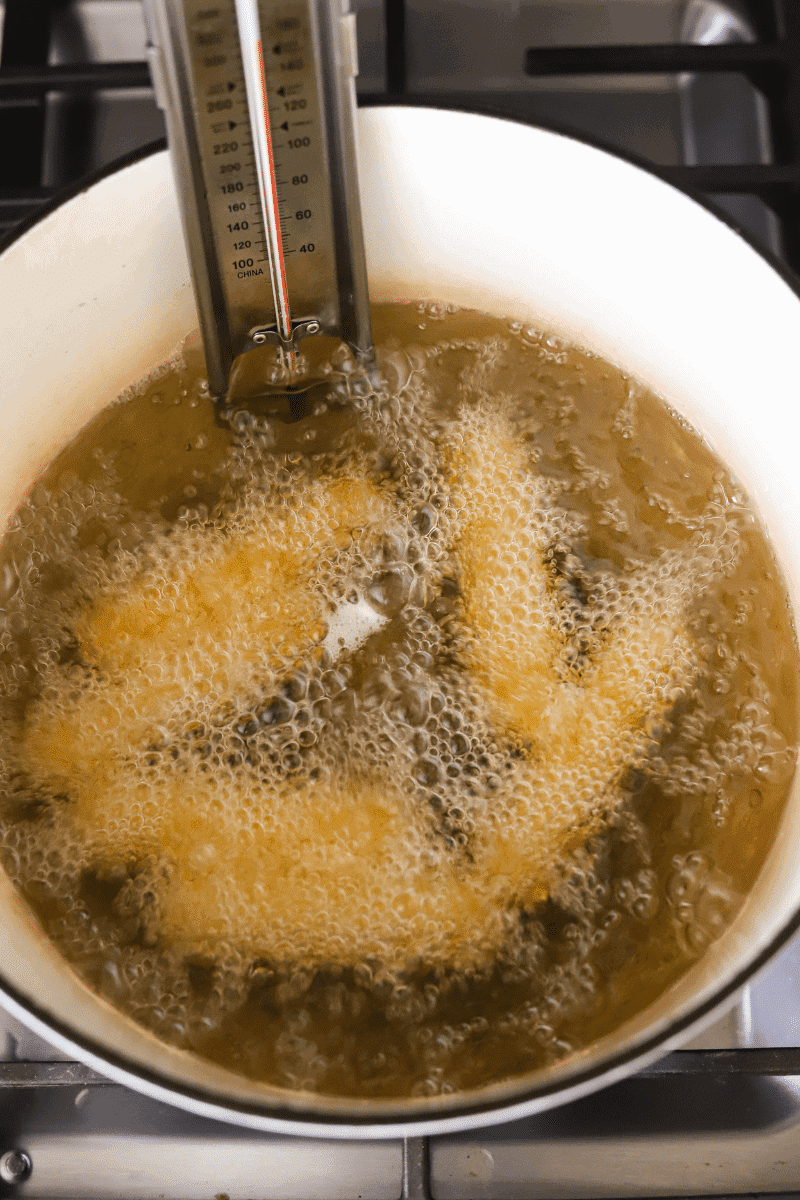 Transfer the gufong to a cooling rack and finish frying the remaining batches. I like to drain them in a single layer to prevent them from getting soggy. Once they're cooled they can be placed on top of each other.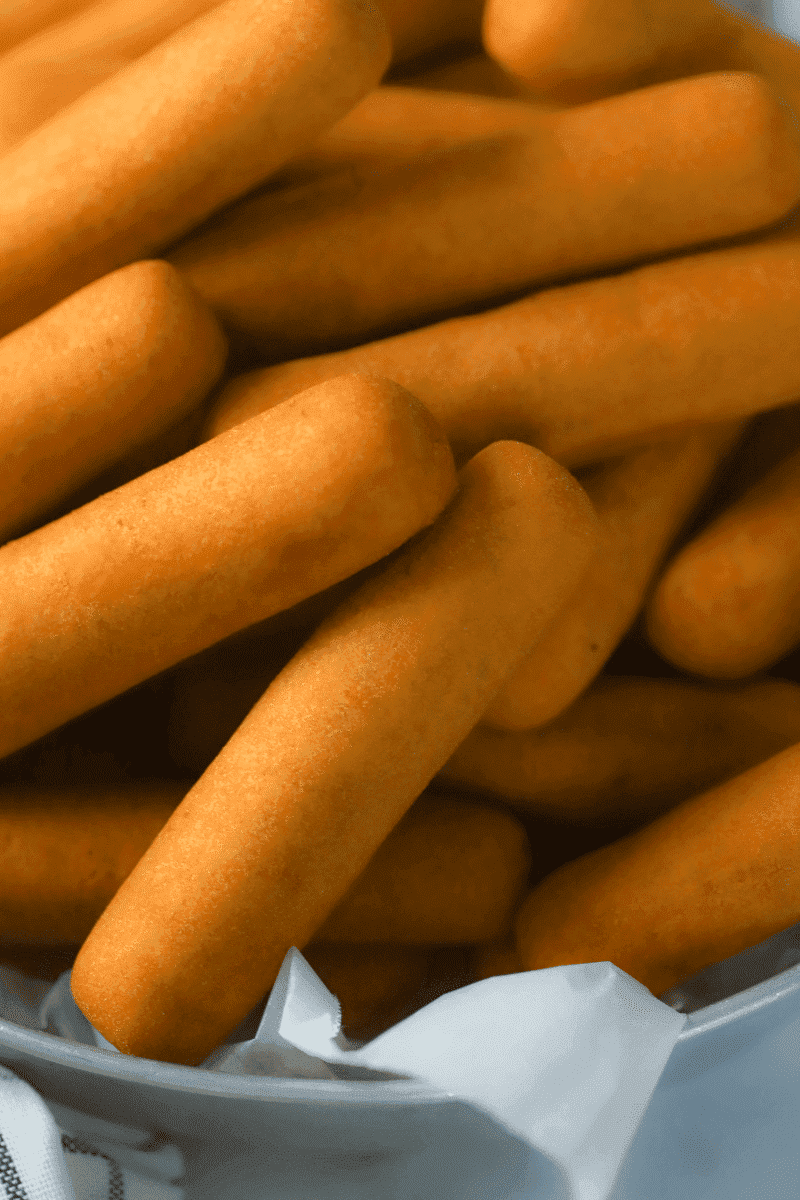 Serving Cape Verdean gufong
The gufong should be firm on the outside with a warm and soft, pastry-like center. I like to serve Cape Verdean gufong soon after frying them so that they taste nice and fresh. They're often served with hot coffee or tea, but I love to eat them with hot chocolate!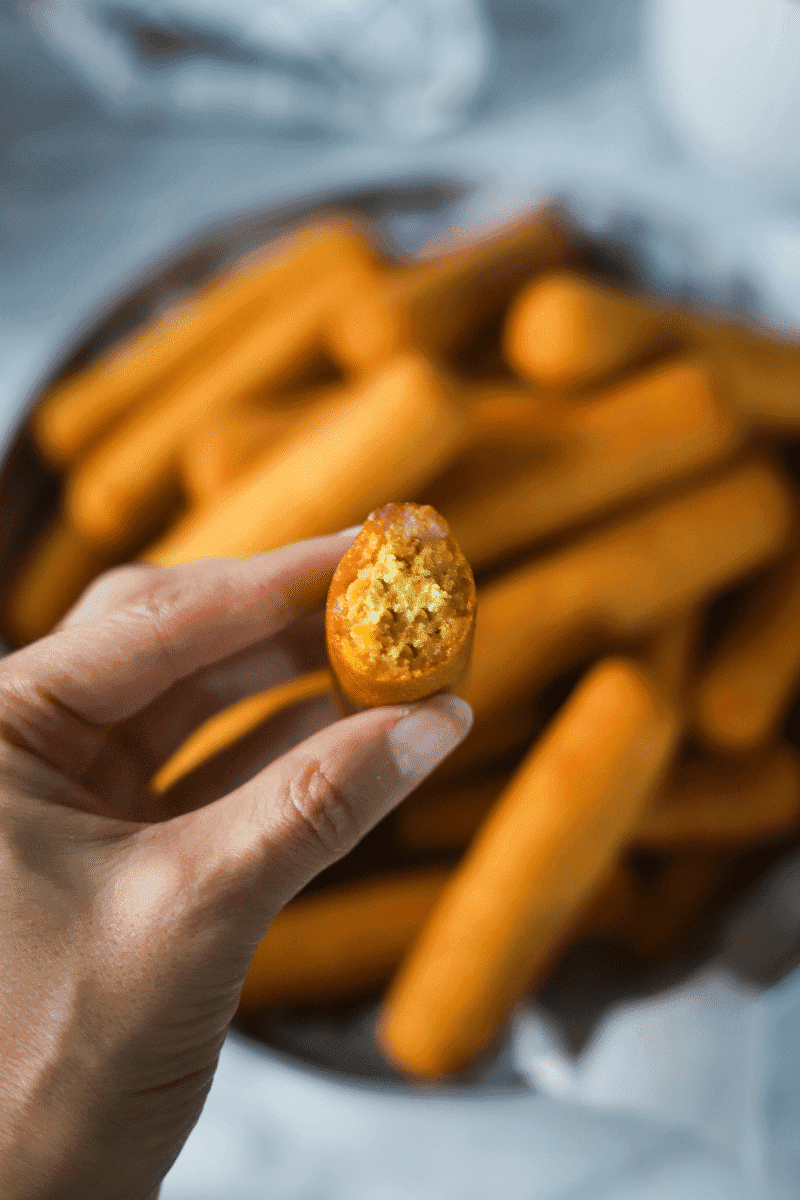 Cape Verdean gufong can be eaten for breakfast or as a snack, but I've also seen them served as an appetizer at parties.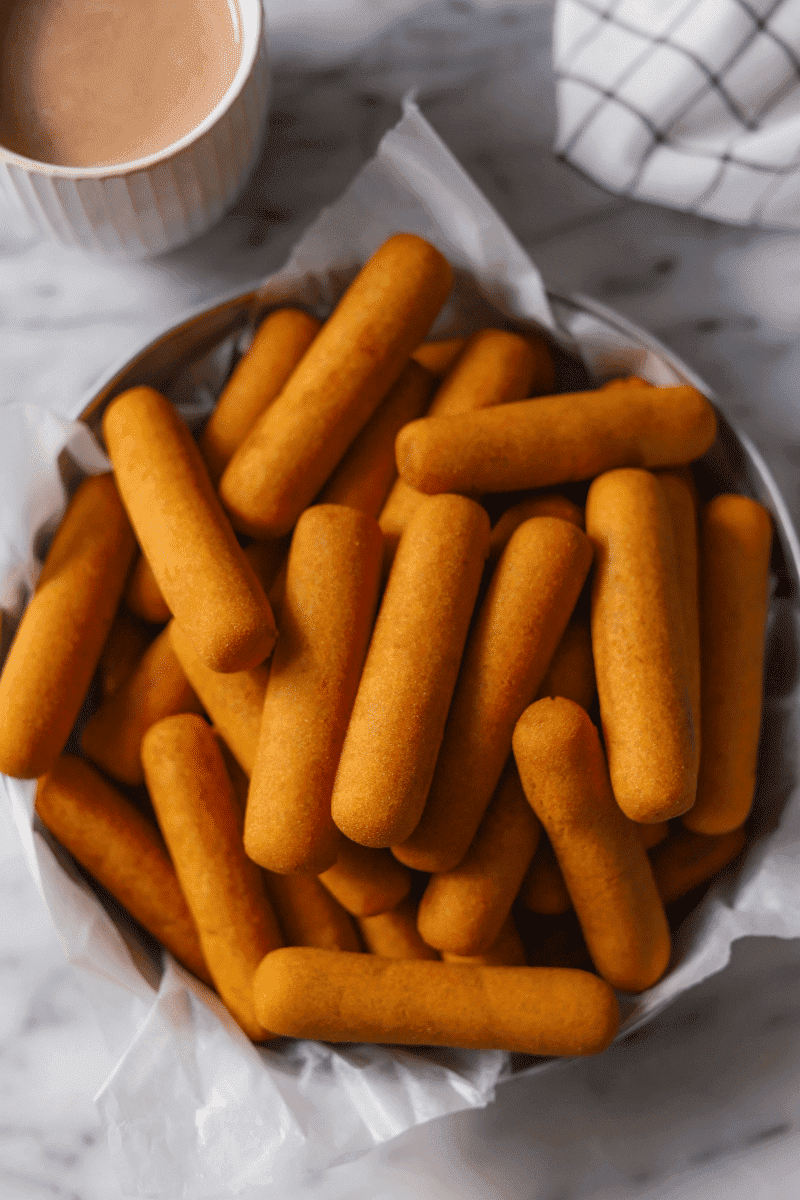 Re-heating and storing the gufong
I never really paid much attention to how other people store gufong, but I like to store them in a paper (not plastic) bag, or in a large bowl lined with parchment paper and covered with aluminum foil. I don't like to pack them in anything airtight since they have a tendency to build condensation when you store them in plastic.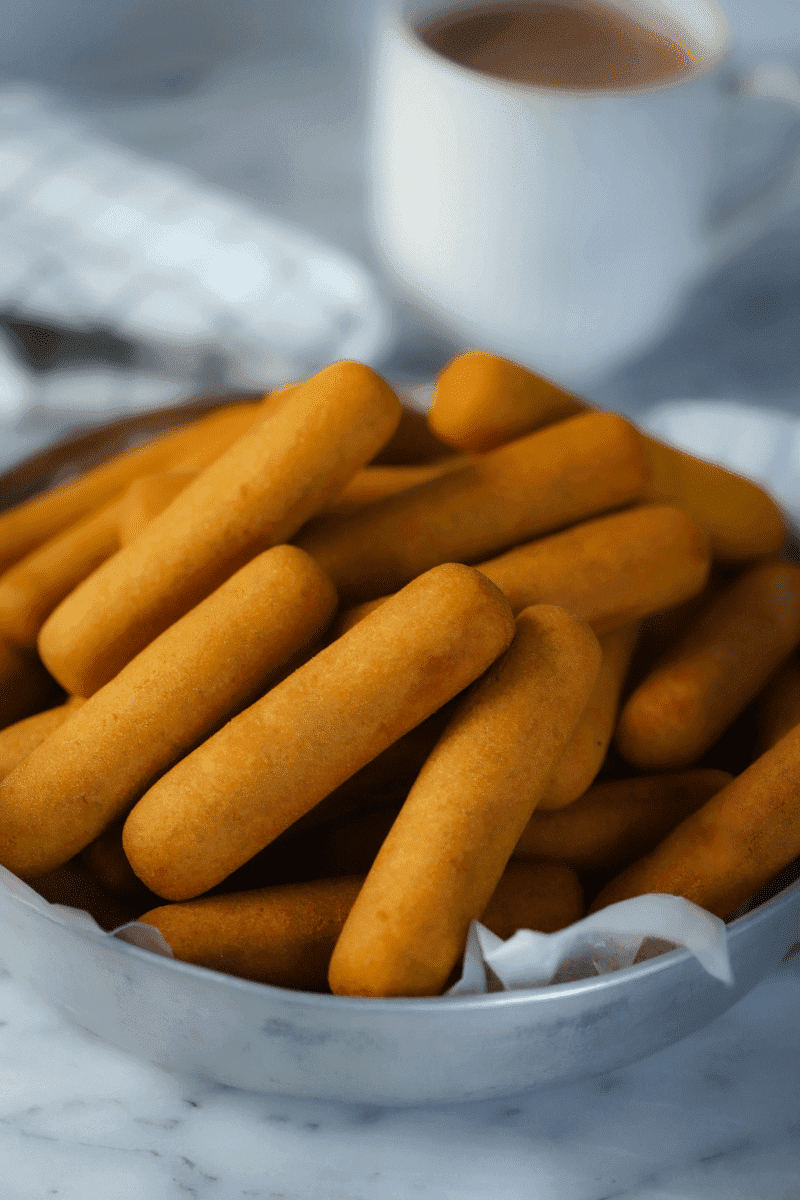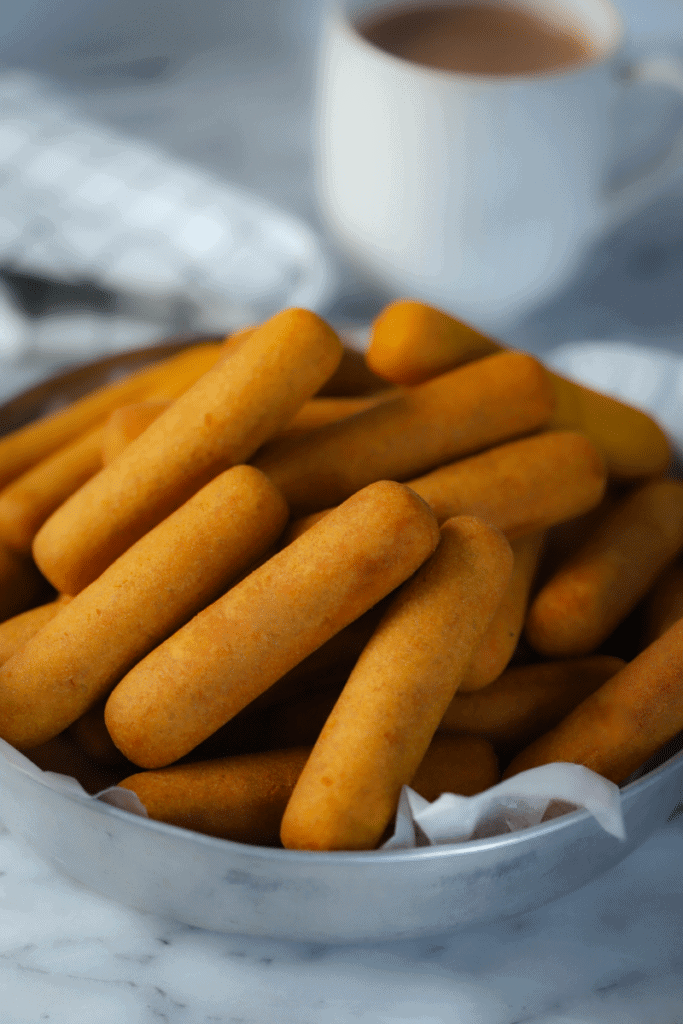 You can also store the gufong at room temperature for 1-2 days. I reheat them in the oven but you can also wrap them in a damp paper towel and reheat them in the microwave for about 30 seconds.
Good luck and enjoy!
Are you craving more Cape Verdean dishes? Check these recipes out!
Mini Donuts – Cape Verdean Donetes
Traditional Cape Verdean Cuscuz (Cuscuz de milho)
Cape Verdean Pastel – Pastel de Atum
Pudim de Leite – Cape Verdean Style Flan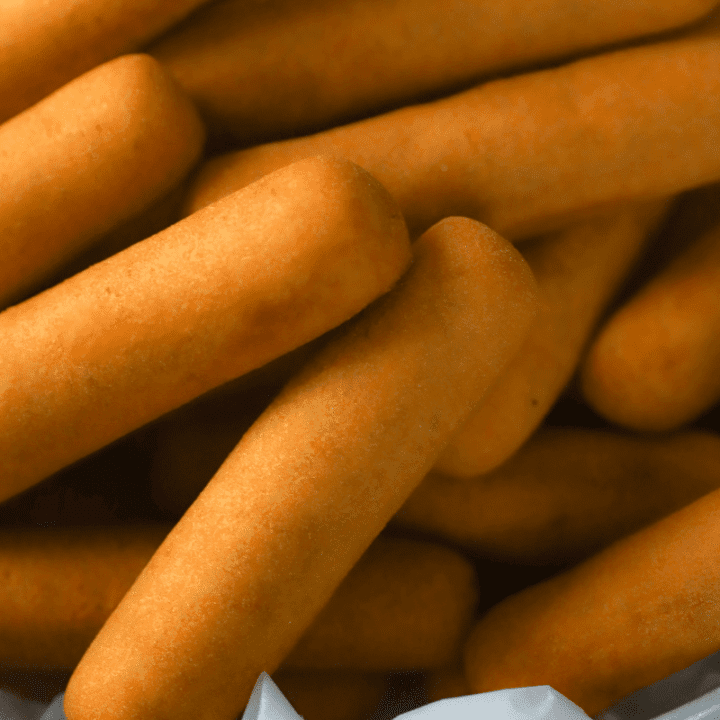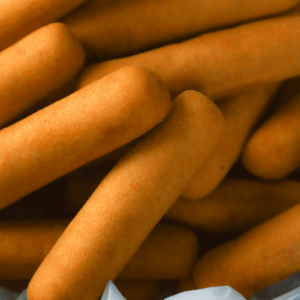 Cape Verdean Sweet Potato Gufong (Gufonginho)
These Cape Verdean Gufong are delicious fried pastries made of sweet potato and cornmeal. Delicious when served warm with coffee, tea or hot chocolate! They're a favorite at parties, but also when served as a light breakfast or snack!
Ingredients
3

large sweet potatoes

peeled and diced

4

cups

of pre-cooked fine yellow cornmeal

you may or may not use all of it

¼

cup

of granulated sugar

2

teaspoons

of baking powder

2

tablespoons

of all-purpose flour

1

teaspoon

of salt

4

cups

of canola or vegetable oil for frying
Instructions
Boil the diced sweet potatoes until they can be easily pierced with a fork

Combine the boiled sweet potatoes with the salt, sugar, and baking powder in a food processor (you may need to work in batches if your food processor is small)

Transfer the processed mixture to a very large mixing bowl. While the mixture is still hot, add the all-purpose flour and gradually add the cornmeal. Mix with your hands as you go. The mixture should feel like play-doh once it's all mixed together, but not be so dry that it falls apart while you're rolling it. Try rolling a small amount, and add more cornmeal if the dough is too sticky. You may not use all of the cornmeal, it's ok if you have a small amount left over.

Rub a small amount of oil between your palms, and roll each gufong (2 tablespoons of the mixture at a time) into a log/hot dog shape, set the gufong on a plate and repeat until you've rolled out all of the gufong (there will be 40-50 of them). Keep the dough and the rolled gufong covered with a damp cloth prior to frying them, so they don't dry out.

Heat the oil in a deep pot or dutch oven, until it reaches 325°F. Drop 6 gufong into the oil at a time and fry them in batches until they are deep golden color (about 4 minutes per batch). The gufong should be firm on the outside when they come out of the oil, and the centers will be warm and soft.  They will firm up slightly as they cool.

Cool the gufong on a wire rack and serve them while they are fresh. Gufong can be stored at room temperature in a paper bag or in a bowl covered in foil. They are best when eaten within 2 days.
Notes
Gufong can be re-heated in the oven or wrapped in a damp paper towel and microwaved for 30 seconds.
Gufong are delicious when served with coffee, tea or hot chocolate
I included a link to the brand of cornmeal that I recommend. Try to find it in-stores if you can, it can be pretty pricey online