Pastel are Cape Verdean fried pastries filled with seasoned tuna and deep fried until golden brown. This ever-popular finger food is prepared in large batches and served at parties and gatherings. This small batch recipe yields 20 Cape Verdean pastel.
Interested in learning to make other Cape Verdean dishes? Make sure to check out this list of 25 Cape Verdean foods! Each dish has a link to the recipe!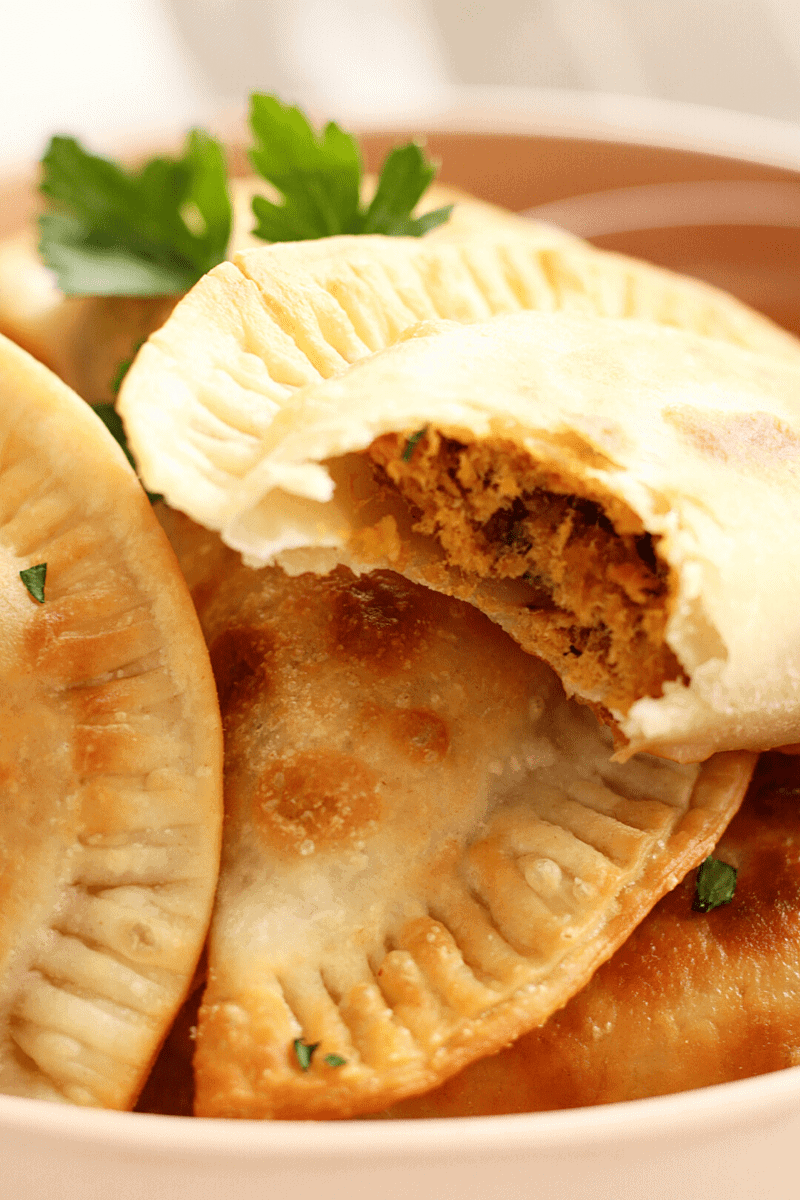 Store-bought vs. home-made dough
This recipe for Cape Verdean tuna pastel uses store-bought empanada discs. Store-bought discs are a common staple in Cape Verdean households. Some people make the masa (dough) from scratch, but it's not common-practice since pastel is usually made for large gatherings.
Eventually I'll update this recipe with directions to make the masa from scratch. In the meantime, please don't lose any sleep over using store-bought discs! In my opinion, homemade dough is much more work, with not much added benefit in terms of taste.
Other versions of pastel
Cape Verdean pastel is one food that you can pretty much put whatever you want in, much like empanadas. Truthfully, though I've never had pastel filled with anything else besides tuna! When people refer to pastel in the context of Cape Verdean food, you can assume it will contain tuna.
Pastel de milho, is the only other variation of pastel that I have eaten. Pastel de milho is also filled with tuna, but rather than the traditional dough made from flour, the dough is made from corn flour (milho is the Portuguese word for corn). I'm still learning the technique for this version but I'm committed to publishing a recipe for Cape Verdean pastel de milho in 2021!
Coveted staple in Cape Verdean food: canned tuna!
If you think you'll be scoring brownie points by using fresh tuna, think again! We Cape Verdeans are super-proud of our canned tuna! In fact, I highly recommend using Cape Verdean or Portuguese canned tuna to make this pastel recipe.
Canned tuna from Cape Verde and Portugal have a distinct saltiness (this is a good thing) and they're canned in olive oil, which also enhances the taste. If you don't have access to these types of tuna, any quality canned tuna will do. My recommendation is to find tuna that's canned in olive oil.
Depending on how many pieces of pastel you plan to make, it might be more cost-effective to use American tuna. Although it's not my preference, I'm also not paying for your groceries, so I would never discourage anyone from using what they have. My grandmother uses American tuna and she makes the best pastel! Don't feel stuck if you cant get your hands on imported tuna!
How to make Cape Verdean pastel:
Step 1: Season and cook the tuna
In a large skillet, saute the diced onions in olive oil. Drain your tuna and add it to the skillet with the sauteed onions. Use a wooden spoon to break up the tuna in the skillet before adding the spices so that the seasoning is distributed evenly.
Just like with any other Cape Verdean food, we're using very simple seasonings. Salt, pepper, garlic powder and paprika are all you really need. sazon or annatto are optional seasoning that give the tuna some additional color.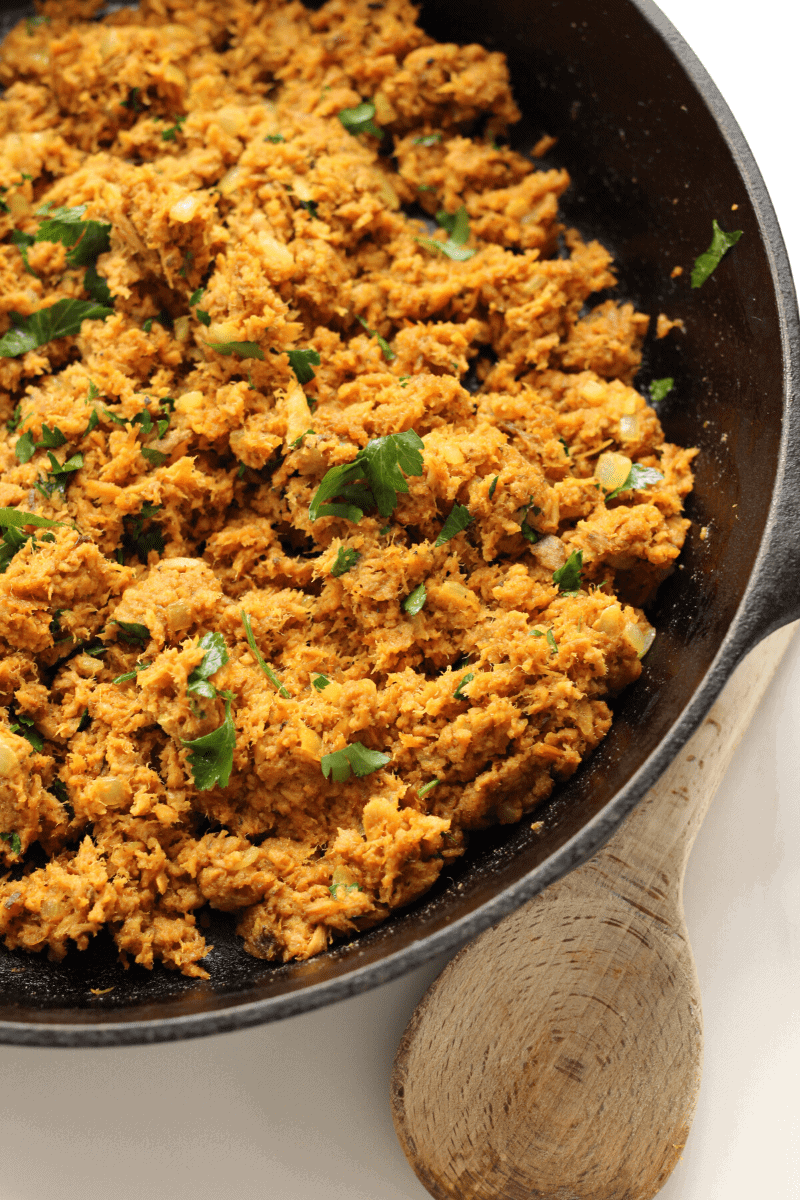 Once you've added the seasonings and cooked the tuna for about 5-10 minutes (you want the moisture to dry out), turn the flame off. I like to stir in some fresh chopped parsley after cooking the filling.
Step 2: Assemble the pastel de atum
Assemble each pastel one by one. I've been told that this recipe is very generous with the tuna! It's easier to be generous when you're making a small batch! Place 2 tablespoons of tuna on the center of each disc.
Fold each disc over and seal the edges using the tines of a fork. Make sure to press both sides (front and back) of each pastel.When using store-bought discs, I dampen the edges by dipping my finger in water to make the dough easier to press and seal.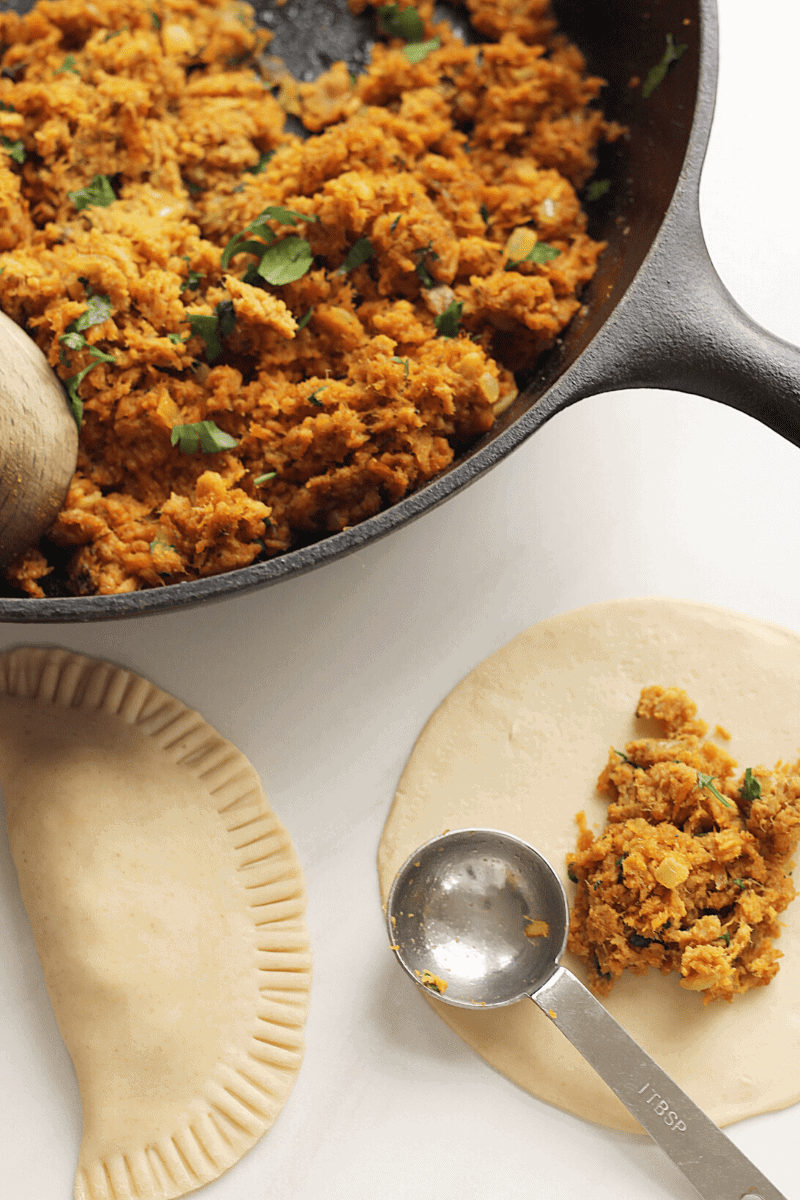 If you're a pro pastel-maker you may be able to assemble them quickly but if you're just an average-Jane like me, a batch of 20 should take about 20-30 minutes. I spend about a minute to a minute and a half assembling each pastel.
Step 4: Fry the pastel
After all of the pastel have been assembled, heat 1 cup of canola or vegetable oil in pan or skillet with deep sides. I like to shallow fry my pastel, but you'll need to use enough oil to allow the pastel to float so that the dough doesn't tear. One cup is the minimum amount of oil that I'll use.
Once the oil is hot enough, (a thermometer reading of about 325°F is what I aim for, or you can test the temperature with a few drops of water to see if the oil sizzles) drop in your pastel and fry in batches of about 4 or 5 at a time. Fry the pastel over medium heat just until golden brown.
Transfer the fried pastel to a cooling rack or a paper towel lined baking sheet. My preference is to cool them in a single layer but they shouldn't get soggy if you pile them on top of one another (I've done this many times).
Can I use an air-fryer to make Cape Verdean pastel?
While I prefer to fry my pastel in oil, you can use an air fryer. Each air-fryer is different, but 7 minutes per side should be sufficient. If you're going to use an air-fryer, I recommend brushing each pastel with a small amount of oil or spraying them with cooking spray.
One consideration to bear in mind when using an air-fryer is time. Depending on the size of your air-fryer basket, it could take quite a bit of time to fry a big batch of pastel.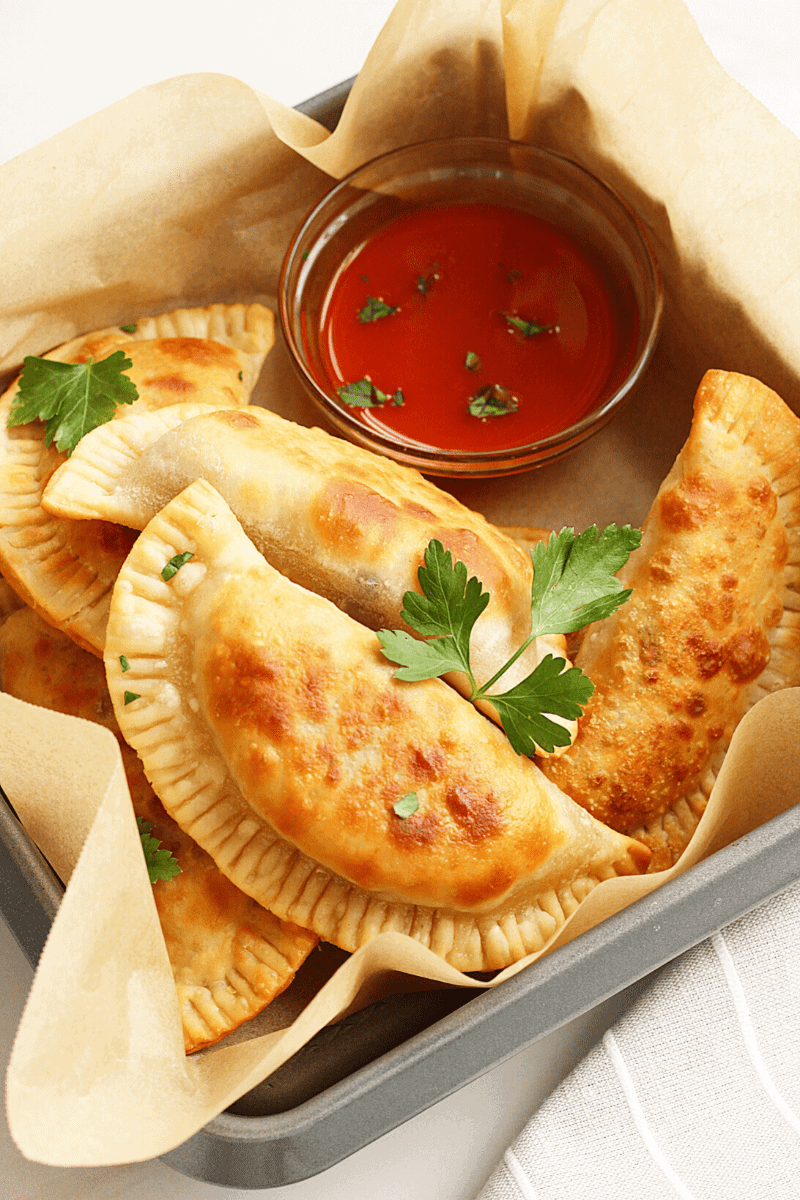 When and how to serve Cape Verdean pastel:
The great thing about pastel is that it can be eaten at any time of day! I like to eat them as an afternoon snack (no way I'm making a fresh batch in the morning!), but I do also like to re-heat them for breakfast. Pastel re-heat very well in the oven.
Normally pastel de atum is not served with a dipping sauce, but I like to bite into my pastel and add a few drops of hot sauce to the center. You can also season the tuna with a few drops of hot-sauce before assembling and frying the pastel.
Now it's time to model these beauties!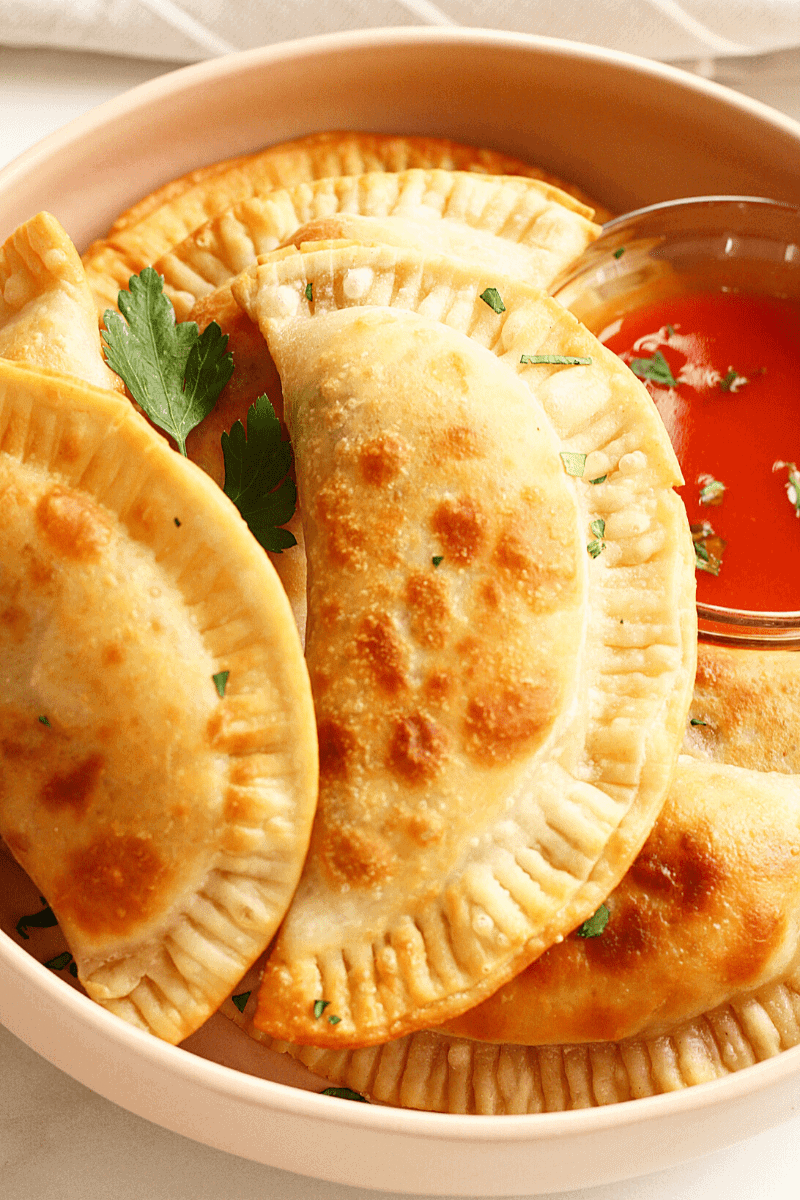 How else would I show you the inside without taking a bite?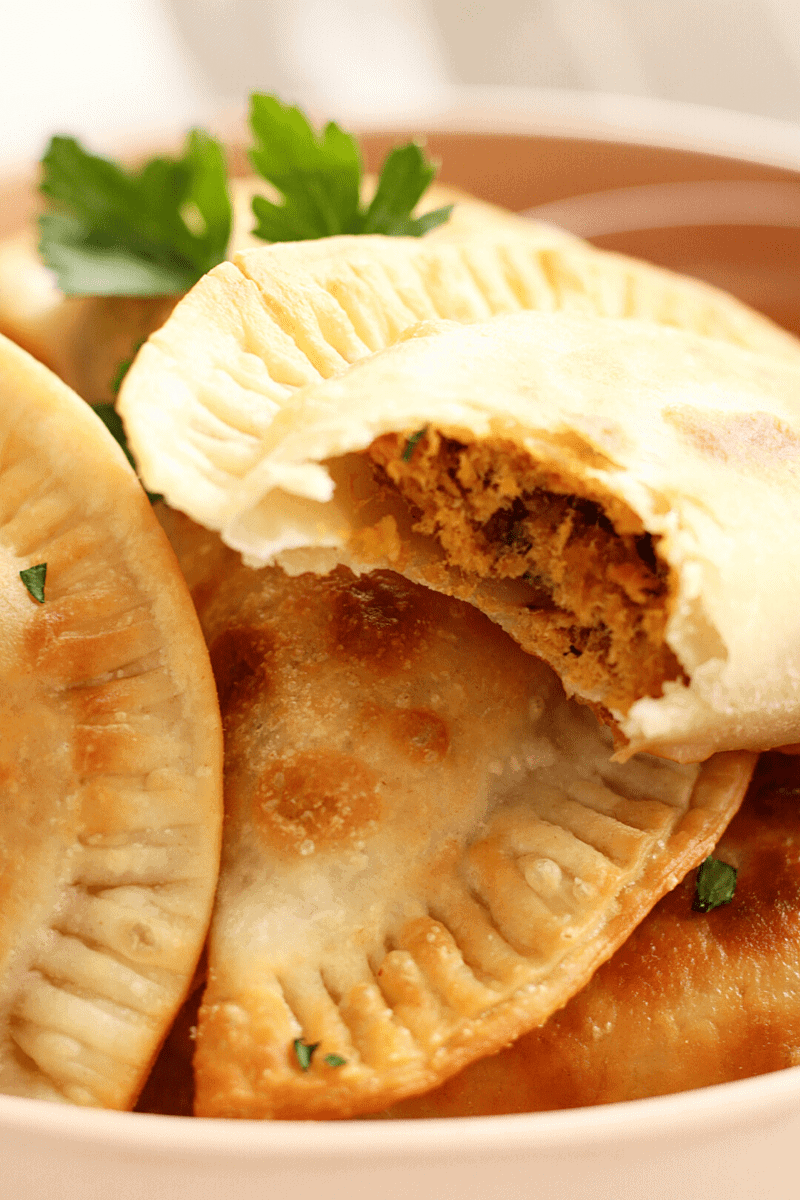 Look at that fluffy soft tuna and crispy golden shell! These would make anybody's mama or vovo proud!
Until next time, friends!
Other recipes you'll love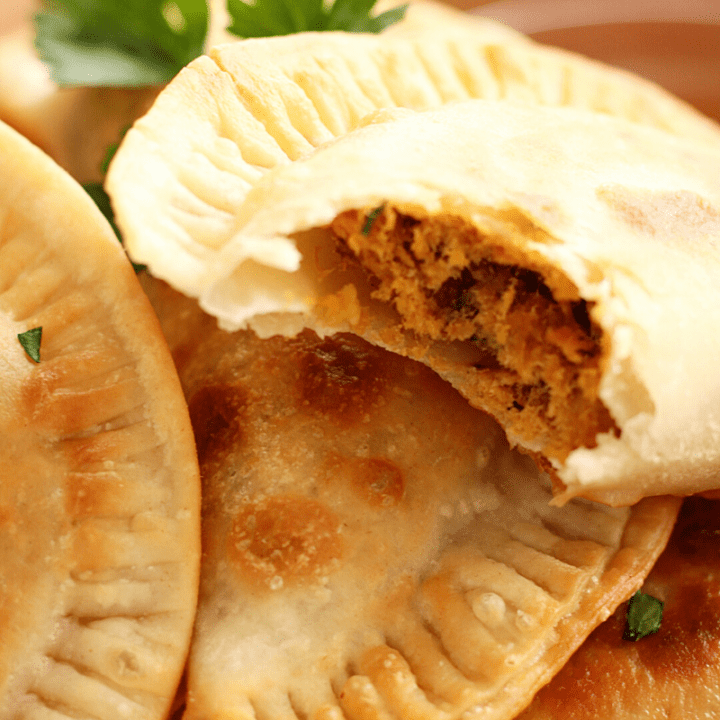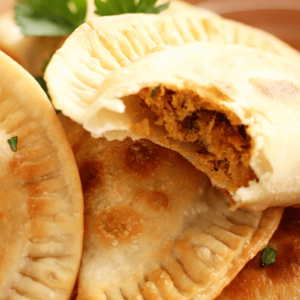 Cape Verdean Pastel Recipe – Pastel de Atum
These Cape Verdean Pastel de Atum are stuffed with imported canned tuna and seasonings, then fried until golden. This recipe uses store-bought empanada discs and yields 20 pieces. Feel free to double or triple the recipe as needed.
Ingredients
2

13.58

cans of imported tuna

packed in olive oil

1

small

yellow onion

diced

2

tablespoons

olive oil

1

teaspoon

salt

1

teaspoon

garlic powder

½

teaspoon

black pepper

½

teaspoon

onion powder

1

teaspoon

paprika

1

packet

of sazon (con azafran)

or 2 teaspoons of annatto, optional

few

springs

of fresh parsley or cilantro

chopped

20

store-bought empanada discs

thawed

1

cup

of canola oil

for frying
Instructions
Prepare the Tuna:
In a non-stick or cast iron skillet, heat 2 tablespoons of olive oil over medium-low heat and add the diced onions. Saute for 1-2 minutes, until fragrant.

Add the tuna to the skillet and break it apart using a wooden spoon. Add your dry seasonings and cook the tuna for 5-10 minutes. Use your spoon to move the tuna around the skillet so it cooks evenly. You will notice some of the moisture is drying out. Tuna should dry out a little but still be soft.

Remove the skillet from heat, add your parsley to the skillet and toss it with the tuna.
Assemble and fry the pastel:
Place the unwrapped discs on a work surface and spoon 2 tablespoons of tuna into center of each disc.

Fold each disc over and use the tines of a fork to press and seal the edges. If the edges are dry, moisten your index-finger with a tiny amount of water and dampen the edges. Flip the pastel over and repeat on the other side.

Heat 1 cup of canola oil to 325°F and drop 4-5 pastel into the oil at a time. Be careful not to crowd the pan with too many pastel.

Fry each pastel for 1-2 minutes on each side, or until they're golden in color. Transfer the fried pastel to a paper towel lined plate, or wire cooling rack.

Serve the pastel warm or at room temperature with few drops of hot-sauce, if desired.
Notes
Pastel can be stored for 1-2 days at room temperature in a ziploc bag or plastic container. Pastel can be baked instead of fried at 375 degrees F for 18-20 minutes.
Brush with egg wash or spray with cooking spray so that they turn golden in color.
Leftover tuna can be refrigerated for 2-3 days. You can substitute regular, American tuna for imported if needed. Try to find tuna packed in olive oil.
Nutrition