This recipe for creamy coleslaw is the perfect balance of sweet and tangy. It's made with shredded cabbage, equal parts mayonnaise and sour cream, a hint of red wine vinegar and some added sugar for sweetness. This is next-level deliciousness and perfect for any Juneteenth cookout!
I've made it my mission in life is to save coleslaw from its' tragically underwhelming reputation. Not sure if it's a regional thing, but in New England, coleslaw is one of those dishes that gets a lot of disrespect. Enter my mom's coleslaw recipe. Her coleslaw is creamy, sweet and tangy. You wouldn't mind eating it all on its own!
I wish I could say that my mom was eager to share her recipe with us but she was not. It took some convincing (and some buttering up) on my part to convince her to let me publish this recipe! The creaminess of this sweet and tangy coleslaw recipe is achieved by using equal parts mayo and sour cream. The sweetness comes from sugar and the tang is from the red wine vinegar and mayonnaise.
Here's to a Happy Juneteenth! Let us never ever again disrespect coleslaw by limiting it to just a garnish!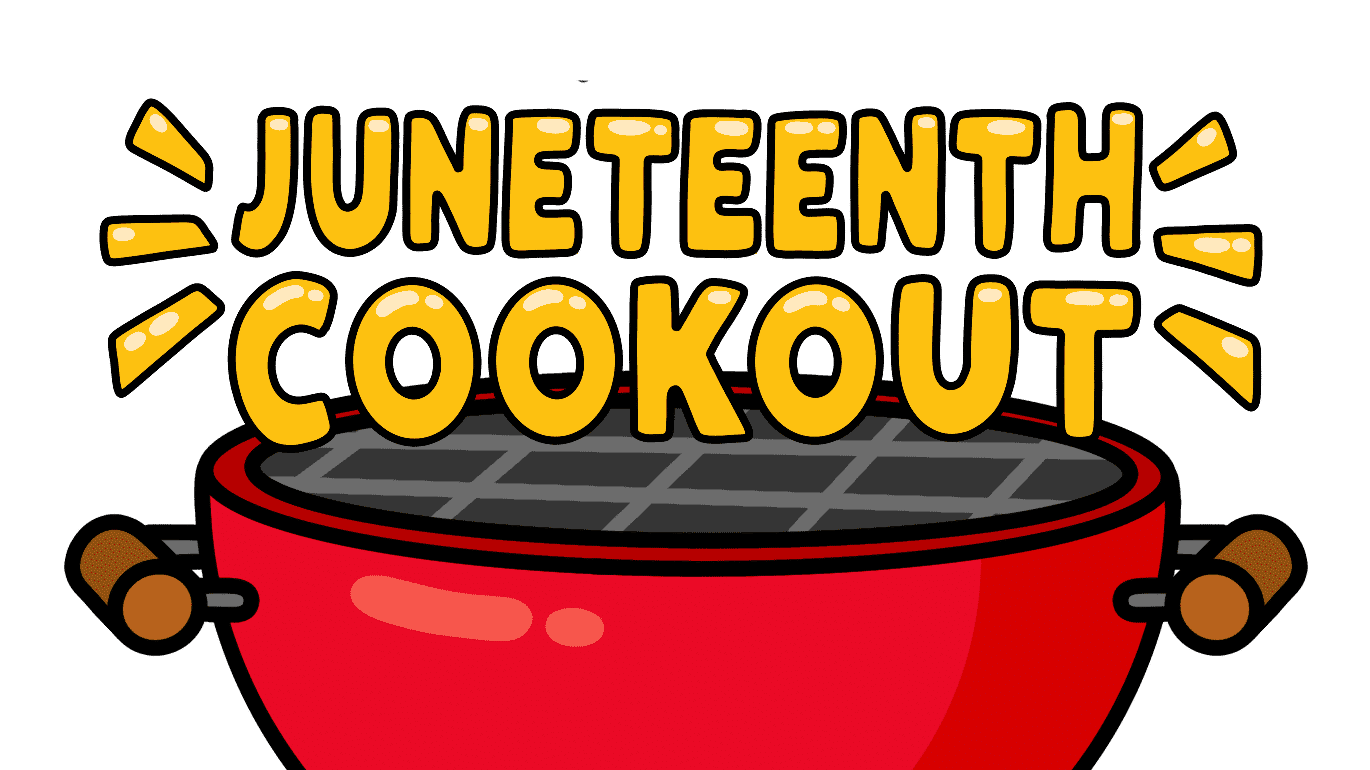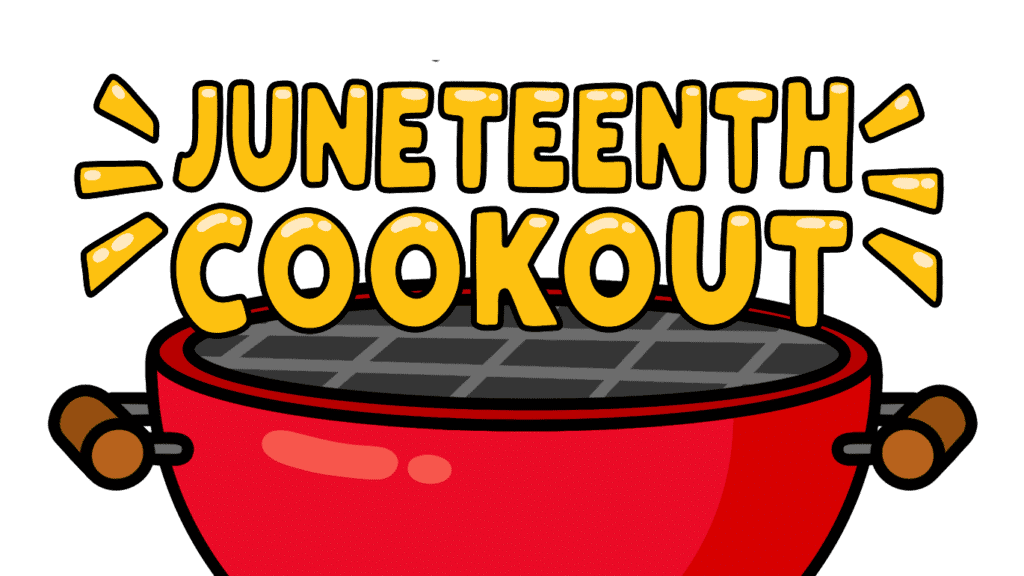 Let's celebrate Juneteenth!
Join me in celebrating Juneteenth by checking out the list of contributors to the 2021 Juneteenth Virtual Cookout down below. 40+ black creators contributed to this collaborative menu as a Freedom Day tribute. Juneteenth marks our country's second independence day, the final emancipation of those enslaved in the US back in 1865. Join in, share, and help us continue the legacy of celebrating progress. Additionally, you can easily follow each participant by using the hashtag #JuneteenthCookout2021 on Instagram. For more Juneteenth recipes, scroll down to the bottom of this post!
Sweet and Tangy Coleslaw Recipe Ingredients
Bagged pre-shredded coleslaw. You can opt for tri-color mix (includes shredded carrots and a mix of purple and white shredded cabbage) or classic coleslaw mix (shredded carrots and white cabbage only). Tri-color is used in the photos, but the red cabbage has a tendency to bleed, so I prefer classic.
Equal parts mayonnaise and sour cream
Red wine vinegar for tanginess
Granulated sugar – this adapted recipe uses less than my mom's
Salt and black pepper
Sweet and Tangy Coleslaw – Recipe Instructions:
Step 1: Prep the veggies
Since this recipe calls for bagged pre-shredded coleslaw, there's really not much to do here besides emptying the bag into a large bowl.
It's always a good idea to inspect the bag of coleslaw mix when you buy it. Moisture beads in the bag and wilted, wet looking veggies isn't a good sign! Also keep an eye out for discoloration. The fresher the veggies, the better!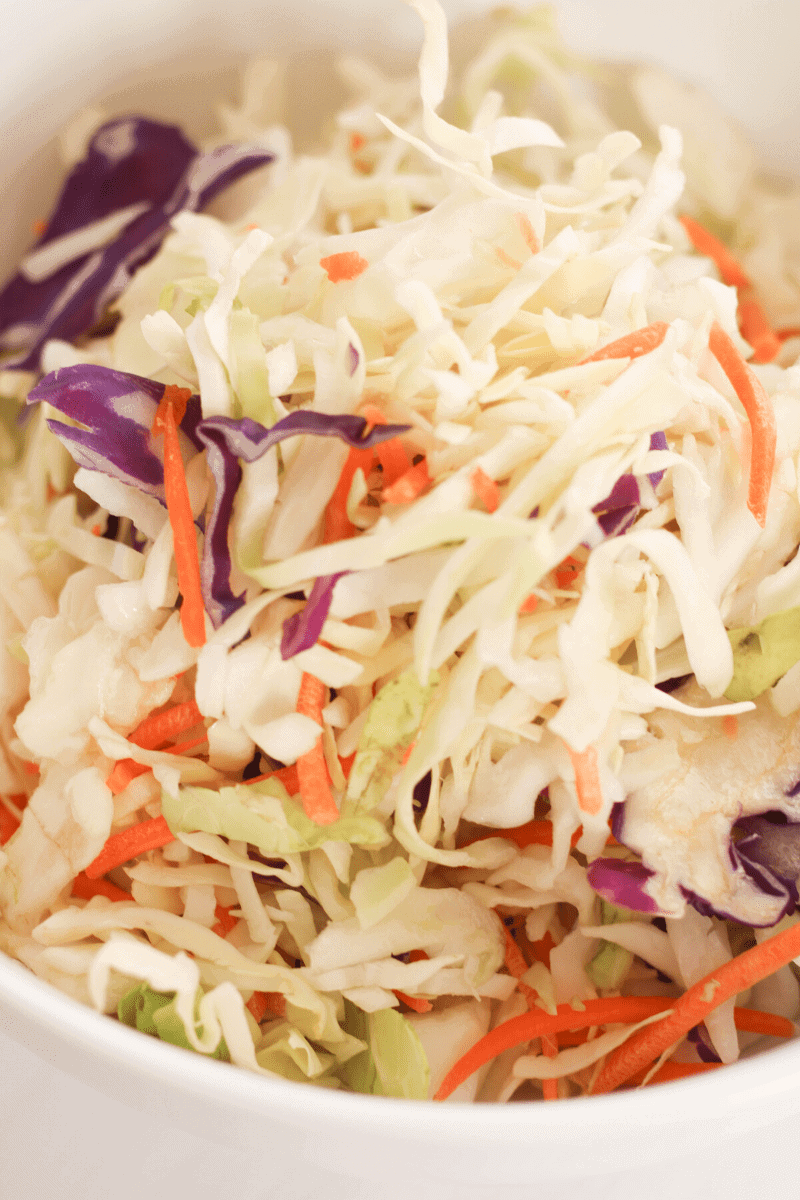 Step 2: Make the sweet and tangy dressing
The key to this delicious creamy, sweet and tangy dressing is to start with a base of equal parts mayonnaise and sour cream. Personally, I don't like how the taste and texture of mayonnaise has the tendency to linger on the palate. Balancing the dressing with sour cream helps to alleviate that lingering aftertaste.
Whisk the sour cream, mayonnaise and red wine vinegar together. Add the granulated sugar and continue to whisk. Once the sugar is dissolved (it shouldn't taste or feel grainy) add salt to your liking. You shouldn't need much salt!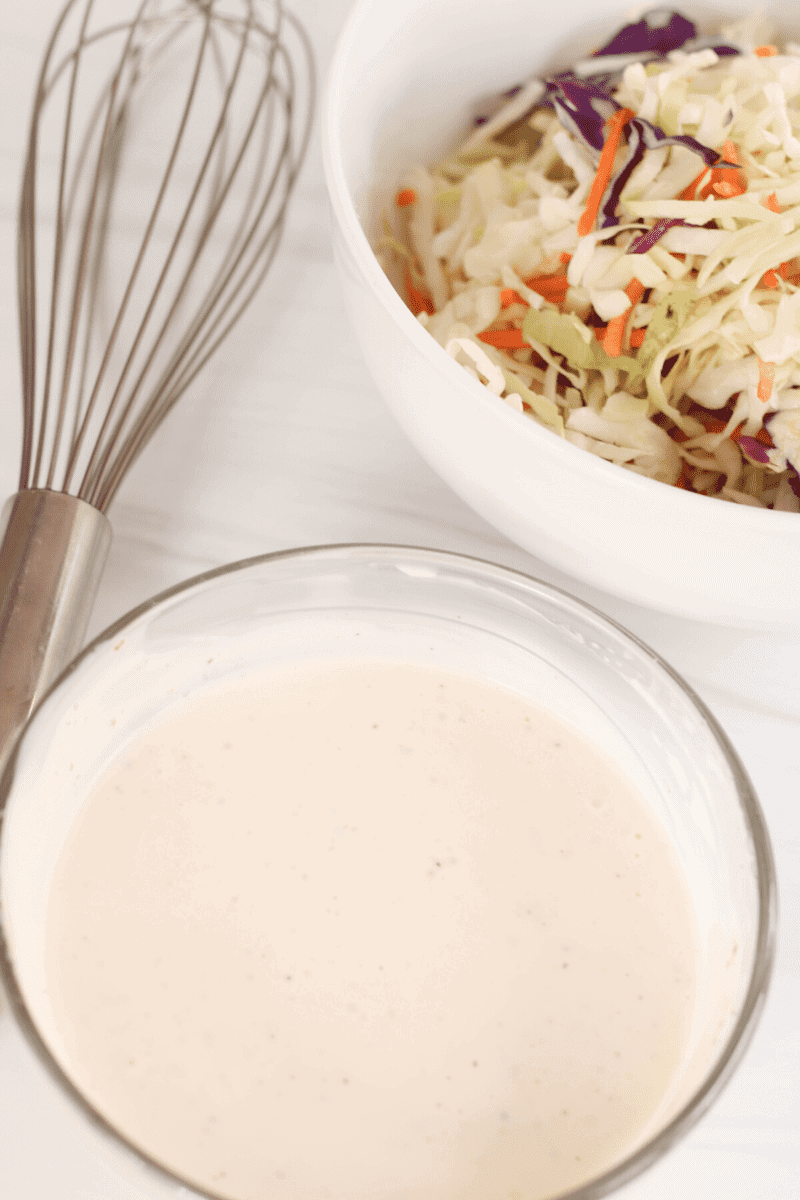 Step 3: Toss the coleslaw
Pour the sweet and tangy dressing over the coleslaw, toss it a few times and add some fresh-cracked pepper. Cover the bowl of coleslaw tightly with plastic wrap and place it in the refrigerator.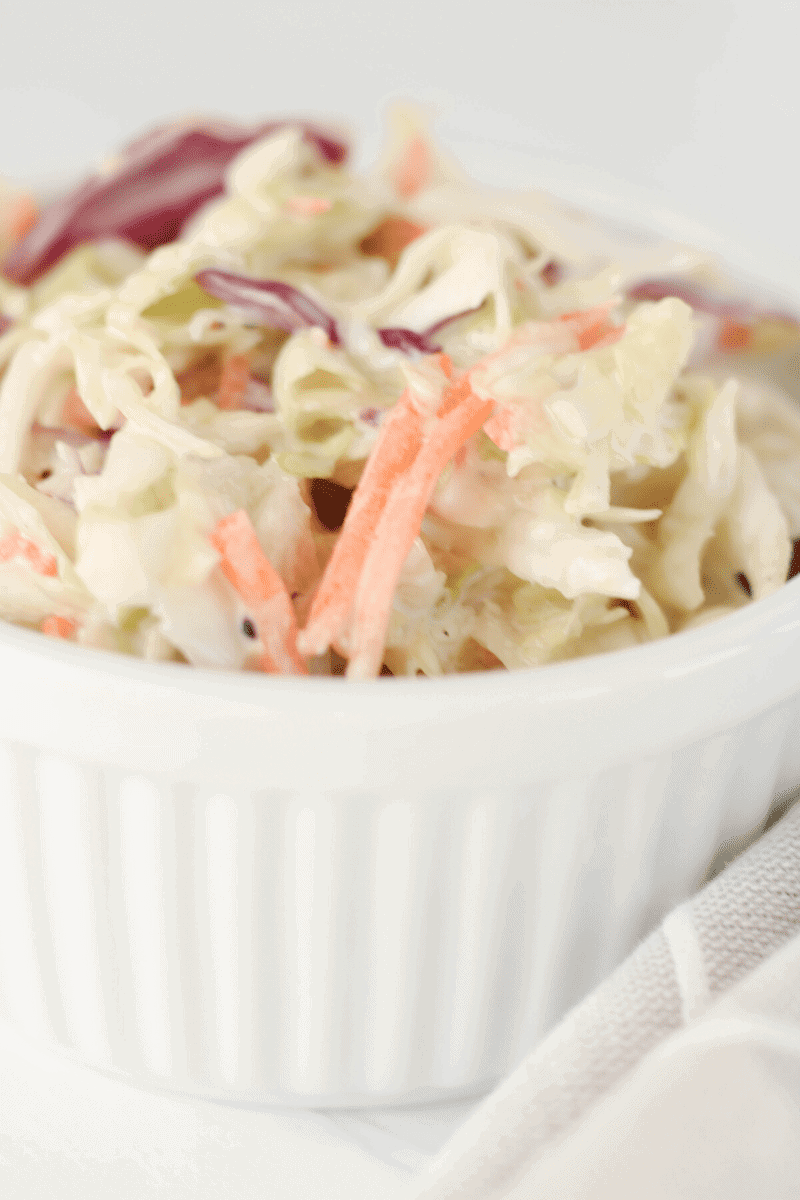 Step 4: Chill and serve
Allow the coleslaw to chill in the refrigerator. I like to chill it for about 20-30 minutes prior to serving, but you can let it chill longer. Remember that coleslaw has lettuce in it, so the longer it sits, the more that lettuce is going to break down.
Also, the dressing will draw moisture out of the veggies so if you notice your slaw is getting watery, drain off some of the liquid using a mesh strainer. Don't worry, there will still be plenty of sweet and tangy flavor.
When it comes to serving this sweet and tang coleslaw, the possibilities are endless. It can be used as a topping for pulled-pork sliders, spicy chicken sandwiches, or burgers. Or you can serve it as a side dish with fried seafood, fried chicken, BBQ chicken or any BBQ-inspired dish.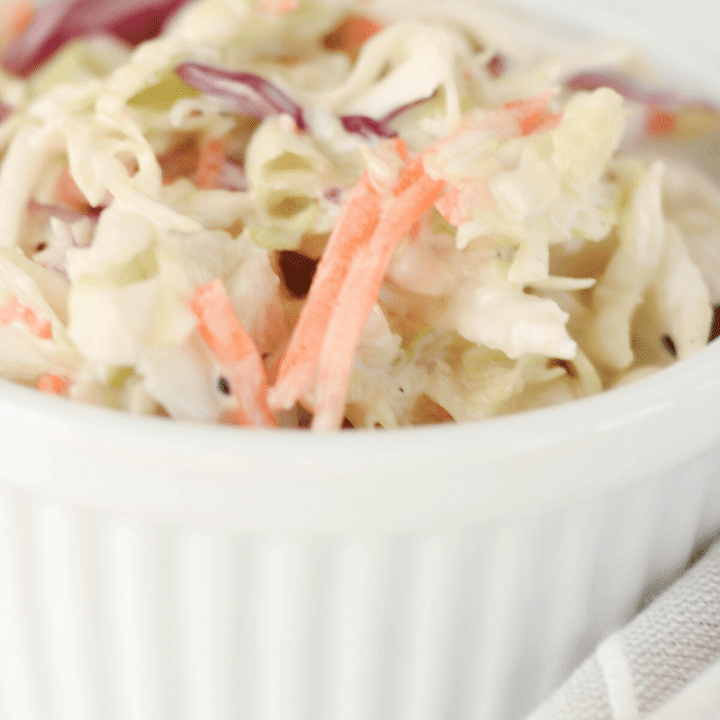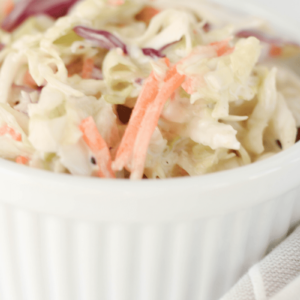 Sweet and Tangy Cole Slaw
This recipe for creamy coleslaw is the perfect balance of sweet and tangy. It's made with shredded cabbage, equal parts mayonnaise and sour cream, a hint of red wine vinegar and some added sugar for sweetness.
Ingredients
8

ounces

coleslaw mix

½

cup

mayonnaise

½

cup

sour cream

¼

cup

granulated sugar

2

tablespoons

red wine vinegar

pinch

salt and pepper
Instructions
Remove the coleslaw mix from the bag and place it in a large bowl.

In a separate, medium-sized bowl whisk together the mayo, sour cream and red wine vinegar until smooth. Gradually whisk in the granulated sugar. Add a pinch of salt to taste.

Pour the sour cream mixture over the coleslaw mix and toss until combined. Top the coleslaw with some fresh cracked pepper and give it another toss.

Cover bowl tightly in plastic wrap and let the coleslaw chill in the refrigerator for 20-30 minutes.

Prior to serving, you can drain any excess liquid from the coleslaw and give it one final toss.
Notes
Coleslaw keeps in the refrigerator for about 24 hours.
If you're making this recipe for a cookout or large gathering, you may need to double or triple the recipe as needed.
Nutrition
Check out these other Juneteenth-inspired recipes!
Watermelon Ice Pops by A Girl Called Adri
Juneteenth Soul Rolls by Black Girls Who Brunch
Honey Buttermilk Biscuits with Roasted Strawberries by Britney Breaks Bread
Strawberry Collins by Brownbelle
Peach Cobbler Cinnamon Rolls by Butter Be Ready
Red Hot Pepper Shrimps by Chef and Steward
Jalapeno Cornbread Muffins by Chef Curl Ardee
Lemon Sour Cream Pound Cake by Chenée Today
Vegan Ranch Style Beans by Collards Are The Old Kale
Rum Punch by Sweet & Sorrel
Mint Julep by Sweet Tea + Thyme
Almond Peach Cake by That Green Lyfe
Strawberry Cobbler Galette by The Dana Renée Way
Strawberry Baby Back Ribs by This Worthey Life