Arroz de atum (also referred to arroz ku atum) is one of the quickest, easiest and most satisfying Cape Verdean dishes. 'Arroz de atum' translates to "tuna rice" and it's one of my go-to recipes that I make at least once a week. Now that I work full time, keep my children home with me and run a blog on the side I rarely have time to make Cape Verdean food during the week! This is one dish that always saves the day!
While your here, make sure you also check out this simple recipe for seasoned white rice and my favorite rice with pigeon peas!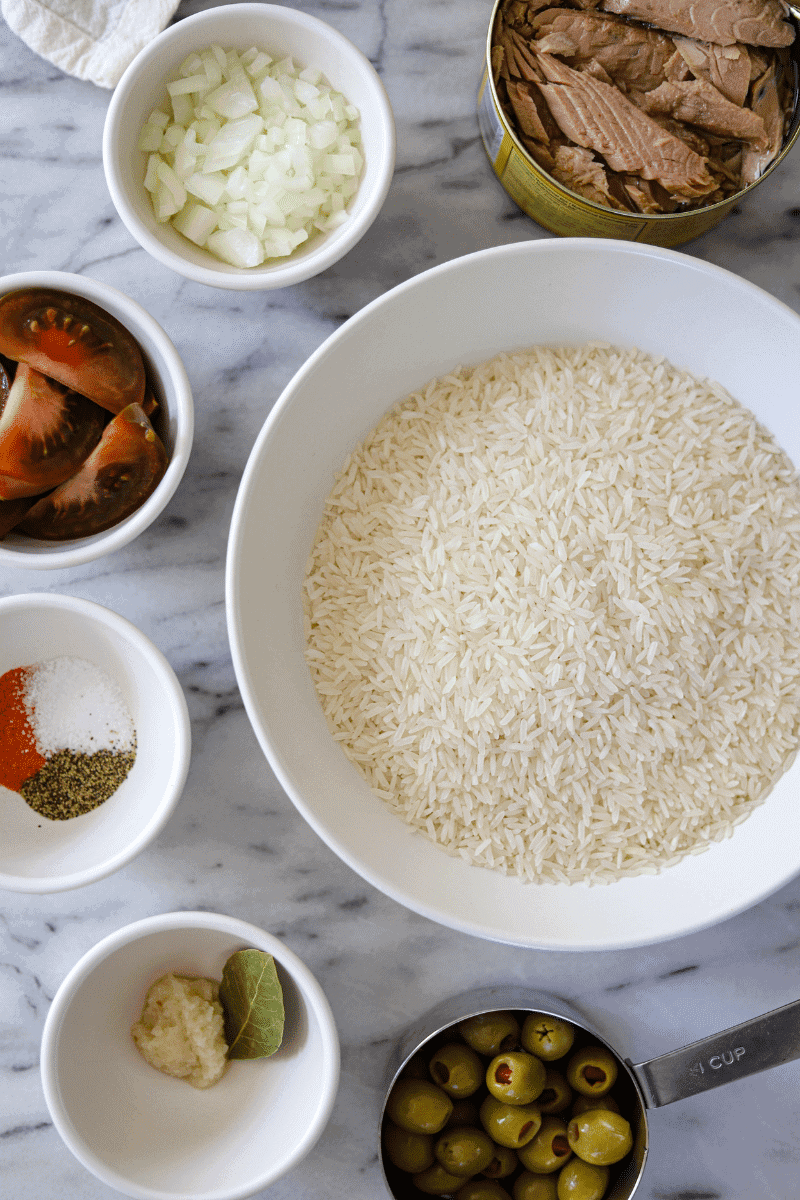 What makes arroz de atum unique from other Cape Verdean dishes, is that it doesn't take an entire day or afternoon to make! It's a simple, satisfying dish made of long-grain rice, tuna, onions, tomatoes, garlic and seasonings. This version has olives in it but you can substitute the olives for pigeon peas, or a different type of bean, or omit the olives and beans completely. Arroz de atum takes about 30 minutes to make from start to finish (give or take a few minutes to let the rice rest before fluffing it).
What kind of rice should I use for arroz de atum?
Any long grain rice will do. My personal favorite is jasmine, but any long-grain rice will work just fine.
Be selective with your tuna
I recommend imported tuna from Cape Verde or Portugal. Cape Verdean tuna is a staple to Cape Verdean cuisine. Cape Verdean tuna (and also Portuguese tuna) is packed differently than American tuna fish. For one, the pieces are meatier and larger, it's packed in olive oil which lends a distinct taste to the tuna. I also like the saltiness of Portuguese or Cape Verdean tuna. It's good stuff!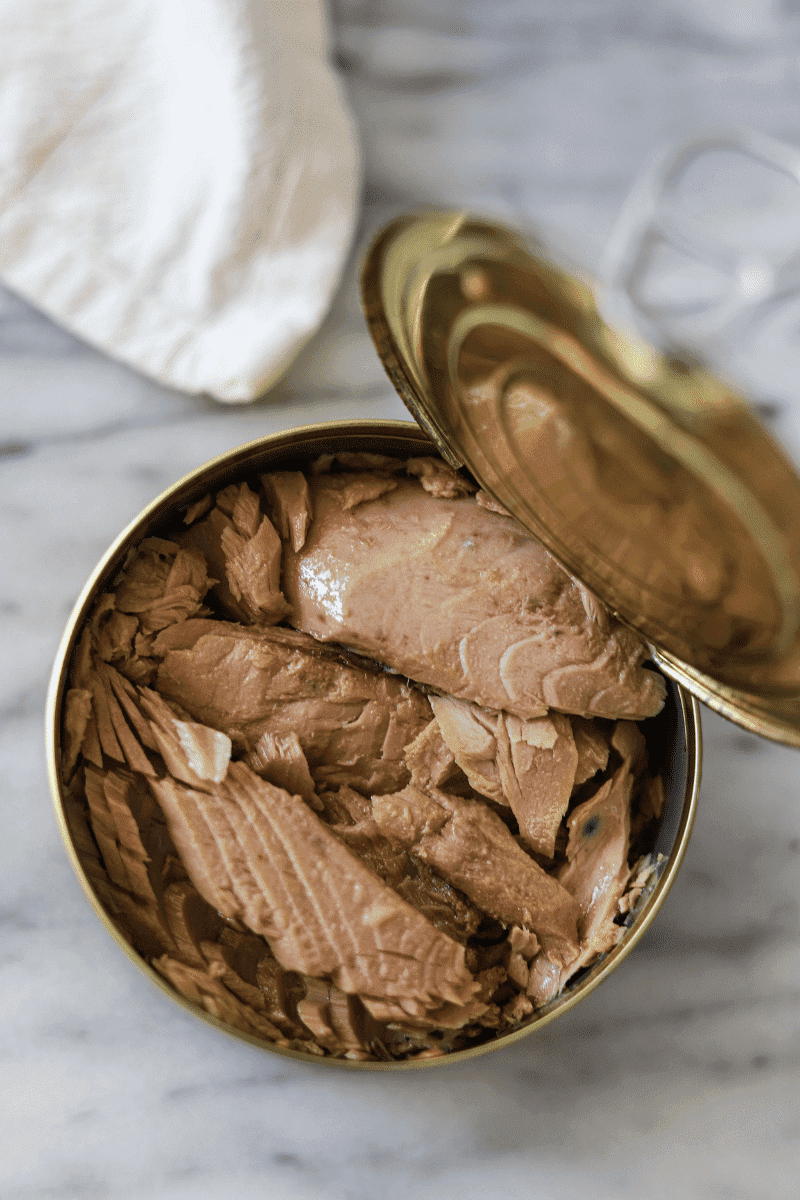 If you cannot find Portuguese tuna or Cape Verdean tuna in the region where you live, try to at least find some tuna that's packed in olive oil. I've included links to the brands that I use. You should be able to find those brands easily in Southern Massachusetts, Rhode Island and certain parts of Connecticut (Waterbury and Bridgeport areas). If you don't live in New England you can either try to find an area near you with an established Portuguese community, or buy them online.
A few words about seasonings and sazon
Some people don't like when I use sazon or other seasoning blends in my Cape Verdean dishes, and the reason they give is that 'people don't use sazon in Cape Verde'.
While this may or may not be true (Cape Verde is becoming a developed nation and they have access to plenty of things there) sazon is not a singular herb or a spice. It is a blend of seasonings, many of which are used in Cape Verde. I do realize that packaged sazon can contain high amounts of sodium and other additives, which is why I use it only for certain dishes.
I like the color that yellow sazon gives rice. If you don't wish to use it, that is perfectly fine. You can use paprika and/or annatto in its place. I'm first generation Cape Verdean and can attest that Sazon is used in many Cape Verdean American households. It's just a matter of preference.
A few tips and tricks to follow when making rice:
Making rice can seem a little intimidating and it can also take a bit of practice. Here are a few tips and tricks for perfect rice every time:
Rinse the rice with tap water right before adding it to the pan. You want to make sure that you rinse the rice because it's loaded with starch and sometimes dirt. I recommend a quick rinse and not a soak. In the past when I've soaked rice, it was a little too soft for my liking. Also, a mesh strainer is a great way to make sure that you drain out all the excess water before adding the rice to the pot.
Use the recommended ratio of rice to water. Rice-to-water ratios vary from cook to cook, but most cooks will agree that not using too much water is key. Generally, I do equal parts water and rice and then add about a half cup of water on top of that. Different cultures prepare rice differently, but to avoid a wet rice dish you don't want to add too much water.
Add your seasonings before adding the rice. It gets very hard to distribute seasoning once your rice starts to cook and expand. For this reason, you should add your seasonings around the same time that you cook your onions and tomatoes, and then add your water. Also make sure to taste your water before adding the rice and adjust the seasoning to your liking.
Bring your water to a boil before adding the rice to the pot. Like I said, the longer your rice sits in water the softer/more mushy it becomes. I always bring my water to a boil before adding the rice to the pan.
Cook your rice low and slow. Because this recipe doesn't use a lot of water, you don't want the flame to be too high because the water will evaporate too quickly and you'll be left with hard rice. Hard rice is pretty much inedible. Not to mention, if all of your water evaporates too quickly, your rice can burn on the bottom. I cook my rice on the lowest flame setting and leave the lid on for as long as possible so the steam doesn't escape.
Leave it alone! I understand that it can be very tempting to mix food around and check on its appearance/texture while it's cooking. Mixing rice around while it cooks results in mushy rice and broken olives. This is where you're going to have to let go, and trust the recipe.
Let the rice rest and then fluff it with a fork. You want to let the rice rest with the lid on the pot at the end for about 5-10 minutes. Fluffing the rice prevents the grains from clumping together and it also helps release some of the moisture so that the rice doesn't continue to cook after the flame has been turned off.
Expect that some rice will stick to the bottom of the pan. This is normal as long as it doesn't turn black or smell burnt. The olive oil from tuna will also help minimize sticking. Soaking your pan overnight will release any stuck-on rice from the bottom.
Bonus paper towel trick: I usually taste my rice right before turning the flame off. If you find that your rice is still a bit firm, place a damp paper towel over the rice, replace the lid and let the rice cook for an additional 5-10 minutes. This does the trick for me every time.
Step 1: Prep your ingredients
This step shouldn't take longer than 5 minutes. The first step is to drain the oil from the tuna but reserve the oil. Set the oil and tuna aside.
Next, dice your onions and cut your tomato into quarters. Set these ingredients aside as well.
Step 2: Make your base
Heat 3 or 4 tablespoons of the drained oil from the tuna in a dutch oven or deep pot (make sure that whatever cooking vessel you use has a lid). Add the onions, crushed garlic, tomato and bay leaf to the oil and stew them (over medium heat) until the onions become translucent and the tomato starts to cook down. To help move this process along, you can use a wooden spoon to break up the tomato. The tomato will release some liquid. If your liquid starts to dry up during this phase, just reduce the heat as needed.
Step 2: Add the seasonings and tuna
Now you want to add your seasonings (salt, pepper, paprika, and annato or yellow sazon) and stir them into the cooking liquid. Add your tuna and break it up a little, but not too much. I like to leave some larger chunks of tuna in tact, but that's my preference.
Stir everything together until the ingredients are combined. and then add the bay leaf.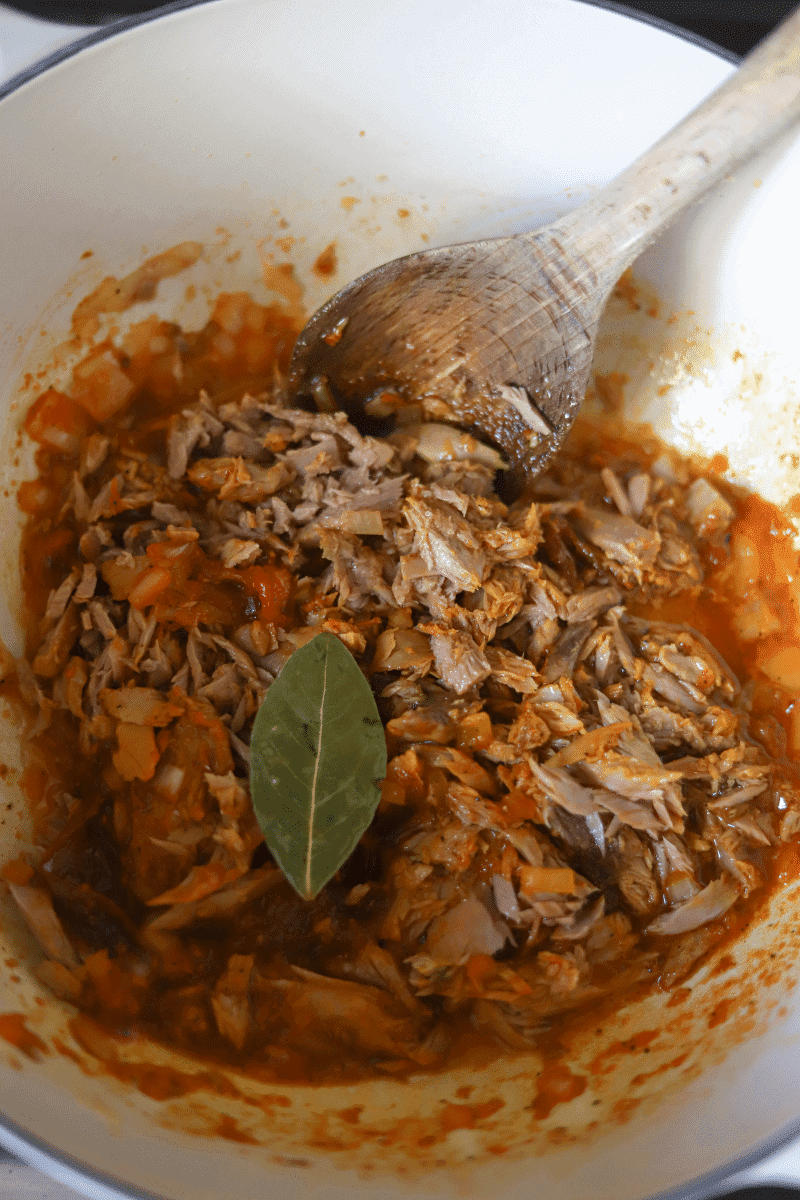 Step 3: Add olives and water
Add the olives (or beans) immediately followed by tap water. I don't stir everything until after the water is added since olives tend to break easily.
Cover the pot with a lid, turn the flame up and bring the tuna, olives and water to a boil. This doesn't take very long at all, maybe about 5 minutes. You'll need to lift the lid to check to see if your water is boiling.
Step 4: Add and cook the rice
Once your pot starts to boil, give the rice a quick but thorough rinse. A mesh strainer helps with draining any excess water from the rice. Taste the cooking liquid right before adding the rice and add more salt or seasoning if needed.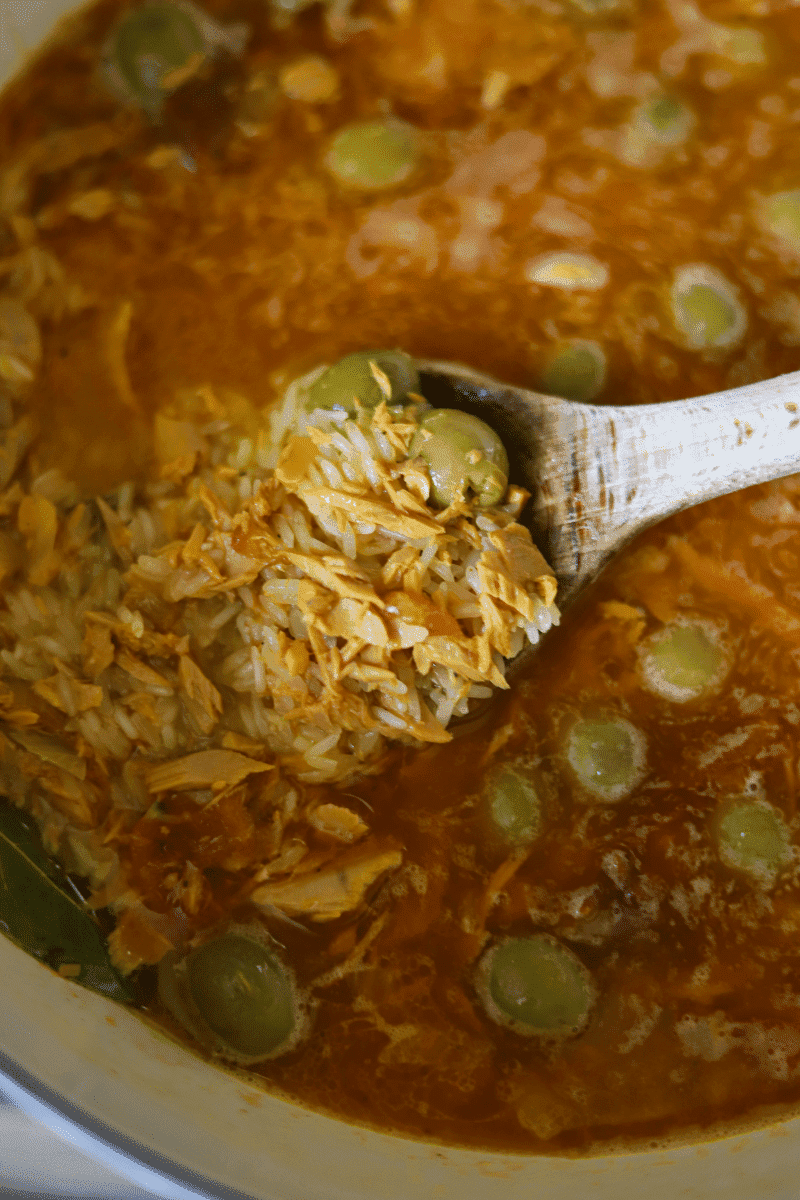 Add the rinsed rice to the pot and give it a stir. Lower the flame, cover the pot with a lid, and let the rice cook over very low heat for 20-25 minutes. Try not to uncover the pan or disturb the rice as it's cooking. Once you're nearing the end of your cook time, taste a forkful of rice and turn the heat off if you're satisfied with the texture. If you feel that the rice needs to cook more leave the flame on for an additional 5-10 minutes.
As I mentioned before, if your rice still seems pretty hard, lay a damp paper towel over the rice, cover it with a lid, and let it cook for a few additional minutes. Make sure that your flame remains low and pay attention to the rice to make sure it doesn't burn.
Step 5: Let the rice rest and then fluff it
I always let my rice rest for 5-10 minutes with the lid on it before serving it. This might seem like an unnecessary step to some, but I like to do it because it helps the rice absorb some of the moisture.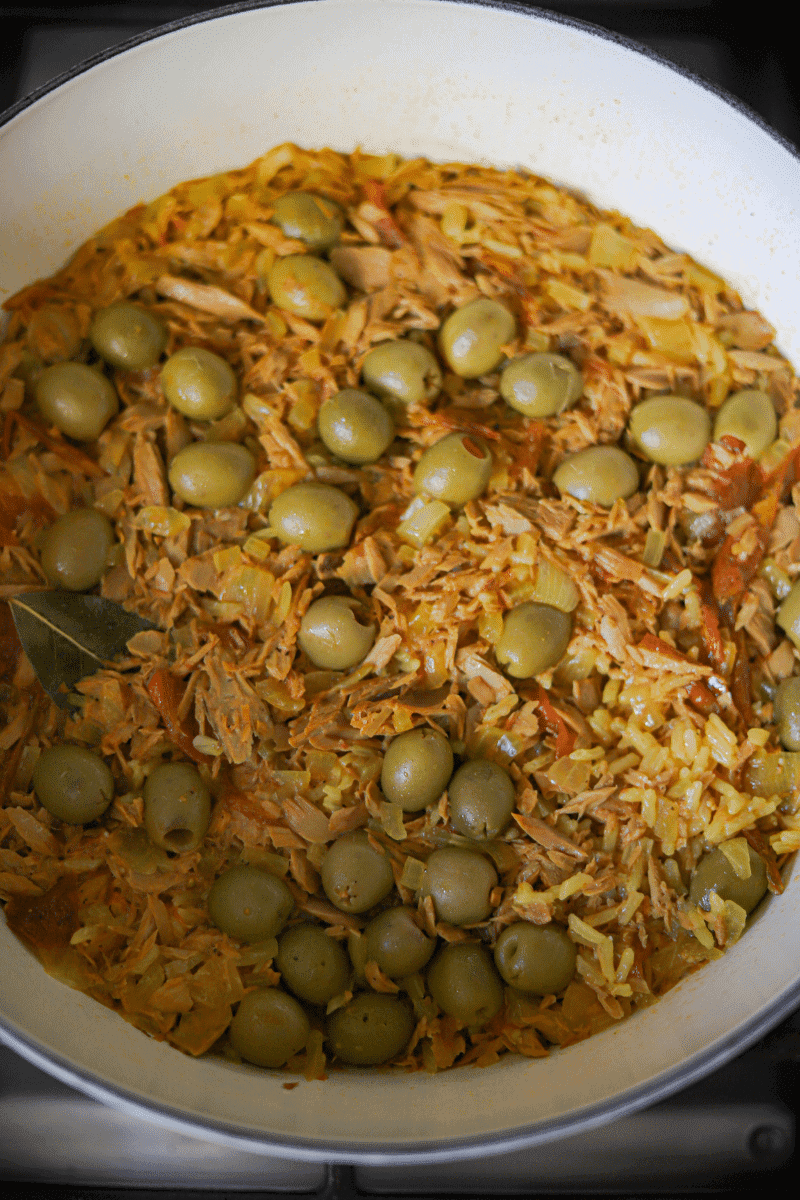 Finally, after your rice has rested, lift the lid off the pan and fluff it with a fork. This step helps prevent the rice from clumping together and it also releases steam.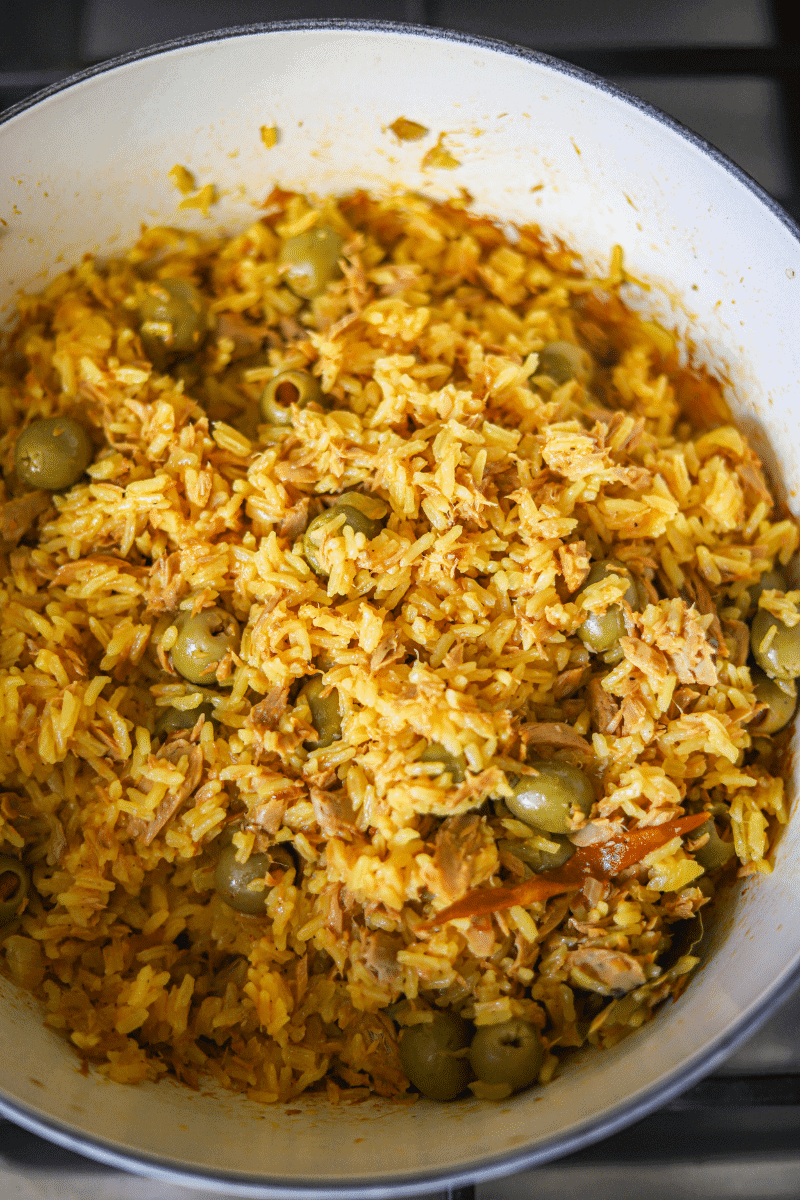 The final result
Your rice should be fluffy and tender, and you should be able to see each individual grain, like in the photo below.
If you opted to use yellow sazon, your rice should be a beautiful bright yellow color. If you opted to use paprika and annato, your rice will have a slightly more orange color, but not too different from the photo.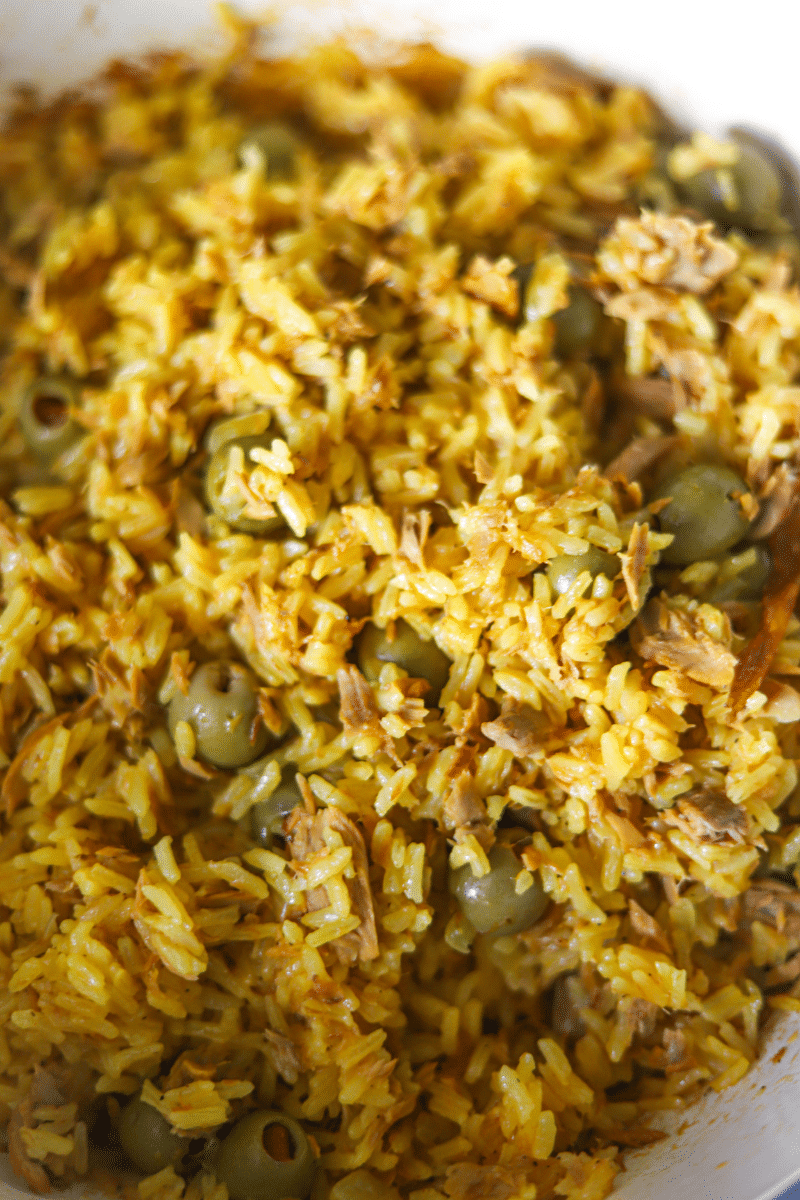 Serving suggestion
I am perfectly satisfied with serving arroz de atum on its own. It contains protein, a starch and a legume/vegetable. Seems like a perfectly balanced meal to me! You'll be surprised at how filling and satisfying this dish is on its own! If you would like to serve it as a side though, by all means do so! I've seen it served as both a main course and a side.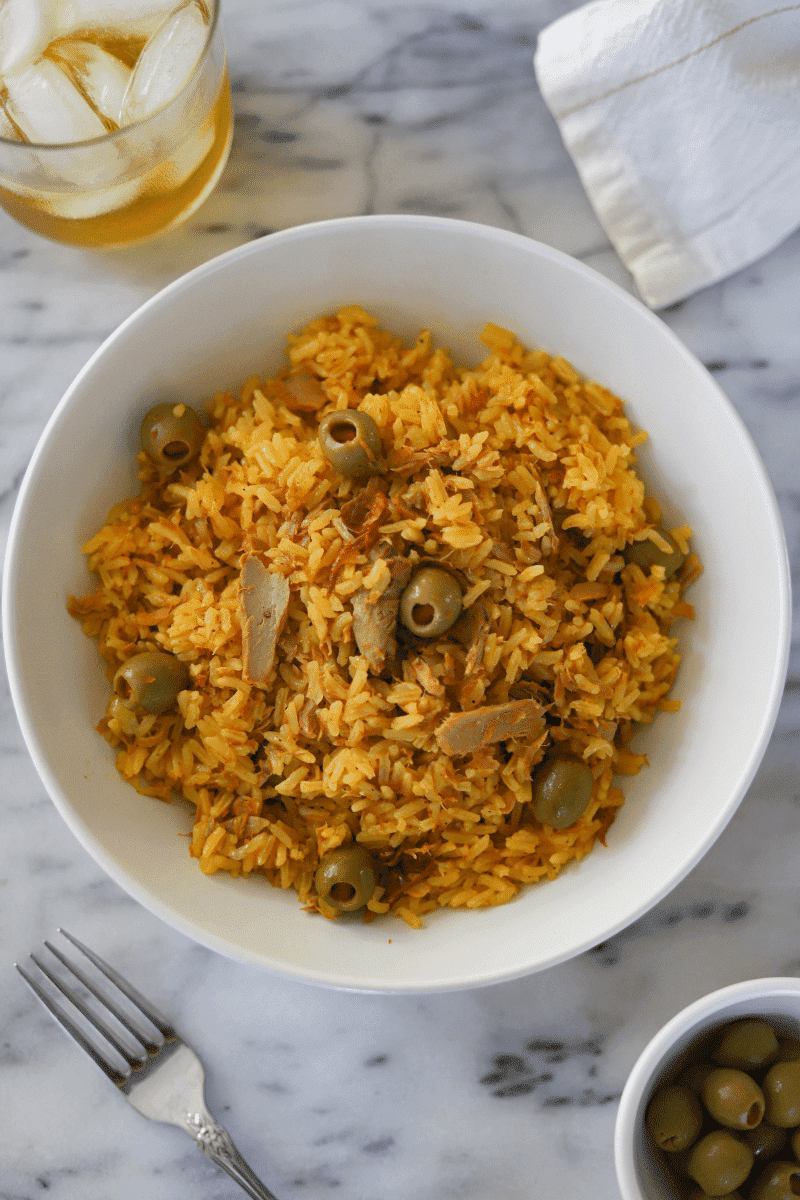 Just a little close up, look at that beautiful color and texture!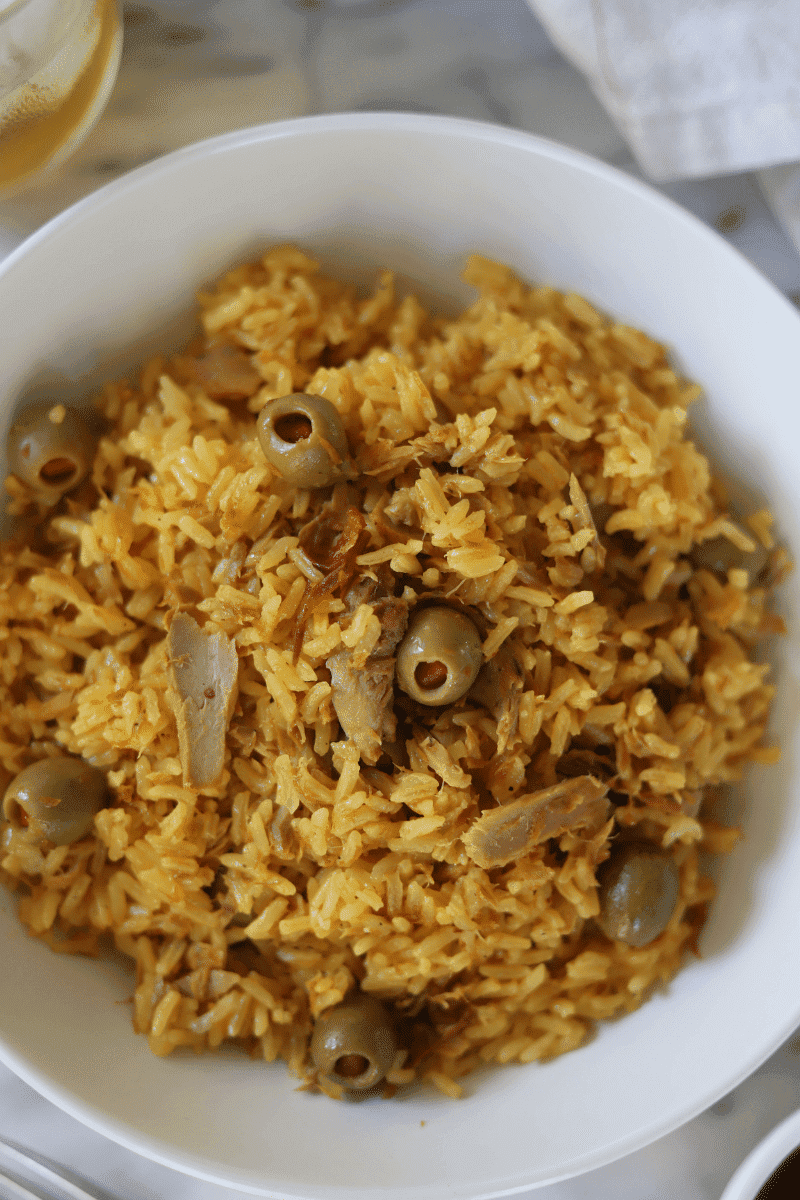 If you enjoyed this arroz de atum, check out these other delicious Cape Verdean recipes!
Cachupa: Traditional Dish of Cape Verde – Full Recipe
Canja de Galinha – Cape Verdean Chicken Soup Recipe
Traditional Cape Verdean Cuscuz (Cuscuz de milho)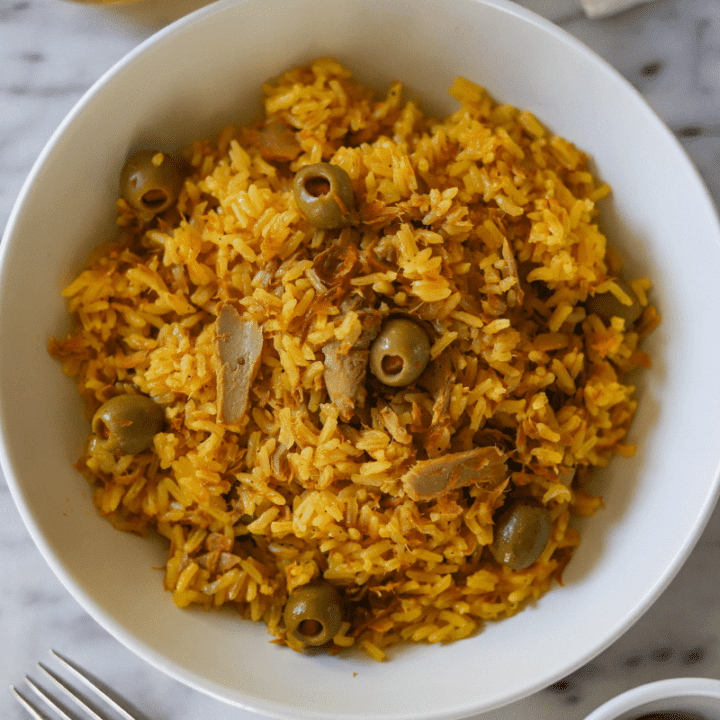 Cape Verdean Rice with Tuna - Arroz de Atum
Cape Verdean Arroz de Atum (tuna rice) is quick, easy and surprisingly satisfying! It's made with rice and tuna and (olives or beans are optional) and takes about 30 minutes to prepare. This easy to follow, step by step recipe will show you how to cook the perfect rice! Arroz de atum is super-satisfying on its own or as part of a larger meal.
Ingredients
13.58

ounce

can of Cape Verdean or Portuguese tuna

or any tuna packed in olive oil

2

cups

of long-grain rice

I use jasmine

1

small diced onion

1

tablespoon

of crushed garlic

1

bay leaf

1

small tomato

quartered

2

and ½ cups of water

1

cup

of manzanilla olives

1

packet of yellow sazon

OR 1 teaspoon of paprika + 1 teaspoon of annatto

1-2

teaspoons

of salt

½

teaspoon

of black pepper
Instructions
Drain the oil from the tuna, reserve the oil and set both the tuna and oil aside.

Add about 3-4 tablespoons of the reserved oil to a deep pot or Dutch oven, then add the crushed garlic, onions and tomato. Saute for about 5-7 minutes, until the onions are translucent and the tomato cooks down (you can break up the tomato with a wooden spoon if you would like as it's cooking).

Add seasonings, saute everything for about 30 seconds, and then add the tuna.  Use a wooden spoon to break the tuna apart slightly (I like to leave larger pieces of tuna in-tact).

Add the olives, bay leaf and water, and bring the pot to a boil. Add your rice, stir it and then cover the pot. Let let the rice cook over a very low flame for 20-25 minutes. Do not mix or uncover the rice while it is cooking.

After 20 minutes is up, taste the rice and if you are satisfied with the texture, turn the flame off, re-cover the pot with the lid, and let the rice rest for 5- 10 minutes. If you decide that the rice is not soft enough, let it continue to cook for another 5-10 minutes then turn the flame off and let the covered pot rest for 5-10 minutes.

Once the rice has rested, fluff it with a fork and serve.