I've been dying to drop a cinnamon roll recipe on you guys! Only problem for me is that cinnamon roll recipes are literally on every corner of the internet! As much as I love classic cinnamon rolls, I wanted to put a spin on things! What about soaking cinnamon rolls in tres leches? Now that sounds like it should be a thing!
Tres Leches is a very popular Latin American dessert. Traditionally it's cake that's soaked in tres leches (sweetened condensed milk, evaporated milk and whole milk or heavy cream). It's moist (there's that word!), rich and delicious. If you haven't tried it in its original form, I suggest you do that before trying this recipe.
This recipe combines elements from both classic cinnamon rolls and tres leches. I'm telling you it works, even with the cream cheese frosting. We'll get into why I kept the cream cheese frosting later on. Also, cinnamon rolls are thick, doughy, and have layers. Perfect for soaking up tres leches! If you know anything about making cinnamon rolls, you know it's a process to make them! Making the tres leches adds an additional step but I promise it's simple and worth it! My suggestion is to use a mixer of some sort, preferably a stand mixer with a dough hook attachment to cut down on some of the work. And don't make these while you're hungry because they need to rise for a few hours! I don't need you guys getting hangry at me!
So let's get right into it because there are a lot of steps! This recipe takes a good 2.5 to 3 hours from start to finish, and the reason why it takes that much time is because the dough has to rise. Twice. So don't make these while hungry!
To make these Cinnamon Rolls soaked in Tres Leches, you'll need the following:
Bread flour-Using bread flour rather than all purpose yields softer, fluffier cinnamon rolls. If you want a tighter roll, you can use all purpose, but you may need to increase the amount of flour by a few tablespoons to make the dough less sticky. For all purpose flour you can also shorten the baking time to 18 minutes.
Yeast– I prefer to use instant yeast whenever possible because it doesn't require proofing. Proofing is when the yeast is activated by mixing it with a warm liquid. Active yeast requires proofing. This recipe calls for active yeast because that's what I had on hand at the time. I loved the results so I didn't change the recipe. You can use instant yeast if you prefer.
Room temperature eggs and butter– Cold ingredients are harder to combine and sometimes throw off a recipe's chemistry. You can probably get away with using cold eggs, but since you need to let the butter sit out to soften it, you might as well let your eggs sit out too. By the way, room temperature eggs are safe to use in baking. Cold butter is going to be very hard to work with, so don't even attempt it. Also, softened is not melted.
Evaporated milk- This is used to enrich the dough and to make the tres leches, which means that it's called for twice in the recipe. You'll only need 1 can, but make sure to pay attention to the specific measurements for each component (the dough and the tres leches).
Heavy cream– This is used in 3 different parts of the recipe. It's used to enrich the dough, it's used in the tres leches, and it's used in the frosting. Again, take note of specific measurements for each.
Condensed milk-It's one of the tres leches, and I also reserve a few tablespoons for the whipped topping. It really complements the cream cheese frosting.
Cream cheese– I thought about skipping the cream cheese, but after testing several versions of the frosting, I decided to keep it for body and tanginess. I also didn't want an icing that was going to be runny or melt once it touched warm cinnamon rolls. Since this is a twist on Tres Leches and your traditional Cinnamon roll, I felt the cream cheese was appropriate.
Sugar-Granulated sugar is used to sweeten the dough and dark brown sugar is used in the cinnamon roll filling.
Cinnamon- well this one is obvious.
Salt– Only a pinch is used, but it's an important ingredient because it controls the growth in the yeast and balances the sweetness in the dough.
Powdered sugar-Sweetens and thickens the frosting.
Pure vanilla extract-Enhances the flavor of the dough, the tres leches and frosting
Step 1: Make the dough and let it rise
In this step you're going to warm the heavy cream and evaporated milk and use the warm mixture to proof your yeast if you're using active yeast. Be careful that the milk/cream doesn't get hot, or you'll kill your yeast. If you're using instant yeast you can skip the proofing and combine the dry yeast with the flour.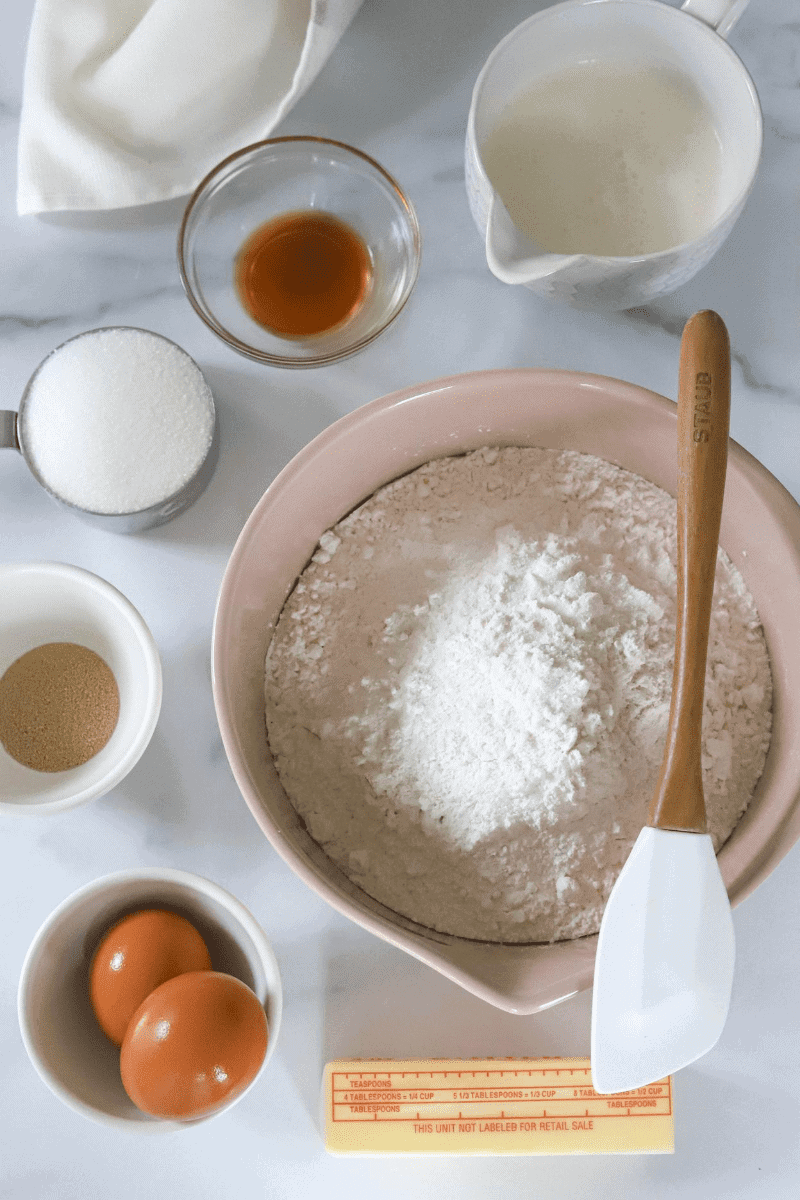 Next, combine the room-temperature eggs and butter with the sugar, yeast, evaporated milk and heavy cream. Mix it well. Add the flour and salt and use a dough hook (or your hands) to form the dough. If you're using a dough hook the dough is ready once the dough pulls from the sides of the bowl.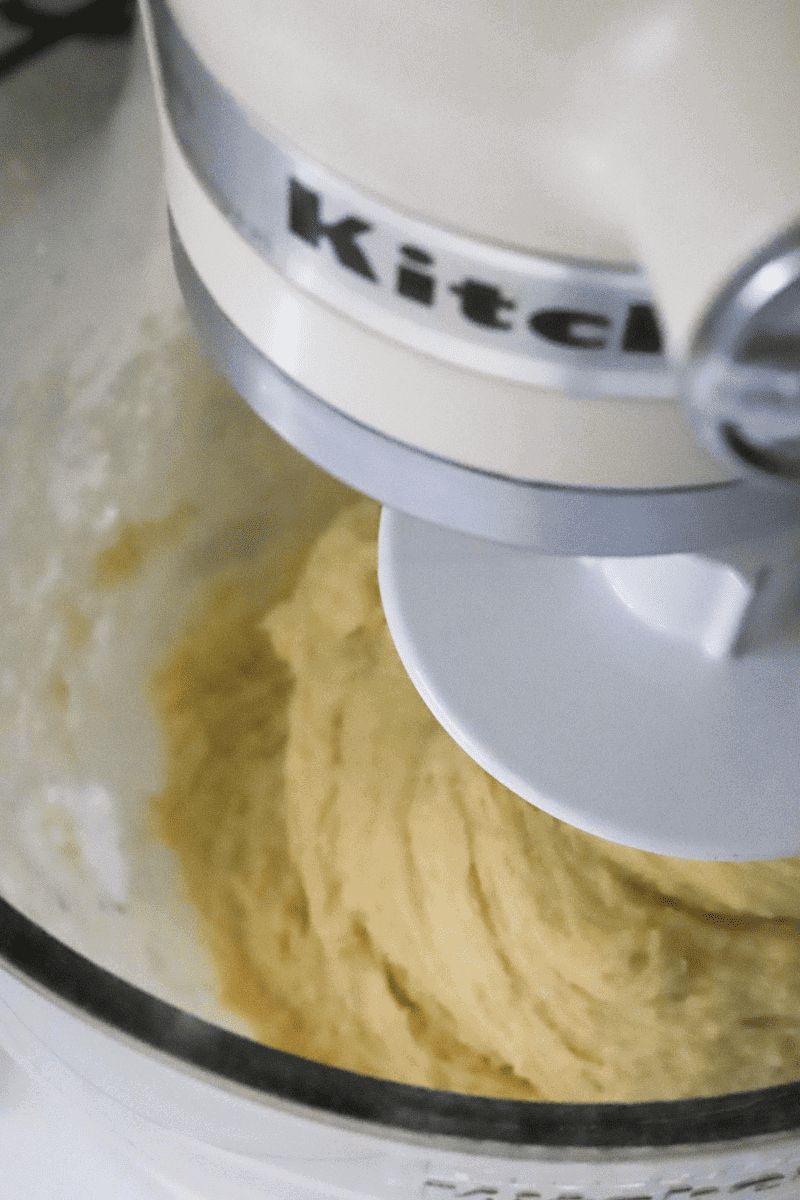 Now it's time to knead the dough by hand and shape it into a ball. Place the ball in a clean, greased bowl, cover it with a kitchen towel and let it rise for an hour and a half. The dough should double in size.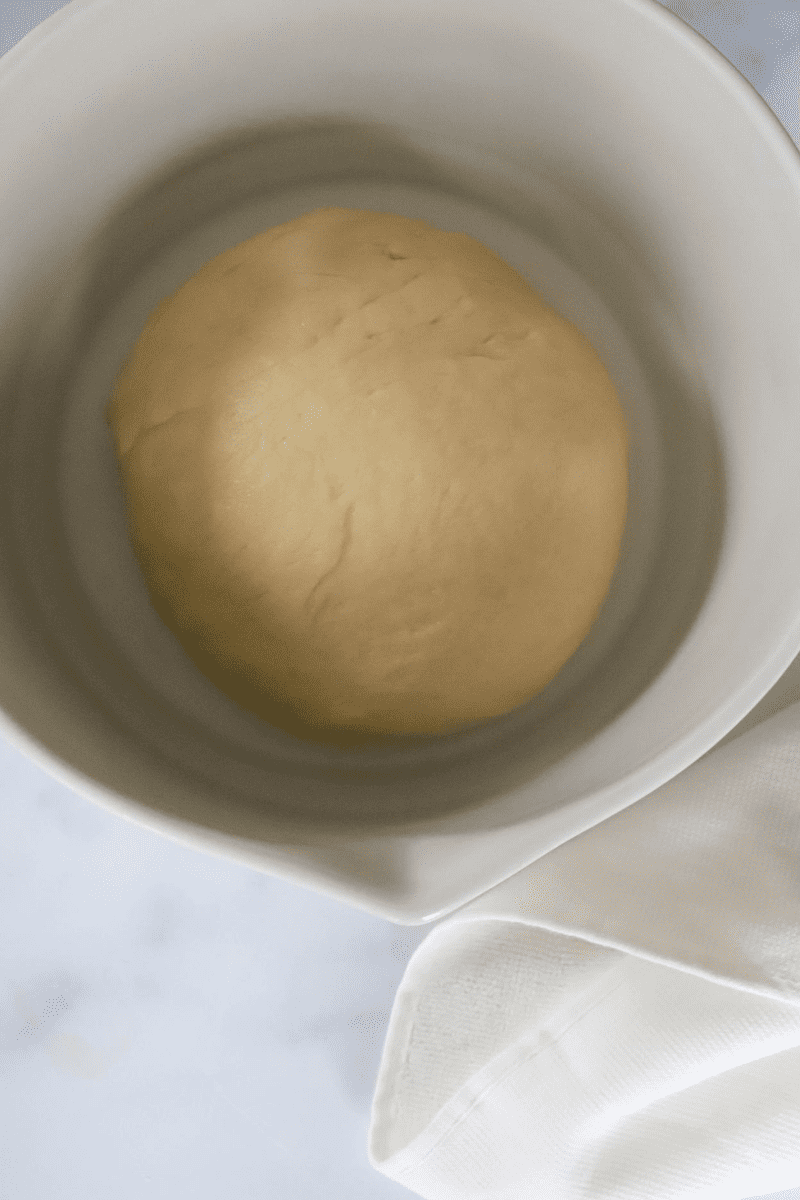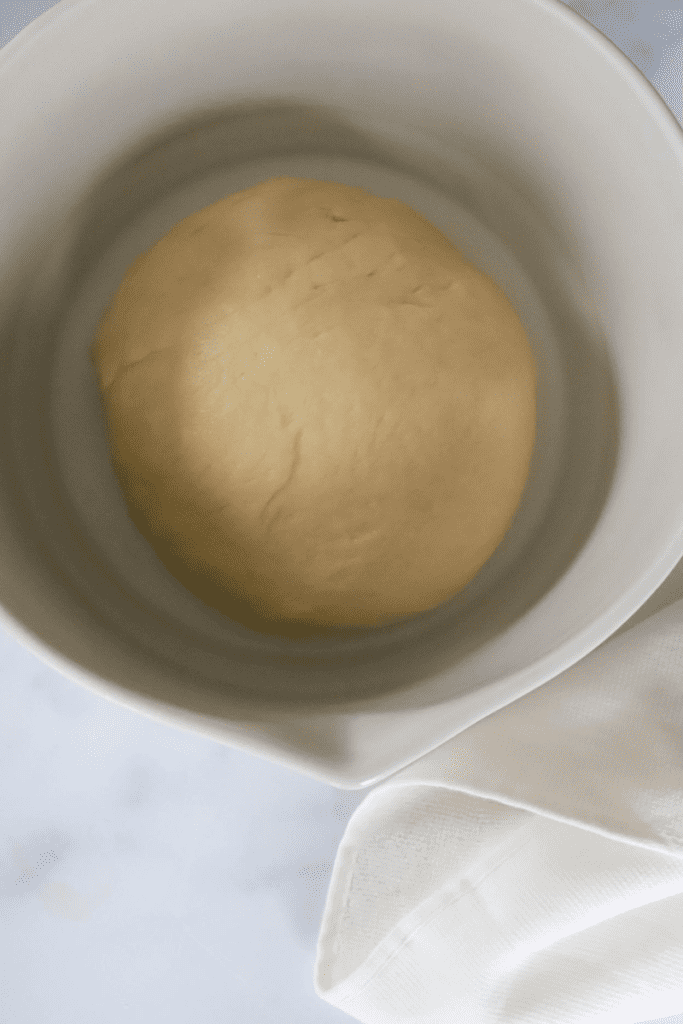 Step 2: Make the Cinnamon Rolls
This is where most of the work comes in. After the dough has risen, place it on a lightly floured surface. Punch the dough down and roll it into a large rectangle (12×22 inches).
Make the filling by combining ½ of a cup of dark brown sugar with 3 tablespoons of cinnamon and 1 stick (8 tablespoons) of butter. Mix it until it's all smooth and spread it over the dough. Leave a ¼ inch border so that you can seal the rolls, and so the filling doesn't leak out.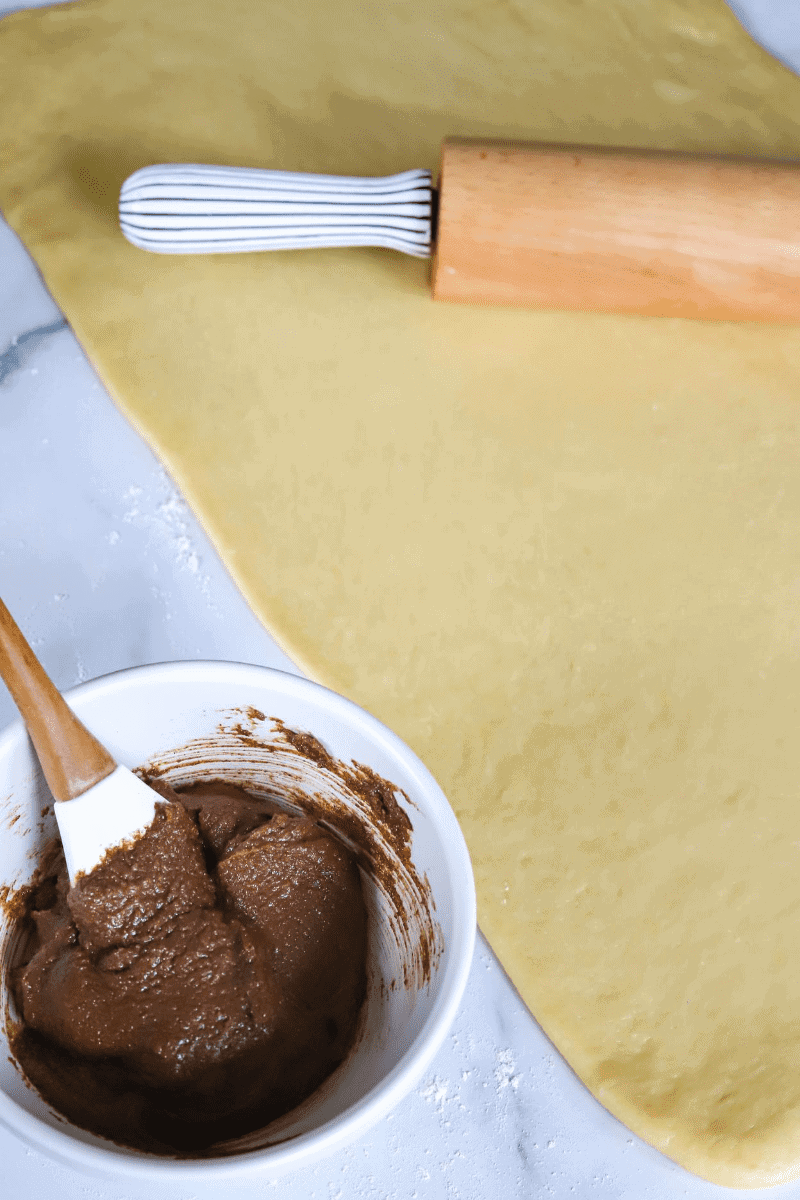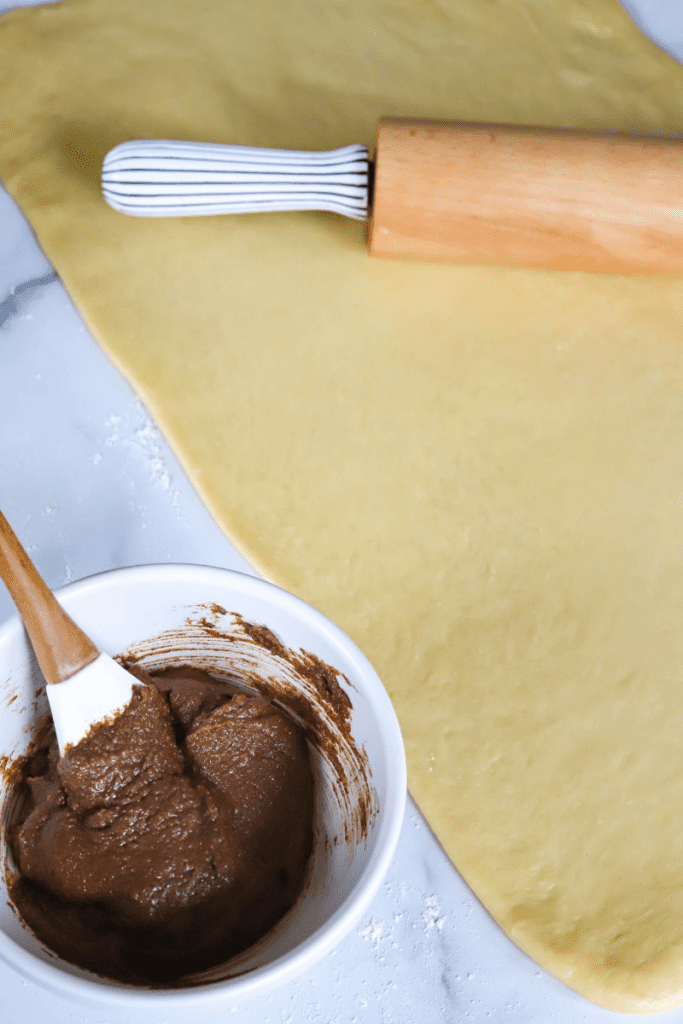 Roll the dough tightly with the long edge in front of you. Pull the dough towards you as you roll it. Use floss or a knife to mark where you're going to cut the rolls. You'll want to space the markings about 1 and ½ to 2 inches from each other, and end up with 12 rolls. Use floss to cut the rolls. It's easier and allows the rolls to keep their shape better. If you have to use a knife that's ok, just make sure that it's sharp and try not to press down too firmly, otherwise the rolls can lose their shape.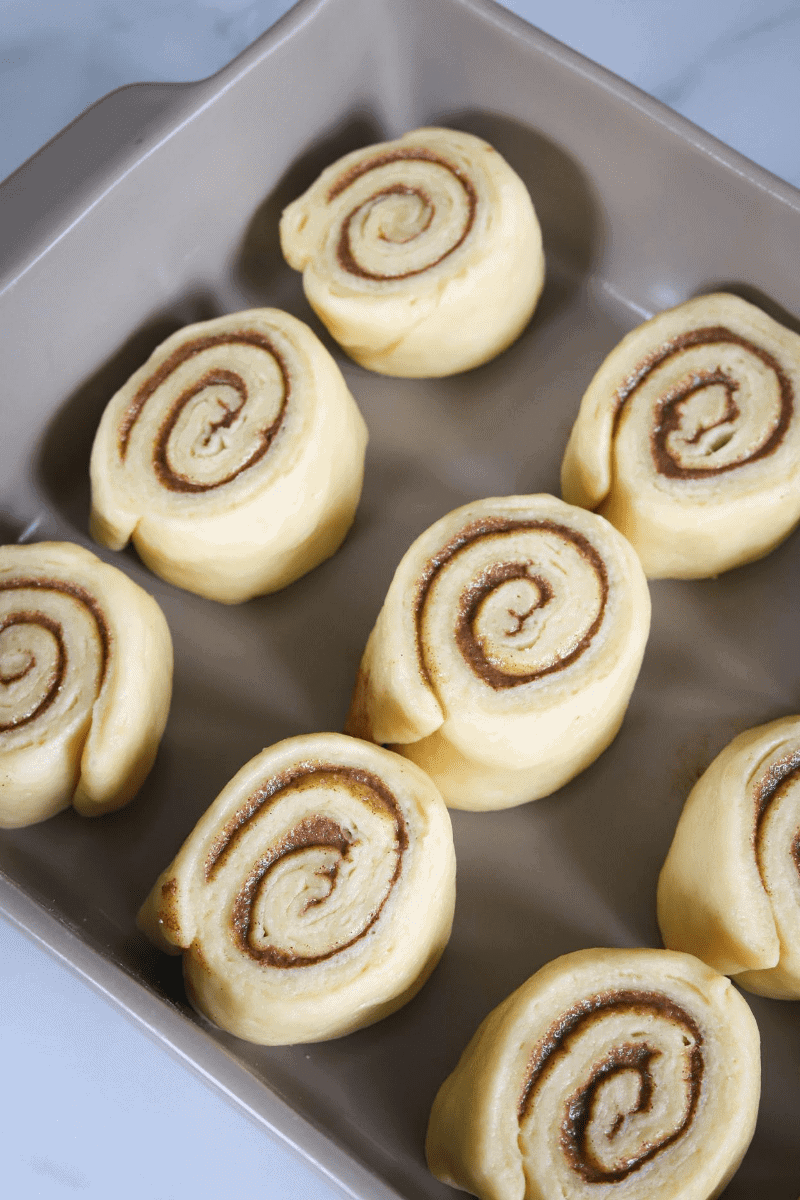 Arrange the rolls in 4 rows of 3, in a 9×13 inch baking dish or cake pan. This is the sized baking dish that I have best results with. The cinnamon rolls can touch each other but leave some space between each row so that they have room to spread. Also, you want to use a dish or pan that has deep sides as shown below, because the cinnamon rolls will get taller as they rise.
Step 3: Let the Cinnamon Rolls rise for a second time
So by this time, people usually start to get hungry and their patience starts to wear off. Word of advice, don't make these on an empty stomach. You don't want to rush the second rise! Sometimes I'll make and assemble the rolls the night before and keep them in the refrigerator overnight and then let them rise in the morning. Normally though I'll just make them from start to finish in one shot.
This is what they look like after they rise for about 2 hours in a warm oven. Before I roll out the dough, I put my oven on the "warm" setting (about 170°F). After I arrange the rolls in the baking dish, I cover it with a towel, place them in the warmed oven and turn the oven off. I'll let the cinnamon rolls rise in there for 1-2 hours.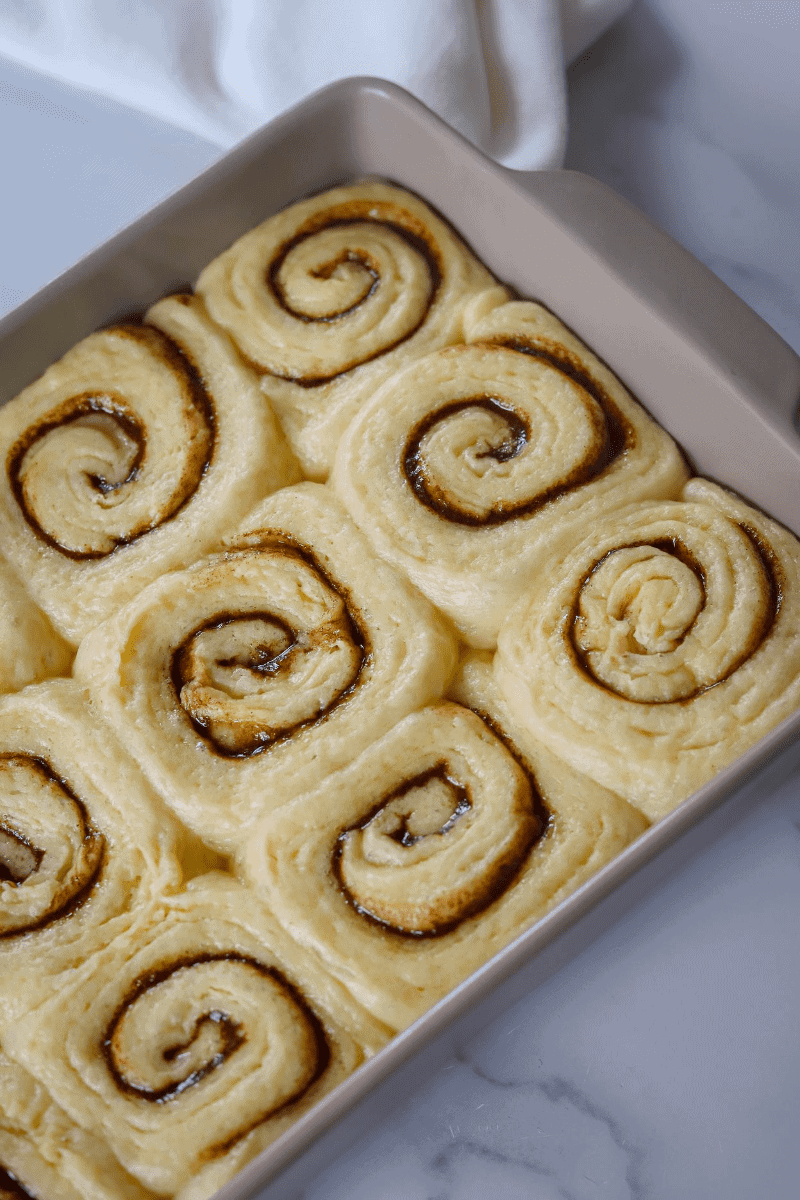 Step 4: Bake the rolls
After the cinnamon rolls have risen, bake them in a preheated oven at 375°F for 18 minutes. After 18 minutes, brush them with warm melted butter mixed with 2 teaspoons of sugar, return them to the oven and bake them for another 5 minutes. They should be slightly golden in color like in the photo below.
If you can get them darker within the 23 minute time-frame more power to you, but this is the best I could do without over-baking them!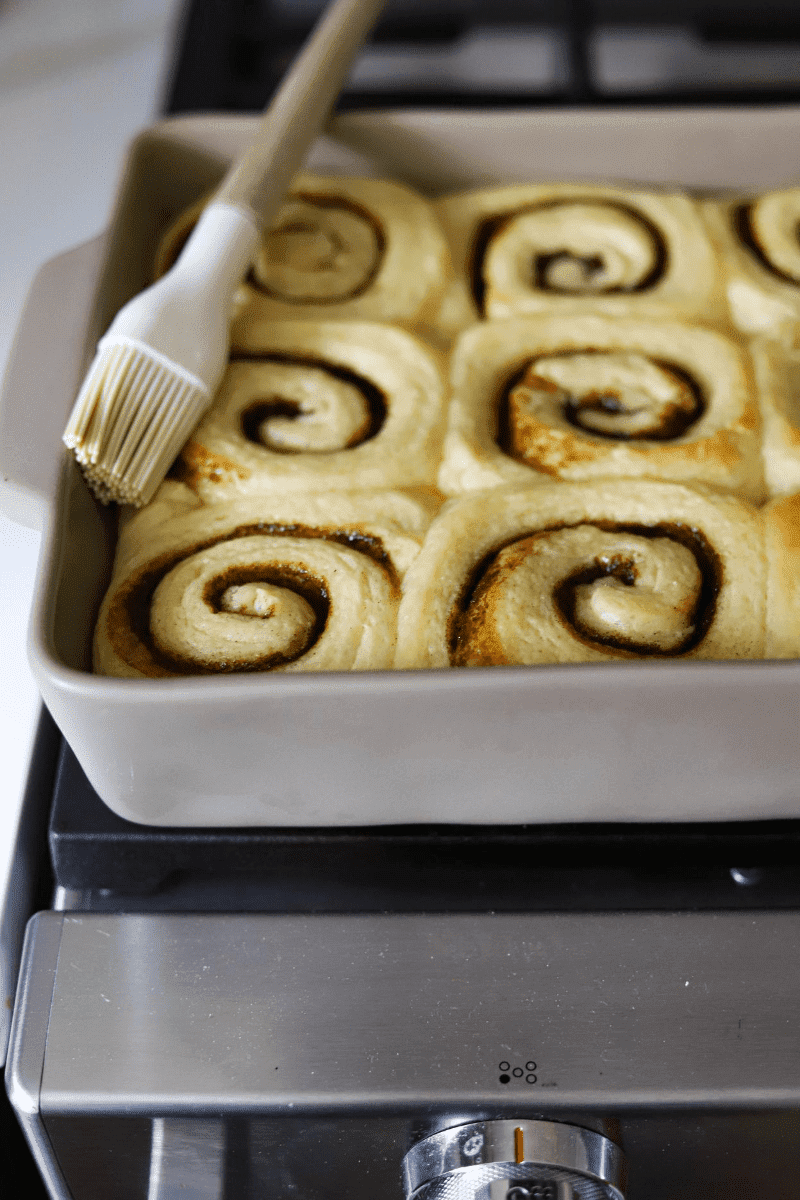 Step 5: Make the Tres Leches and Frosting
You can either start this step while the cinnamon rolls are baking or do it as they cool. Your choice.
To make the tres leches, combine evaporated milk, heavy cream, condensed milk and vanilla extract in a liquid measuring cup using a whisk. Set it aside until the cinnamon rolls are ready.
To make the cream cheese frosting, beat the softened cream cheese with a few tablespoons of condensed milk and a teaspoon of vanilla extract. Add the powdered sugar and continue to beat it until the frosting is smooth and creamy. Add the heavy cream last, and beat the frosting for another 2-3 minutes on high speed.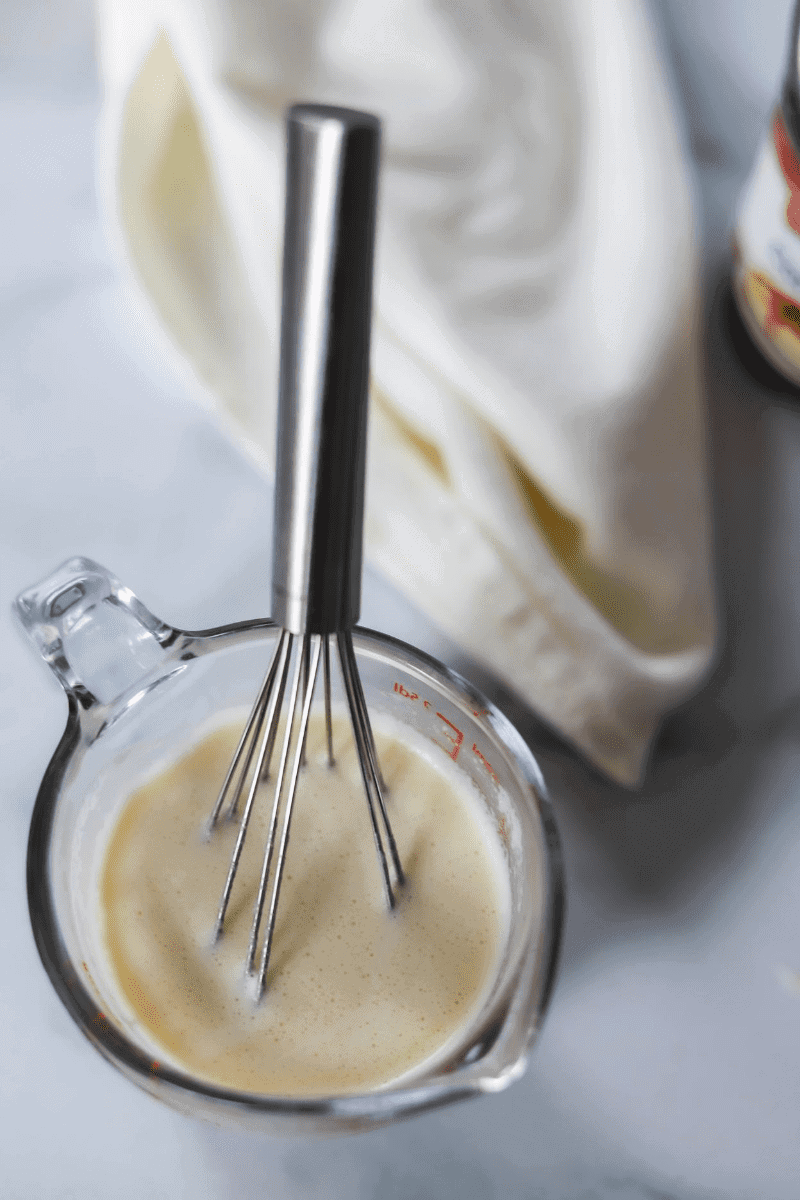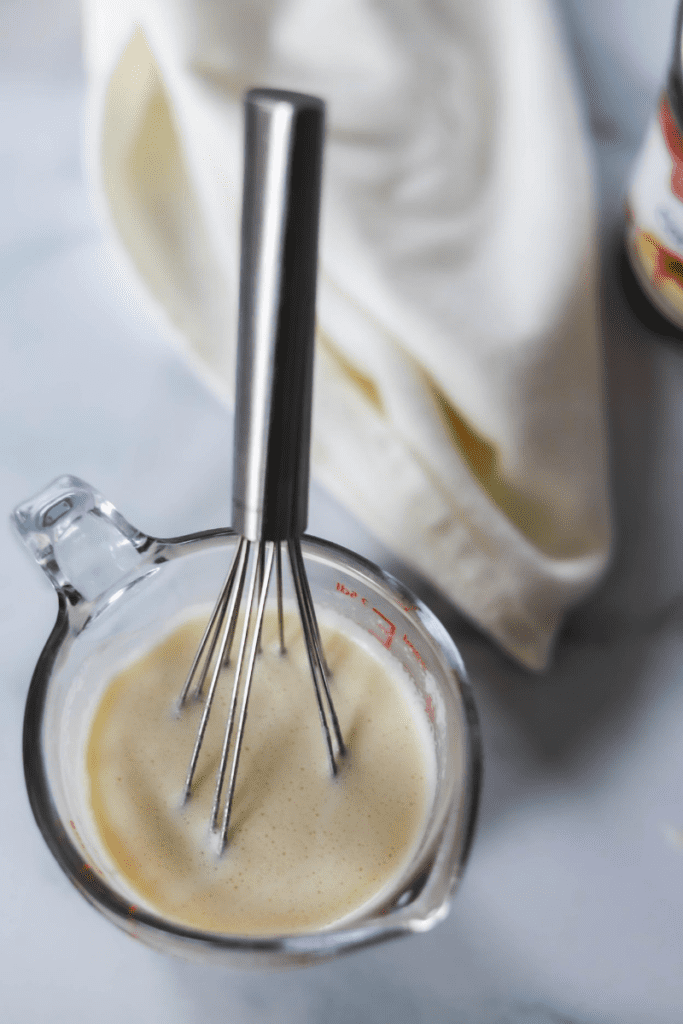 Last and final step: Soak the rolls and frost them!
Finally getting to the good part! Wasn't this fun?! It's time to poke our holes and pour the tres leches over the cinnamon rolls! I let mine soak for about 10-15 minutes, you can let them soak longer if you want.
Cinnamon rolls are perfect for soaking in tres leches, look at all those crevices! The enriched dough really stands up the tres leches without turning into mush.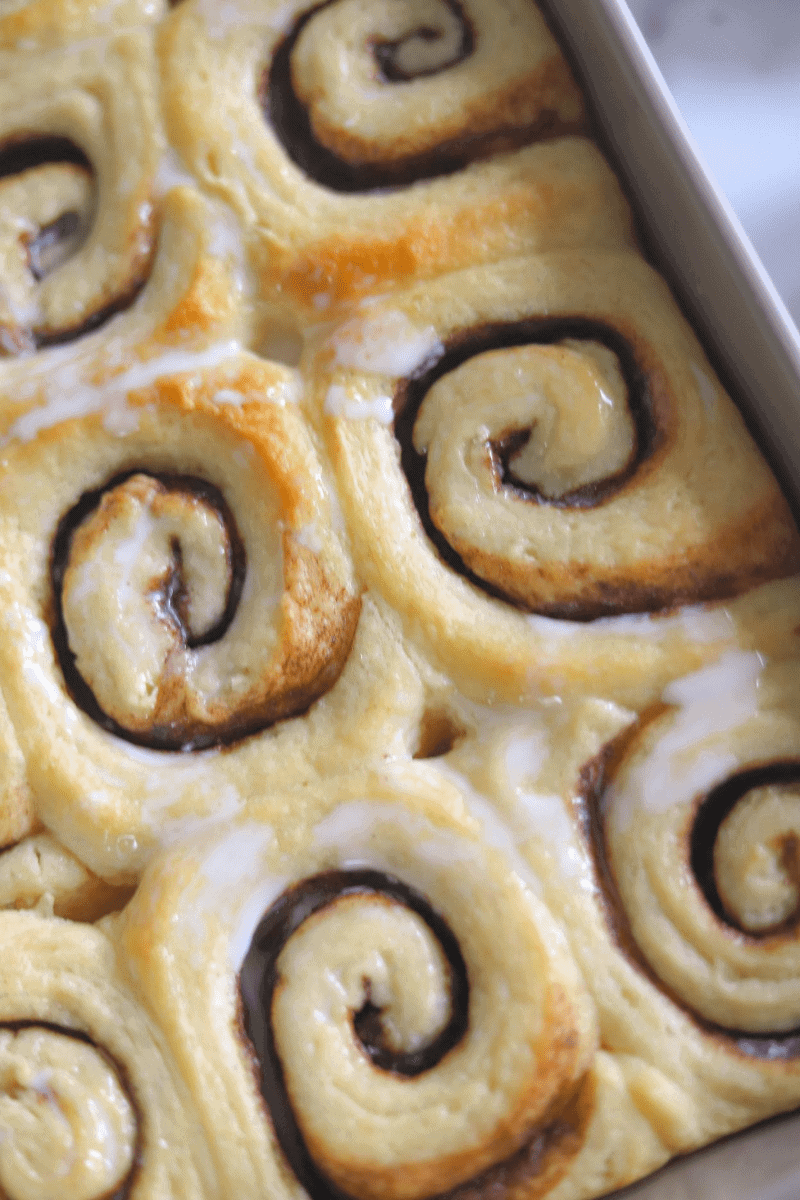 Now we're gonna frost the sh*t out of them. I was being wimpy with the frosting in the photo below, but I promise you, I layer that frosting on! This recipe yields plenty!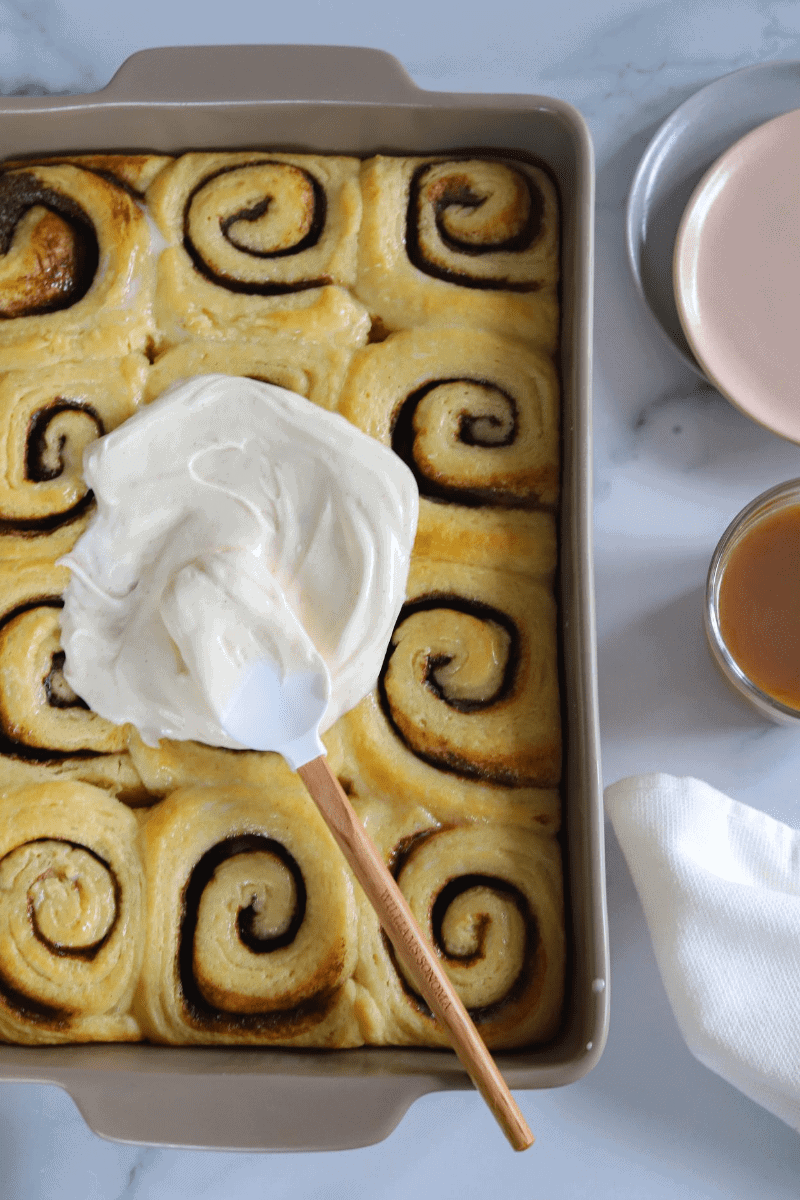 And now, we're gonna eat our hearts out.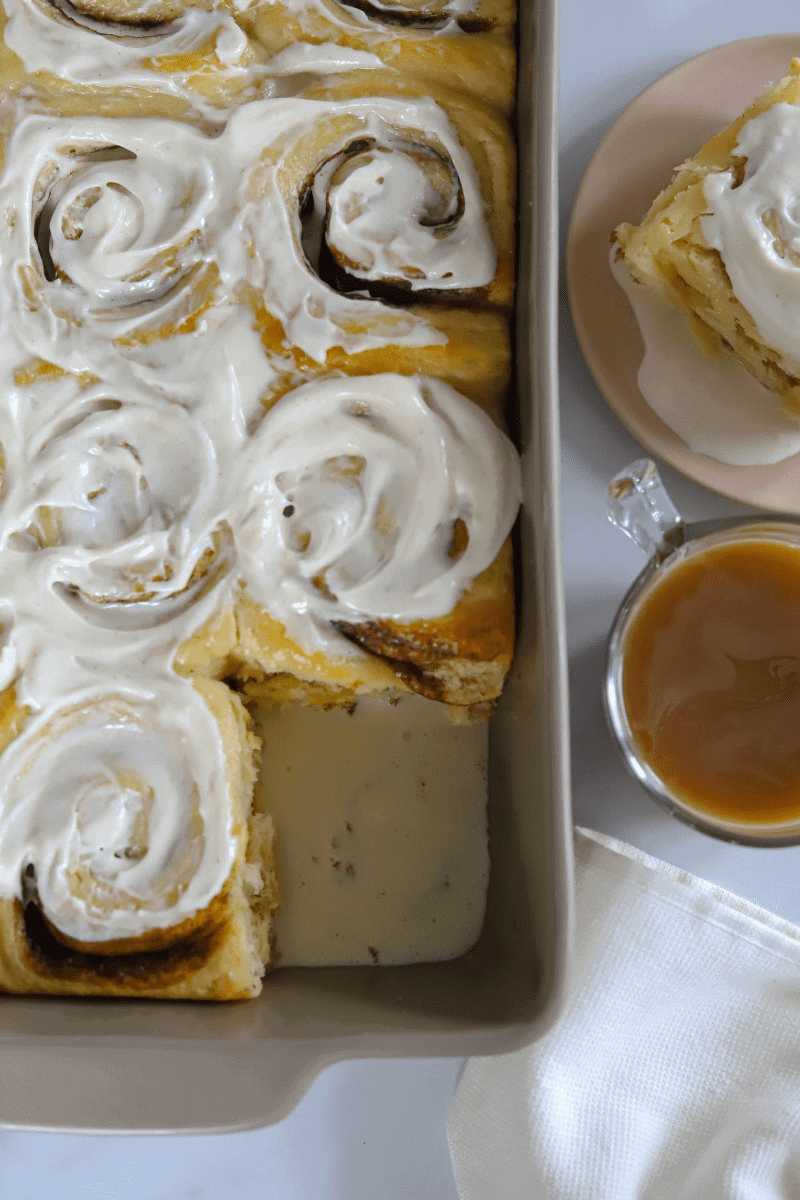 A close-up of this beauty: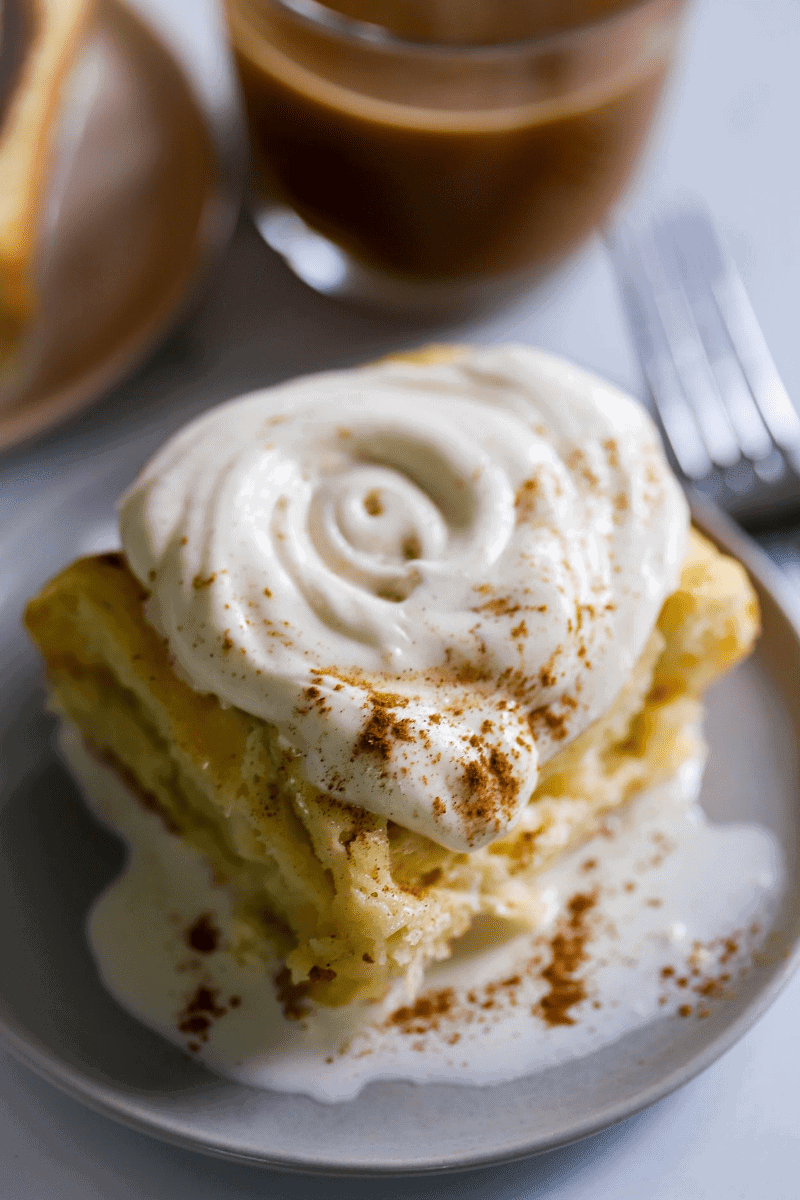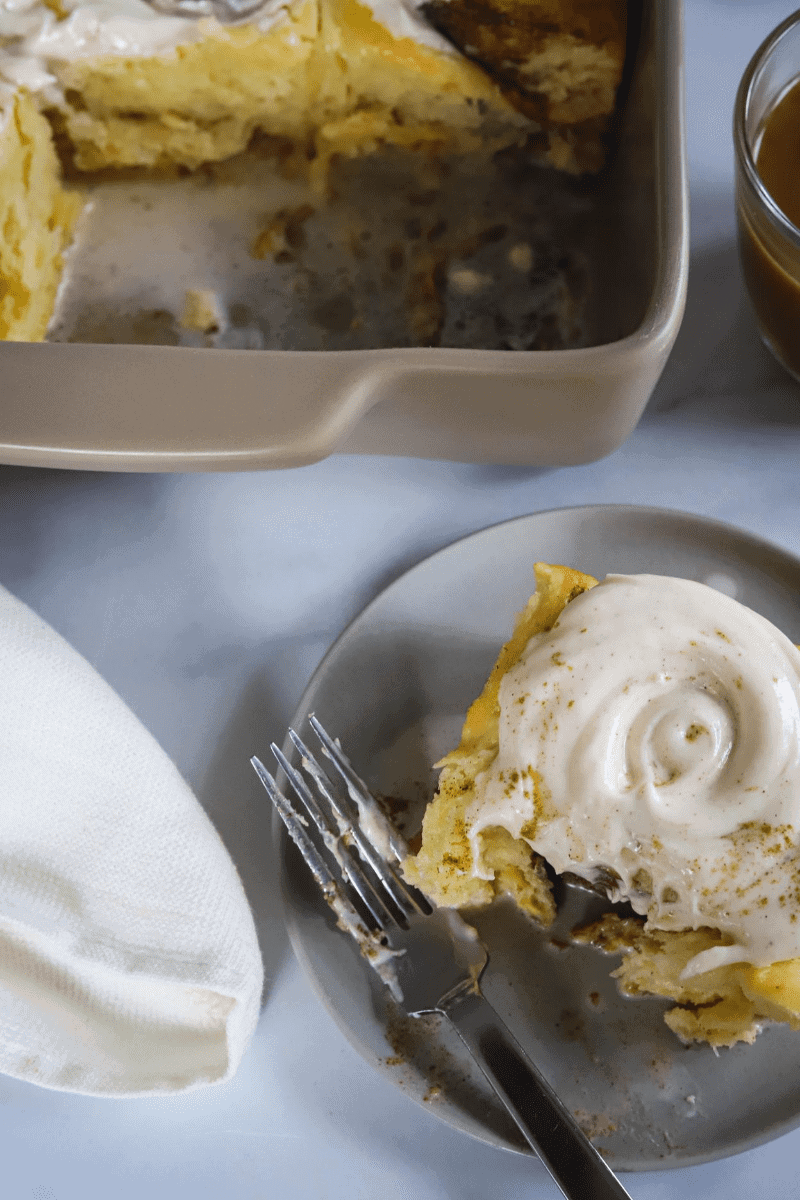 Look at that moist, rich center. Yes, we're allowed to say moist around here.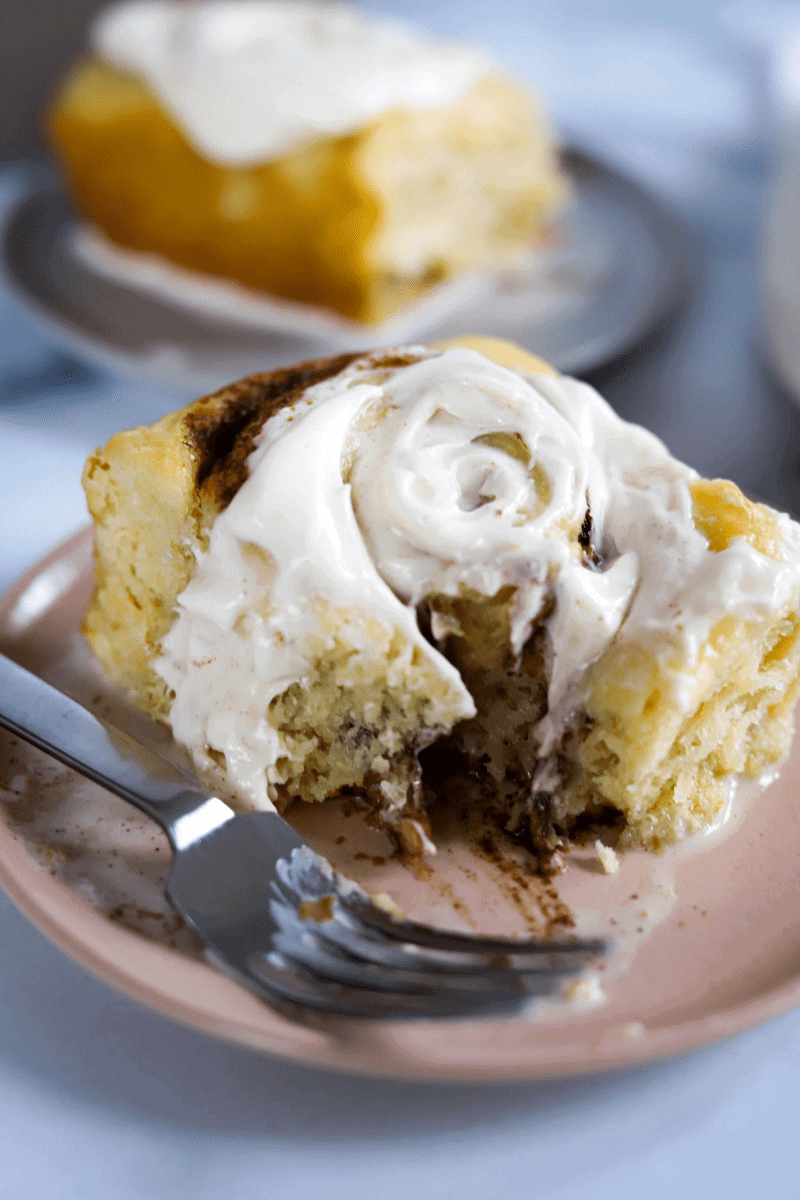 Other recipes you'll love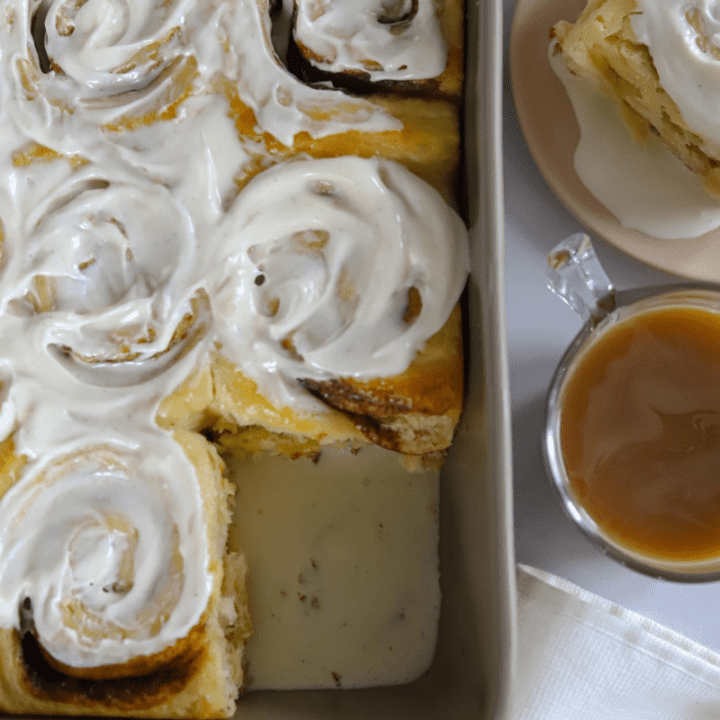 Cinnamon Rolls Soaked in Tres Leches
These thick, delicious Cinnamon Rolls are soaked in Tres Leches and topped with sweet and tangy frosting! A perfect combination of 2 classics!
Ingredients
Dough
3 ½

cups

of bread flour

1

teaspoon

of salt

1

packet

of instant or active yeast

½

cup

of granulated sugar

2

eggs

at room temperature

4

tablespoons

of butter, softened

½

cup

of evaporated milk

⅓

cup

of heavy cream

2

teaspoons

of vanilla extract

Optional: 2 tablespoons melted butter mixed with 2 teaspoons of granulated sugar for brushing the rolls
Filling
8

tablespoons

of butter, softened

3

tablespoons

of ground cinnamon

⅓

cup

of dark brown sugar

½

teaspoon

of salt
Tres Leches
1

cup

of evaporated milk

¾

cup

of sweetened condensed milk

1

cup

of heavy cream

1

teaspoon

of vanilla extract
Whipped Icing
8

ounces

of softened cream cheese

1

cup

of confectioners sugar

2

tablespoons

sweetened condensed milk

1

tablespoon

of heavy cream, cold
Instructions
Dough instructions:
Warm the heavy cream and evaporated milk for the dough portion of the recipe in a small saucepan (don't let it get hot!) If you're using active yeast, add it to the warm milk/heavy cream and let it sit for 10 minutes. If you're using instant yeast, you can just mix the dry yeast with the flour and salt.

In a separate mixing bowl, combine the butter, eggs, sugar and vanilla extract. Add the warm milk/cream mixture, mix it until it's combined with the other wet ingredients and then add the flour.

Using a dough hook, knead until the dough forms and pulls away from the sides of the bowl. You can also bring the ingredients together by hand if you're not using a mixer. Once the dough is formed, it should be slightly tacky, but not sticky.

on a lightly floured surface, for 2 minutes (or for 10 minutes if you didn't use a dough hook).

into a ball and place it in a clean, greased bowl. Cover the bowl with a kitchen towel and let it rest for 1 and ½ hours. The dough will double in size as it rests.
Assemble the rolls
(butter, brown sugar and cinnamon) in a small bowl and set aside.

On a lightly floured surface roll the dough out into a large (12×22 inch) rectangle. The dough should be about ¼ of an inch thick. Spread the filling evenly over the dough, leaving a ¼ inch inch border along the edges.

by tightly rolling the dough (pulling the long side of the dough rectangle towards you). Place the roll seam-side down, and pinch the ends to seal the edges of the dough. Using floss (or a knife), mark where you're going to cut each of the 12 rolls. Make each mark 2 inches away from eachother, and cut the dough using floss (preferred method), or using a knife.
Second rise
into 3 rows of 4 in a greased 9×13 inch baking dish. It's ok if the sides of the rolls touch each other, just try to leave an even amount of space between each row to allow room for the rolls to spread. Lay a kitchen towel over the baking dish and let the cinnamon rolls rise at room temperature for one hour. Once you have 15 minutes left of rising time, preheat your oven to 375°F.
Bake the cinnamon rolls
Once the rolls are fully risen, remove the kitchen towel, and place them in the preheated oven. Bake for 18 minutes. Brush them with 3 tablespoons of melted butter mixed with teaspoons of granulated sugar, and bake for an additional 5 minutes. Once the rolls are golden in color, let them cool in the baking dish and proceed to the next set of instructions.
Prepare the toppings
ingredients by whisking the heavy cream, evaporated milk, sweetened condensed milk and vanilla extract in a large liquid measuring cup. Set aside.

(in a separate bowl) by mixing the frosting ingredients (softened cream cheese, sweetened condensed milk, vanilla extract and cinnamon). Add the powdered sugar little by little, and mix until everything is fully combined. Add the heavy cream last and beat on high speed for about 3 minutes.
Soak and frost the cinnamon rolls
Use something pointy to poke holes between the cinnamon rolls, and in between the layers. Pour the tres leches over the cinnamon rolls and let them soak for about 5-10 minutes (or longer if desired). Once the cinnamon rolls have absorbed most of the liquid, spread the frosting over each of the rolls and serve.
Nutrition
Are you looking for more irresistible sweets? Check these out!
Pudim d'Leite (Cape Verdean Style Flan)
Key Lime Pie with a Butter-Pecan Crust
And don't forget to save this recipe on Pinterest!