Key Lime Pie has summer written all over it and I am here for it! This Butter-Pecan Key-Lime Pie randomly popped into my head and I just had to drop everything to make it! It has a tart and tangy key-lime filling that sits on a delicious, sweet and buttery pecan-crust. We're showing off today!
Make sure you also check out my other graham cracker crust recipes like this apple pie and sweet potato pie!
Just a preview of what you'll need to get started: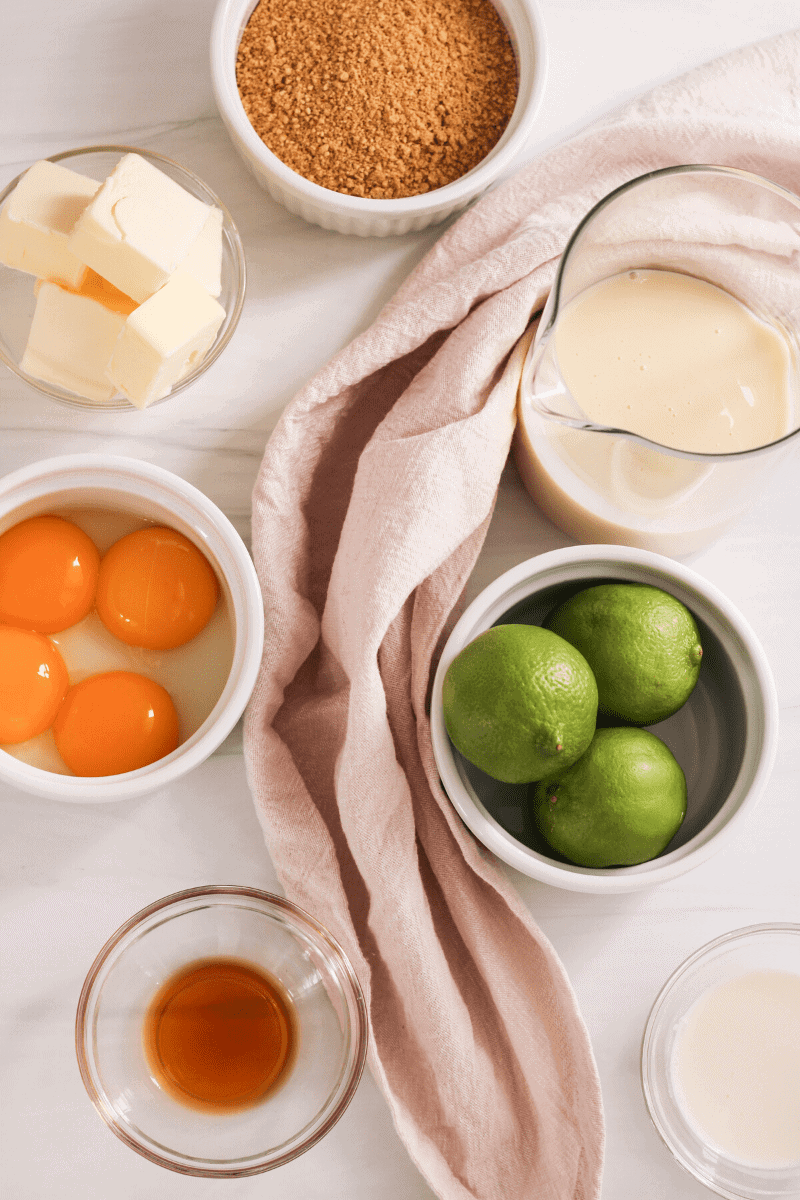 Regular limes vs. key-limes
I've seen a lot of different opinions on this one. Here's mine. You can use regular lime juice, but you should use key-lime juice. Key-lime juice can be harder to find, but it makes a much more tart and flavorful pie. Believe me, I've done side-by-side taste-tests to confirm this! If you like key-lime pie that tastes like condensed milk, go with regular lime-juice. If you like key-lime pie that tastes like LIMES, go with key-lime juice!
You may notice some regular limes in my photos. Don't be misled! A few of these photos were taken before I got hip. I still buy some of the larger limes for key lime pie to use for garnishing.
Another thing, it is perfectly fine to use bottled key lime juice. Don't let anyone tell you otherwise! The fact is, key-limes are tiny! You'll probably need about 40 of them to get just one cup of lime juice that's needed for this recipe. Imagine juicing 40 limes?? No thank you, ma'am! Here's a link to the bottled key-lime juice that I buy. We won't mention where I get it!
Butter-Pecan Crust
Ok, so the butter-pecan crust is what makes my key-lime pie unique. I totally get that nuts aren't for everyone though, so if you need to pass on the nuts, this pie will still be bomb! Just substitute a few more graham crackers to make up for the volume of the pecans.
I use a food-processor to chop my nuts itty-bitty, until they're close in texture to the graham-cracker crumbs. If you're using whole graham-crackers instead of store-bought crumbs, you can pulse the graham crackers and pecans together.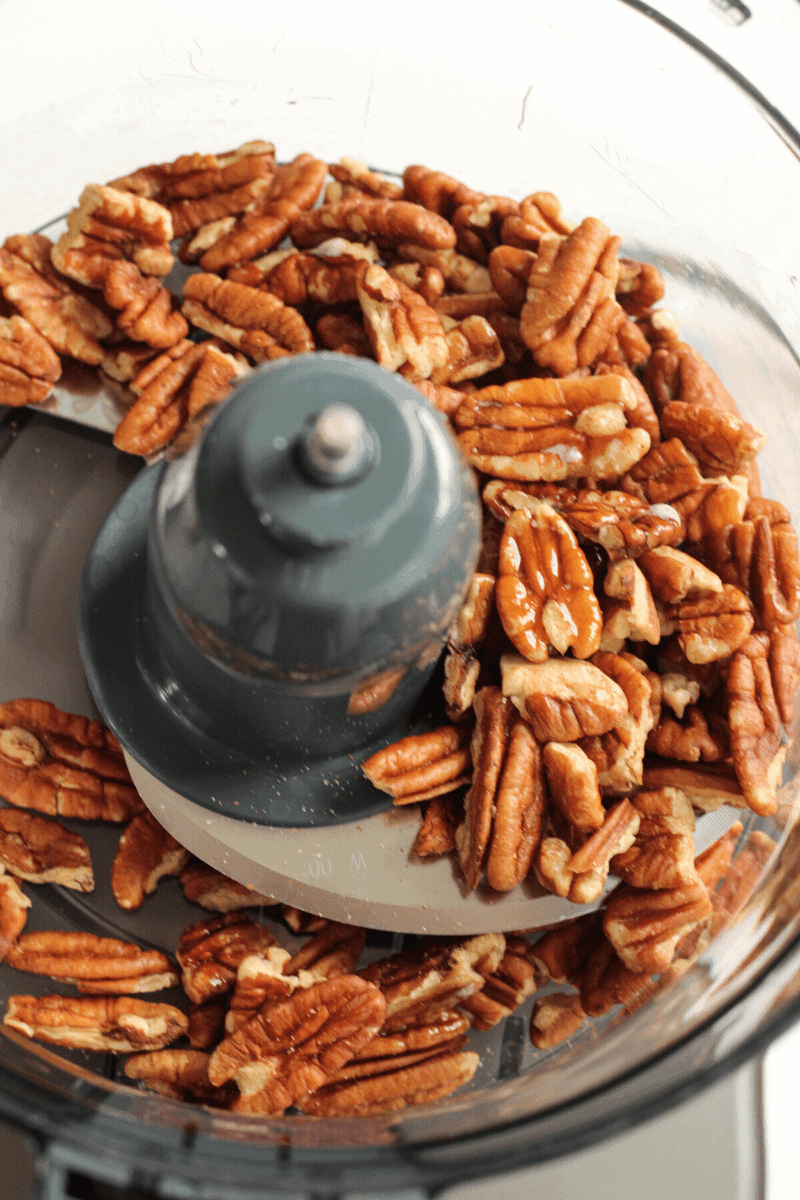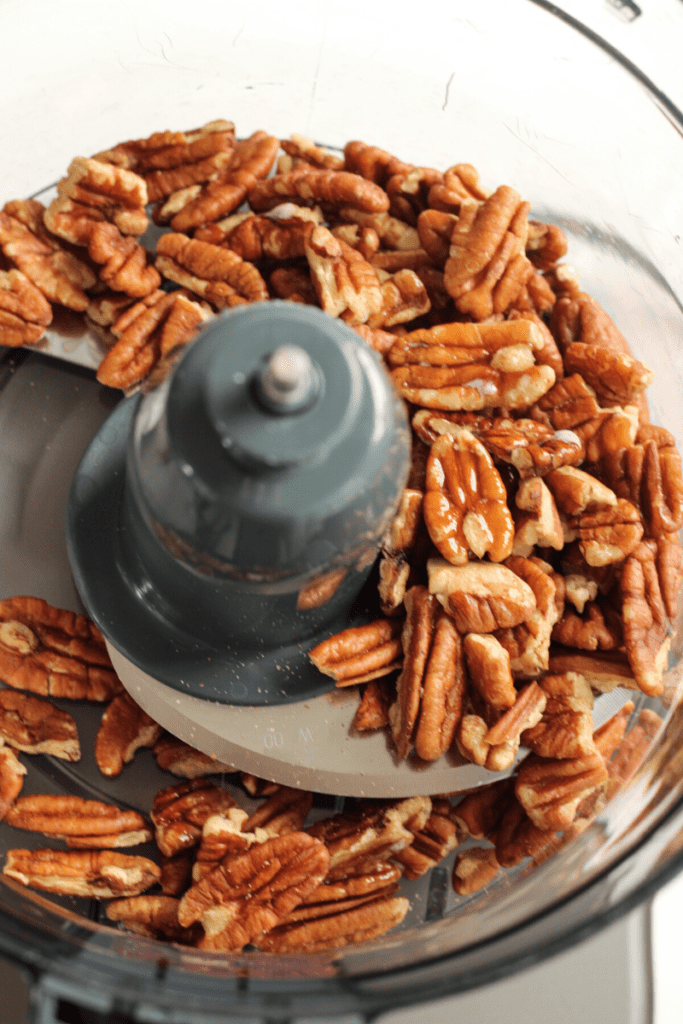 Transfer the crushed pecans and graham-cracker crumbs to a bowl and mix in the melted butter, a little salt and ⅓ of a cup of granulated sugar. The melted butter will moisten the other ingredients so that the crust holds together. The sugar adds sweetness and will further help bond the crust together as it bakes and cools.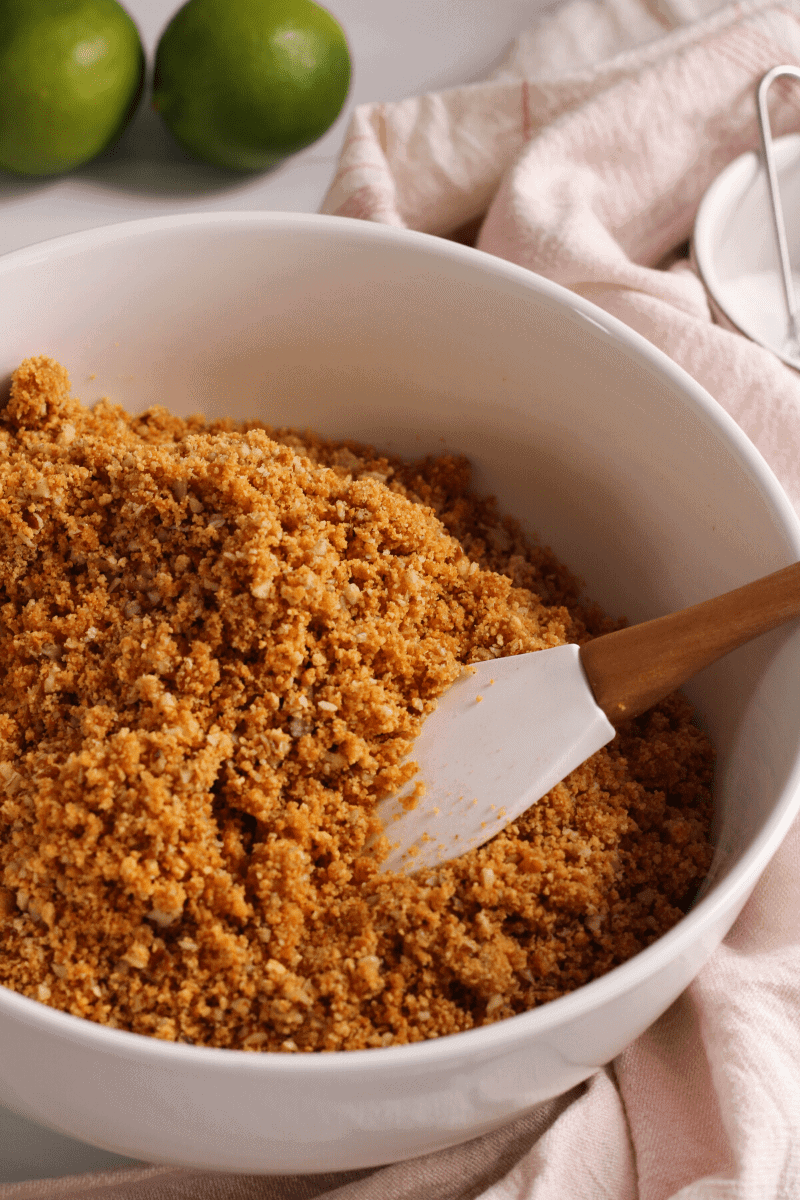 Ok, so here is the part that everyone swears is a breeze but I find a little tricky. Apparently packing a graham-cracker crust is super-easy. I don't find this step to be super-simple though. Yes the concept is easy enough, but I find that the crust edges can be a little uncooperative as you work your way up to the rim of the pie plate.
I start by pouring the crumbs into the center of the pie plate, and then tilting the pie plate to create an even layer of crumbs. Then I use the flat sides of a metal measuring cup to press the crumbs against the bottom and sides of the plate to form the crust.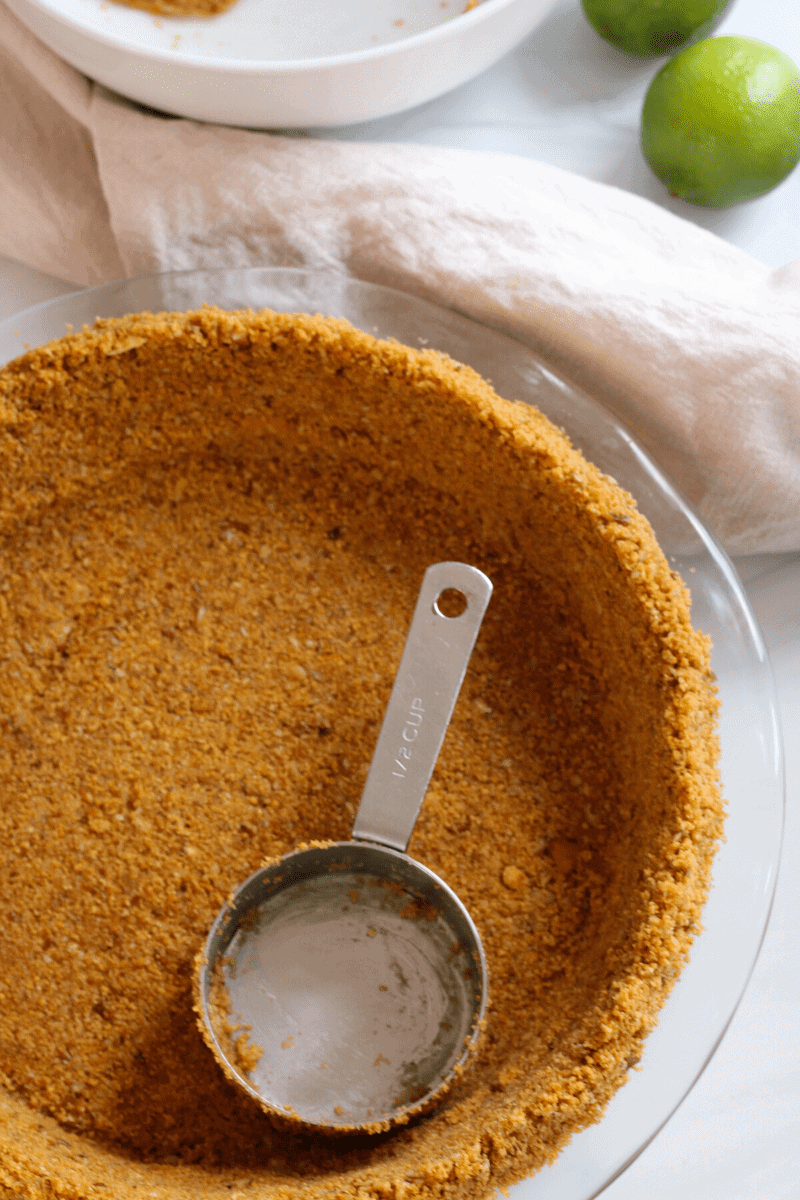 There's plenty of butter in my pie crust recipe so you shouldn't have any problems getting the graham-cracker crumbs to form a crust although the crumbs might still crumble a little.
The top of the pie crust will be slightly looser, just try to pack it in as much as you can without obsessing over it. It will firm up once it bakes and cools. Also remember this is a crumb crust! A little crumbling is expected!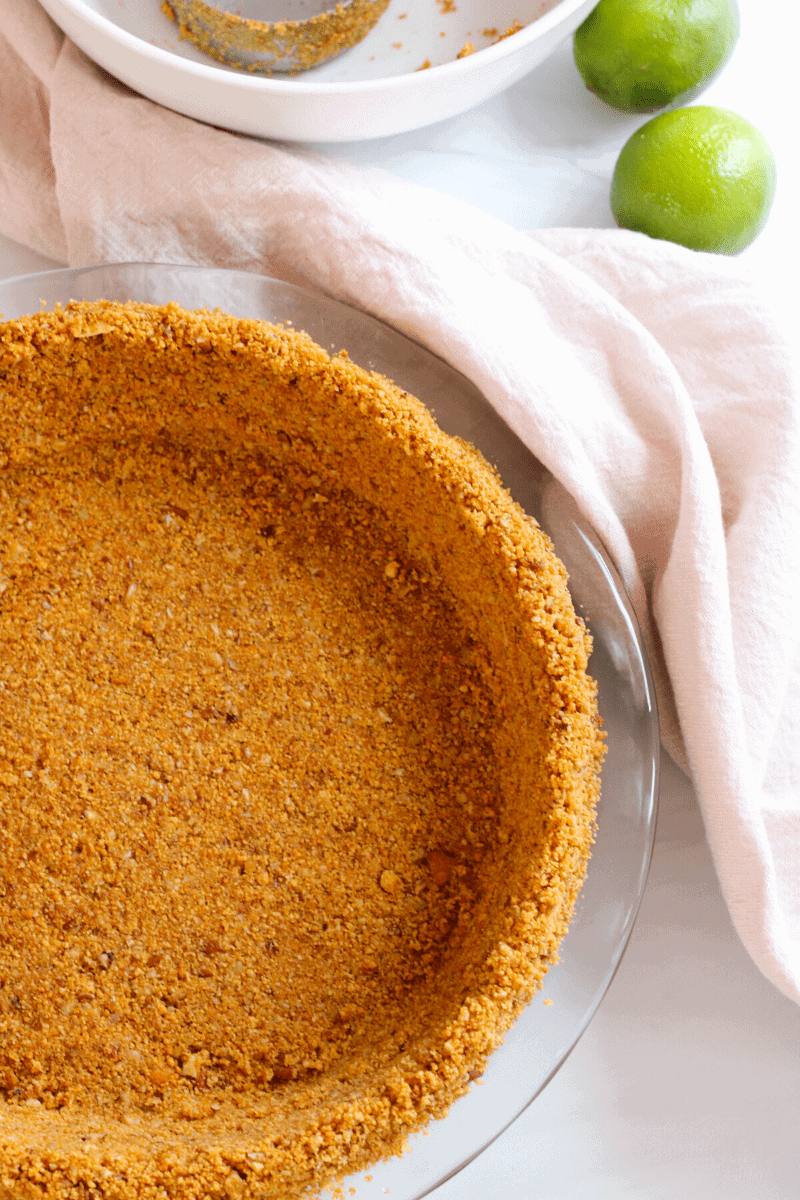 I notice that sometimes the bottom of the pie crust will rise up slightly in the oven while the crust is baking. If this happens, don't freak out! Once your crust comes out of the oven gently press it back into place using the bottom of your measuring cup. It will be ok, I promise.
The filling
Now this is the easy part! You're gonna need a mixer to beat the egg yolks, condensed milk and heavy cream together. This takes about 5 minutes on a high-speed setting.
Lower your speed, and add the key lime-juice, pinch of salt and a teaspoon of vanilla extract. Beat for another another minute and pour the filling into your cooled pie crust and bake it for 20 minutes at 350 degrees. You will know the pie is set when it's slightly firm, but jiggly when it comes out of the oven.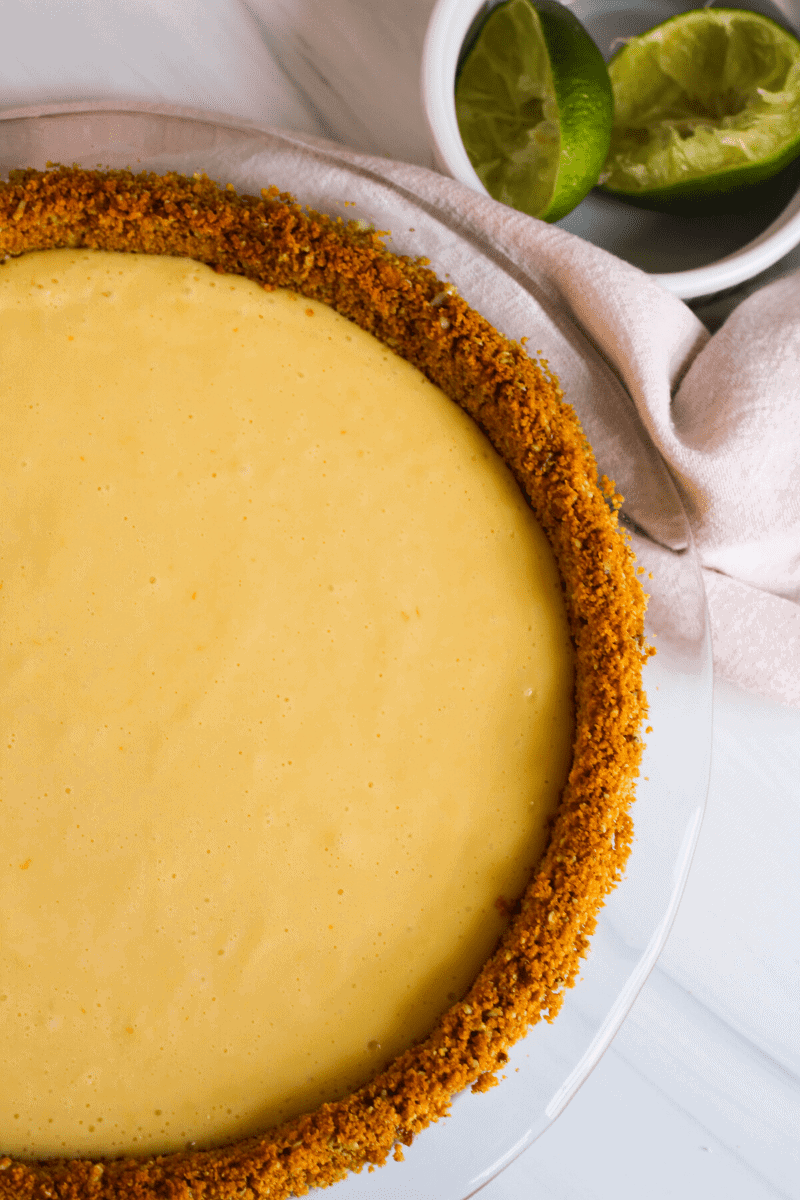 Let the pie fully cool at room temperature. This takes about an hour. Once it's cooled, it needs to chill in the refrigerator for at least another 4 hours to fully set. I like to make custard desserts in the evening so that they chill overnight and I'm not tempted to cut into them before they're ready!
The longer you chill the pie for, the easier it's going to be to slice cleanly! I find that I get the best slices when I chill my key-lime pie for a full 24 hours.
The topping!
Key-lime pies usually have a whipped-topping of some sort. Most people opt for fresh whipped-cream and others use store-bought "whipped-topping". Some people use just a dollop, and others go ham and cover the entire pie (like me). Serving the pie with no topping at all, is another option!
My topping of choice for anything that sits for more than a few hours is store-bought "whipped topping" (aka Cool-Whip). I know, totally not good for you! But here's why I like it:
1.Store-bought whipped topping tastes light, velvety and amazing. Sorry, not sorry! No one can change my mind about that. And no, Cool-Whip did not sponsor this post!
2."Whipped topping" holds up a lot better than real whipped cream! As delicious as the real-stuff is, it's just not that stable. If you opt to serve your pie with real whipped cream (like most people do), just hold off on topping it until right before you're ready to serve.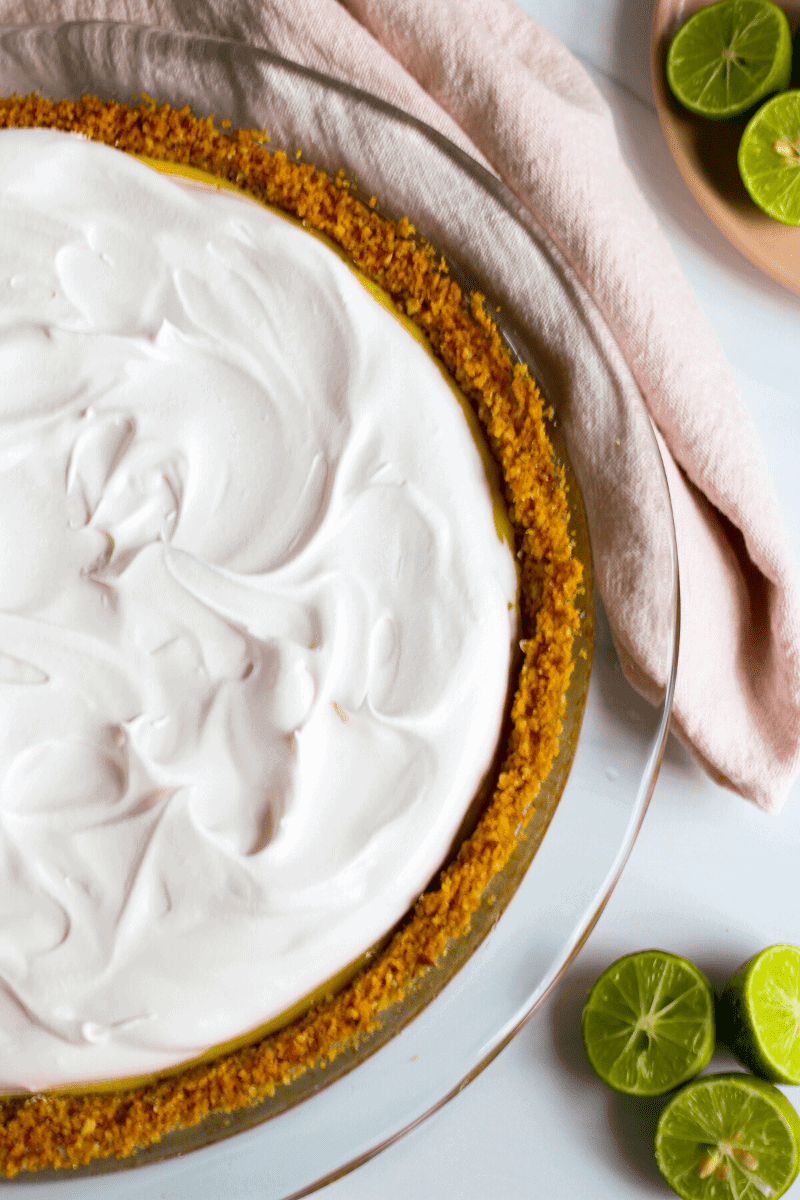 I wanted to make a home-made version of Cool-Whip but there's apparently a shortage of gelatin right now because of the pandemic. Once I get my hands on some, I'll attempt my own version!
Dessert is served!
Look at this Butter-Pecan Key-Lime beauty of a pie! Remember when I said those full-sized limes would be useful for something? What a pretty garnish they make!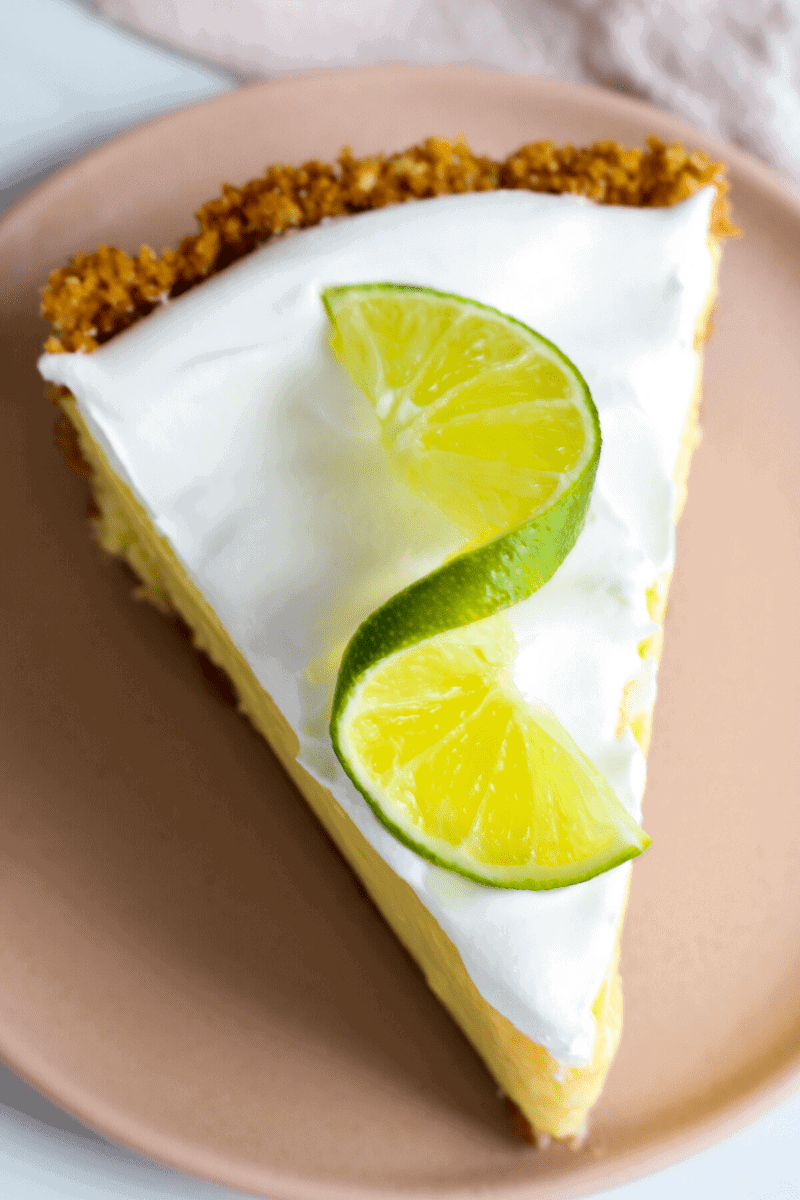 And that butter-pecan-crumb crust held up so well! I topped it (with Cool-Whip) and let it chill overnight then used a long, sharp knife to cut the slices. Run your knife under hot water and wipe it off with a dish towel between slices to get nice, clean cuts,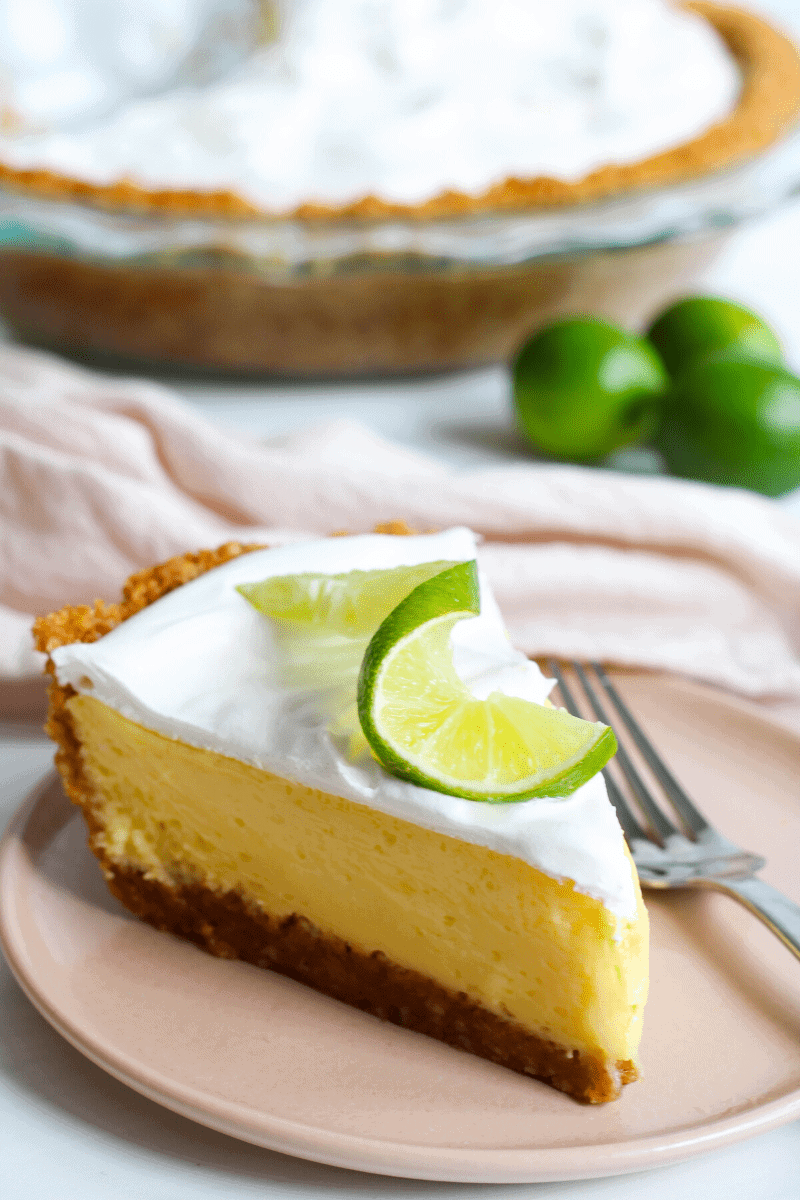 Other recipes you'll love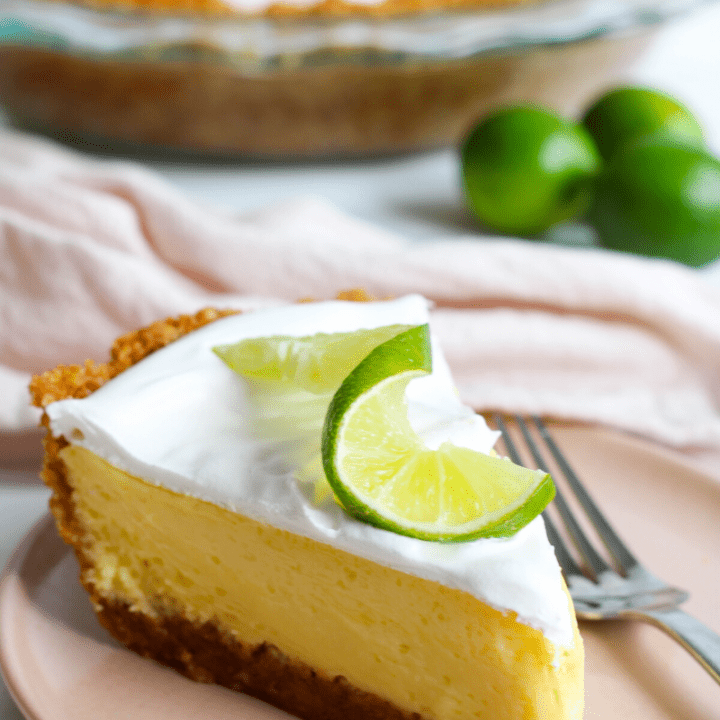 Key-Lime Pie with Butter-Pecan Crust
This almost-traditional Key-Lime Pie has a tart and tangy key-lime filling that sits on a delicious, sweet and buttery pecan crust!
Equipment
9.5 inch glass pie plate

(the one I use is about 2 inches deep, see notes at the bottom of the recipe)

Mixer

(either a stand or hand-mixer is fine)
Ingredients
Butter Pecan Graham Cracker Crust
8

tablespoons

butter

9

graham-crackers

or 1 and ⅓ cup graham-cracker crumbs

¼

cup

granulated sugar

⅔

cup

whole pecans

½

teaspoon

salt
Key Lime Filling
1

cup

key-lime juice

2

cans

sweetened condensed milk

6

egg yolks

¼

cup

heavy cream

2

teaspoon

vanilla extract
Toppings (optional)
Cool-Whip

or store-bought whipped topping (measure to your liking)

Regular-sized limes for garnishing
Instructions
Prep Crust
Preheat oven to 350 degrees F

If using whole graham-crackers, pulse them with the pecans in a food processor until they are finely ground. Transfer to a large bowl. If using store-bought or pre-crushed crumbs, just pulse the whole pecans until finely chopped, and combine them in a bowl with the graham-cracker crumbs.

Add melted butter, granulated sugar, salt and stir until combined. The crumb-mixture should be moist and hold together when you squeeze it.

Transfer the crumb-mixture to a glass pie plate and spread out in an even layer. Use the flat side of a dry measuring cup or a your hands to press the crumbs into the bottom and sides of the plate.

Bake for 15 minutes and let the crust cool fully.
Pie Filling
Beat the egg yolks on high speed for about 3 minutes. Egg yolks will appear paler in color and double in volume.

Slowly add in the condensed milk and heavy cream and continue to beat on medium high speed for another 2-3 minutes.

Reduce speed to low and add the lime juice and vanilla extract. Mix for about 30 seconds.

Pour the pie-filling into the fully-cooled pie crust and bake at 350 degrees F for 20 minutes.

Let the pie cool to room temperature (about 1 hour) and then chill in the refrigerator for another 4 hours or overnight.

If using cool-whip as a topping, you can top the pie with it before refrigerating, or wait to top it just before serving.
Notes
Please note that oven temperatures vary. If your oven runs hot, adjust the temperature slightly to 325 degrees. For shallower pie dishes (1.2 inches deep) halve the recipe of the pie filling. You will also have some crumbs leftover from the the pie crust.
Nutrition
Serving:
1
slice
Calories:
638
kcal
Carbohydrates:
74
g
Protein:
12
g
Fat:
34
g
Saturated Fat:
16
g
Polyunsaturated Fat:
3
g
Monounsaturated Fat:
12
g
Trans Fat:
0.5
g
Cholesterol:
218
mg
Sodium:
474
mg
Potassium:
456
mg
Fiber:
1
g
Sugar:
64
g
Vitamin A:
923
IU
Vitamin C:
3
mg
Calcium:
325
mg
Iron:
1
mg
I think you'll enjoy these other recipes:
Pudim d'Leite – Cape Verdean Style Flan
The Lightest and Fluffiest Carrot Cake Ever