This post may include Amazon links. As an Amazon Associate I earn from qualifying purchases.
I am here for all-things Carrot Cake! What I am not here for is fussing with multiple layers and fancy decorating. I just want the cake! I'll leave the leveling and fancy-decorating for the cake bosses. In the meantime, I just want a carrot cake that's light, fluffy and moist!
For us simple folks, let's make this as easy as possible.
First off, this is not your traditional dense carrot cake. I'm just not a super-dense cake lover. This light and fluffy carrot cake is rich in flavor and moisture though, make no mistake! It's topped with luscious whipped cream-cheese frosting, that's infused with orange zest! This cake is so no-fuss that you can frost it right in the pan if you wish!
The Texture
Honestly, I lost track of how many cakes I baked just to get the texture just right. This was actually my first from-scratch cake recipe and I can say I'm pretty frigging proud! This carrot cake is moist, light and fluffy perfection!
My first attempt wasn't any of these things! It came out really dense and kind of dry. It was everything I didn't want it to be!
What did I want? A cake that was moist, airy, sweet, and came with no toothaches! So I researched the heck out of cake. And not just carrot cake! I needed that light and airy texture found in other types of cake!
Here are 8 tips for the most light and fluffy carrot cake ever:
1.Use Cake Flour and sift it! Cake flour is finer and more delicate than all-purpose flour. If you're looking for a softer cake with a finer crumb, get this stuff. Also, you should use a spoon to fill your measuring cup, rather than using the measuring cup as a scoop which packs it down. I also use a sifter when I add the flour into the wet-batter.
2.How you shred your carrots makes a difference! Shred your carrots using the fine side of a grater. Stay away from pre-shredded carrots, they're too dry! The extra elbow-grease will be well worth it! If you shred your carrots on the finer side, they won't weigh down the batter which is key!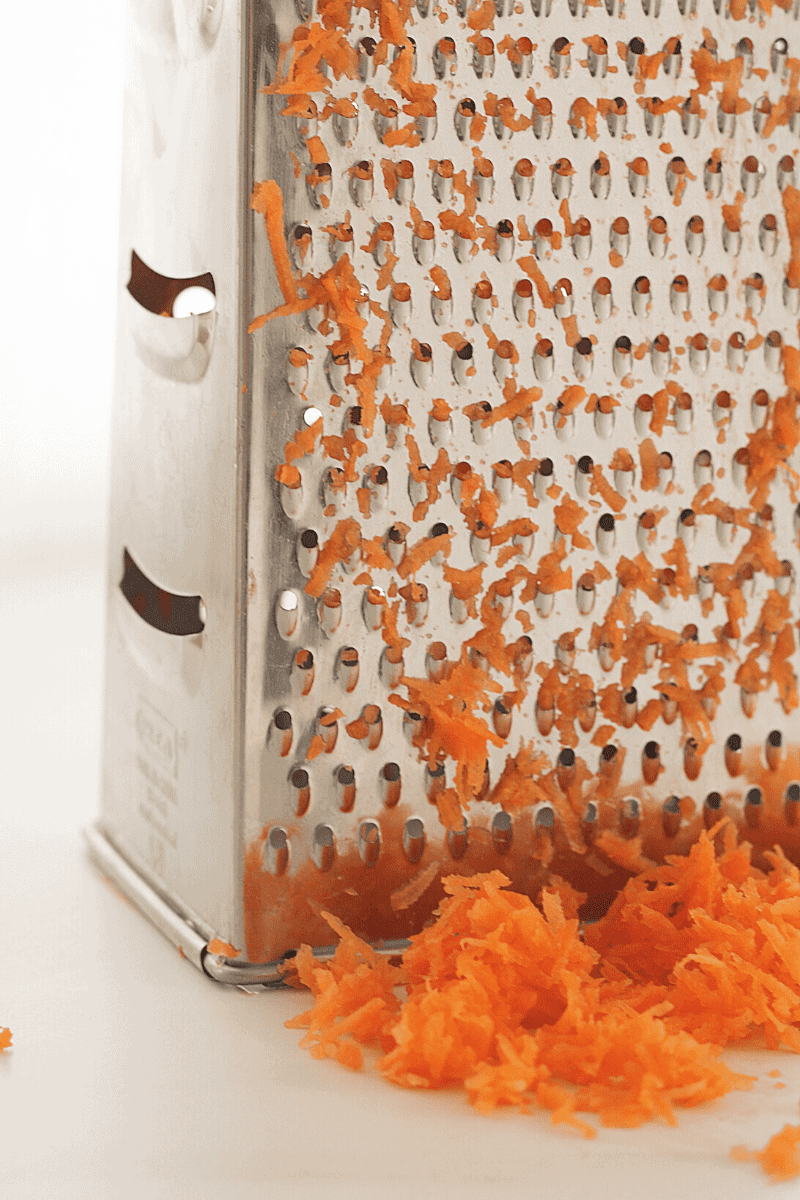 3.Use more white sugar than brown sugar. I know brown sugar is everyone's favorite, and it's usually mine too. But for a light and fluffy textured carrot cake, granulated white sugar just does the trick. There's still plenty of brown sugar in this recipe for moisture and flavor, I just used slightly more white to get a fluffier texture.
4.Separate yolks from egg whites, but keep both! This step is important. You'll need to separate them but hold onto both! I use the yolks to cream the oil and sugar with in the beginning. Then I whip the egg whites into stiff peaks and fold into the batter at the very end. This step helps to leaven the cake.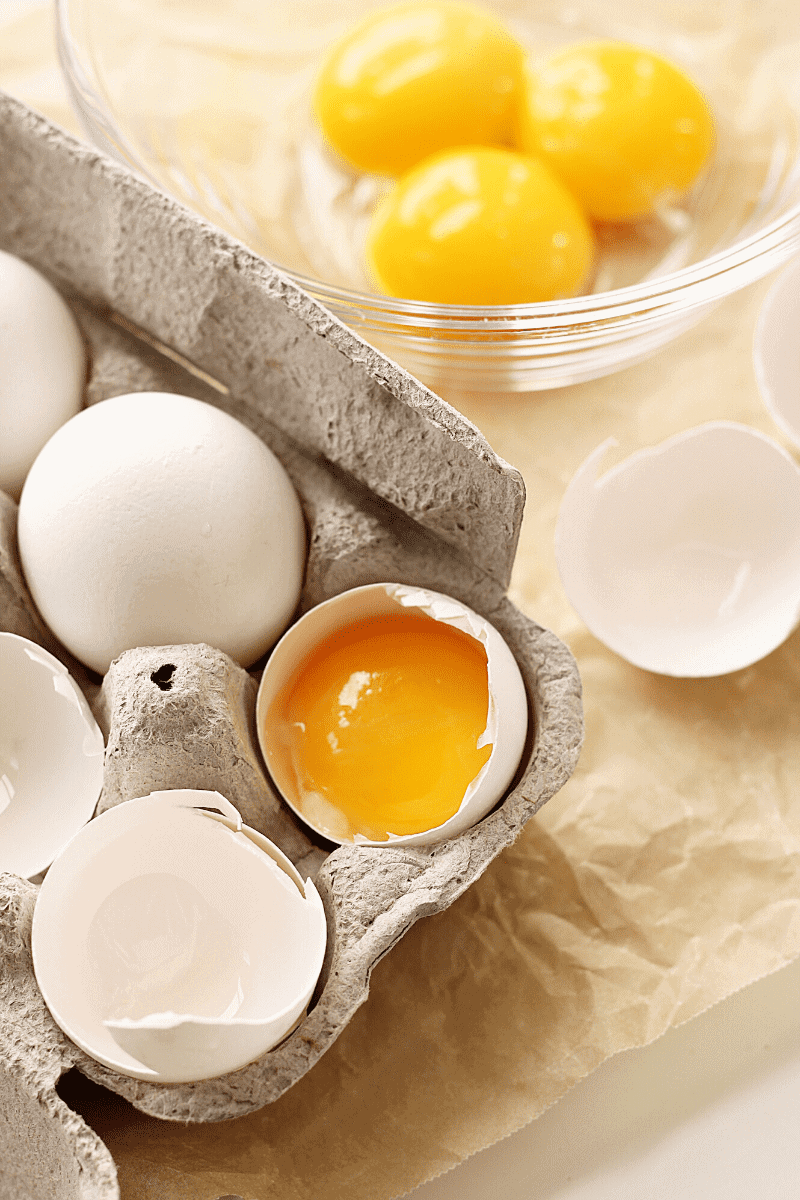 5.Keep your add-ins to a minimum. This means absolutely no pineapple, no coconut (stay with me coconut-lovers, I haven't completely forgotten about you!), or whatever other weird things people like to put in carrot cake. This recipe does call for walnuts though, I just chop them small so that they don't sink and weigh the batter down. You can substitute pecans or other dry-add in of your choice. Just take it easy and don't overload your cake.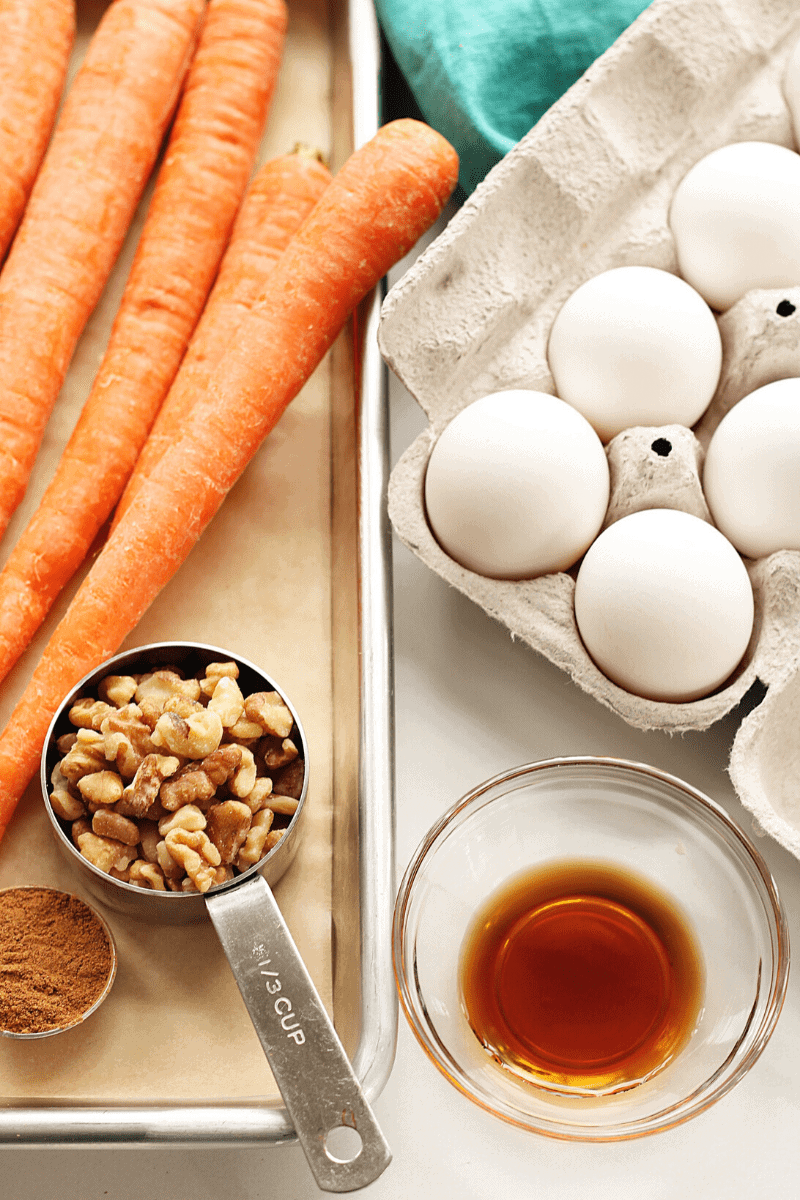 6.Use oil. I used to be anti any-oil-but-olive-oil until I started baking from scratch. I love butter just as much as the next person, so that's why I use it in the frosting. Just not in the cake. Oil gives a lighter texture. Canola oil is my go-to for baking.
7.Keep the oven door closed! Do not open that oven door until your timer is up! If you open the oven door while the cake is rising, it won't rise properly and could sink in the middle. No bueno. If you're using a 9×13 inch metal pan, you'll just need to trust me on the baking time.
8.Know when to step away from the mixer. A mixer is needed for creaming the egg yolks, oil and sugar, and for beating the egg whites and whipping the frosting. You should be folding in your carrots, walnuts and flour in by hand though. You don't want to over-mix your batter.
What should my cake look like?
Here is what the cake should look like going in the oven and coming out.
Carrot cake is dark in color because of the color of the carrots, brown sugar and spices. It can be hard be to judge done-ness by looking at the color alone.
Let the cake bake for the full 40 minutes in a metal 9×13 inch pan at 350 degrees F. When your cake comes out of the oven, insert a toothpick into the middle and if it comes out clean, its done. If you press down on the edges, they should be soft.
The frosting
"I wish I was topped with buttercream frosting", said no carrot-cake ever. Cream-cheese frosting is a must! I honestly don't know one dairy-eater who doesn't like cream cheese frosting. Carrot cake and cream-cheese frosting must go together. End of story.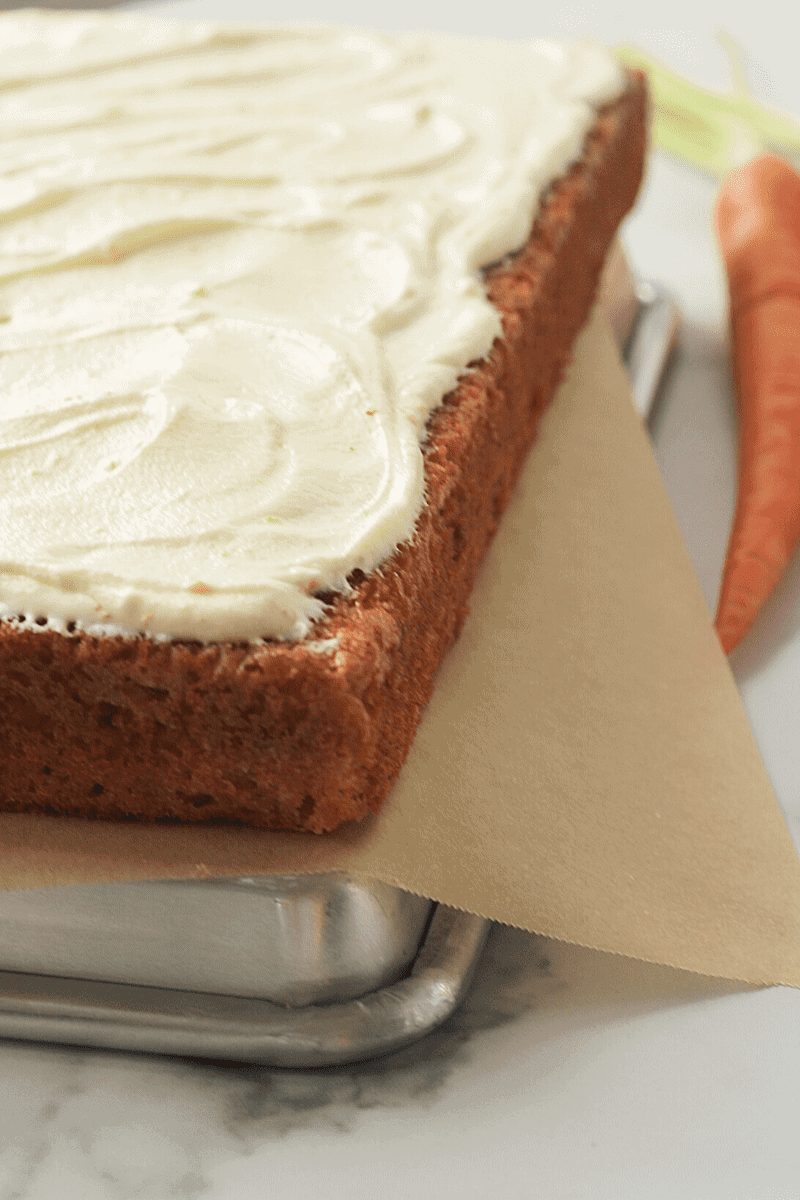 The only complaint I ever hear about cream cheese frosting is how sweet it is, but that's no fault of cream-cheese! You'll have to blame the confectioner's sugar for that one! One thing I do to balance the sweetness is infuse the frosting with orange zest. This enhances the tanginess of the cream-cheese and really complements the flavor.
So what else besides cream cheese, orange zest and confectioner's sugar goes in the frosting? Only softened butter, vanilla extract and a splash of heavy cream. Most food bloggers will suggest whipping a little bit of heavy cream into the frosting to give it some texture and some body. Trust us and do this. We are your friends!
Your questions, answered.
So I know that y'all have some questions after reading all that! I've already anticipated some of them but happy to answer any others in the comments!
Q: How does this recipe differ from traditional carrot cake?
A: In my experience, carrot cake tends to be a little denser than most cakes. I also mix orange zest and a few squeezes of orange juice in the batter. The frosting is also infused with orange juice. Don't get me wrong, I love traditional carrot cake, but I prefer my own version 🙂
Q: What do you have against pineapple and coconut?
A: Nothing at all. I love both of those things, just not in carrot cake. One thing I will say though is that I really struggled to find a way to add some visual interest to this one layer-cake. A sprinkle of toasted coconut flakes on top did the trick!
Q: Can I use any other oil, besides canola?
A: I think vegetable oil would make a fine substitute. It has no discernible flavor, and has a lot of the same properties as canola. I've always heard that canola is a healthier option than vegetable oil, but don't quote me on that.
I know a lot of people swear by coconut oil for baking and that was honestly the first oil that I tried using in this recipe. It tasted fine, but I didn't get the light texture that I was hoping for. I don't know if the texture was off because of the coconut oil, but I decided to use canola instead and was happy with the results.
Q: Why the heck does this recipe call for pumpkin pie spice?
A: Please understand that there is nothing pumpkin in pumpkin pie spice. It's just a blend of cinnamon, nutmeg, ginger and ground cloves, which are all commonly found in carrot cake. I noticed that some brands of pumpkin pie spice has allspice in it, the one that I buy (Badia) does not. I really don't think that allspice will hurt the recipe though.
Pumpkin pie spice is convenient to buy and cheaper if you don't have all of the individual seasonings already on hand. If you don't have pumpkin pie spice, a breakdown of how to measure the spices is in the notes section of the recipe card.
Q: Do I have to use a 9×13 inch pan?
A: Of course you can use whatever pan you like. I've only used a 9×13 inch metal pan though. If you decide to use a different pan, you may need to do some quick research and adjust the baking time.
Q: Can this cake be layered?
A: Yes, it can! At first I wanted to make a layered cake but who knew that all baking pans aren't created equal? I bought the wrong pans and my layered cake was a fail. My sister is the cake-master and of course she laughed at me for buying the wrong pans. She said I should have bought these pans instead.
To answer this question, this recipe makes enough batter for two 8-inch round pans, you may have to adjust the baking time. If you adjust the baking time accordingly you can get the same marvelous textured with the 2 round pans.
Q: Is there anything else in the recipe that's used to leaven the cake besides the beaten egg-whites?
A: Yes, I also use 2 and ½ teaspoons of baking powder which I whisk in with the flour. Just a note about whipping egg whites though. Make sure you use a clean bowl and whisk attachment. If there are any traces of egg yolks, the whites won't stiffen properly!
Q: Do i have to let my cake set for a certain amount of time before eating?
A: Some people say carrot cake is better on the second day once the spices and flavors settle, and they're probably right, but there's just no way I'm waiting 24 hours to dig into a cake! You can eat at as soon as its fully cooled and frosted!
Let's Eat Cake!
Now on to the best part! Let me leave you with a few visual serving suggestions: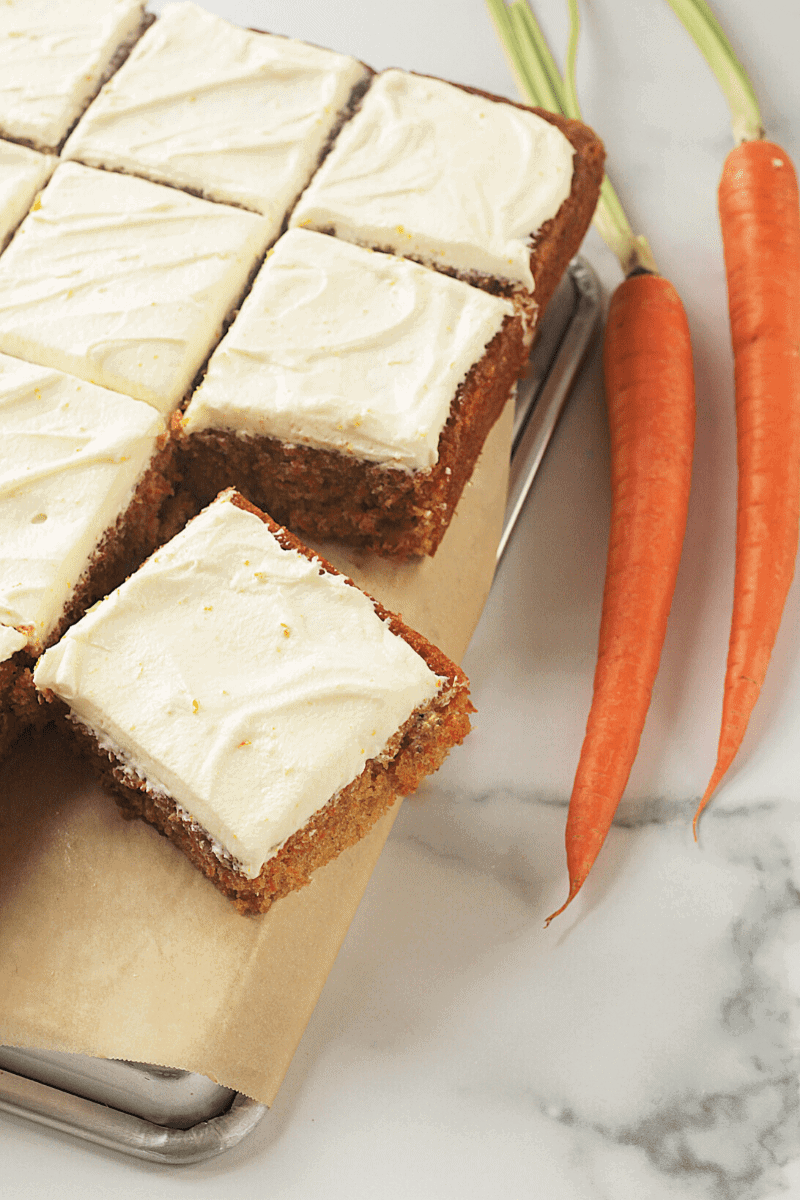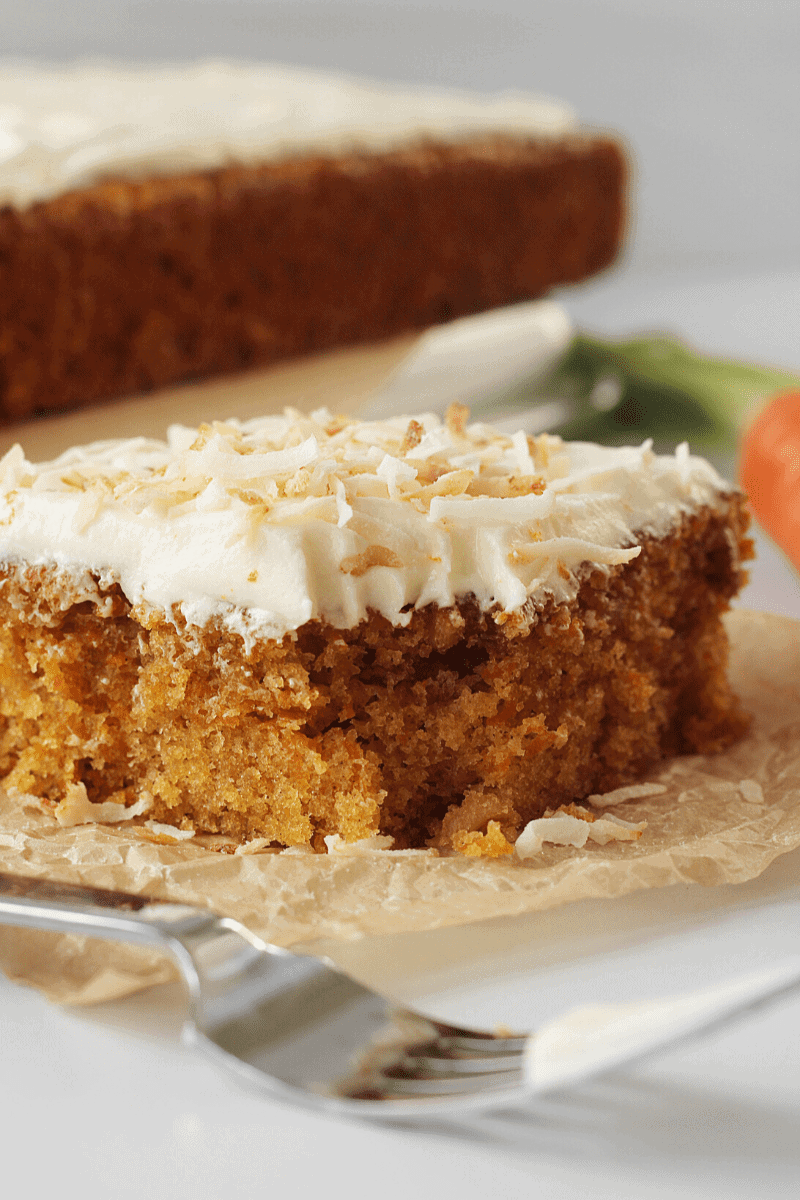 Is this not the most light and fluffy carrot cake you've ever had?
See you later friends!
-C. Michele
Other recipes you may enjoy:
The Best Lemon-Blueberry Muffins
'The Best of Both Worlds' Chocolate Chip Cookies
The Lightest and Fluffiest Carrot Cake Ever
Course: Dessert
Cuisine: American
Difficulty: Easy
Total time
1
hour
10
minutes
Don't think for one minute that a sheet cake has to be boring! This delicious Carrot Cake has an amazing light and airy texture and is topped with a decadent, citrus infused, cream-cheese frosting!
Ingredients
2 cups finely-shredded carrots (about 4-5 carrots)

2 and ¼ cups cake flour

4 eggs (separate the yolks from the whites, reserve both)


2 and ½ tsp. baking powder

1 and ½ cups canola oil

⅔ cup brown sugar

1 and ⅓ cups granulated sugar

1 tablespoon pumpkin pie seasoning* (see note below)

½ tsp. salt

2 tsp. vanilla extract

⅓ cup walnuts-chopped small

1 orange for zesting and juicing (you want to reserve half of the zest for the frosting)

Cream-cheese frosting

½ cup (1 stick) butter, softened at room-temperature

8 oz. container of cream cheese, softened at room temperature

2 and ½ cups confectioner's sugar

1 tsp. vanilla extract

2-3 tbsp. heavy or whipping cream

Remaining orange zest
Directions
Preheat oven to 350 degrees F and line a 9×13 inch pan with parchment paper (spray bottom and sides of pan with cooking spray first so the parchment stays in place)
Finely shred your carrots and separate the egg yolks from the egg-whites if you haven't done so already. Keep the egg whites and yolks separate, don't discard them!
In a separate medium-sized bowl, whisk together flour, baking powder, dry spices and salt, and set aside.
In a mixing-bowl, beat the egg-yolks and canola oil together on medium speed for about 2 minutes. Add both types of sugar and the vanilla extract, a few squeeze of orange juice and half of the orange zest and continue to beat for 1 additional minute. Fold the carrots and walnuts into this mixture by hand.
Add the flour to the wet mixture using a wooden spoon or rubber spatula until combined. Be careful not to over-mix.
Beat the egg-whites in a clean bowl until stiff peaks form (about 2 minutes). Fold the egg whites into the batter. Egg whites should be distributed evenly and the batter will look frothy.
Pour the batter into the baking pan and bake for 40 minutes. Make sure not to open your oven door until the timer is up. Cake is ready when a toothpick inserted in the middle comes out clean.
Let the carrot cake cool completely in the pan, or let cool in the pan for 15 minutes and then transfer to a metal cooling rack to finish cooling. Prepare the cream-cheese frosting while the cake is cooling.
Cream-cheese frosting
Beat softened butter, softened cream-cheese and vanilla extract together until smooth.
Add your confectioner's sugar ¼ cup at a time, and continue to beat at medium speed. Add 2-3 tablespoons of heavy cream and continue to beat the frosting until it is fluffy and creamy (about 2 full minutes). Add the remaining orange zest during your last few seconds of mixing.
Once the cake has fully cooled, you can frost the top of the cake right in the pan or you can remove the cake from the pan and frost the top and sides. Cut the cake into squares and serve.
Notes
*Pumpkin pie seasoning has all of the spices normally found in a traditional carrot cake or spice-cake (cinnamon, nutmeg, ground cloves and ginger). There is no pumpkin flavoring in pumpkin pie seasoning and can be more cost-effective than buying all of these spices individually!
If you don't have pumpkin pie seasoning, I suggest using 1 tsp. cinnamon, 1 tsp. nutmeg, ½ tsp. ground cloves and ½ tsp. ground ginger
Let the cake cool in the pan for 20-30 minutes and then transfer to a metal cooling rack and let finish cooling. I recommend a total cooling time of at least 1 hour. You can also frost the cake right in the pan, but it may take slightly longer to cool.