I craved blueberry muffins during my first pregnancy and that craving's stayed with me ever since. Now that my kids are both living outside of the womb, the craving's stuck with them too! Because I can never stop at basic, this recipe uses the zest of fresh Meyer lemons and some lemon extract. Definitely an upgrade over store-bought blueberry muffins!
The bigger my kids get, the less we seem to agree on things, but we always agree on these lemony-blueberry muffins! I love them because they're easy to make ahead of time, and easy to grab on hectic mornings when we barely make it out the door! The mess they make in the car though, well that's a different story!
The ingredients
Good news! You can grab all the ingredients you need for these blueberry muffins in a single run to your local grocer! Meyer lemons, fresh blueberries and lemon extract aren't something that I keep on hand at all times so I usually do have to make a quick trip for these, but I don't have to go anywhere fancy or worse yet, make trips to different stores!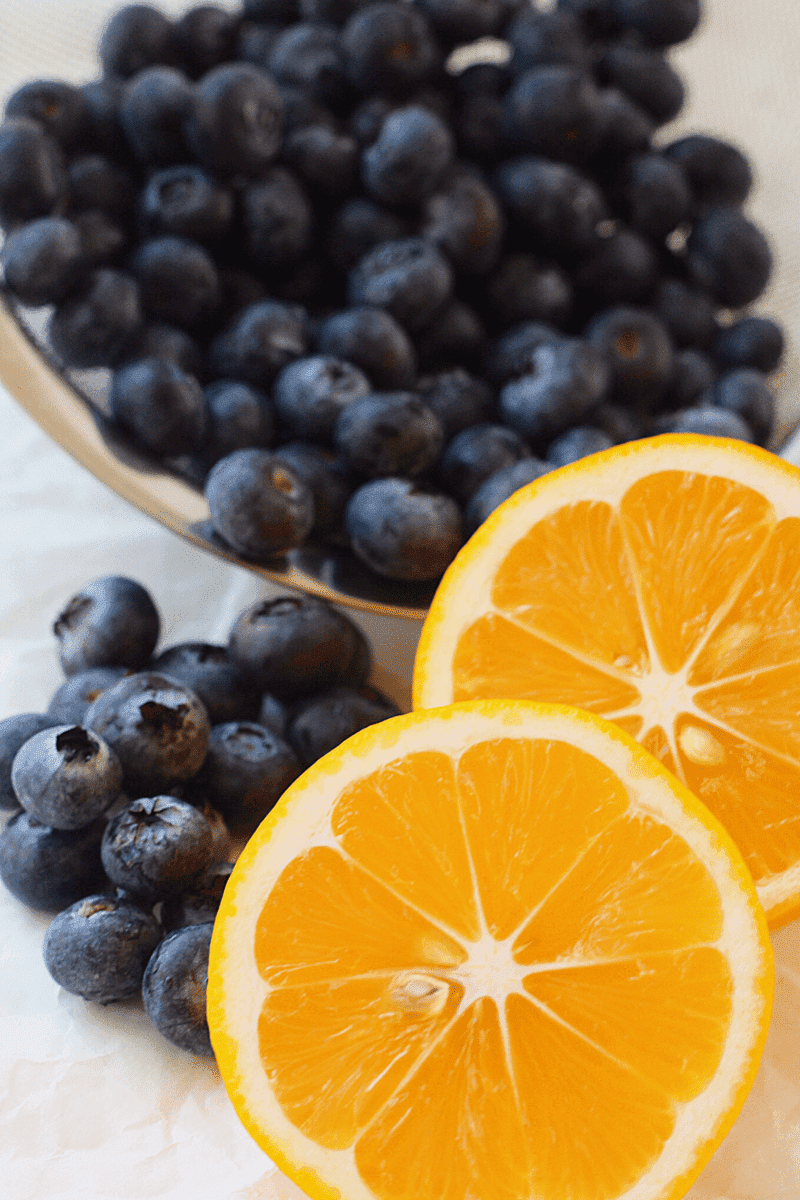 Speaking of lemons…
I always have regular lemons on hand, but I only get Meyer lemons when I'm making something special. Technically, you don't have to use Meyer lemons since the recipe only calls for the zest. I prefer Meyers though, because they're easier to zest and prettier in color. If you don't have Meyers or don't wish to buy them, plain ol' lemons will do just fine!
Which brings me to the next ingredient that I want to talk about: lemon extract. These muffins call for 2 teaspoons of it. I really wanted these muffins to be as lemon-y as possible! Notice I named them Lemon Blueberry Muffins and not Blueberry Lemon Muffins!
So why don't I use fresh lemon juice instead of lemon extract? Honestly I don't know. I haven't gotten around to testing the recipe with lemon-juice over extract but I'll be sure to report back as soon as I do. If you're feeling adventurous, feel free to sub lemon juice for extract, and leave a note in comments and let me know how you make out!
Blueberries: fresh is best!
Listen. That's my story and I'm sticking to it. Frozen blueberries are no match for fresh ones for this recipe. I have tried making them with frozen and it's just not the same.
For one, frozen blueberries just aren't as fresh and juicy. Yes, they're more convenient because you can keep them in the freezer until you're ready to use them but I noticed that the color bleeds into the yellow batter and creates green muffins. I mean by all means if the color doesn't bother you then go for it, but I do prefer fresh berries, rather than frozen.
Sweat this technique.
So, have y'all seen the crowns on these things?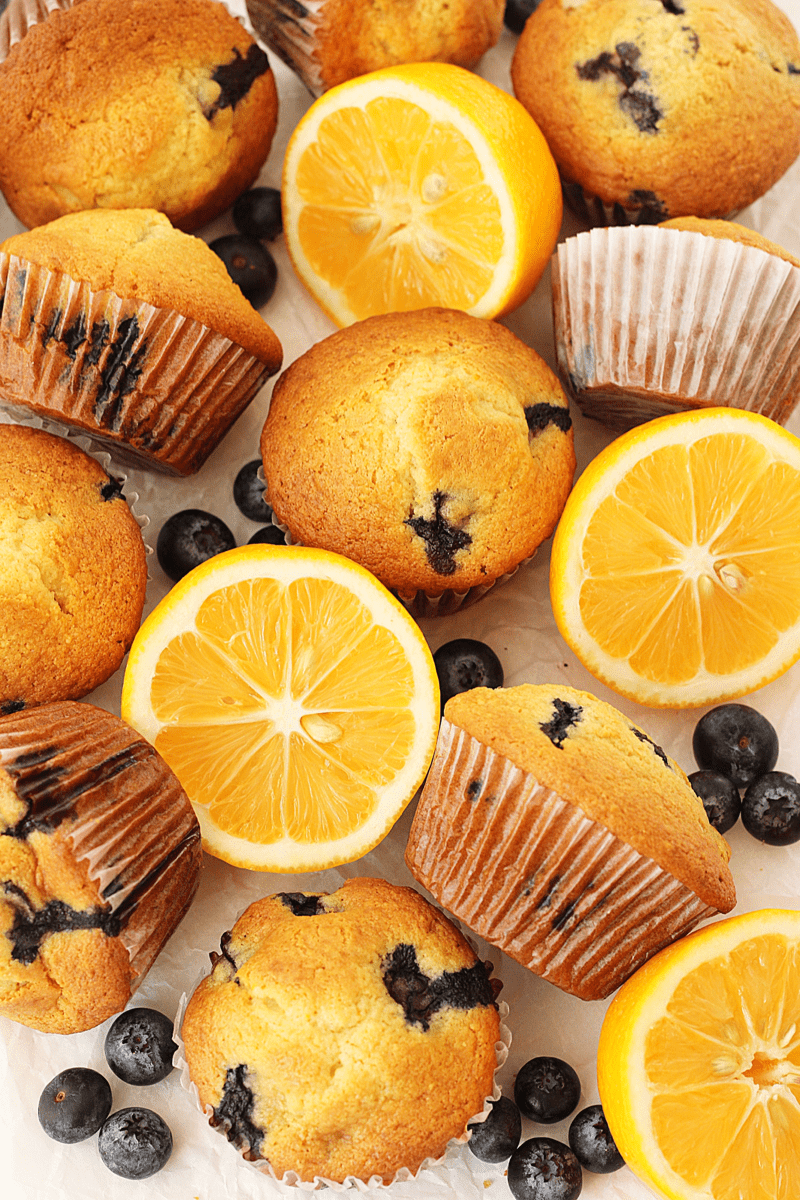 These crowns mean that these muffins are to be treated like royalty and with gentle hands. Put those beaters and mixers away! Muffins don't like beatings very much. Mixing by hand is highly recommended for the lightest texture. Lumps and streaks of flour in the batter are fine, and make sure that you wait until the very end to add the blueberries. You don't want to disturb them by mixing too much!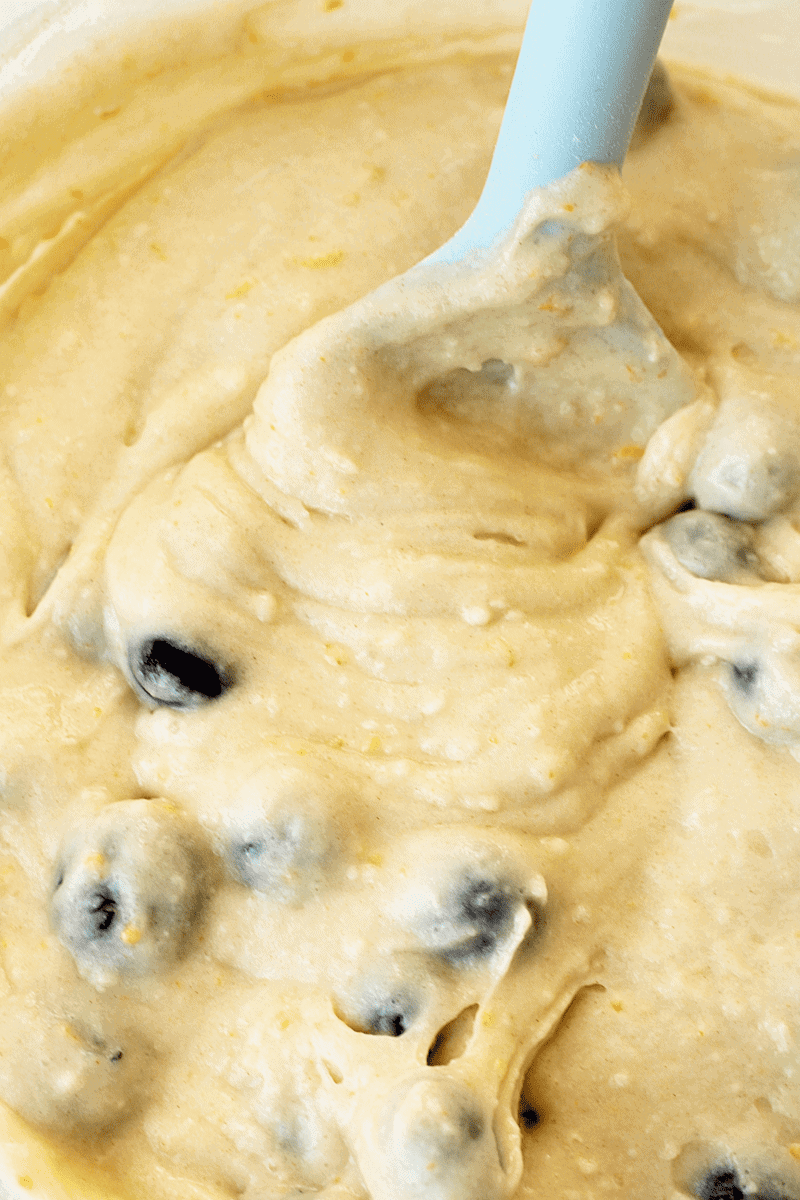 "How much do I fill each muffin cup?"
To achieve the best height on your muffins, you'll be relieved to know that you don't have to worry too much about over-filling the muffin cups, like you would if you were baking cupcakes. What a relief, because that part stresses me out! Muffins aren't supposed to look perfectly uniform so that takes some of the edge off for me.
A good rule of thumb that I use for muffins is to fill the baking cups about ¾ of the way. You can use the photo below as a guide. When your muffin puffs up it's going to create a nice tall crown!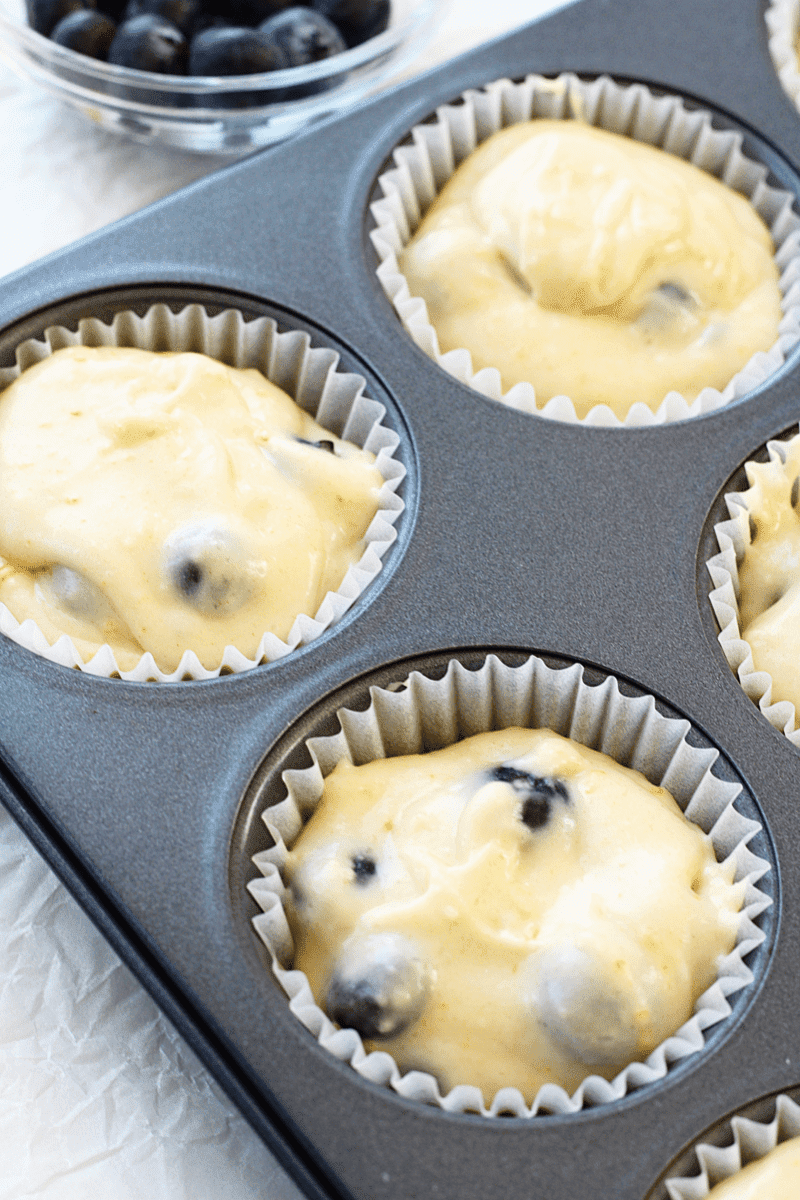 "Why do I have to change the temperature 5 minutes into baking?!"
Apparently starting your muffins off at a high temperature and then dropping the temperature is a thing. And it works. Doing this is what causes the batter to puff up and create that horridly un-sexy term: "muffin top".
You'll want to start your muffins off at a high temperature of 425 degrees F, for the first 5 minutes of baking. Once those 5 minutes are up, lower the heat (don't remove the muffins from the oven!) to 375 degrees F and bake for another 18 minutes.
Let them rest!
This is another important step. I let my muffins rest right in the muffin tin for about 10 minutes after removing them from the oven. This just helps to ensure that the batter finishes cooking without browning the muffins anymore in the oven. Once they've sat in the tin for 10 minutes, you can them transfer them to a metal cooling rack, and let cool for 10-15 minutes or longer.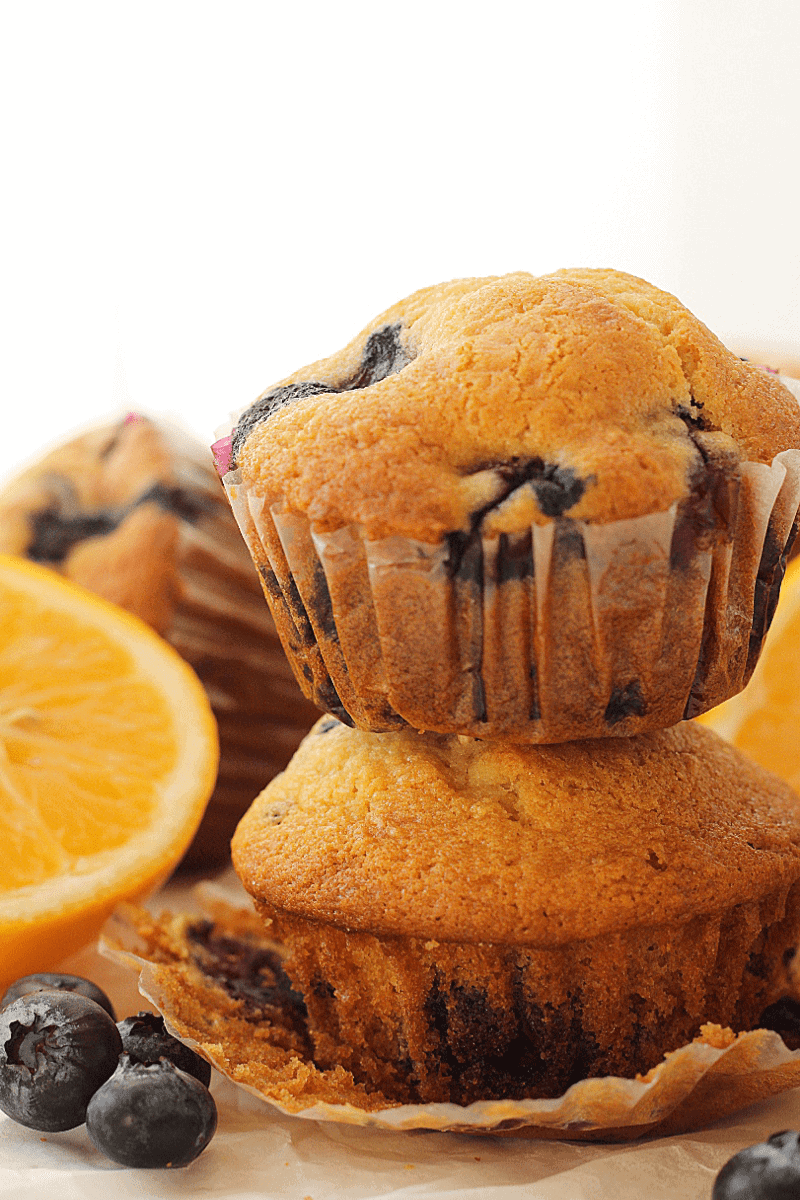 Want to try some other delicious, kid-friendly recipes?
Picky-Eater Approved Mozzarella Sticks
Cheddar and Brie Baked Mac and Cheese
Best Lemon-Blueberry Muffins
These lemony-blueberry muffins are infused with lemon extract and Meyer Lemon zest! Perfect for breakfast or brunch and loved by kids and adults!
Ingredients
1 ½

cups

all-purpose flour

2

teaspoon

baking powder

1

teaspoon

baking soda

¼

teaspoon

salt

½

cup

butter

melted and cooled

¾

cup

white granulated sugar

egg

½

cup

sour cream

½

cup

milk

2

teaspoon

lemon extract

whole lemon

zested, (preferably Meyer)

1

cup

fresh blueberries

rinsed
Instructions
Pre-heat oven to 425 degrees F

Line a 12 cup muffin tin with cupcake liners and set aside.

Combine flour, baking powder, baking soda and salt in a medium-sized bowl and set aside.

Whisk together the egg, cooled melted butter and sugar in a large bowl. Then add your sour cream, milk, lemon extract and lemon zest to the same bowl and mix until combined.

Add your dry ingredients that you already combined (flour, baking soda, baking powder and salt) to the mix by hand, just until a batter forms. Do not over-mix! Visible streaks of flour in the batter are fine!

Fold the rinsed blueberries into the batter.

Spoon batter into muffin cups using an ice cream scoop or small ladle. You want the muffin cups to be about ¾ full.

Bake the muffins at 425 degrees F for 5 minutes and then reduce the heat to 375 degrees F and let bake for 18 minutes more. remove the muffins from the oven to adjust the temperature!

Once the muffins are done baking, let them cool right in the muffin-tin for 10 minutes and then transfer them to a cooling rack.
Nutrition