If the thought of making your own mozzarella sticks makes you want to run in the other direction, let me tell you that this recipe is fool-proof! I don't care how bad of a cook you think you are, you ain't messing these up! They're so much easier than they look. Follow these simple steps and you'll never have to worry about the cheese melting out!
Picky-eater approved, but let's be real.
Did I mention that everyone loves mozzarella sticks?! Yup, that's right. Kids, parents, grandparents, crazy in-laws, you name it! Everyone's gonna love you for serving these up!
When I serve these at home, everyone wins! Super-easy to make for mommy (they can be frozen ahead of time and fried within minutes) and loved by the pickiest of little ones! Delicious crowd-pleaser? Yes! Healthy meal though? Maybe not.
The good news is that you can get away with using relatively low amounts of oil for this one! You just want to use enough so that you're not cooking them for too long, and so the cheese doesn't melt out. My recommendation is to use about ¼ inch of an inch of oil for these, but you can probably get away with less.
I'll also use canola oil which is deemed one of the "healthier oils". I know what you're thinking, "Whatever lets you sleep at night". Am I right? But get this, some oils are healthier than others so I've done my research and can say that I've chosen wisely.
Just how easy to make are these?
Let's just say that while these are super-easy to make, they can also be super- easy to mess up if you don't follow a few must-do's:
Must-do #1: One coating of flour and two coatings of bread crumbs. Period. This recipe calls for a mixture of egg and milk to bind the coating to the string cheese. The double coating acts as a barrier that protects the cheese from oozing out.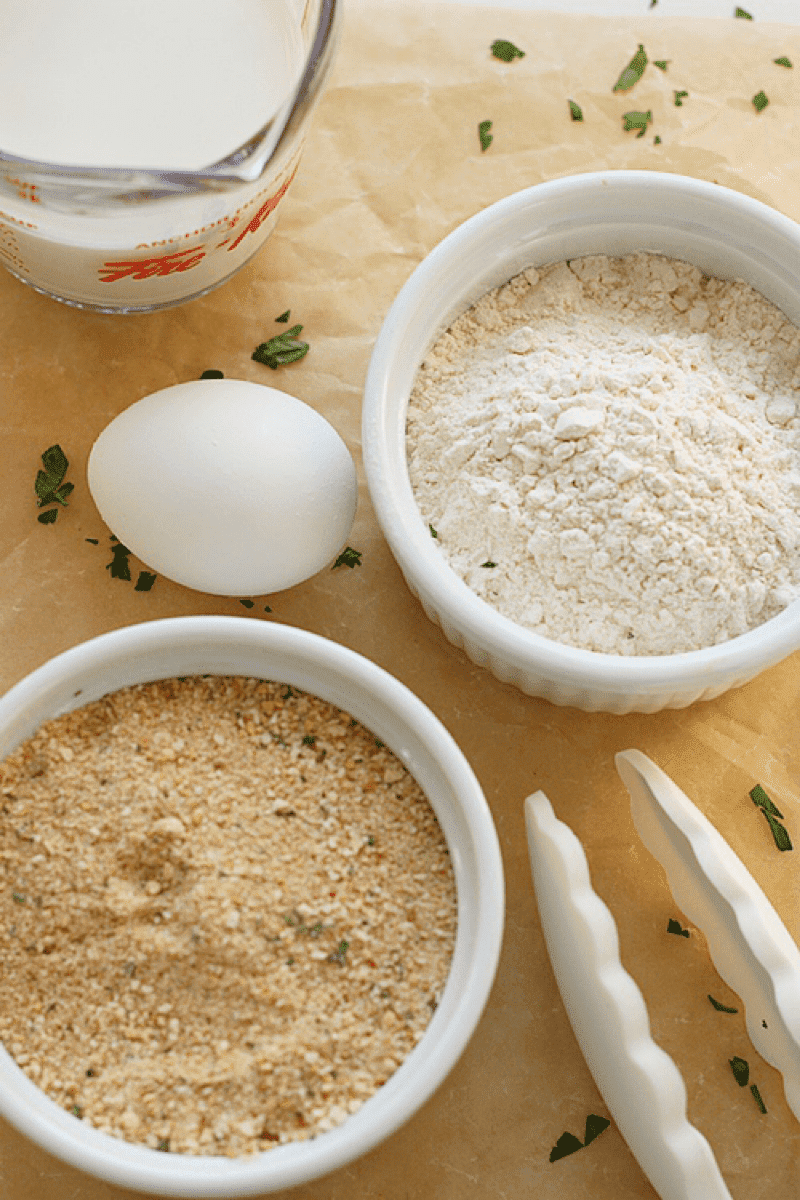 Must-do #2: Coat them and freeze them for 1 hour minimum. You can freeze them longer than that, but freezing is key if you don't want your cheese to melt out. This ain't a good recipe to start when you or the kids are hangry! You can bread and freeze them hours or days in advance though, and fry them up quickly!
Must-do #3: Make sure your oil is hot! If you don't, your mozzarella sticks will sink to the bottom of the oil, causing them to get soggy or even worse, start to melt out. You don't want that!
Must-do #4: Fry them for 1-2 minutes. This can be a tricky little dance to get the timing right so you'll really need to watch them closely. I would say you'll know they're done when they're golden in color and the cheese melts just enough that the mozzarella stick starts to feel soft, and bends a little. You don't want to remove them from the oil when the cheese is still hard because you won't get the oozi-ness that you want.
By the way, if a little cheese does start to ooze out of the edges, it's ok! You just don't want all of the cheese to start leaking out and have the mozzarella sticks start sticking to the pan or to each other.
Must-do #5: Handle with care! Do yourself a favor and invest in a good pair of silicone tongs. Nothing is more aggravating than scraping the breadcrumbs off of your perfectly coated mozzarella sticks! It's also much easier to drop them in the oil and pull them out with a pair of tongs!
Serving them
Ideally, you want to serve these immediately so that they're still crispy and the cheese doesn't harden.
Obviously when serving them to kids, you need to let them cool enough so they won't burn themselves. I'll break them in half and wait until they've cooled off slightly before serving them to little-ones.
Don't forget a side of marinara-sauce for dipping!
Love these Mozzarella Sticks? Here are some other kid friendly, easy recipes!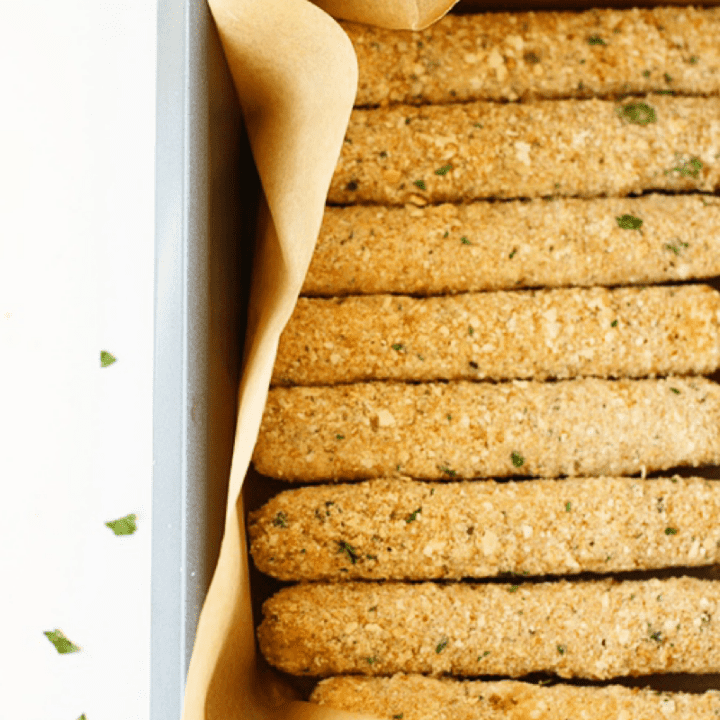 Fool-Proof Mozzarella Sticks
Say bye-bye to the struggle! This easy, fail-proof recipe takes all of the guesswork out of making mozzarella sticks! Dummy tested, foodie approved!
Ingredients
12

sticks

mozzarella string cheese

1 ½

cups

bread-crumbs

1

teaspoon

salt

¼

teaspoon

pepper

½

teaspoon

garlic powder

½

teaspoon

onion powder

2

teaspoons

chopped fresh parsley

¾

cup

flour

1

cup

milk

1

egg

Canola oil

for shallow frying

½

cup

marinara sauce

optional
Instructions
Unwrap each stick of string-cheese, place on a baking or sheet pan and store in the fridge until you're ready to use

Season the bread-crumbs in a shallow bowl with salt, pepper, onion powder, garlic powder and chopped parsley. Set aside.

In another shallow bowl, combine flour with a few pinches of salt and pepper.

In a deeper bowl, whisk the eggs and milk.

Dip each stick of string cheese into the egg/milk mixture, then into the flour.

Dip the floured string-cheese back into the egg/milk mixture and then roll in the bread-crumbs. Repeat this step so that each mozzarella stick has 2 coats of bread-crumbs.

As you're breading each of the mozzarella sticks, place them on a parchment-lined baking sheet or pan. Freeze for at least 1 hour.

Heat ¼ of an inch of oil in a frying pan or skillet and once the oil is hot, fry each of the mozzarella sticks for 1-2 minutes. They will be golden-brown in color and should be soft enough to bend.

Drain mozzarella sticks on paper towels or on a metal cooling rack and serve immediately with a side of marinara sauce. Let them cool longer if serving to small children.
Notes
Remember you need 2 coats of bread-crumbs to keep the cheese from oozing out.
After you're done breading the mozzarella sticks, freeze them for minimum of 1 hour! This will further prevent the cheese from melting and oozing out.
I recommend using a pair of to handle the mozzarella sticks so you don't puncture or scrape the coating off.
You'll know that the oil is hot enough when a few drips of water splatter across the top.
The mozzarella sticks will be golden brown in color and bend slightly when they are ready to be removed from the oil.
Mozzarella sticks can be frozen days in advance of being fried.
Nutrition