I am one proud mama, and I'm not even talking my two adorable kids! I'm talking about this delicious Baby Kale and Apple Salad with sparkling cider vinaigrette!
This Baby Kale and Apple Salad smacks! There's really no other way to put it. I've been making it for a few years now, and like most recipes of mine it's evolved over time. Don't get me wrong, it was delicious in it's early stages but I knew I had to level-up for Crumb-Snatched!
This salad makes a quick and satisfying lunch or fabulous dinner salad. Not only is it fresh and tasty as heck, it comes together in about 15 minutes!
The green stuff
I love, love, love baby kale in salads because it really holds dressing well without becoming too limp or soggy. I'm someone who loves to go heavy on the dressing. You know how people in restaurants order their dressing on the side? Nah man, I'm not one of them. But if you are, do not worry! You can use as little or as much dressing as your heart desires!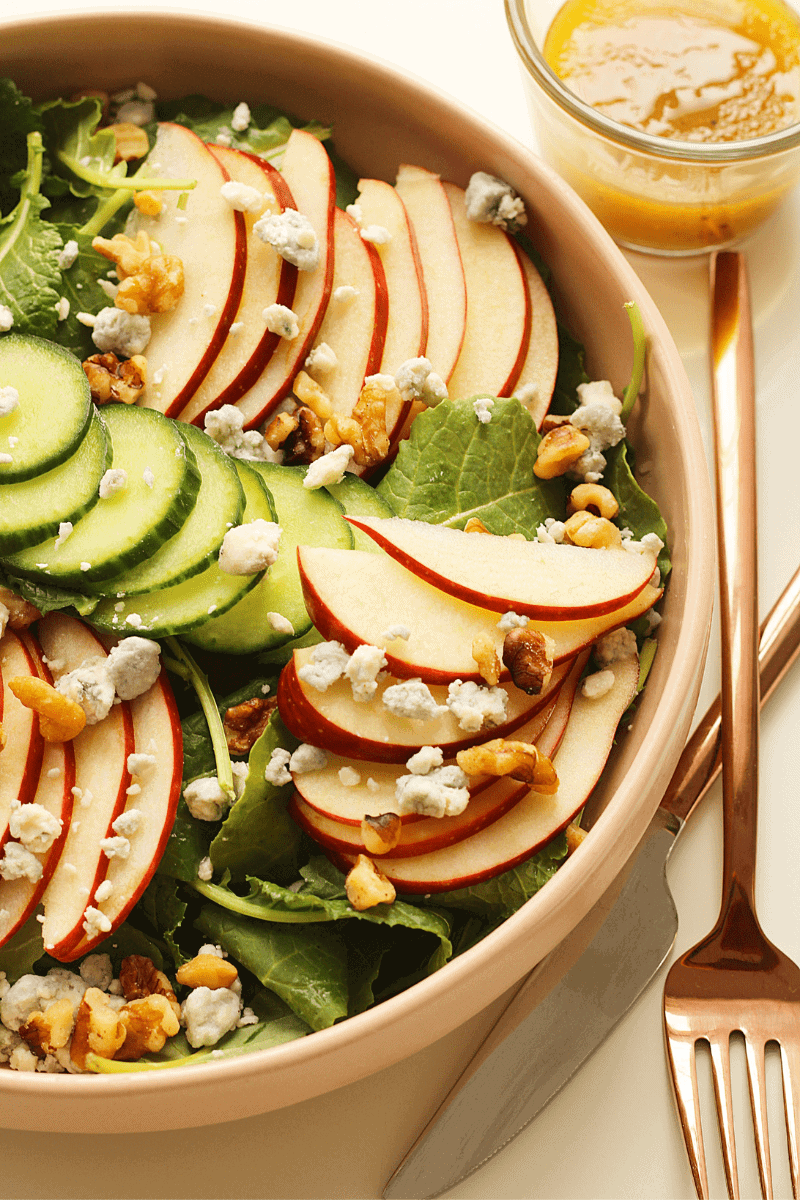 Can you substitute regular kale? Of course! My early version of this Kale and Apple salad used regular kale, rather then baby. Regular kale is a bit more firm in texture and slightly more bitter, although still tasty. What I like about using regular kale is that it's full of nutrients and it holds up well in the refrigerator, even with the dressing on it!
When it comes to salad, though I do prefer greens that are a little more delicate, but you can honestly make this salad with any type of green that you wish! Baby spinach is a great runner-up ingredient for this salad. Give it a try! You'd have to try really hard to mess this salad up.
Apples, Blue Cheese and Walnuts, oh my!
Let's talk about the rest of these ingredients! No lie y'all, the apples are the star ingredient. Normally I'm a granny smith kind of girl, but in salads I like to opt for Red Delicious. They add sweetness and a pop of color! Don't forget, we eat with our eyes!
Blue cheese crumbles add a velvety texture and some saltiness to balance the sweetness of the apples and dressing. The walnuts add protein and texture. Finally, the cucumbers give this Baby Kale and Apple salad a refreshing crunch and help to off-set the acidity of the apples and the vinaigrette.
Finally, the DRESSING!
OMG. THIS. DRESSING. Honestly it deserves its own post! You guys know I love to get fancy and this dressing is it! This Sparkling Cider Vinaigrette is the business. Period.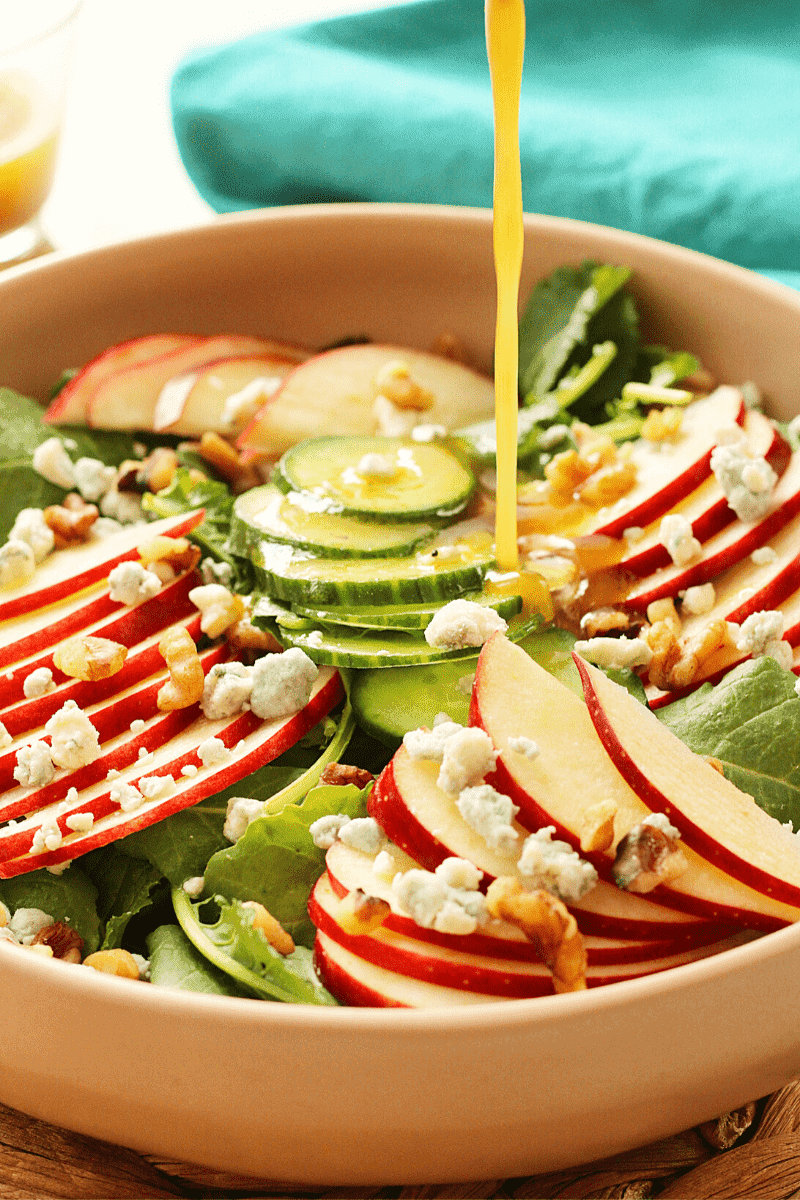 I combine ½ cup of extra-virgin olive-oil, and ¼ cup of sparkling cider for the base of this dressing. Add two teaspoons of balsamic vinegar, a tablespoon of apple-cider vinegar, a teaspoon of honey mustard, one tablespoons of honey, a few drops of lemon juice and a pinch of salt and pepper. Voila! The most delicious dressing you've ever had.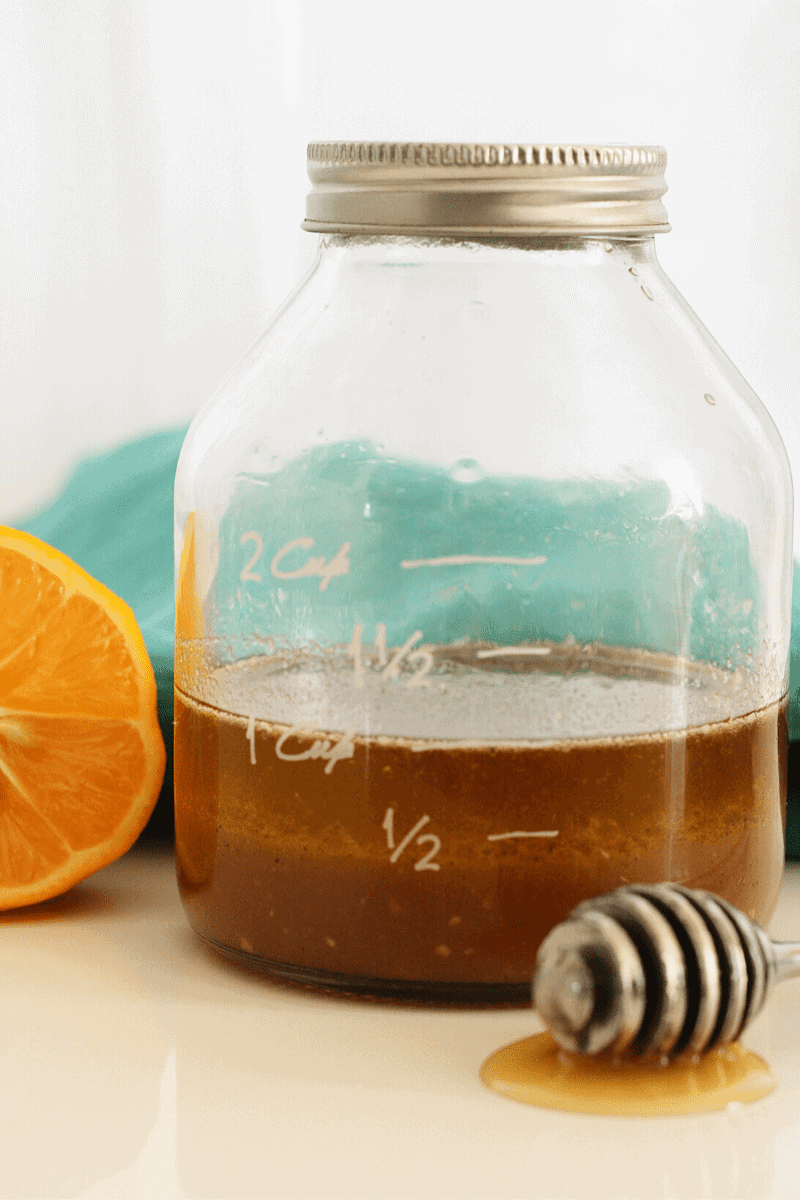 I recommend mixing this dressing up ahead of time and letting it sit for a little bit to let the flavors settle. The olive-oil taste can be a little intense at first, but give it about 10-20 minutes to start mingling with the other flavors. Shake just prior to drizzling it over your salad.
If you don't have sparkling cider, regular cider or apple juice can also be used. My kids' juice-boxes come through in a pinch!
The end-result
Now you have a fresh, delicious and crisp Baby Kale and Apple Salad! Feel free to go ham on the dressing!
Those last few bites of the salad-you know the pieces at the bottom that marinate in the dressing, are absolutely incredible! This is one salad you won't be totally sad to finish, unless one of your crumb-snatchers finishes it for you. Depending on how picky your kids are, this salad just might be a winner with them too!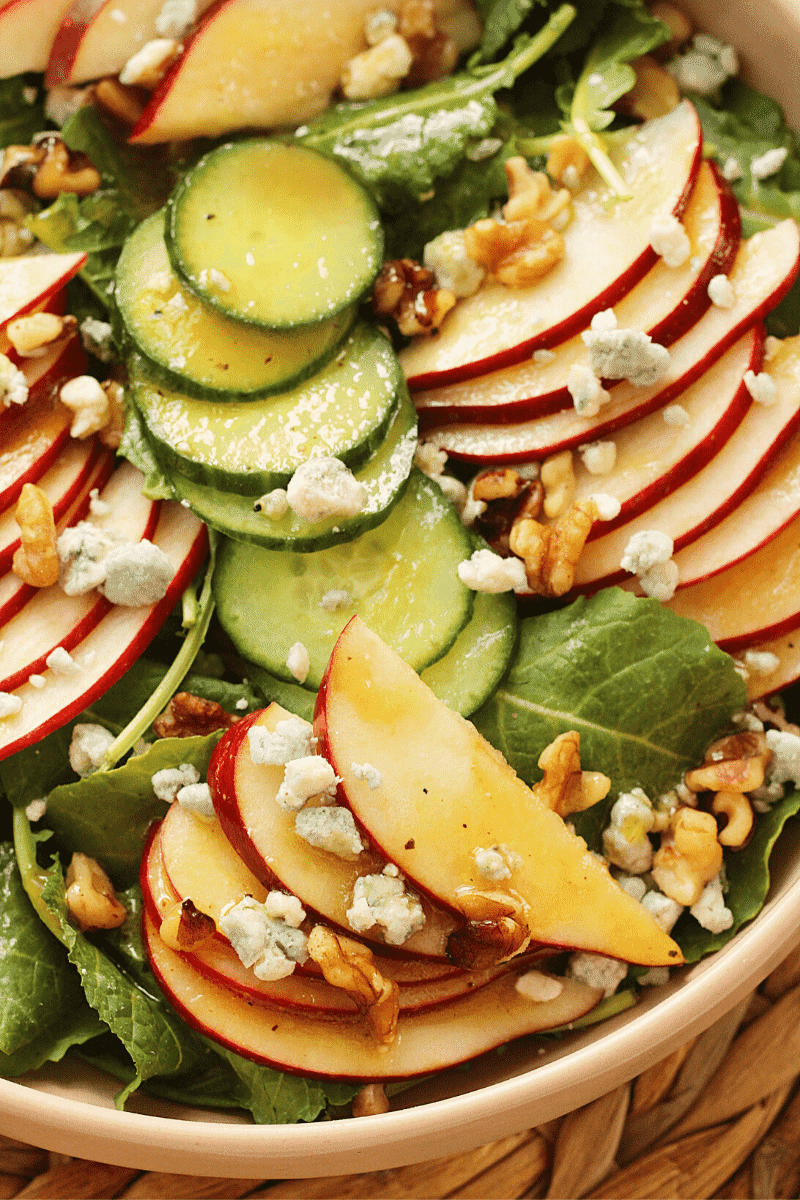 In case you can't tell, I love putting fruit into my recipes. Check out some others!
Fresh Ahi-Tuna Bowl with Edamame + Avocado + Grapefruit
See you when you get hungry again!
-C. Michele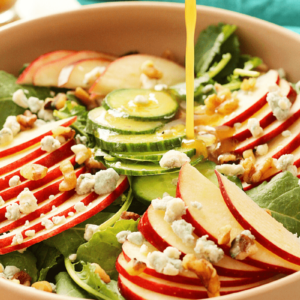 Baby Kale and Apple Salad with Cider Vinaigrette
Delight your taste-buds with this Baby Kale and Apple Salad! It's topped with walnuts and blue-cheese crumbles, and tossed in a sparkling cider vinaigrette!
Ingredients
Dressing
½

cup

of extra-virgin olive oil

¼

cup

of sparkling apple cider or apple juice

1

tablespoon

apple cider vinegar

2

teaspoons

balsamic vinaigrette

1

teaspoon

honey mustard

1

tablespoons

honey

pinch

of salt

pinch

of pepper

a few drops of lemon juice-use sparingly!
Salad
5

ounce

of baby kale

½

of an English cucumber

1-2

Red Delicious apples

cored and cut into thin slices

¼

cup

chopped walnuts

¼

cup

of crumbled blue cheese
Instructions
Prepare the dressing by whisking all of the dressing ingredients together. Let rest for 10-15 minutes, while you assemble the salad.

Cut apples into thin slices and slice cucumbers into thin rounds and set aside. Drizzle the apples with fresh lemon juice to keep them from turning brown.

Layer the baby kale, cucumbers and apple slices in a large shallow bowl.

Top the salad with a sprinkling of chopped walnuts and blue cheese crumbles.

Drizzle with the dressing, toss and serve.
Notes
Prepare dressing ahead of time and let sit for a minimum of 10-15 minutes to let the flavors settle. Shake the dressing before drizzling it over the salad.
Be sure to only use a few drops of lemon. Using more than this gives the dressing a bitter taste.
Dressing can be stored in the refrigerator for up to 1 week
Feel free to use more or less apple, blue cheese and walnuts to suit your preference. This is a hard salad to mess up!
I don't toast the walnuts for this recipe, but you could if you are using raw nuts
A shallow bowl is ideal for evenly coating the ingredients in dressing
Nutrition