Seriously, crack all the jokes you want about baked beans. Go ahead! Let 'em rip, get them out of your system. I'll wait. I'm telling you, the minute you try these, that's where the laughing stops because my Sweet and Spicy Baked Beans are serious! And they're made from scratch, using dried beans!
Listen up, the true Cape Verdean in me isn't intimidated by some dried beans. I grew up watching my grandmother cook dried beans only. She didn't make baked beans, but I sure did develop a love of beans through my culture. Cooking with dried beans is pretty much second nature to me. A good soak overnight and about 3 and a half hours of cooking time is a small price to pay for some amazingly sweet and spicy baked beans.
My cultural upbringing aside, Boston is famous for baked beans and is very close in proximity to Providence, my hometown. It only seems natural that I would gravitate toward this delicious dish! Are my beans more Boston-style than Southern? I'm not really sure. I just know they're sweet, spicy and good!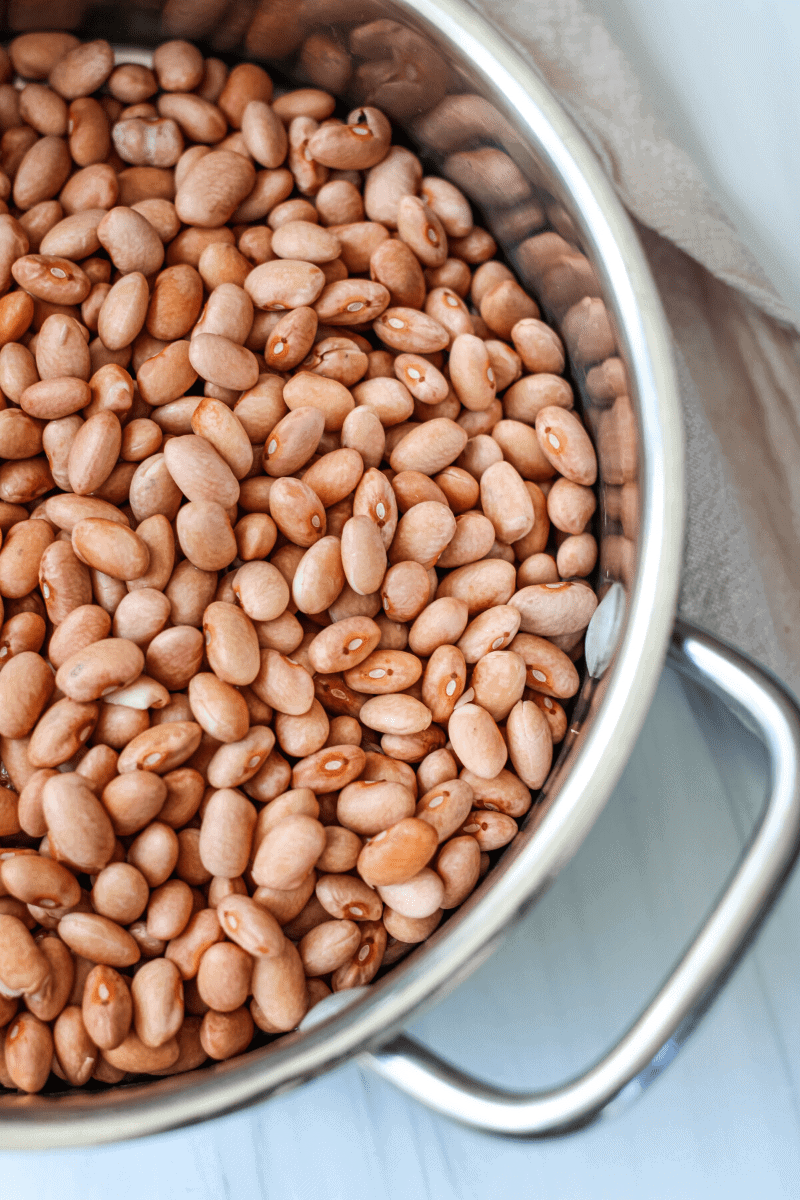 What kind of beans should I use?
Although Navy beans seem to be the default bean for baked beans, I don't have the easiest time finding them in dried-form. Great Northern beans seem to be a popular runner-up, but for me, pink beans (commonly labeled 'habichuelas rosadas') are easiest to find. They're very close in size and shape to navy beans, and have a meaty flavor. Perfect if you want to skip adding any kind of animal-fat.
I start by boiling my beans in salted water for about an hour. This softens them and breaks down the starchiness. Reserving the bean water is a must! It helps keep the beans from drying out during the baking process and thickens the sauce. Make sure you hold on to it after you've drained your beans!
Let's talk flavor
It's no secret that baked beans get most of their rich flavor from the sauce. To me, a sweet and flavorful sauce balanced with a combination of sauteed aromatics (onions, red bell peppers, jalapeños), an acid (apple-cider vinegar) and a few key spices is literally a recipe for success.
The sauce for my sweet and spicy baked beans is a blend of molasses, apple-cider vinegar, dark brown sugar, tomato paste and spices. I'm very intentional about balancing flavors when picking my spices. Smoked paprika is a must! It's made from dried, smoked chilies and I prefer its complex flavor over regular paprika.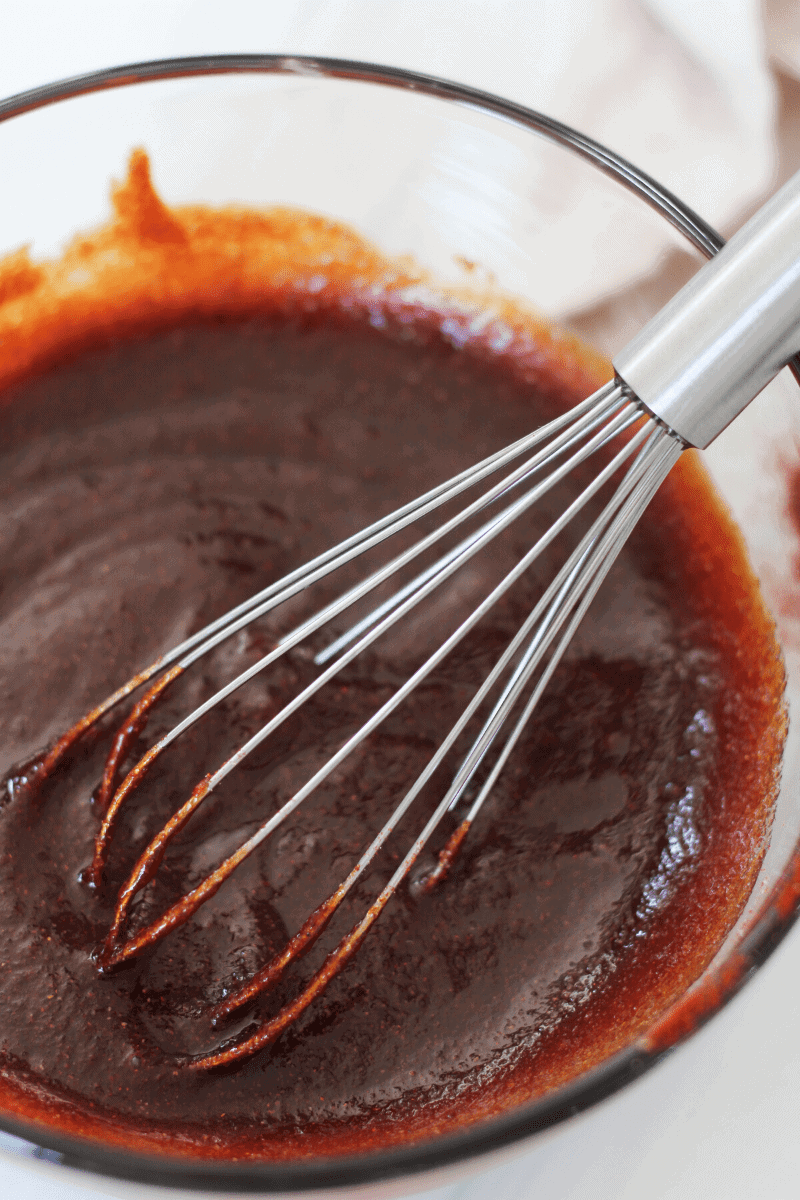 I also use chipotle-chili powder, which is a bit more subtle, yet sweeter than regular chili powder. In my opinion, chili powder can be a bit intense for this dish. You want your spices to enhance the sweetness rather than compete with it. I also use ground mustard and cayenne pepper to add a bit more earthiness and spice.
Depending on my mood, I'll either use bacon to flavor my beans or skip it. Personally, I don't like bits of bacon or fat floating around my beans so what I'll do is fry up the bacon, let my kids eat it, and use the drippings to saute the onions and peppers. Again, using bacon or bacon grease is optional! The spices in this dish are solid enough on their own!
Bringing it all together!
I like to mix the sauce ingredients together while the beans are boiling on the stove. Once they're drained and rinsed and you've reserved the bean water, it's time to saute the onions, bell peppers and jalapeños in a little butter or bacon grease, in a dutch oven. Season the sauteed vegetables with a pinch of salt and pepper if you wish, but remember, we already salted the cooking water and there's plenty of seasoning in the sauce that we just made!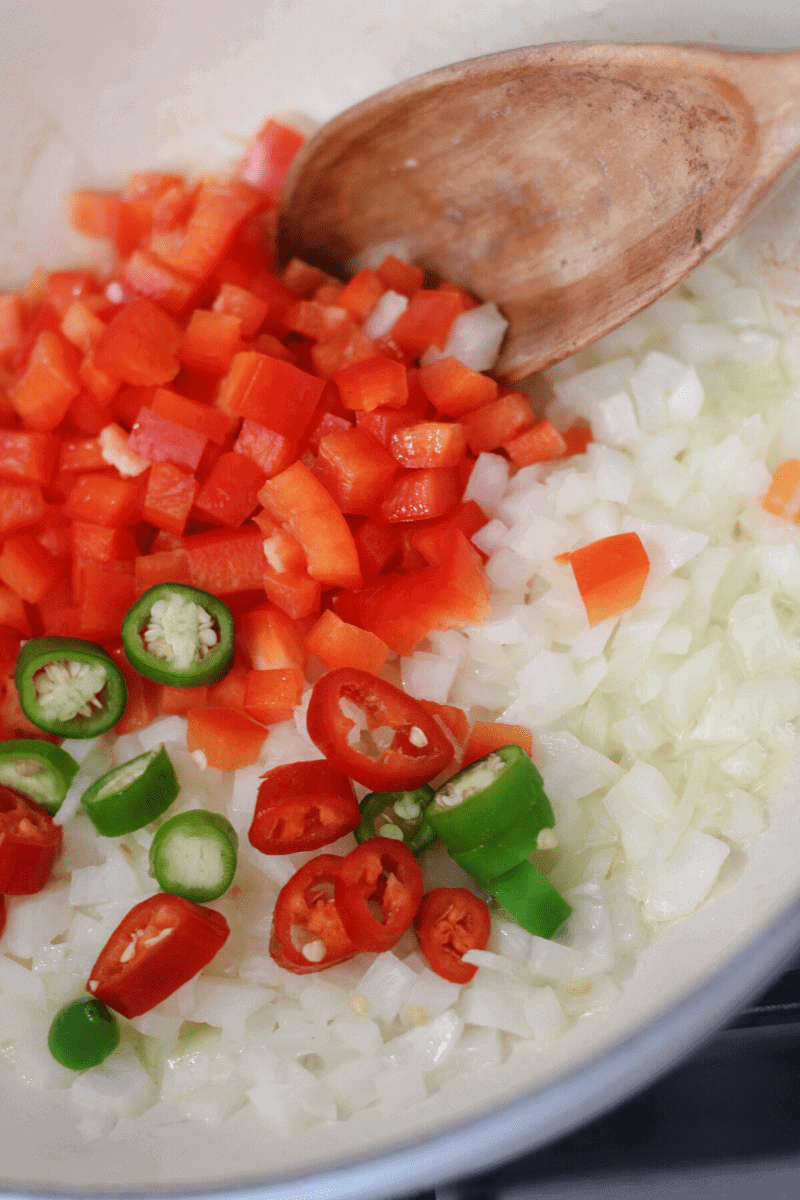 Add the sauce to the dutch oven with about 2 cups of the reserved cooking water to thin it out. Let the sauce simmer for about 5-7 minutes. The color of the sauce will deepen as it cooks, as shown in the photos below.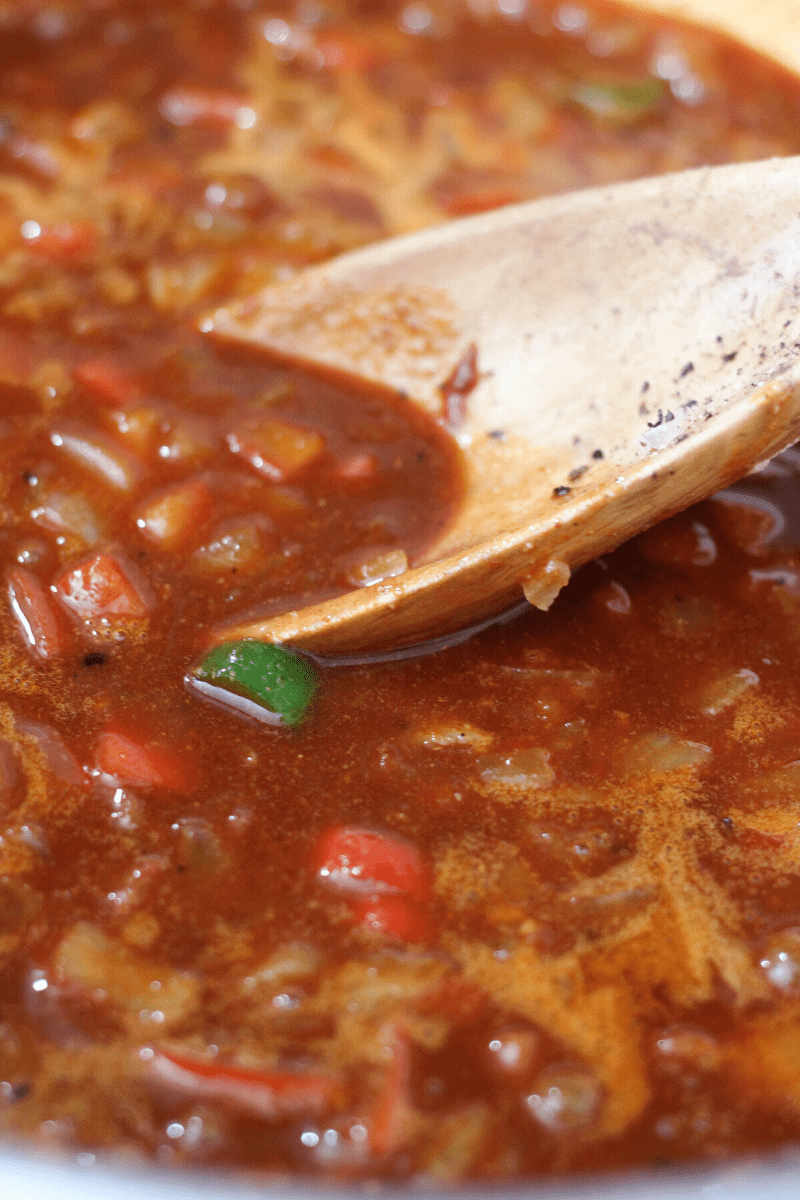 Add the beans, and stir them until they're fully coated in sauce. Then you want to top the beans off with the remaining 2 cups of the reserved water (just enough to cover them). Don't worry, the liquid will cook down! I add the water so that the beans don't dry out (or worse, burn!) while they're baking in the oven.
Cover the beans and bake them at 300 degrees fahrenheit for about 2 hours. Be sure to stir them every 30-40 minutes or so. The cover should prevent them from drying out, but if they start to get a little dry just add a little boiling water. Once they've baked for about 2 hours, taste them for done-ness and finish baking them uncovered for an additional 30 minutes.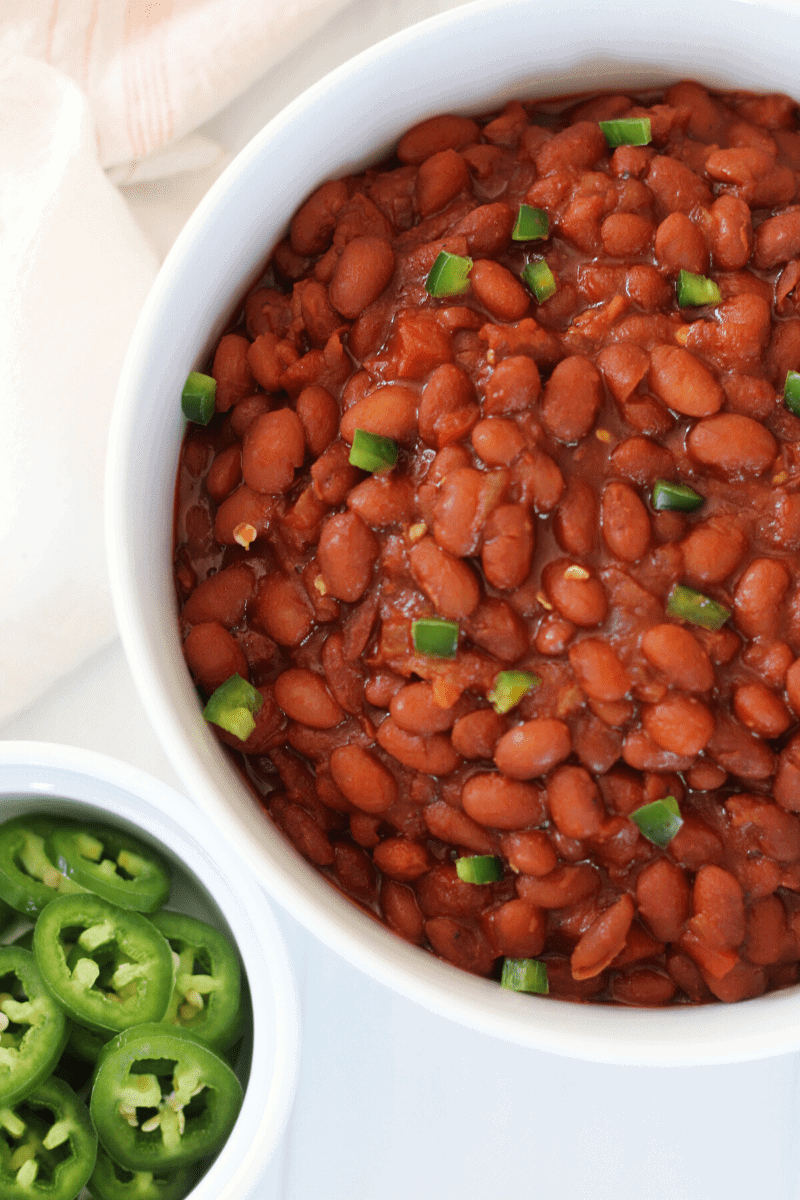 Let them cool slightly before serving!
Want to bring some more heat? Top the beans with a few more chopped or sliced jalapeño rings, but do this at your own risk!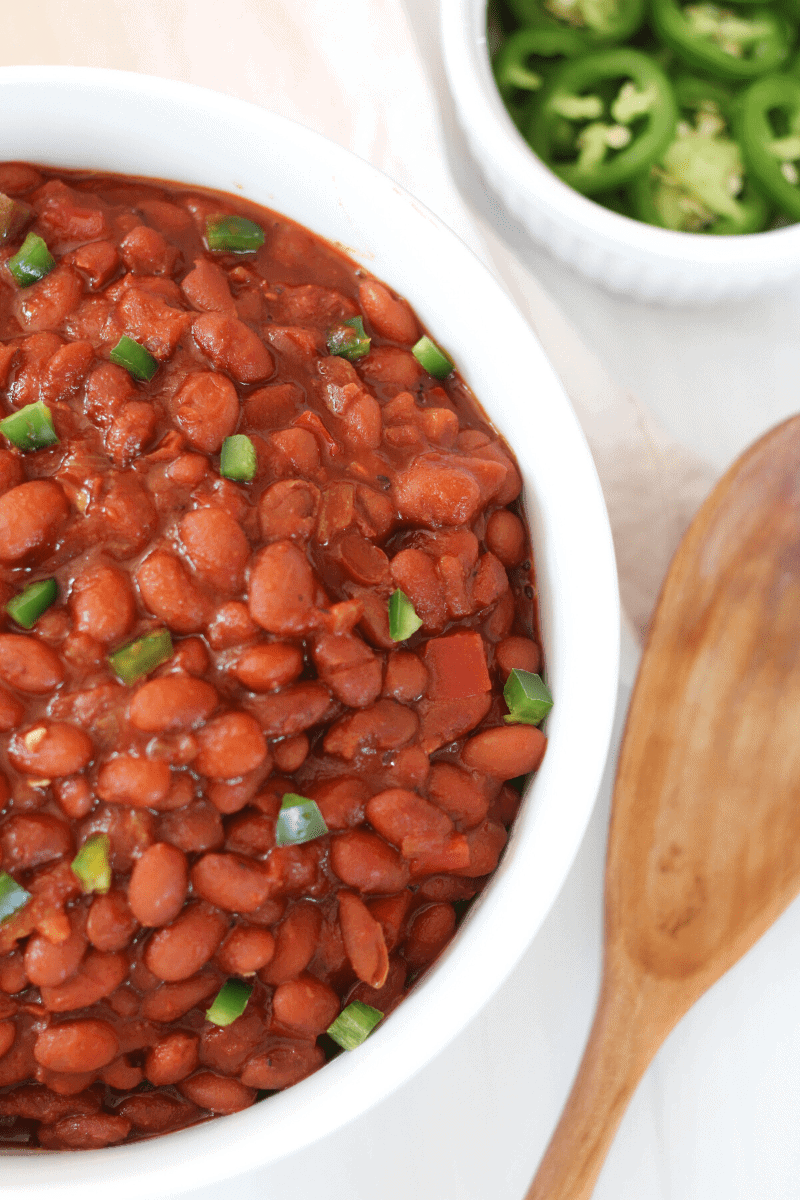 Other recipes you'll love
Collard Greens with Smoked Turkey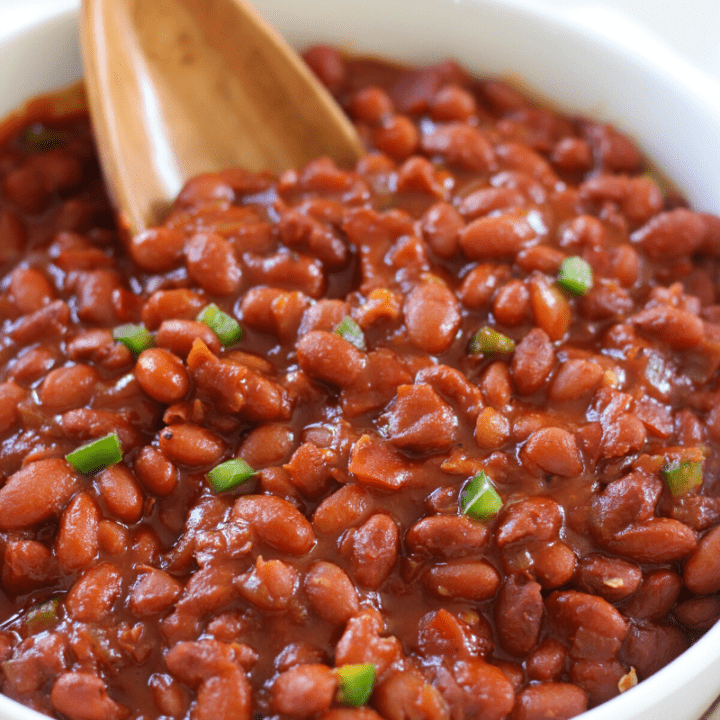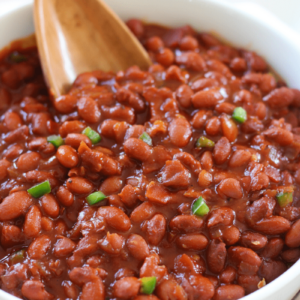 Sweet and Spicy Baked Beans
These Sweet and Spicy Baked Beans are made from scratch, using dried beans!
Ingredients
1

pound

dried pink beans

1

tablespoon

salt

3

tablespoons

unsalted butter

or bacon grease

1

small

yellow onion

2-3

jalapeños

sliced into thin rounds or chopped

1

medium

red bell pepper

2-4

slices

thick-cut bacon

diced, optional
Sauce ingredients
½

cup

molasses

¼

cup

tomato paste

⅔

cup

dark brown sugar

2

tablespoons

apple cider vinegar

2

teaspoons

smoked paprika

2

teaspoons

chipotle-chili powder

2

teaspoons

garlic powder

2

teaspoons

ground mustard

1

teaspoon

black pepper
Instructions
Soak beans overnight.

Drain the beans and place them in a large stockpot with enough fresh water to cover them. Add salt and bring the beans to a boil. Cover the pot, turn the flame down to medium-low and let cook for 1 full hour.

Preheat oven to 300° F and combine the sauce ingredients (listed above) together in a small bowl. Set the sauce aside until ready to use.

Reserve 4 cups of the cooking water from the beans before draining them. If there isn't enough water to measure 4 cups, you can just add tap water.

In a large dutch oven, heat the bacon grease or butter over a medium flame and add the onions, bell peppers and jalapeños. Sauté for 1-2 minutes, until the onions are clear. Add the sauce and 2 cups of the reserved water from the beans, stir and let everything simmer.

Add the beans to the dutch oven and stir until the beans are fully coated in sauce. Top the beans and sauce off with the remaining 2 cups of cooking water, stir one more time, and cover the dutch oven.

Transfer the dutch oven to the oven and bake for 2 hours. Stir the beans every 30-40 minutes or so. The beans should remain moist but you can add a small amount of boiling water to keep the beans from drying out, if needed. Once the 2 hours is up, uncover the beans and bake them for another 30 minutes.

Let the beans cool slightly before serving.
Notes
Feel free to adjust the amount of cayenne pepper or number of jalapeños, if you don't want your beans to be too spicy. Removing the seeds from the jalapeños is another way to cut down on the spice.
Nutrition
Calories:
617
kcal
Carbohydrates:
106
g
Protein:
15
g
Fat:
17
g
Saturated Fat:
8
g
Polyunsaturated Fat:
2
g
Monounsaturated Fat:
6
g
Trans Fat:
0.4
g
Cholesterol:
34
mg
Sodium:
2167
mg
Potassium:
1499
mg
Fiber:
13
g
Sugar:
71
g
Vitamin A:
1435
IU
Vitamin C:
18
mg
Calcium:
200
mg
Iron:
6
mg
A few other recipes you might like:
Simple and Spicy Shrimp Pad Thai
Spicy Fried Chicken Sandwich – 3 Ways