Today I'm dishing up some hot and spicy noods! Every home-cook needs to have at least one noodle-dish in their week-night rotation. Pad Thai seems to be just about everyone's favorite! This simple and spicy Shrimp Pad Thai is easy to make and goes from wok to bowl in just under 40 minutes.
The ingredient list might look long and intimidating at first, but most items can be found in your local grocery store, and you'll have them in your pantry for a while.
The only ingredient you may need to venture out for is the tamarind concentrate. Good news is you'll only have to go as far as your local Asian market or Whole Foods. If you have an asian grocer in your area, make sure to support them, you should be able to find everything you need there.
What is Pad Thai?
Pad Thai is probably the most beloved Thai dish. It's main ingredient is rice noodles that are tossed in a tangy sauce with peanuts, scrambled eggs, tofu, another protein, bean sprouts and green onions. There are hundreds of variations. I make no claims that my version is authentic, but I did do a lot of research when coming up with this recipe to get it as close to the real-thing as I could.
Does Pad Thai have to be spicy?
Not all Pad Thai dishes that I've tried are spicy. For my version though, chili-garlic sauce is one of the main ingredients so you'll need to be able to tolerate at least some degree of spice.
Will this Spicy Shrimp Pad Thai blow your top off? No. (At least I hope not!). If you want to cut down on the spice though, you can use less chili-garlic sauce, but I wouldn't cut it out entirely.
Is the tamarind concentrate necessary?
It's highly recommended but if you can't find it anywhere, I've heard that rice-vinegar is a good substitute. I haven't tried it though. An Asian market or Whole Foods will be your best bet for tamarind concentrate.
Can I use a different protein besides shrimp?
Aside from not being able to call it Spicy Shrimp Pad Thai, you can absolutely sub a different protein! I would substitute chicken or beef for the shrimp, or leave the tofu as the only protein.
If you substitute chicken or beef for the shrimp, just make sure to marinate it with the chili-garlic sauce. I love me some shrimp, but leaving it out won't break the recipe! Remember to adjust your cooking time if you're using chicken or beef.
Help! I've never made tofu before!
No problem. It's super simple! Just press the moisture out using paper towels and cut into ¾ inch cubes. When it's time, add it to the wok with a little peanut oil and toss it until it's golden-brown on all sides.
Do I need a wok?
You really should use a wok when you stir-fry anything. They're pretty inexpensive and you don't need anything fancy especially if you're not using it frequently. I bought my wok for $6!
Eventually I'll upgrade to carbon steel (mine is non-stick and scratches easily), but upgrading is just not a priority for me during a pandemic.
A few quick things about rice noodles
1. You'll need about half of a box of rice noodles for this recipe. I use the Thai Kitchen stir-fry rice noodles. This recipe yields 2 servings. It's enough for Carl and I, but definitely feel free to adjust the recipe if you feel that you need more!
2. Rice noodles cook differently than pasta. You'll need about 4 cups of boiling water and you just want to cover the noodles in boiling water and let them sit for 8-10 minutes. Turn the flame off before you drop the noodles in and cover the pot with a lid.
3. Drain your noodles immediately and toss them in peanut oil. Once your noodles have sat in water long enough, they should be slightly firm, but flexible. Think al-dente. Rinse them off with cold water and toss them in a little peanut oil. This will prevent them from getting sticky!
A few other quick things:
1. Pad Thai involves a decent amount of prep-work, but the more you make it, the quicker you'll get at it! And the more things you add to it, the more time it will take to make, so keep it simple!
2. Fish sauce stinks. There's no way around this. Suck it up, it adds great flavor and the smell will evaporate once you combine it with other ingredients. You need the fish sauce.
3. You need sweetness to balance the acid. This is why this recipe calls for brown sugar. If you don't want to use sugar, you can use honey.
4. This recipe calls for molasses which is not a traditional ingredient in Pad Thai! I like to use molasses because it gives the noodles a little bit more color, without altering the flavor of the dish.
5. Don't forget to garnish! Reserve some of your chopped peanuts, green onions and bean sprouts to add at the end! I also garnish with a few sprigs of fresh cilantro, and some lime wedges.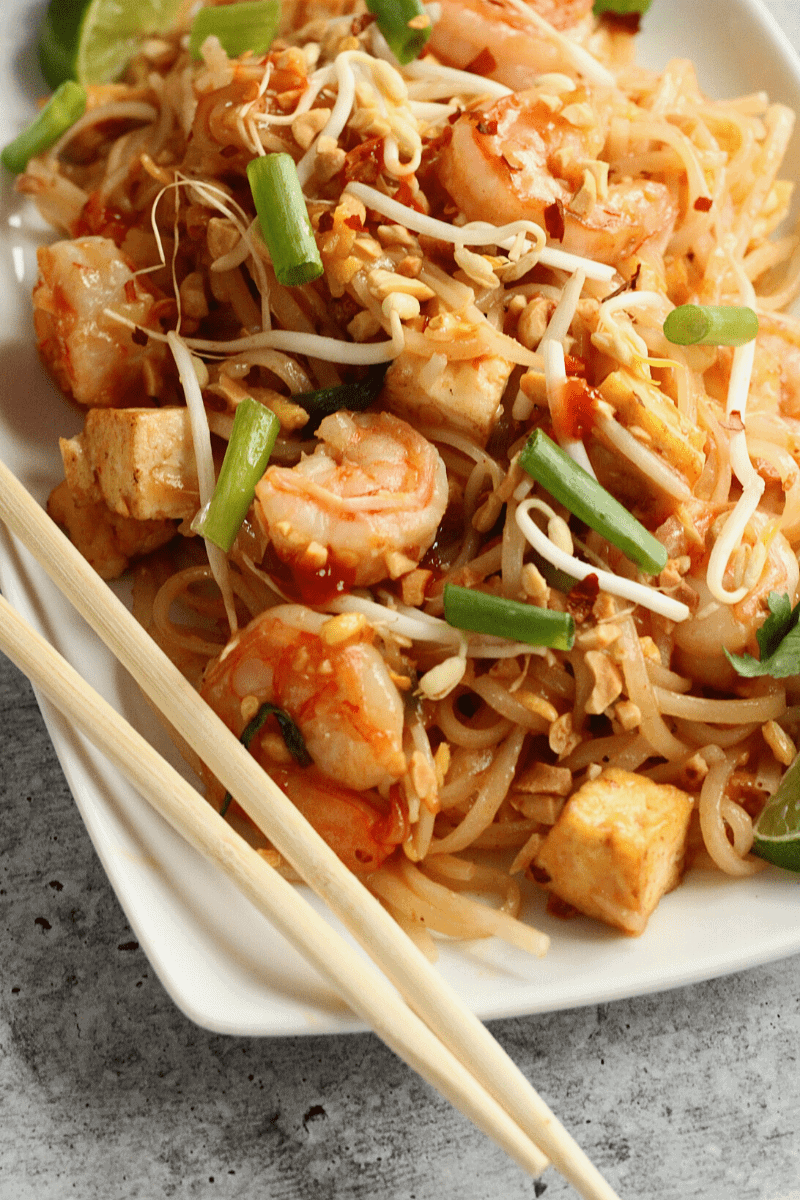 Simple and Spicy Shrimp Pad Thai
Ingredients
Noodles
8

ounces

rice noodles 

5

cups

boiling water 

2

teaspoon

peanut oil 
Sauce
2

tablespoons

tamarind concentrate 

2

tablespoons

chili-garlic sauce 

2

tablespoons

fish sauce  

2

tablespoons

molasses

2

teaspoons

soy sauce 

⅓

cup

dark brown sugar 

½

lime

juiced
Protein
10-12

jumbo shrimp

peeled and deveined

2

teaspoon

chili-garlic sauce

½

cup

firm tofu

cut into ¾ inch cubes 
Stir Fry
3

tablespoons

peanut oil 

3

cloves

garlic

sliced 

2

eggs 

4

green onions

sliced, separate stems from the greens 

1

cup

1 cup bean sprouts 

¼

cup

unsalted peanuts

chopped 
Garnish
cilantro

chopped peanuts

lime wedges
Instructions
 if you haven't already, and keep them separate. Cut the garlic into thin slices. Slice the green onions into rounds and separate the greens from the stems. Chop the peanuts. Peel and devein the shrimp. Whisk the egg in a small bowl. Squeeze the moisture out of the tofu and cut into ¾ inch cubes.

in a small bowl by tossing itin 2 teaspoons of the chili-garlic sauce. Cover with plastic and refrigerate it until you are ready to use it.

Boil the water in a large sauce pan. Turn your flame off once the water starts boiling and add the rice noodles. Cover and let sit for 8-10 minutes. Noodles should be soft but firm.

while the noodles are sitting in hot water. Whisk the following ingredients together in a small bowl: tamarind concentrate, soy sauce, chili-garlic sauce, fish sauce, juice from half of a lime and brown sugar. For exact measurements refer to the 'sauce ingredients' above. Set the sauce aside once all ingredients are combined. 

, drain them and rinse with cold water immediately. Toss them in 1 tsp. peanut oil to keep them from sticking together.

Pat the shrimp dryusing paper towels. Heat 1 tbsp. peanut oilin a large wok over medium-high heat and sear the shrimp on both sides, about 1 minute per side. Transfer to a small bowl. Add another tablespoon of peanut oil to the wok and once it's hot, add the tofu  and saute for about 5 minutes. It should be browned on all sides. 

 Add the garlic and green onion stems to the wok and saute until fragrant. Push the onions, garlic and tofu to one side of the wok and pour the eggs in on the other side. Scramble them using a metal spatula. 

 Add the bean sprouts and remaining green onions to the wok, and toss for about 1 minute. Then add the noodles, shrimp and half of the peanuts. Pour the sauce down the sides of the wok. Toss for 5-6 minutes, until everything is coated in sauce and noodles get a little softer.

Serve in bowls and top with remaining peanuts, and a squeeze of fresh lime-juice. Garnish with a few lime wedges, any remaining bean sprouts and a few sprigs of cilantro. 
Notes
Beef and chicken are great protein substitutes. Cooking time will vary. You can also skip the meat and seafood and just use tofu.
Tamarind concentrate is highly recommended and can be found at Whole Foods. You can use rice vinegar if you can't find tamarind concentrate.
Rice noodles should be al-dente
Nutrition
A few other recipes you'll love:
Spicy Fried Chicken Sandwich – 3 Ways
Cape Verdean Pastel – Pastel d'Atum
The Lightest and Fluffiest Carrot Cake Ever
Easy Breaded Chicken with Lemon and Arugula
'The Best of Both Worlds' Chocolate-Chip Cookies
Don't forget to share this recipe to Pinterest!