Ah, the almighty crispy spicy fried chicken sandwich! My crispy spicy fried chicken sandwich is marinated in a spicy buttermilk batter, dredged in seasoned flour and fried to a beautiful crisp. This recipe will show you how to prepare this crsipy, spicy fried chicken sandwich three different ways. Choose from buttermilk-ranch style, hot honey style or honey-lime chipotle!
Oh, and take your pick of several delicious toppings: sweet and tangy coleslaw, kosher dill pickles or crispy onion strings! I curate three distinct styles of this crispy spicy fried chicken sandwich in this post. These are just recommendations! Feel free to switch them up!
Thighs or breasts for a fried chicken sandwich?
The consensus all across the internet suggest that thighs make better sandwiches than breasts. I'm not sure I agree that one is better than the other. It really depends on whether you prefer white meat (breasts) or dark meat (thighs).
My preference is less fatty, white meat, so I favor breasts. Chicken thighs have a few advantages though. First, they're fattier which makes them juicier, and they fit on the bun better.
Chicken breast can be halved to make the perfect bun-sized breasts. Stay away from thin-sliced breasts and try to find breasts that are about 1 inch thick! Any thicker than this and they could take a long time to cook.
I strongly suggest using a meat thermometer to get an accurate internal-temperature reading. Breasts need to be cooked to an internal temperature of 160 degrees (fahrenheit), and thighs need to reach an internal temperature of 165 degrees.
Decisions, decisions…
By nature, I'm an indecisive person. Of course I can't commit to one way of dressing these little ladies up. And I don't expect you to either! That's why I created three crispy spicy fried chicken sandwiches! The crispy spicy coating and buttery brioche buns are a constant for all three sandwiches, they're just dressed up differently.
Crispy Buttermilk-Ranch Chicken Sandwich
There's nothing better than some buttermilk-ranch to cool down spicy chicken! Throw a few kosher pickle chips on there and some shredded iceberg and you get this beauty!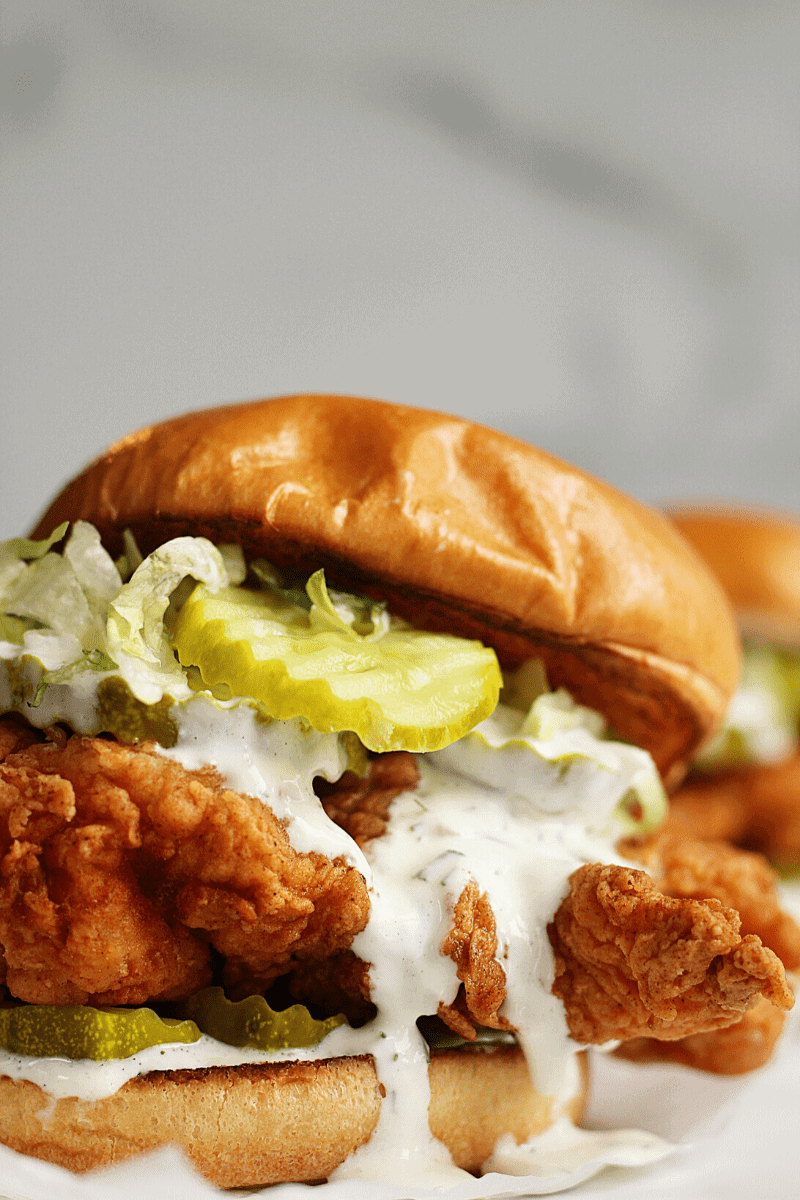 Buttermilk-Ranch Dressing
Look at the way that ranch just drips down! That's because my homemade-ranch dressing is mainly buttermilk-based. I mix equal parts buttermilk and sour cream with a little mayo, a splash of apple cider vinegar, a squeeze of lemon and lots of fresh dill and chives. The key is to go easy on the mayo! I have yet to find a bottled ranch that doesn't taste mayonnaise-y, so that's why I set out to create my own,
Honey-Lime Chipotle Chicken Sandwich
Now this one is definitely the most work out of the three but every bit worth it! We are pulling out all the stops! This crsipy, spicy fried chicken sandwich is dressed with honey-lime chipotle mayo, sweet and tangy coleslaw and crispy fried onion strings!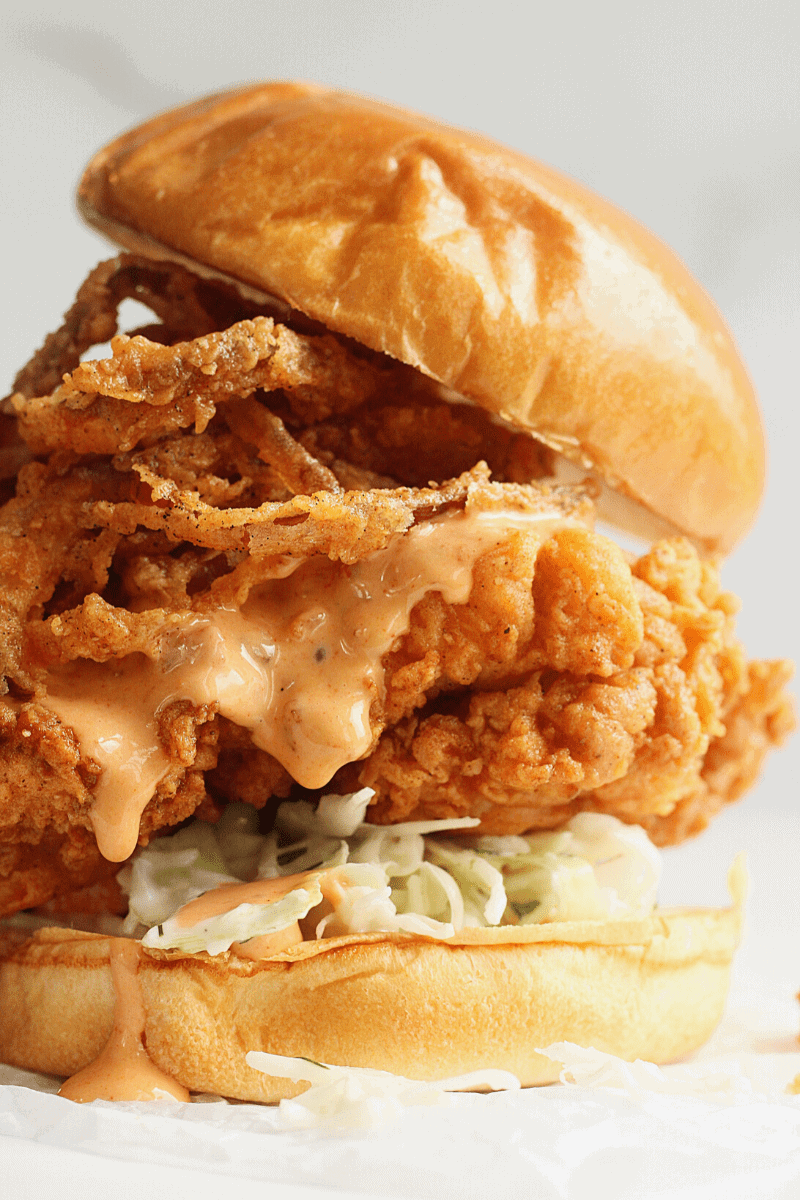 Honey-lime chipotle mayo
This honey-lime chipotle mayo is spicy, sweet and tangy. It is frigging delicious y'all! It gets its spiciness from adobo-soaked chipotle peppers, its sweetness from honey, and the tanginess from lime juice. You could even leave off the coleslaw and fried onions, slap some sauce on there with some pickles, and this spicy fried chicken sandwich will still be slammin'.
Crispy Spicy Hot-Honey Chicken Sandwich
Choosing a favorite between these 3 Spicy Fried Chicken Sandwiches is like asking me to pick a favorite child. Not happening. But I think I'm ok with calling this one my baby.
Do I double-stack it in real life? No, but doesn't it look amazing? Spicy chicken smothered in hot honey and lots of pickles! Yes. Please.
Spicy Hot Honey
It really doesn't get any more simple than this delicious hot-honey. Don't let its simplicity fool you though. This hot-honey will knock your socks off! It's made of equal parts honey and Lousiana-style hot sauce with a few drops of lime juice and a dash of smoked paprika. Easy peasy.
Just a few things before you get started:
Don't rush the marinating process! The crispy spicy fried chicken gets its tenderness and its kick from being soaked in buttermilk and hot sauce. I threw some ground mustard into the marinade to give it some tang. It needs to marinate for 1-4 hours in the refrigerator.
Don't skimp on the seasonings either! The seasoned flour adds a second layer of spice to the crispy spicy fried chicken. You need to season the buttermilk marinade and the flour!
Invest in a reliable meat thermometer. There shouldn't be any guesswork in cooking chicken all the way through! Chicken thighs should cook for about 15-18 minutes and reach an internal temperature of 165 degrees F. Breasts need to be cooked to 160 degrees F.
Check the temperature of your oil! Your oil should be 350 degrees fahrenheit before dropping the chicken in.
Butter your buns! Nobody likes dry buns! I like to brush the split-side of my brioche buns with butter and heat them on the griddle (just until warm) for a few minutes, before assembling the sandwiches.
Not all pickles are created equal! Splurge on some good ones and skip the generic ones!
Switch it up! Don't care for onion strings or coleslaw? Want to combine the honey-lime chipotle mayo with pickles instead? No problem! Create your own combination and let me know in the comments how it turned out!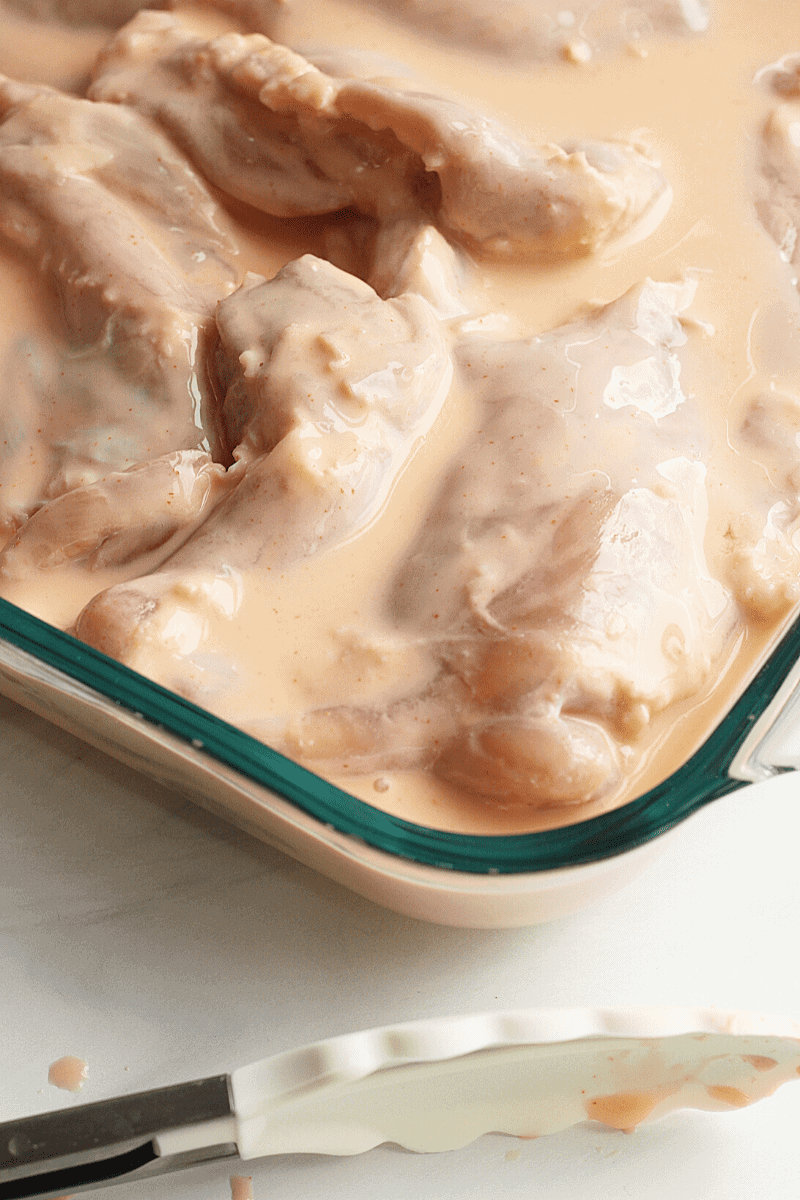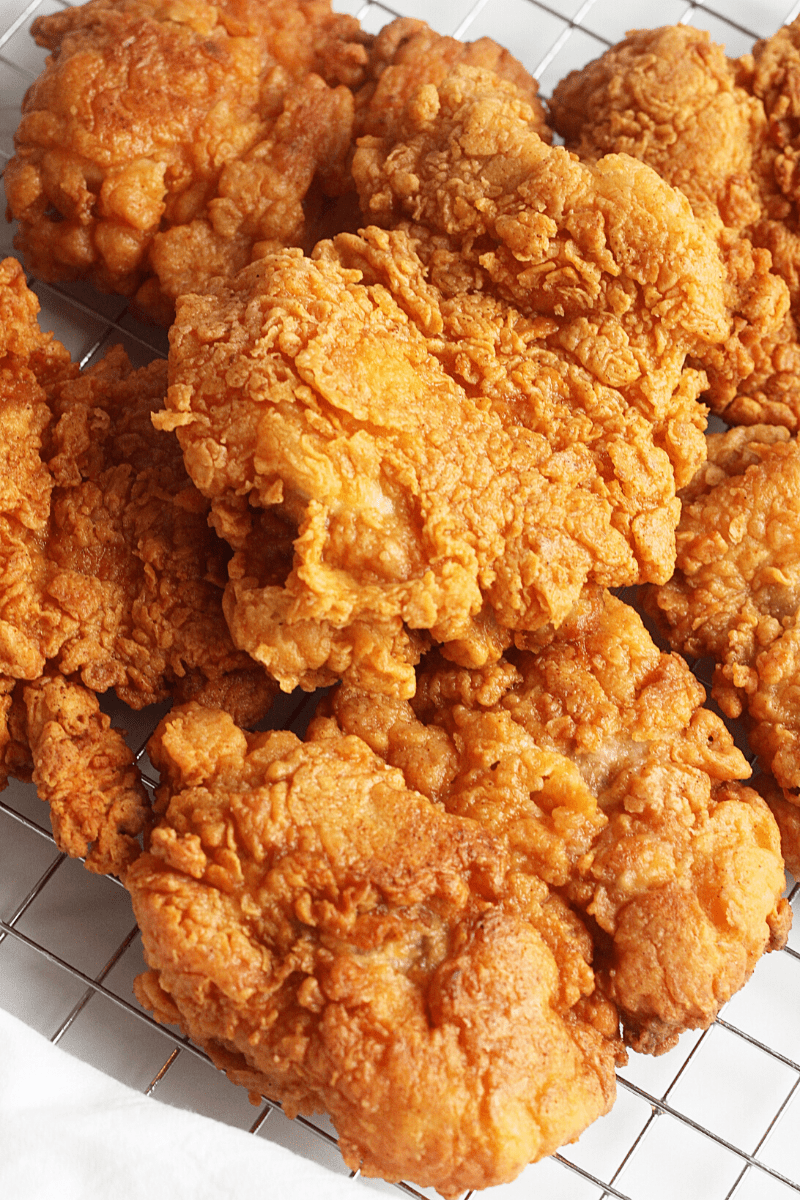 Which one is your favorite?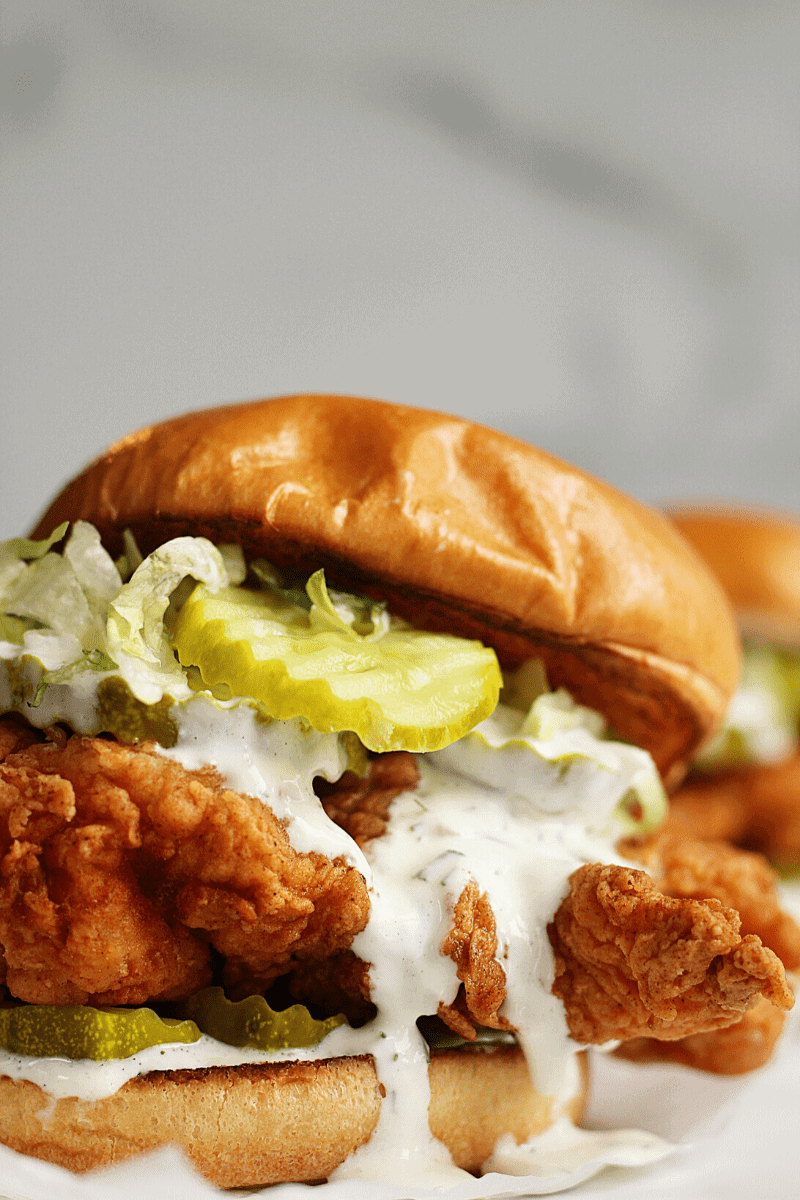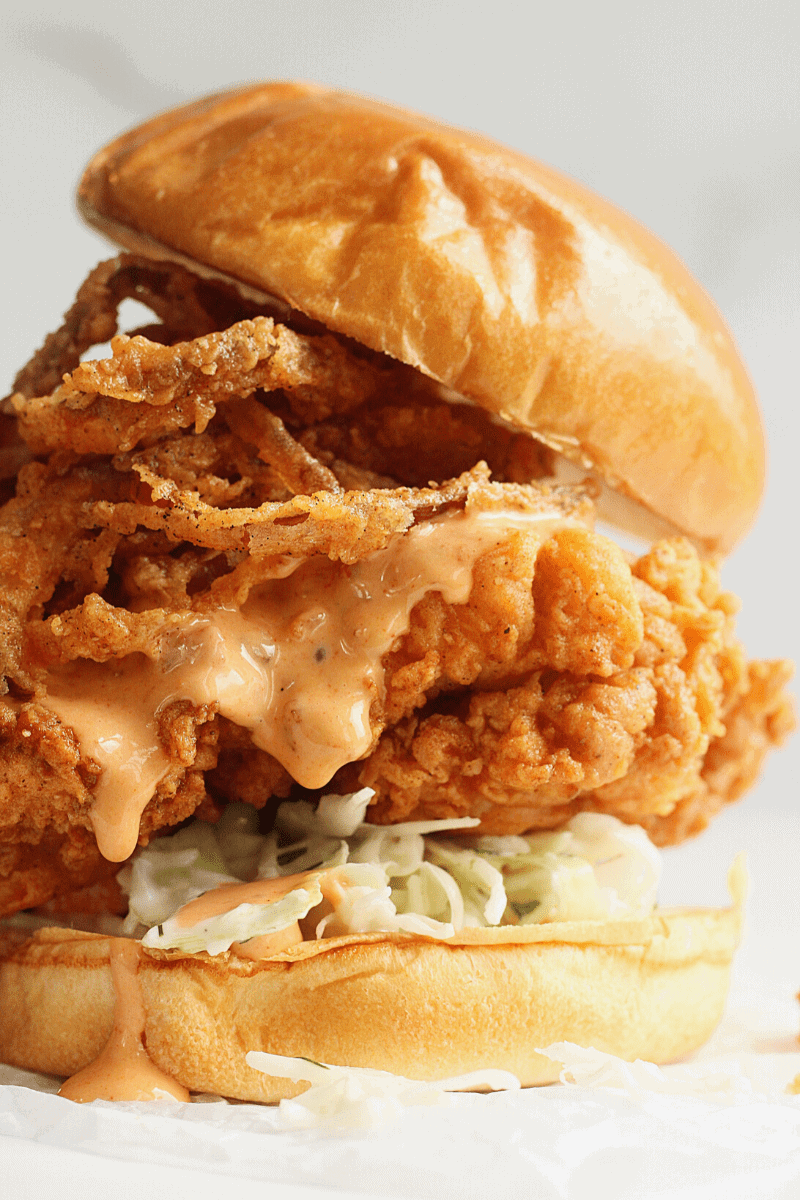 Crispy Spicy Fried Chicken Sandwich – 3 Ways
Course: Food, Recipes
Cuisine: American
Difficulty: Medium
Total time
1
hour
35
minutes
Why have one, when you can have 3? This Spicy Fried Chicken Sandwich is marinated in buttermilk and hot-sauce, dredged in seasoned flour and can be dressed up 3 ways! Choose from Ranch-style, Hot-Honey and Honey-Lime Chipotle Mayo!
Ingredients
Spicy Fried Chicken

4 boneless, skinless chicken thighs OR 2 large chicken breasts cut in halves

1 and ½ cups buttermilk 

1 egg 

⅔ cup Louisiana-style hot sauce

2 cups all-purpose flour

⅓ cup cornstarch

3 tsp. smoked paprika

2 tsp. chili powder

2 tsp. cayenne pepper

2 tsp. onion powder

2 tsp. garlic powder

½ tsp. ground mustard

2 tsp. kosher salt

1 tsp. black pepper

2 and ½ cups canola oil for frying

CHOOSE A SAUCE!
Buttermilk Ranch

½ cup buttermilk 

½ cup sour cream 

¼ cup mayonnaise 

1 tsp. apple cider vinegar 

½ tsp. garlic powder 

½ tsp. onion powder 

⅛ tsp. dried mustard 

Generous squeeze of lemon juice 

1 tbsp. fresh dill, chopped 

1 tbsp. fresh chives, chopped 

Pinch of salt and pepper 

Honey-Lime Chipotle Mayo

1 cup mayonnaise 

3 chipotles in adobo (canned) plus reserved adobo from the can

juice of ½ lime 

1 teaspoon smoked paprika 

2 tbsp. honey 

Hot Honey

½ cup honey 

½ cup hot sauce 

a few drops of lime juice

ADDITIONAL INGREDIENTS

4 brioche buns, buttered and grilled on the flat side

shredded iceberg lettuce (optional)

kosher pickle chips (or dill)

1 cup onion strings (optional)

1 cup coleslaw (optional)
Directions
Crispy Spicy Fried Chicken
Prepare the marinade by whisking together the hot sauce, buttermilk and ground mustard and set aside. Place the chicken thighs or breasts in a casserole dish, and pour the buttermilk mixture over them. Let them marinate in the refrigerator for a minimum of 1 hour.
Prepare your sauce and toppings of choice while the chicken is marinating.
Prepare the coating by whisking together the flour, cornstarch and dry seasonings in a large shallow bowl.
Remove chicken from marinade, shake off any excess marinade into the marinade bowl and set aside. Add 1 egg to the marinade and whisk. 
Dredge each chicken thigh in the flour mixture, dip once more in the marinade and let the excess marinade drip off and dredge in flour again.
Fry the chicken: In a dutch oven or large cast iron skillet, heat the oil to 350 degrees F. You'll know the oil is hot enough when a sprinkle of flour sizzles across the top. Fry each breast for 15-18 minutes, or internal temperature reaches 165 degrees F for thighs and 160 degrees F for breasts.
Buttermilk-Ranch Style
Prepare the buttermilk-ranch dressing by whisking together all of the wet and dry ingredients and then stirring in the fresh herbs at the end.
Assemble the sandwich in this order: Bottom bun, a thin layer of ranch, a few pickle chips, fried chicken, another spoonful of ranch, shredded iceberg, a few more pickle chips, top bun.
Honey-Lime Chipotle Style
Prepare the honey-lime chipotle mayo by pulsing the chipotles in adobo with half of the mayonnaise in a food processor. Whisk together the remaining mayo, lime juice, smoked paprika and honey in a separate bowl, then stir in the chipotles at the end.
Assemble the sandwich in this order: Bottom bun, a spoonful or 2 of coleslaw, fried chicken, a spoonful of chipotle mayo, a handful of crispy fried onion strings, top bun.
Hot-Honey Style
Prepare the hot honey by whisking together the honey, hot sauce and lime juice.
Start to assemble the sandwich by brushing the bottom bun with a thin layer of hot honey and adding a layer of shredded lettuce.
Coat the chicken in sauce by putting a generous amount of sauce in a bowl and tossing the fried chicken in the sauce, until evenly coated. Place the coated chicken on top of the lettuce and bottom bun.
Finish assembling the sandwich by layering the fried chicken on top of the lettuce, add a few pickle chips and top with the top-bun.
Notes
A digital meat thermometer is highly recommended to ensure your chicken cooks thoroughly. My recommendation is this super-affordable meat thermometer from IKEA.
Chicken breasts tend to be thicker, so you may need to adjust your cooking time.
Feel free to adjust your level of spice accordingly