Mexican esquites vs. elotes, do you know the difference? Here's a hint, they're both forms of street corn! Elotes are attached to the cob and esquites are shaved off of the cob, and placed in a bowl or in cups. That's the only difference!
For me, I'll take either one. Just depends on what kind of mood in. If I'm in an 'I'm-outside-and-really-don't-care-about-getting-messy' mood, elotes it is. If I'm in an 'I-don't-feel-like-getting-messy-or-picking-corn-out-of-my-teeth' mood, then let's make some esquites!
I lean more toward Mexican esquites because they're less messy and the corn doesn't get stuck in my front teeth. Plus I have kids, so it's just easier and cleaner for them to eat, although less fun for them!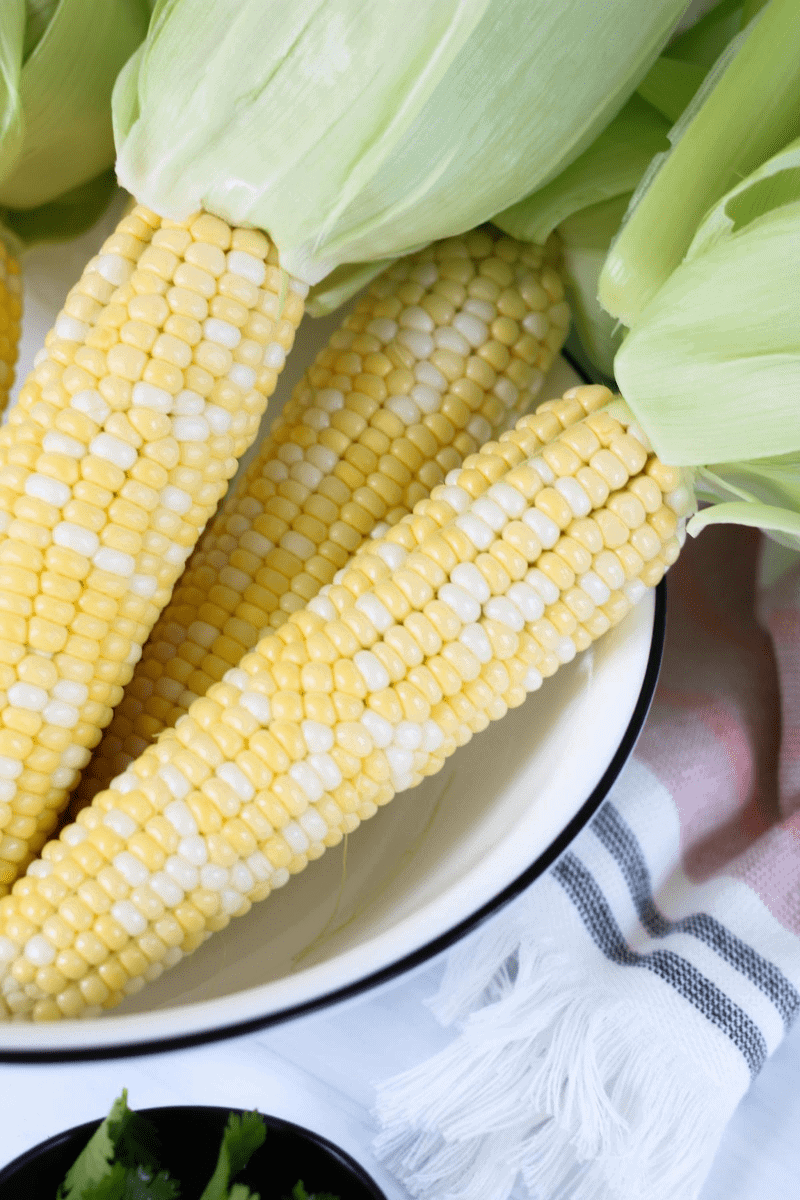 Shaved Corn 101
I'll admit, shaving corn seems a little scary and can be tricky the first few times, but it gets easier with some practice. First, you want a nice and sharp knife. Doesn't have to be anything huge or crazy. This santoku knife shown in the photo below works just fine.
To shave the corn, you'll want to stand the cob of corn on one end at an angle with the pointy side facing down. Now run your knife against the cob (but away from you in a downward motion) to remove the kernels. Avoid pressing down on your knife too firmly as this just makes it harder to release the kernels. It really helps to shave it right into a bowl. Once the corn is shaved, break apart the kernels using your fingers, if needed.
Now some people grill the corn first and then shave it, which is probably the best way to do it if you want to add some smokiness and a few charred kernels. For this recipe though, I shave the corn before cooking, then saute it in butter and dry seasonings using a cast iron skillet. I know, I'm no fun. For me, raw corn is just easier to shave. Feel free to grill the corn first, if you wish!
Bring it all together!
Now it's time to bring these Mexican esquites together! Melt the butter in a cast iron skillet and throw in the shaved corn and seasonings. Saute the corn for about 5-7 minutes, making sure to fully coat the kernels in butter and seasonings. The corn should turn bright yellow in color as it cooks. You can cook it a little longer on high heat if you want some charred kernels in there!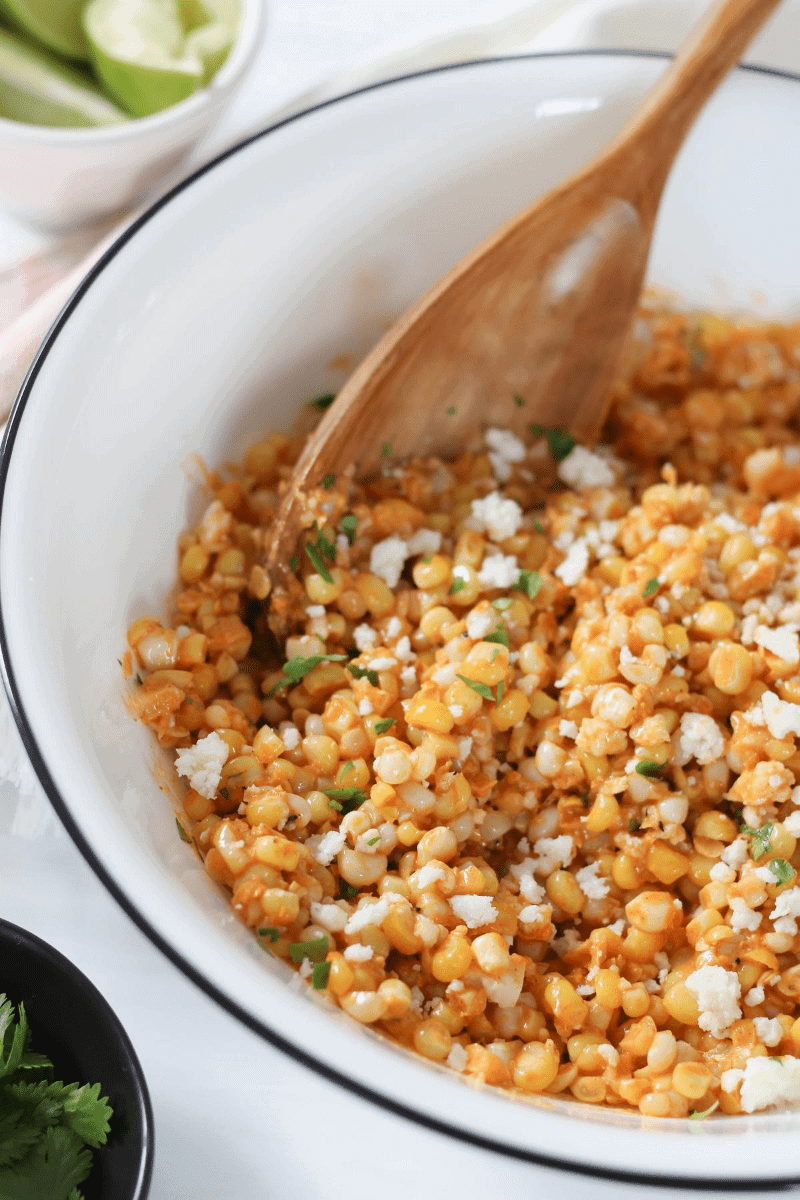 Transfer the cooked corn to a bowl, and let it cool slightly. Add the mayo, Mexican crema, Cotija cheese, chopped cilantro and a few squeezes of lime. Toss it all together, and either leave it in the bowl that it's in, or portion it into individual-sized cups or bowls.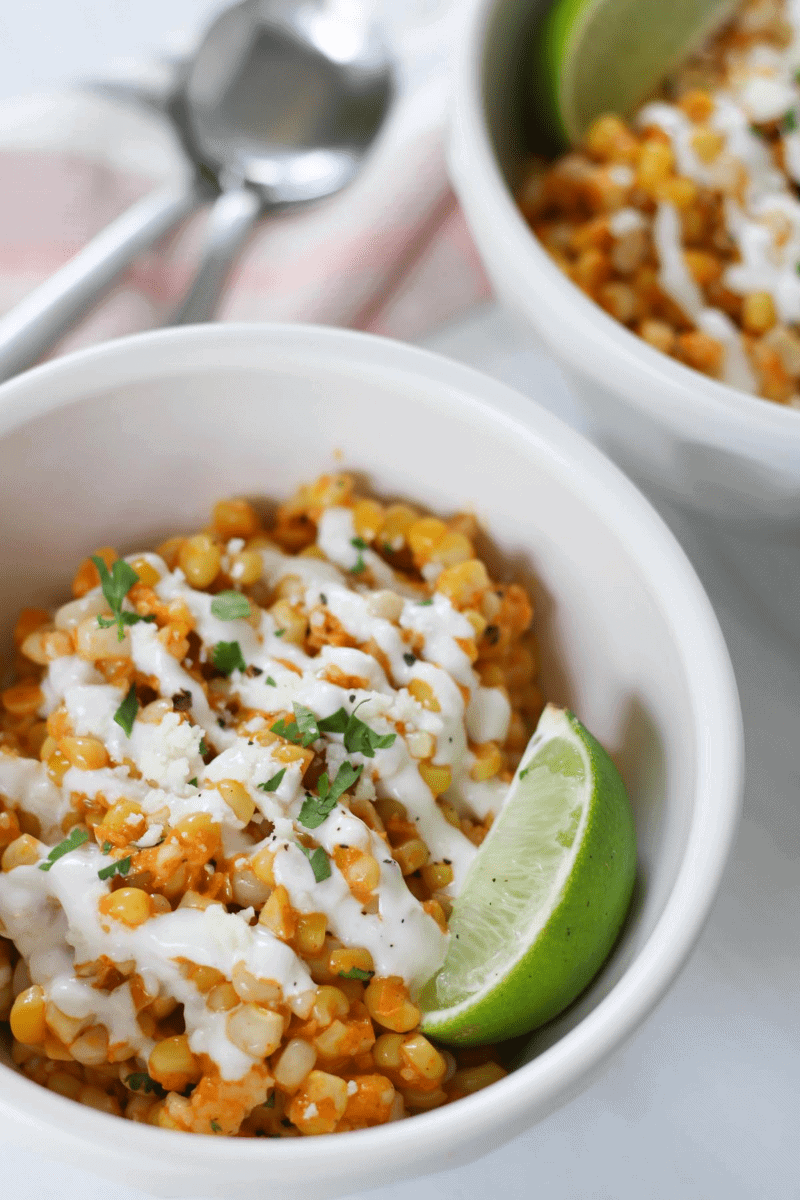 Drizzle some extra Mexican crema, and sprinkle some more Cotija cheese and cilantro over the top. Garnish with a few extra lime wedges, and your Mexican esquites are ready to serve!
A few tips before I let you go!
Starting with fresh corn on the cob is a must. Whether you leave it on or shave it off, you can clearly taste the difference between canned/frozen and corn that's just been shaved off the cob. Plus, it's summer! Nobody wants to be reaching in their hot pantry for a can!
Don't skip the Mexican crema! Think of Mexican crema as the Mexican version of sour cream, or better yet, creme-fraiche. Mexican crema is like a thick, rich and custardy version of sour cream. I also add a little bit of mayo to this dish for some extra tanginess. I know it can be tempting to use all mayo or substitute sour cream in a pinch, but try to find the crema. It makes a world of difference!
Cotija cheese is a must. It should be relatively easy to find in any specialty cheese section at your local grocer. Cotija is firm, dry and salty, with a very distinct taste and smell! Texture-wise, it's similar to feta, although I don't recommend using feta as a substitute because it has an entirely different taste! You can buy a block of Cotija, and crumble it yourself (which is what I do), or buy it already grated. I find the grated stuff to be a bit saltier with much more of a pungent smell.
Don't forget the limes! Fresh squeezed lime enhances and sharpens the flavor of the esquites! I add a few squeezes of lime as I'm dressing the corn in the mayo, crema, and cotija cheese.
Upgrade your spices! There are 2 spices that I really recommend using over the regular versions. The first is smoked paprika. I opt for smoked paprika over regular paprika in all of my dishes. The smokiness adds an additional layer of flavor. The second spice that I recommend is chipotle-chili powder, because regular chili powder is a bit intense for me. I like the sweet and subtle taste of chipotles more.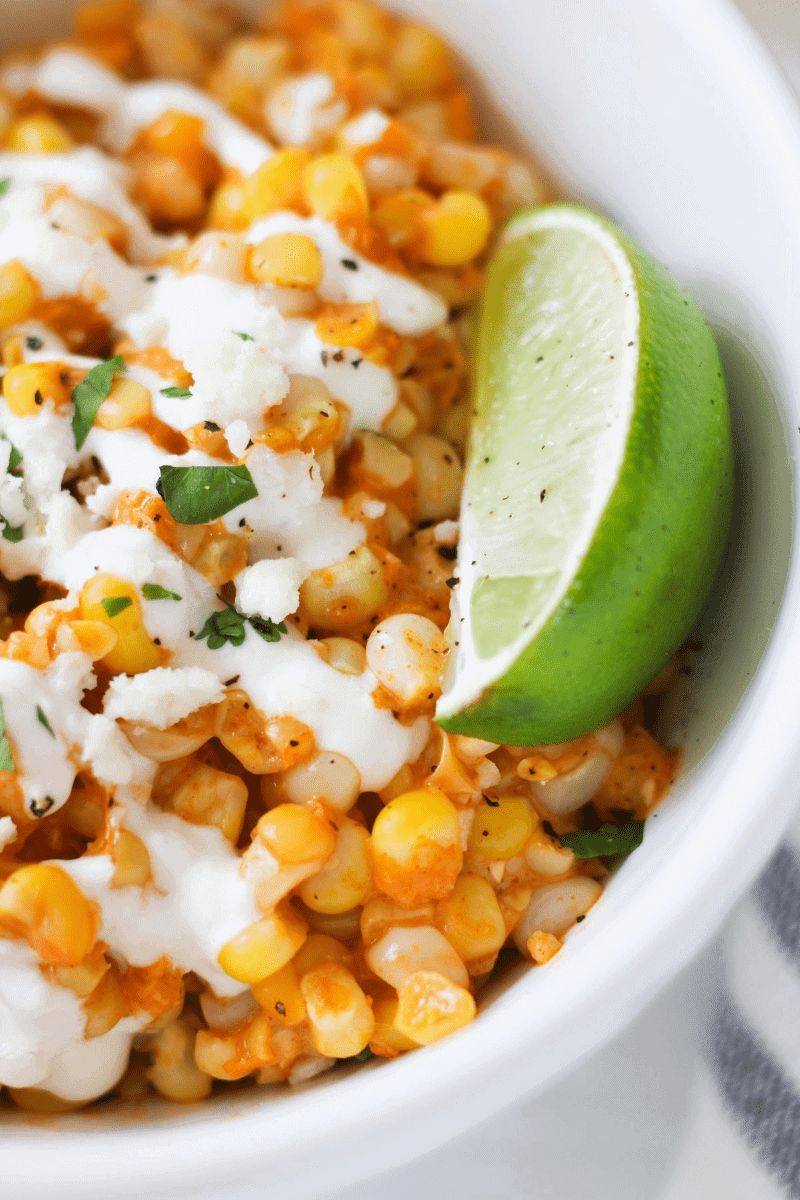 Mexican Esquites (Shaved Street Corn)
Love Mexican Street Corn but don't want it in your teeth or on your face? These Mexican Esquites are for you! Same elote-taste but with shaved corn!
Ingredients
10

ears

of corn

3

tablespoons

unsalted butter

¼

cup

mexican crema

3

tablespoon

mayonnaise

2

teaspoon

chopped cilantro

2

whole limes

cut into wedges

⅓

cup

crumbled Cotija cheese

plus more for topping
Dry seasonings
2

teaspoon

granulated sugar

1

teaspoon

chipotle-chili powder

1

teaspoon

smoked paprika

½

teaspoon

cayenne pepper

1

teaspoon

onion powder

1

teaspoon

garlic powder

½

teaspoon

salt

¼

teaspoon

black pepper

¼

teaspoon

cayenne pepper

optional
Instructions
in a small bowl or ramekin and set them aside.

(uncooked) off of the cob into a large bowl using a large knife. Stand the cob of corn on one end at an angle with the pointy side facing down. Run your knife against the cob to remove the kernels. Avoid pressing down too hard as this just makes it harder. Once the corn is shaved, break apart the kernels using your fingers, if needed.

In a large cast iron skillet, melt the butter over medium heat and add the shaved corn and dry seasonings to the skillet. Toss the corn for about 5 minutes until the kernels turn bright-yellow, and are coated in the butter and seasonings. Transfer the corn to a large bowl and let it cool slightly.

in the Mexican crema, mayonnaise, chopped cilantro, crumbled Cotija cheese and juice from 2 lime wedges. Toss until the corn is evenly coated.

into individual-sized bowls or cups, or you can leave it in the large bowl and drizzle it with some extra Mexican crema, and another sprinkle of Cotija cheese and fresh cilantro. Serve with a few lime wedges on the side.
Nutrition
A few other recipes you'll enjoy:
Roasted Butternut Squash Quesadillas
Sweet and Spicy Baked Beans from Scratch
Crispy Vegan Buffalo Cauliflower
Don't forget to save this recipe on Pinterest!