One of the many things that I love most about living in Rhode Island is the food! I know what you're probably thinking, "Rhode Island?! A foodie-haven?! Who knew?! But let me tell you, don't sleep on us Rhode Islanders, we have some damn good food! Rhode Island Hot Wieners are no exception!
I'll admit, Rhode Island hot wieners don't look like much, but man do they smack! You can easily find one at a number of local joints. Each one will claim that theirs is the best! Well here I am, little food blogger that I am, entering mine into the running! I have an annoying little hobby of trying to replicate every tasty meal that I eat out, and wieners are no exception! As sophisticated as my palate is, I am not above chowing down on a hot wiener!
What is a hot wiener, is it spicy?
Ok, so the name can be a little misleading, but honestly there's nothing spicy about these wieners. They're called hot wieners literally because they're hot off the grill.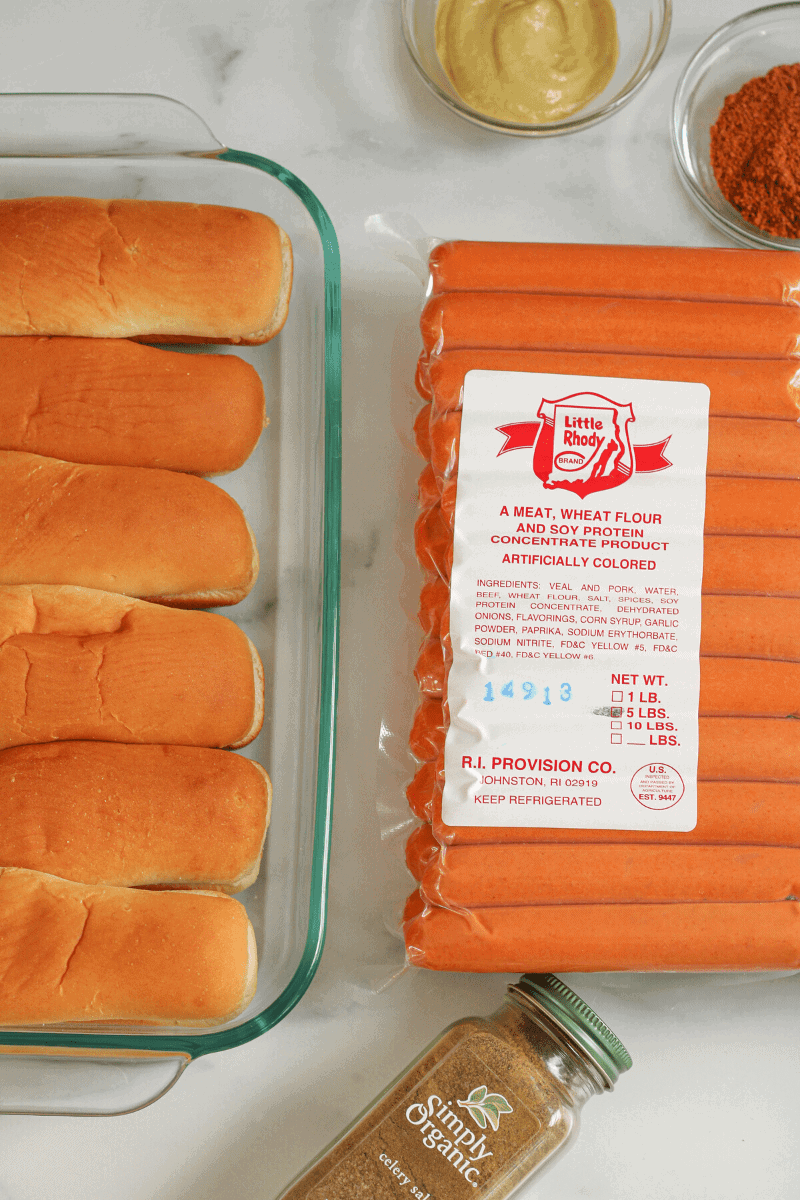 The traditional wieners (shown above) are made in Rhode Island and are a mixture of veal pork and beef. If you're local you can buy them in-person, if not, they're sold online. If the idea of mixing meats scares you or you're just looking for convenience, all-beef franks (Nathan's or Hebrew National) will work just as well.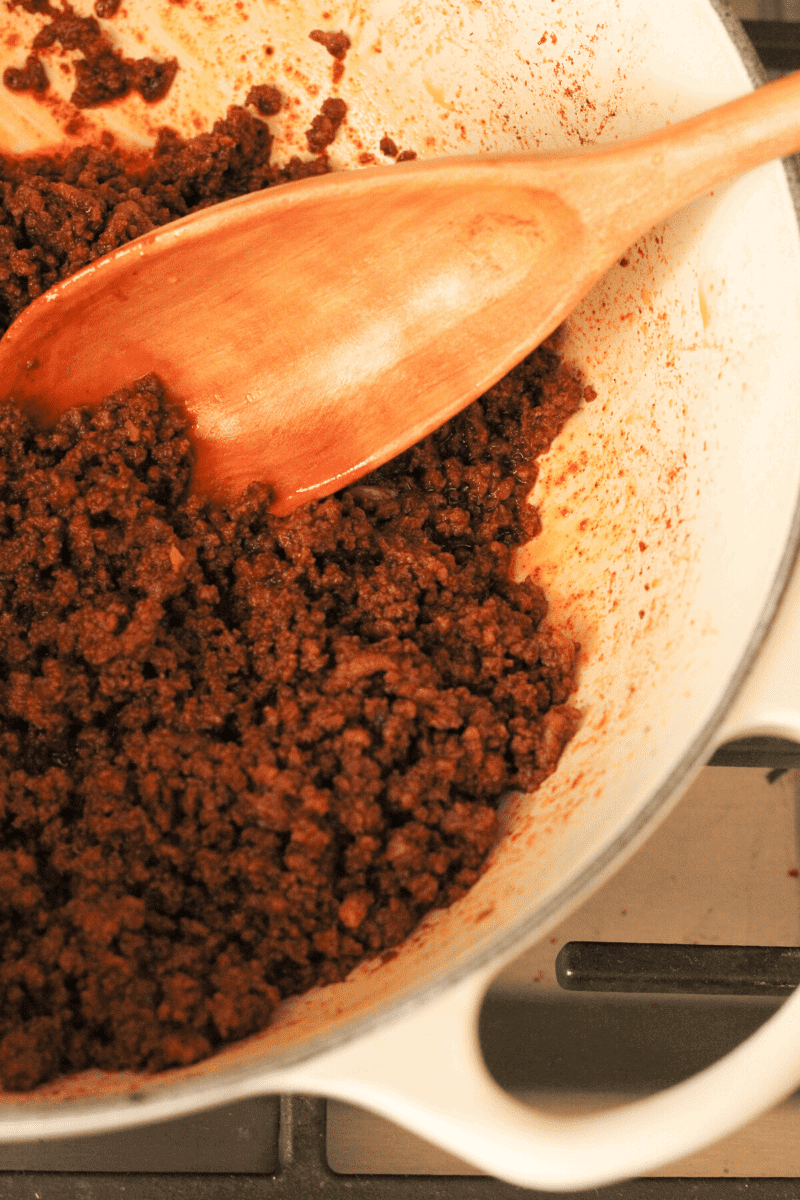 Rhode Island hot wieners are grilled on a flat top (or in my case a cast-iron griddle), served on a steamed bun and topped with a savory meat sauce, yellow mustard, chopped onions and a sprinkle of celery salt. Dassit.
I'm going to be in Rhode Island this summer, what are some local places that I can get a hot wiener from?
I believe you need to try a hot wiener from a local spot at least once. If you're visiting Rhode Island, you just have to! The most well-known spot is Olneyville New York System. They have locations in Providence and Cranston. Their website will link you to where you can get the wieners that they use as well as the buns and spice-mix. There are other wiener spots throughout Rhode Island too.
How close is the Crumb-Snatched version to the real thing?
Who said mine aren't the real thing?! Not to toot my own horn, but mine is pretty legit. I find that Olneyville New York System's spice blend is a tiny bit sweeter and a tad less smokier than mine. I also cut my onions a little coarser and use dijon mustard rather than yellow mustard because that's my own personal preference. Told you I was fancy!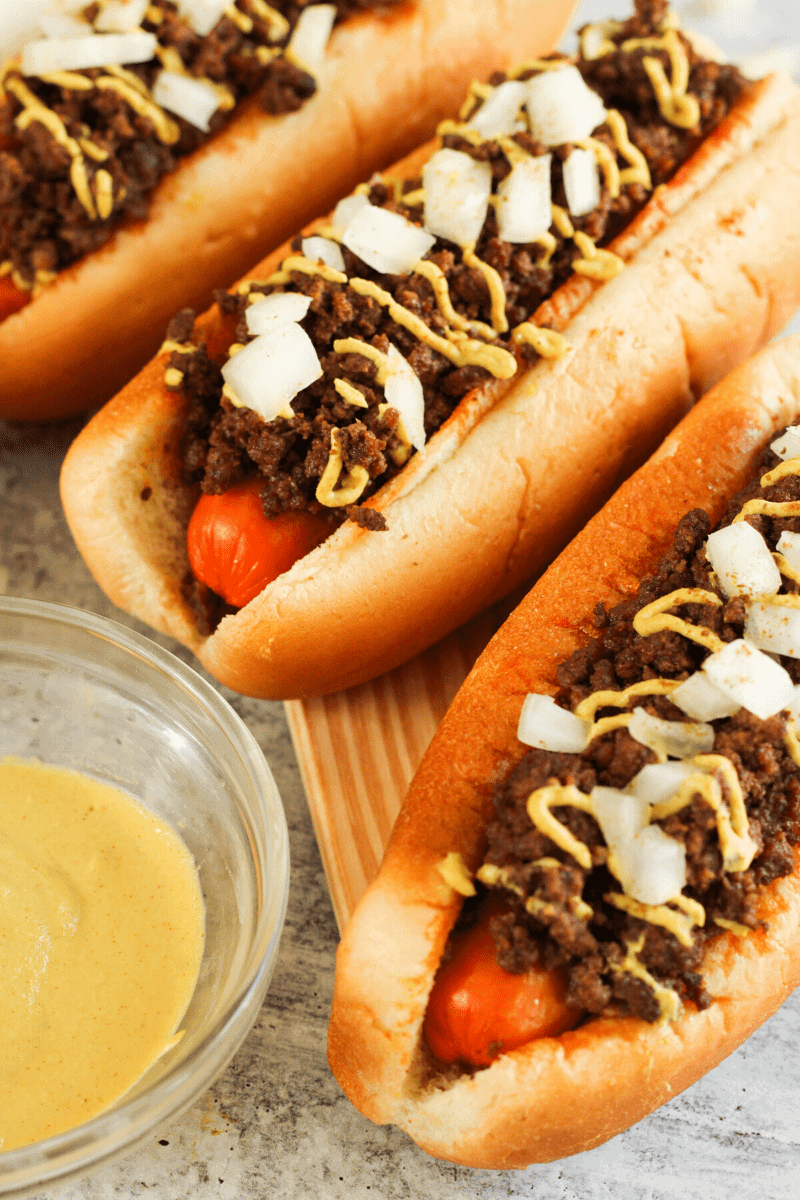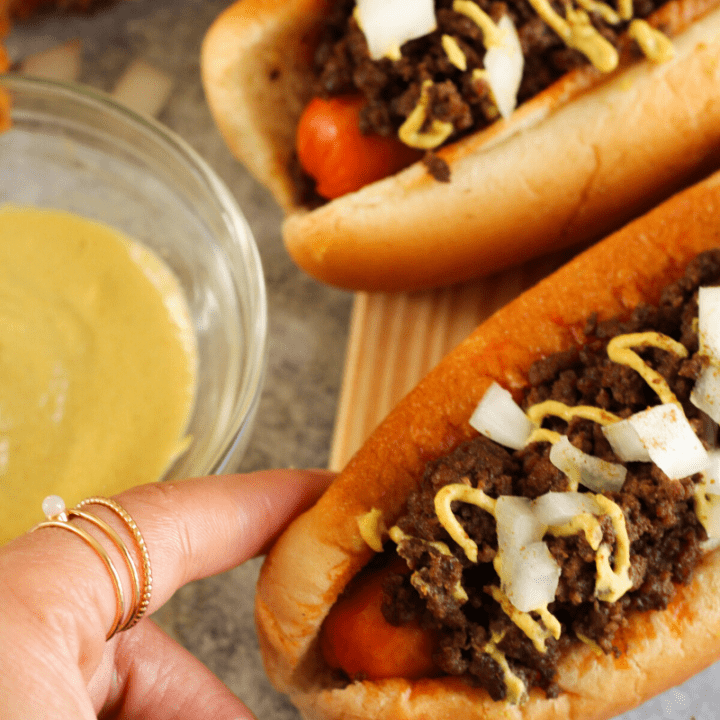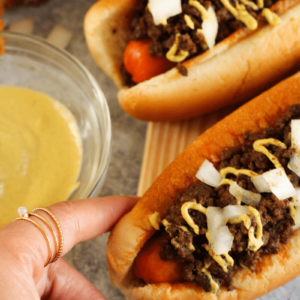 Rhode Island Hot Wieners
Make these famous Rhode Island Hot Wieners right at home! Grilled wieners on a steamed bun topped with meat sauce, mustard, onions and a sprinkle of celery salt!
Ingredients
Meat Sauce
1

pound

ground beef

½

large onion

1

tablespoon

peanut oil

1

tablespoon

smoked paprika

1

teaspoon

chili powder

1

teaspoon

onion powder

1

teaspoon

garlic powder

⅛

teaspoon

cayenne pepper

1

teaspoon

allspice

2

teaspoon

brown sugar

½

teaspoon

celery salt
Other ingredients/toppings
6

wieners*

6

buns

½

large onion

dijon mustard

sprinkle of celery salt
Instructions
Set half aside for the sauce, and reserve the other half for topping the wieners at the end.

: smoked paprika, chili powder, onion, powder, garlic powder, cayenne pepper, brown sugar and celery salt.

in a deep skillet or dutch oven, heat the peanut oil over medium heat. Saute the onions for 1-2 minutes and then add the ground beef and seasonings. Once the meat is no longer pink, reduce heat, cover and simmer on low for 30-45 minutes. You can lift the lid to check on the beef mixture every so often. Add a little peanut oil if the meat mixture starts to get dry.

. Brush a griddle or cast pan with a small amount of peanut oil and brown the wieners on all sides. Don't worry if the wieners split. Steam the hotdog buns for 7-10 minutes using a basket steamer. Buns will be soft and very hot!

Allow buns to cool to the touch, place the wieners in the buns and generously top each of the wieners with the meat sauce, dijon mustard, raw chopped onions and a sprinkle of celery salt.
Notes
*If you don't have wieners, you can use all-beef hotdogs like Nathan's or Hebrew National
Nutrition
Check out some other summer recipes!
Simple Caesar Salad with Whole-Grain Croutons