Nothing will make me chase a taco truck faster than some Aguas Frescas! This drink brings back so many wonderful memories of living in California, and being pregnant with my first child. Those pregnancy cravings hit hard! Now that I look back I'm pretty sure Aguas Frescas falls into the category of unpasteurized juice (something you're not supposed to consume while pregnant). I rationalized that if I could make my own at home, it would be safer since I knew it wouldn't be sitting around un-chilled, for hours.
Not to mention, I'm one of those people who is notorious for buying fruit and letting it go to waste. Don't you hate when your fruit gets too ripe before you can even enjoy it? Not anymore! Just blend it up, add some water, a little sugar and pour over ice. Voila!
What are Aguas Frescas?
Agua Fresca is a Mexican drink made with water and fruit. Sugar (or simple syrup in this case) is optional, and some people like to add a squeeze of lime juice (I skip the lime). You can use different types of fruit, but fruits with high water-content work best.
My favorites flavors are cantaloupe, watermelon and pineapple! These fruits have a lot of flavor and you can extract a lot of liquid from them. If you juice them when they're ripe enough you may not even need to add sugar!
Selecting ripe fruit:
Honestly the hardest part of making aguas frescas is choosing ripe fruit! The riper the fruit, the sweeter the juice, but you don't want to confuse ripe with rotten. If your fruit is too ripe it will throw your flavor and texture off.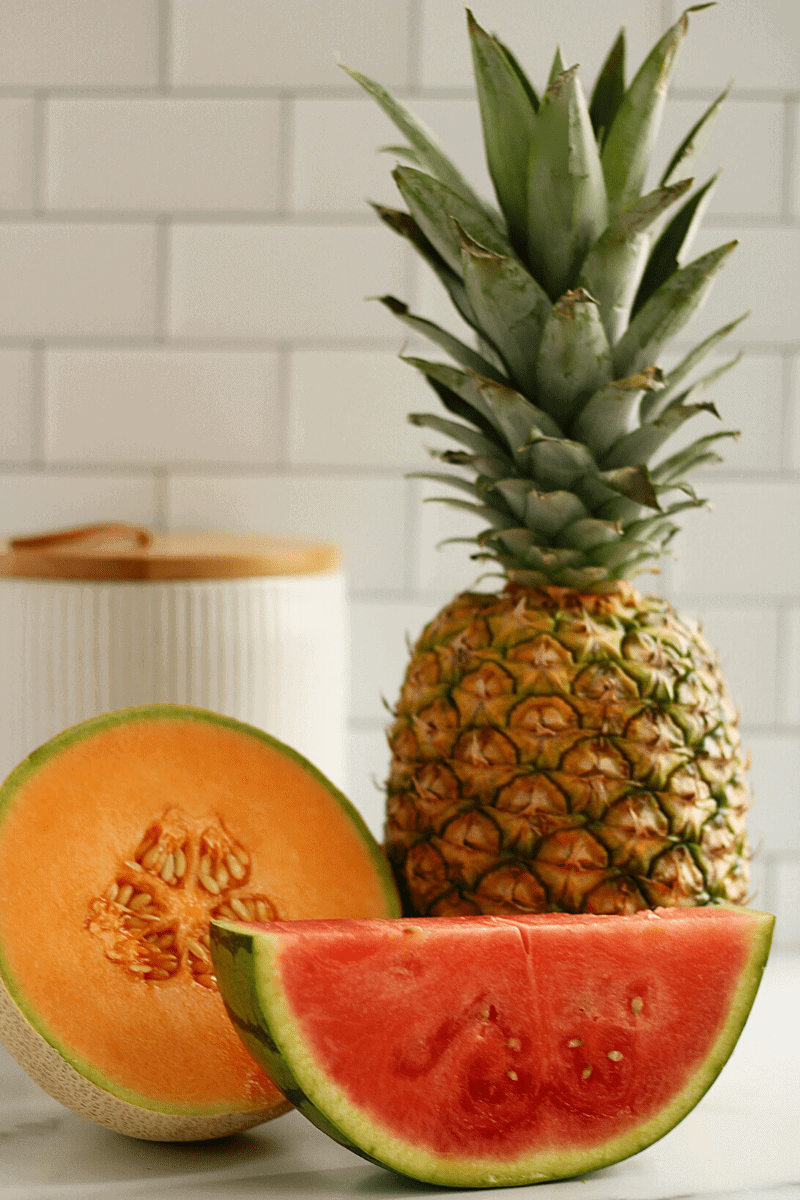 Here are a few tips on picking ripe fruit:
Cantaloupe: The best way to judge ripeness is by smelling it. It should have a sweet and fruity smell. If you can smell your cantaloupe while it's sitting on the counter, it's pretty safe to say it's time to juice it. Also, dents and smooth skin also signal that your cantaloupe has ripened. Dark, soft spots though might mean that your melon's time is up.
When you're shopping for cantaloupe, it's a good idea to pick it up and feel how heavy it is. Ripe cantaloupes feel heavy for their size. If your cantaloupe has a green tint to it, that signals that it's unripe.
Watermelon: This one is a little trickier, but feeling how much it weighs is a good indicator of ripeness too. Your watermelon should look heavy for its size. The underside of the melon (the part that rests on the ground) should be yellow. I try to juice watermelon as soon as I cut it and and try to drink it within a day or so. This particular aguas frescas will turn jelly-like if you make it with watermelon that was cut days ago. Speaking from experience.
Pineapple: Determining ripeness of this one is so easy! The color of the pineapple will tell you whether it's ripe or not! Pineapples should be golden-yellow on the outside. If it's still green, that means it's not ripe. I also read somewhere that pineapples don't ripen after they've been picked. Not sure if that's true, but as a rule of thumb, I only buy pineapples that are yellow, and not green!
Can I make Aguas Frescas with other types of fruits?
Yes! Tamarind, honeydew, strawberry, papaya and mango are other popular flavors. Each fruit has its own unique sweetness and water content, so you should adjust the water and sugar levels accordingly.
I like to start off with a little water and simple syrup and gradually add more if needed. Feel free to taste and adjust as you go, as if you were making lemonade. My measurements are a guide! Feel free to adjust as needed.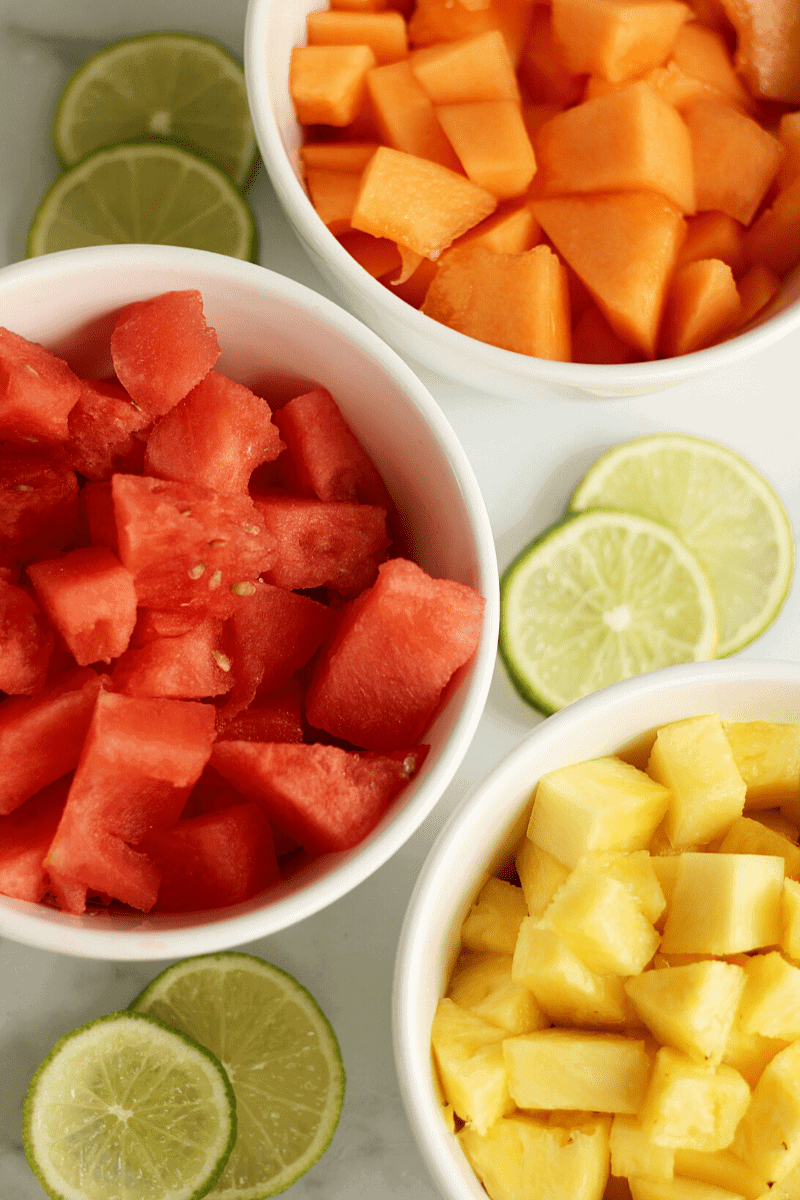 Can I add liquor?
Do you really think I'm gonna say no to this one? Traditionally aguas frescas is not made with alcohol, it's just a cool and refreshing drink that's meant to quench your thirst.
That being said, I don't have any issues with adding rum (or whatever your liquor of choice is)! The alcohol might take some of the thirst quench-iness away, but sounds like an amazing idea nonetheless!
What type of kitchen gadgets will I need?
Nothing sophisticated, here. A blender, mesh strainer and a spouted bowl or measuring cup are needed. A funnel also helps. You'll also need a container or pitcher to chill and store the aguas frescas in. That's it!
How do I serve Aguas Frescas?
This is the fun part! Aguas frescas are best served ice-cold! I chill them in the refrigerator for an hour or so and then pour them into glasses glasses over ice, right before serving.
These drinks are just so pretty! Talk about eye candy! It's fun to play around with different sized glasses, colorful straws and fresh fruit and herbs as a garnish! Lime and fresh mint are my go-to's for fruity drinks!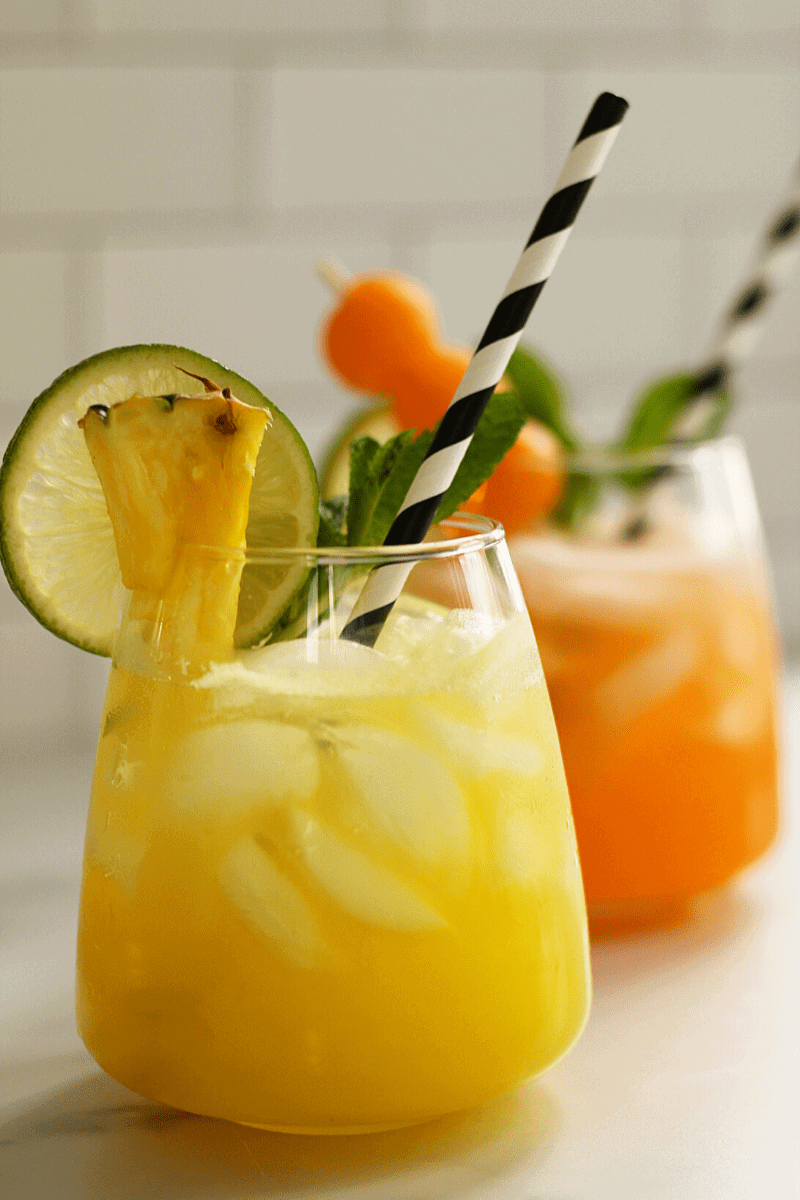 Other fruit recipes you'll enjoy
Easy Morir Soñando with a Hint of Lime
Easy Piña Colada Recipe – 4 Ingredients!
Doce de Papaia: Fresh Papaya Jam
Ponche de Coco – Cape Verdean Coconut Cocktail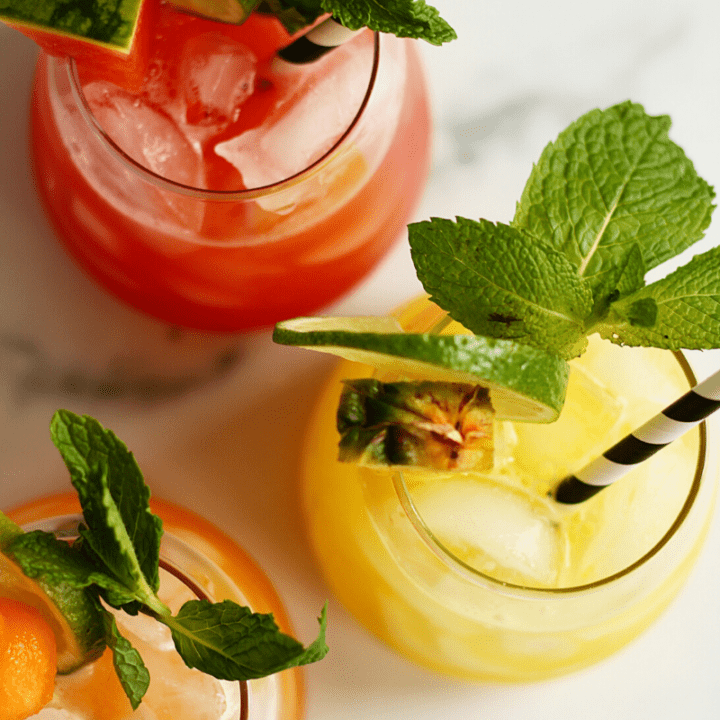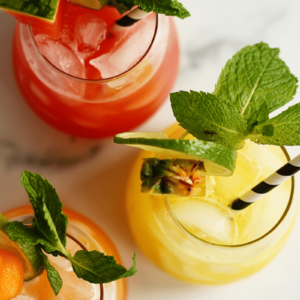 Simple and Refreshing Aguas Frescas – 3 Flavors
Aguas Frescas is a refreshing Mexican drink, made with 3 simple main ingredients: fresh fruit, water and sugar. This recipe shows you how to make cantaloupe, watermelon or pineapple, but feel free to substitute another type of fruit!
Ingredients
4-6

cups

of diced pineapple, watermelon or cantaloupe

2

cups

of water*

squeeze of fresh lime juice
Simple syrup
¼

cup

of sugar

¼

cup

of water
Garnish
4

mint leaves

1

fresh lime

cut into rounds
Instructions
by heating the water (¼ of a cup) and sugar in a small saucepan over medium-low heat. Stir it until sugar is fully dissolved, it doesn't have to come to a full simmer. Remove the pan from heat and set it aside to cool.

in a blender for 30-60 seconds. Taste, and add a few tablespoons of simple syrup at a time if needed, or use the entire amount. Pulse for a few more seconds, until all ingredients are evenly distributed.

into a bowl or large spouted measuring cup using a mesh strainer. You can use a wooden spoon or silicone spatula to help squeeze out all of the liquid. Discard any pulp.

into a bottle or pitcher (using a funnel helps) and let the Aguas Frescas cool in the refrigerator for at least 1 hour.

and garnish with fresh lime and mint. A squeeze of lime juice is optional.
Notes
*Watermelon has higher water-content than other fruit, therefore less water may be needed. Start by blending the fruit with a tiny bit of water and seeing how much liquid it yields. Add more water as needed.
Depending on your fruit's ripeness, very little or no sugar may be needed. Taste and adjust as you go.
Nutrition