Ponche de coco is a smooth and delicious Cape Verdean coconut cocktail made from coconut milk, condensed milk and grogue, which is the national liquor of Cape Verde. This delicious coconut drink is sweet, creamy, and can be sipped on its own or served over ice. In Cape Verdean households, ponche is traditionally served around Christmas, and to celebrate the new year. I could drink this coconut cocktail year-round, especially in the warmer months over ice!
What is grogue, and what is it made from?
As I mentioned earlier, grogue is the national liquor of Cabo Verde (Cape Verde). Grogue (also called grogu, or grogo) is a member of the aguardente family, which is distilled liquor made from sugar cane. Today, most grogue is produced in distilleries, but it is not unheard of for people in rural areas of Cape Verde to make their own grogue. (If you're thinking about doing this in the U.S., don't. Not only is it illegal, it requires a very large piece of equipment called a trapiche!)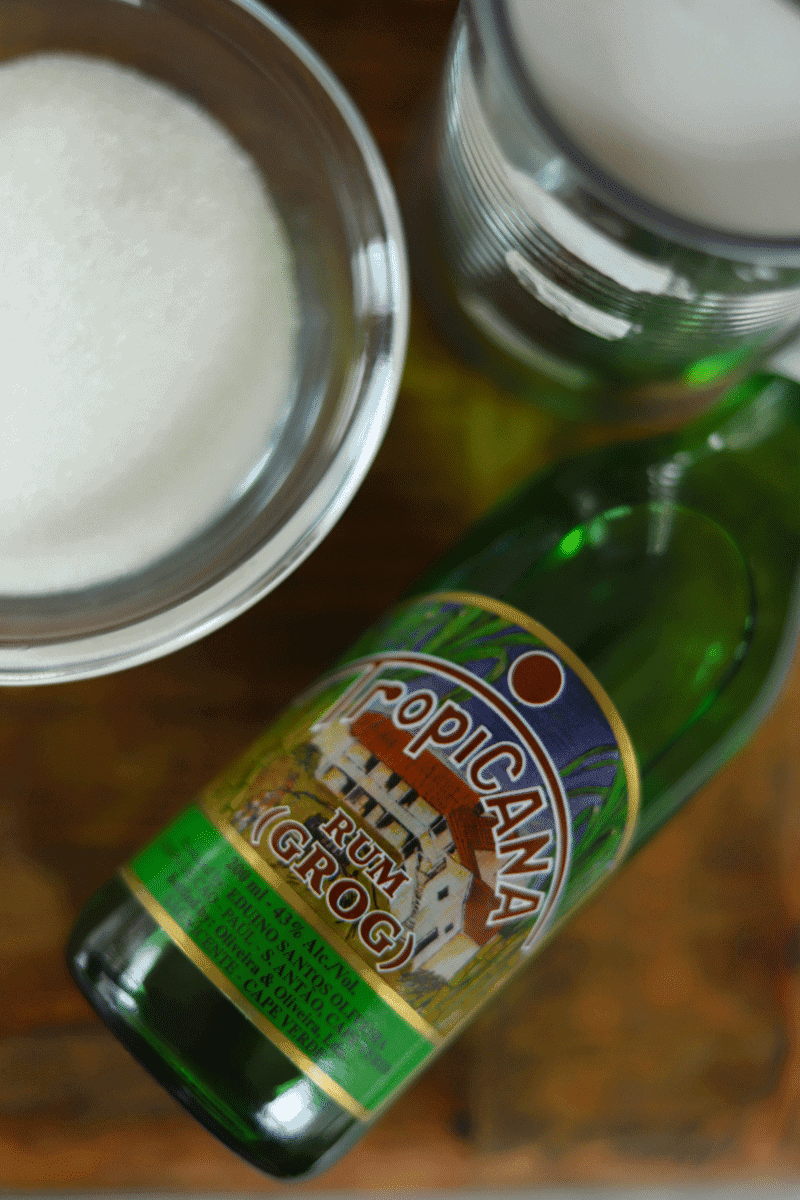 It used to be very difficult to find grogue in the U.S., you used to have to have someone bring it over from Cape Verde. Today, you can buy it (legally) in liquor stores. Often times, it's marketed and labeled as rum. I personally find grogue to be stronger, with a much more distinct taste than American brands of rum that are commonly found in stores.
Can I substitute grogue with something else, if I can't find it?
Depending on where you live, you might have to substitute grogue with another type of alcohol. It should be pretty easy to find in parts of southern New England that have a sizable Cape Verdean population. The easiest substitute for this coconut cocktail would be rum. You can also use Brazilian cachaça if you have access to it.
Other versions of Cape Verdean Ponche
There are other versions of Cape Verdean ponche, besides ponche de coco. The most popular version is just called ponche (sometimes written pontche), and it's a combination of dark molasses, grogue and lime. Traditional ponche is much more potent than ponche de coco, and more viscous.
Other versions of ponche are flavored with honey, tamarind, or other fruits, spices and herbs. Ponche de coco is my favorite version of ponche, because of its smooth texture and subtle (but very sweet) taste.
Other coconut drinks that are similar to ponche de coco:
There are several variations of this coconut drink, give or take the presence of different spices and different types of rum or liquor
Brazilian equivalent is batida de coco (which is made with cachaca).
Puerto Rican coquito – made with the addition of evaporated milk and coconut cream and cinnamon or nutmeg
Dominican ponche – very similar to coquito, sometimes contains eggs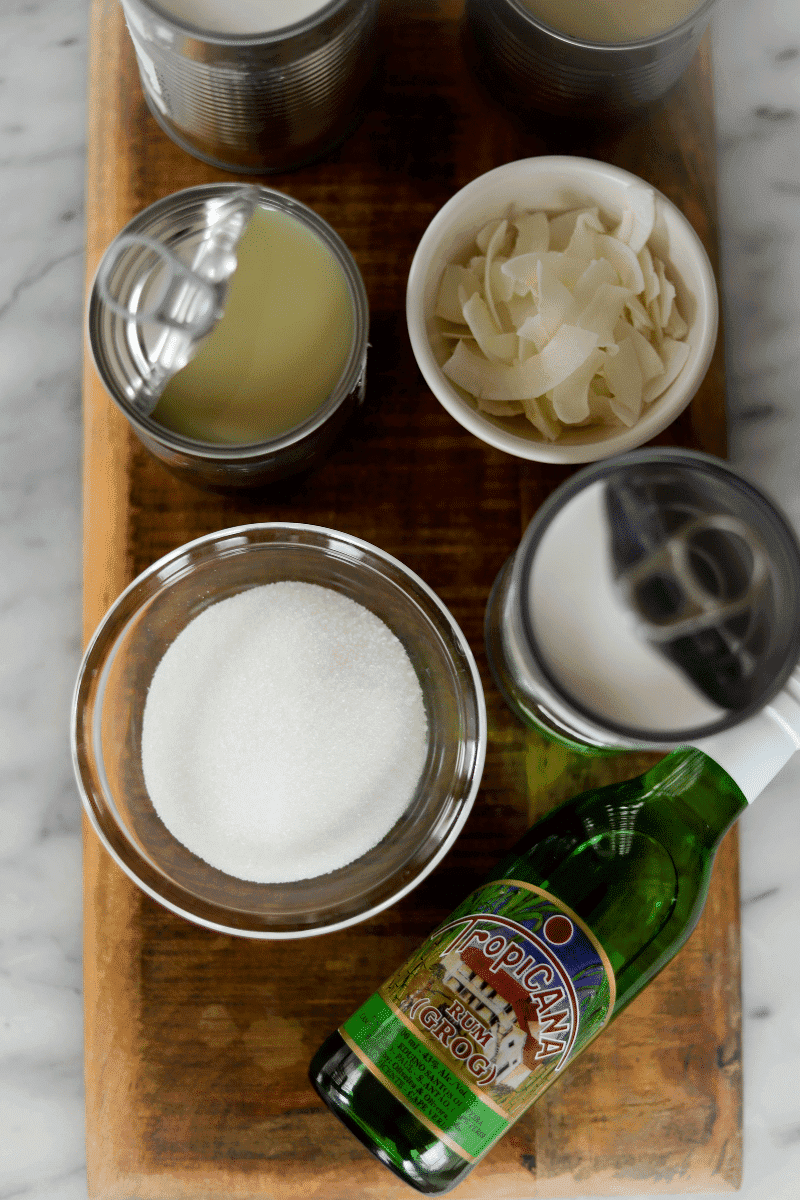 To make this delicious and creamy coconut drink you'll need:
2 cans of unsweetened coconut milk (not coconut cream)
2 cans of sweetened condensed milk
½ cup of unsweetened coconut flakes, plus more for toasting
8 fluid ounces (or more) of grogue (you can substitute rum if needed)
1 cup of sugar + 1 cup of water for the coconut infused simple syrup.
A blender with a capacity of 72 ounces. You can work in batches if your blender is smaller.
A mesh strainer or cheesecloth – I use both, I will explain why in just a minute.
A pitcher or bottle with a capacity of 64 fluid ounces
How to make ponche de coco:
Step 1: Prep the coconut
Place the coconut flakes in the center of a small square of cheesecloth and tie the cloth up into a little pouch.
Step 2: Infuse the simple syrup with coconut
Combine the water and sugar in a small saucepan. Stir the water and sugar and drop in the coconut flakes that you tied up in the cheesecloth. Bring the saucepan to a simmer over low heat, and let the liquid inside the pan continue to simmer for 5-10 minutes,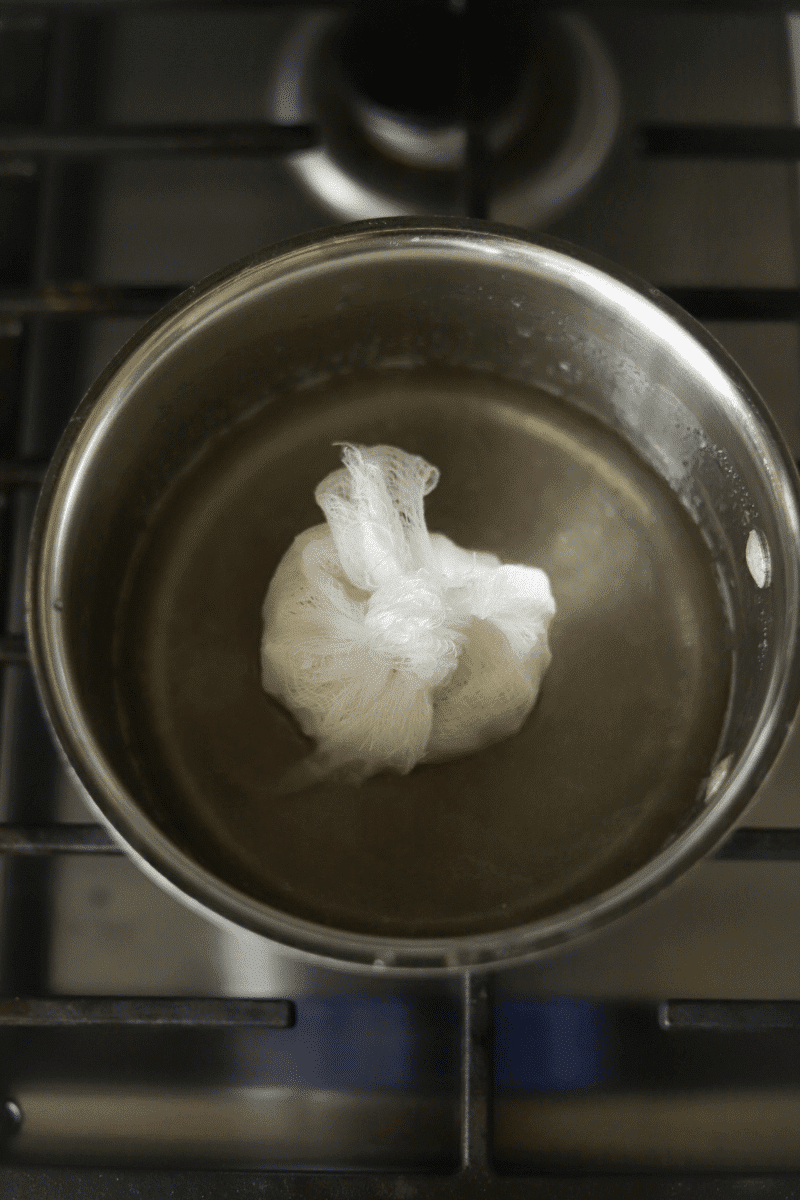 Step 3: Combine all ingredients
Empty the 2 cans of coconut milk, 2 cans of sweetened condensed milk, and about ⅔ of the grogue into a blender. Place the coconut flakes tied in the cheesecloth in a mesh strainer and pour the simple syrup over the coconut into the blender.
You can either discard the seeped coconut flakes with the cheesecloth or you can remove half of them and put them in the blender. I like the added texture that the coconut flakes give the ponche.
Step 4: Blend and add the grogue
Blend everything together for about 1 minute on high speed, until the liquid is smooth and frothy like the photo below. Pour a small amount into a cup, taste it and decide whether you wish to add more grogue. If the ponche needs more grogue, add the remainder plus more if needed.
Blend together for another 15-20 seconds.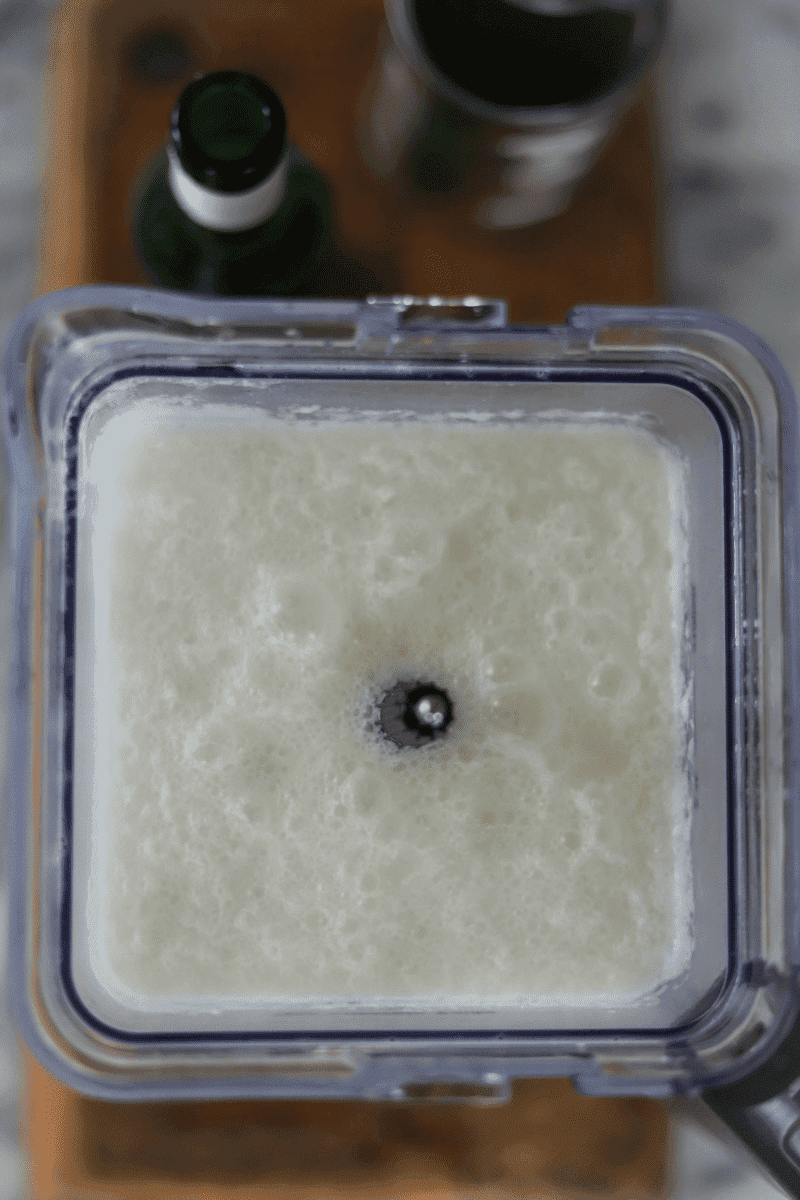 Step 5: Chill prior to serving
Transfer the ponche to a vessel and let it chill for 1-2 hours minimum. I like to chill my ponche for a full 24 hours before serving it. This allows the flavors to settle and the coconut milk should thicken slightly. The longer you let the ponche sit in the refrigerator, the thicker it will get.
If the ponche becomes too thick (which usually doesn't happen to me) you can let it sit out for 10-15 minutes prior to pouring it or add more grogue to thin it out.
Step 6: Toast the coconut (optional)
Toast a handful of coconut flakes in a heated skillet or frying pan until the edges turn golden brown. Once you're satisfied with the color, turn the burner off and immediately transfer the flakes to a small bowl. Don't leave them in the pan, because they could burn even after the flame is turned off.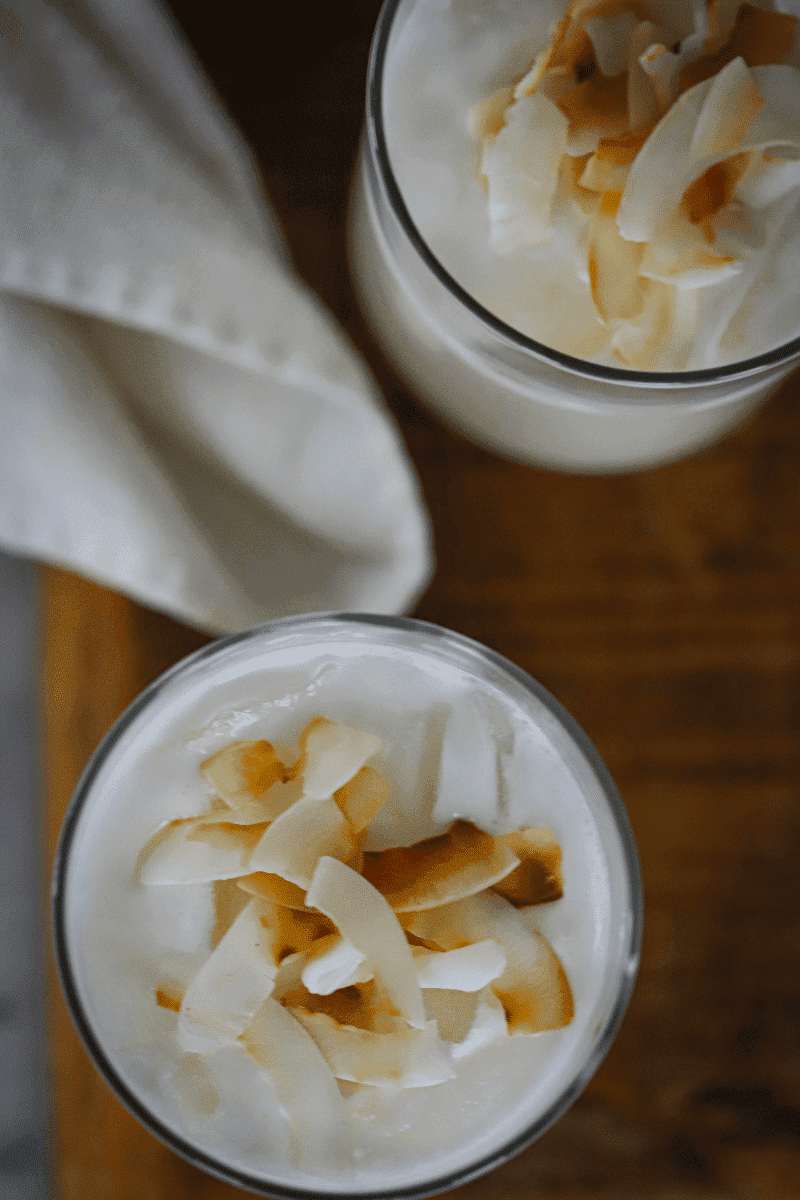 Step 7: Serve!
You can either pour the ponche straight into glasses or pour it over ice when serving. I like my ponche served over ice, but some people like to sip it straight up. Sprinkle a few toasted coconut flakes on top and serve!
Other recipes you'll like:
Easy Piña Colada Recipe – 4 Ingredients!
Simple and Refreshing Aguas Frescas – 3 Flavors
Doce de Papaia: Fresh Papaya Jam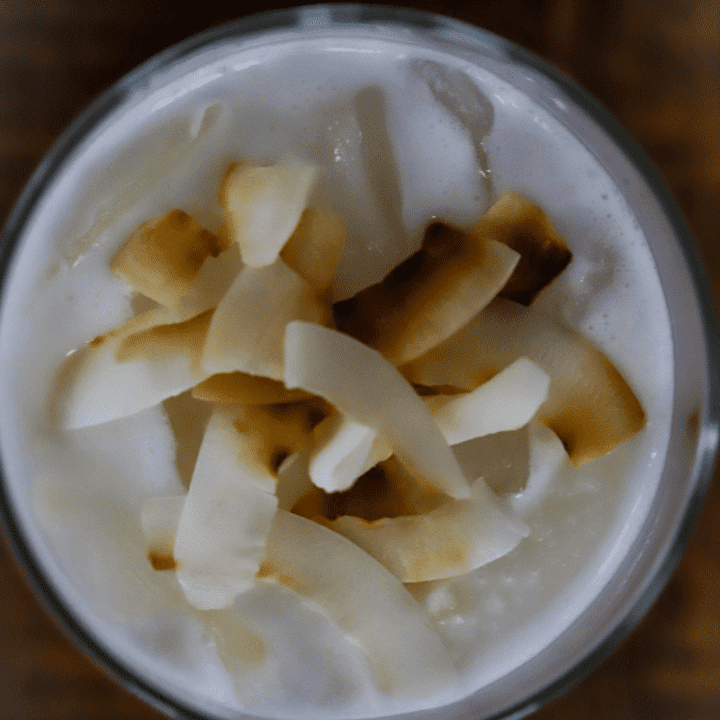 Ponche de Coco - Cape Verdean Coconut Cocktail
Ponche de Coco is a smooth and sweet Cape Verdean coconut cocktail that's made from sweetened coconut milk and grogue (the national liquor of Cape Verde). Serve chilled, either straight up, or over ice.
Ingredients
2

13. 5 ounce cans

unsweetened coconut milk

2

14 ounce cans

sweetened condensed milk

½

cup

coconut flakes

unsweetened, plus more for garnish

18

fluid ounces

grogue or rum

1

cup

granulated sugar

1

cup

water
Instructions
Measure ½ cup of coconut flakes and place them in the center of a small piece of cheesecloth. Tie the cloth up into a little pouch and set aside.

In a small saucepan, prepare the simple syrup by combining the water and granulated sugar. Stir and drop in the coconut flakes wrapped in cheesecloth. Bring the saucepan to a simmer and continue to let it simmer over low heat for 5-10 minutes.

Empty the cans of coconut milk and condensed milk into a blender and then add two-thirds of the grogue or rum.

Place the cheesecloth in a mesh strainer and hold the strainer over the blender. Pour the simple-syrup over the cheesecloth-wrapped coconut into the blender jar. You can either discard the cheesecloth and the coconut or reserve half of the steeped coconut and add it to the blender, to give the ponche some texture.

Blend everything together on high speed for 1 minute. Taste the ponche and adjust the amount of alcohol to your liking.

Pour the ponche into a large bottle or pitcher and let it chill for at least 2 hours (a full 24 hours is recommended)

Garnish with a few toasted coconut flakes (optional) and serve straight up or over ice.
Notes
To toast the coconut flakes, heat them in a cast iron skillet or frying pan. No spray or oil is needed but watch them closely to make sure they don't burn!
Recipe makes 64 ounces