Modje is a delicious goat meat stew, that originates from the Cape Verdean island of São Nicolau. This version calls for both goat and lamb meat and variety of root vegetables: mandioca (yucca), inhame (African yams), batata doce (white sweet potatoes), regular potatoes, squash and green bananas. It's rich and distinct taste makes it my favorite Cape Verdean food of all time.
Modje is one of those Cape Verdean foods, that you may not hear about as much as some of the other specialties that are widely eaten in Cabo Verde, like Cachupa and Canja. Don't let this lead you to believe that this delicious goat stew is any less delicious or comforting, though! you just don't hear about modje as much because it's not eaten on all of the other Cape Verdean islands.
Variations of modje:
Although goat meat is traditionally used in this stew, other variations exist. Lamb is another meat that's commonly used in modje, but some cooks prefer to use beef or chicken. I personally prefer the flavors of goat and lamb, so that's why I use both types of meat in my modje.
In speaking with Cape Verdean people from islands outside of São Nicolau, I learned of a similar dish called guisado or carne guisado. From what I know, guisado is a broth-less variant of modje.
Finally, if you're familiar with Latin American or Caribbean cuisine, you might notice a striking similarity between modje and sancocho, which is a meat-based stew that's eaten widely throughout Latin America and the Caribbean. In my experience modje is nearly identical to sancocho. Just like modje, sancocho also has several variations, depending on the country or region where it's prepared.
How much modje does this recipe yield?
Like most Cape Verdean food, modje is often made in very large quantities, as it's a dish that's often eaten to celebrate an occasion, or to feed a large family. I scaled the size of this recipe down to about 8 servings.
I know 8 servings sounds like a lot, but iI look forward to having plenty of left-overs. In my opinion, modje tastes even better when you re-heat it the next day. Also, modje is no-one's light work! It involves a lot of peeling and cutting of vegetables and it simmers slowly for hours. You'll want to have a decent amount for all of the work that goes into it!
Where to buy goat meat or lamb meat:
When shopping for a specific type of meat, I always have the best luck at a local butcher. I'm not sure why the idea of visiting a butcher seems so daunting at first, but you have a much higher chance of finding exactly what you're looking for at a butcher shop, versus at a regular grocery store.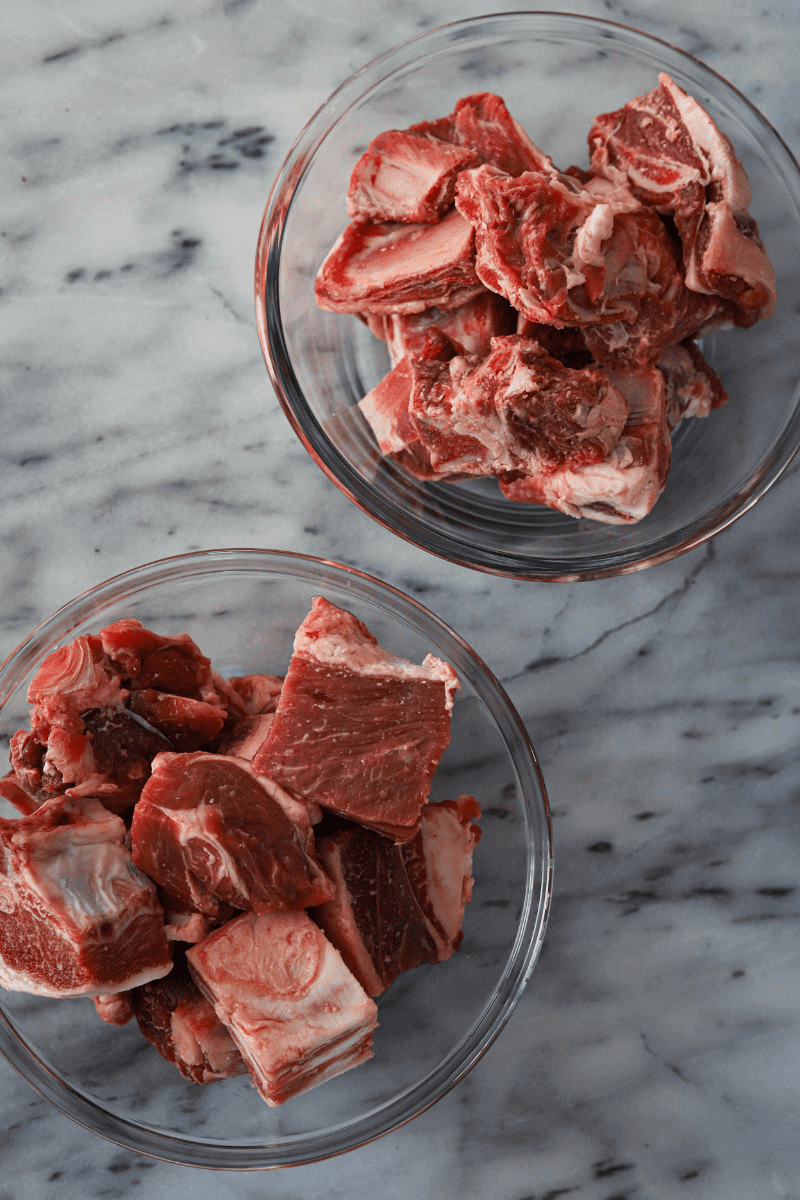 Make sure to ask for any cut of goat or lamb that's suitable for stews (shoulder works well), and make sure it's cut into cubes. I usually get bone-in meat for modje, but you can also ask for boneless. Also, don't be afraid to use frozen meat if that's an option! Frozen works just as well, and it's usually a few dollars cheaper per pound. You'll just have to defrost it.
Identifying root vegetables (with pictures):
Identifying root vegetables can be tricky even for someone like me who grew up in a home where they were a staple. Below is an image of all of the root vegetables that you'll need for modje (goat stew). We will start with the obvious ones: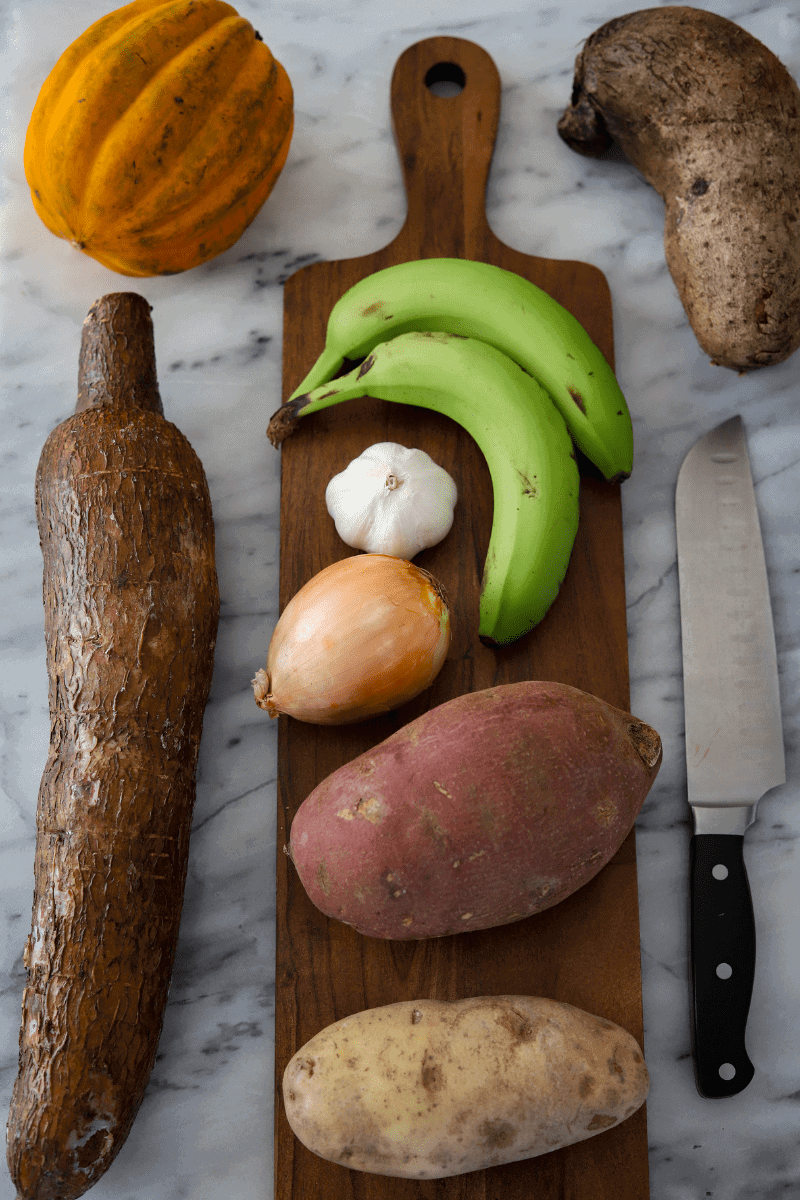 Abobra (Squash)
I usually use an acorn squash for modje (shown at the top left corner of the photo above) because they're so easy to find. Acorn squash is dark green in color on the outside but turns orange as it ripens. Don't worry if you can't find a ripe-squash, the green one will work just fine! I also like to use the acorn squash because you can use the whole thing due to its small size.
I really like to use squash in modje because of it's soft and sweet contrast to other vegetables. It also breaks down and thickens the modje depending on how long you let it cook.
Batata Inglesa
This translates to English potato, not sure why it's called this in Cape Verde, but it's just a regular potato that we are used to eating in the US. Russet or Idaho variety works fine.
Banana verde (green bananas)
Not to be confused with plantains, modje traditionally calls for unripe, green bananas. If you have an easier time finding plantains, go for it. Just keep in mind that plantains are bigger and slightly more firm so you won't need as many and they may take longer to cook.
Inhame (African yam)
It can be very easy to confuse yams and sweet potatoes, especially in casual conversation. The United States has a reputation abroad of confusing yams with sweet potatoes, so I'll make it easy for you.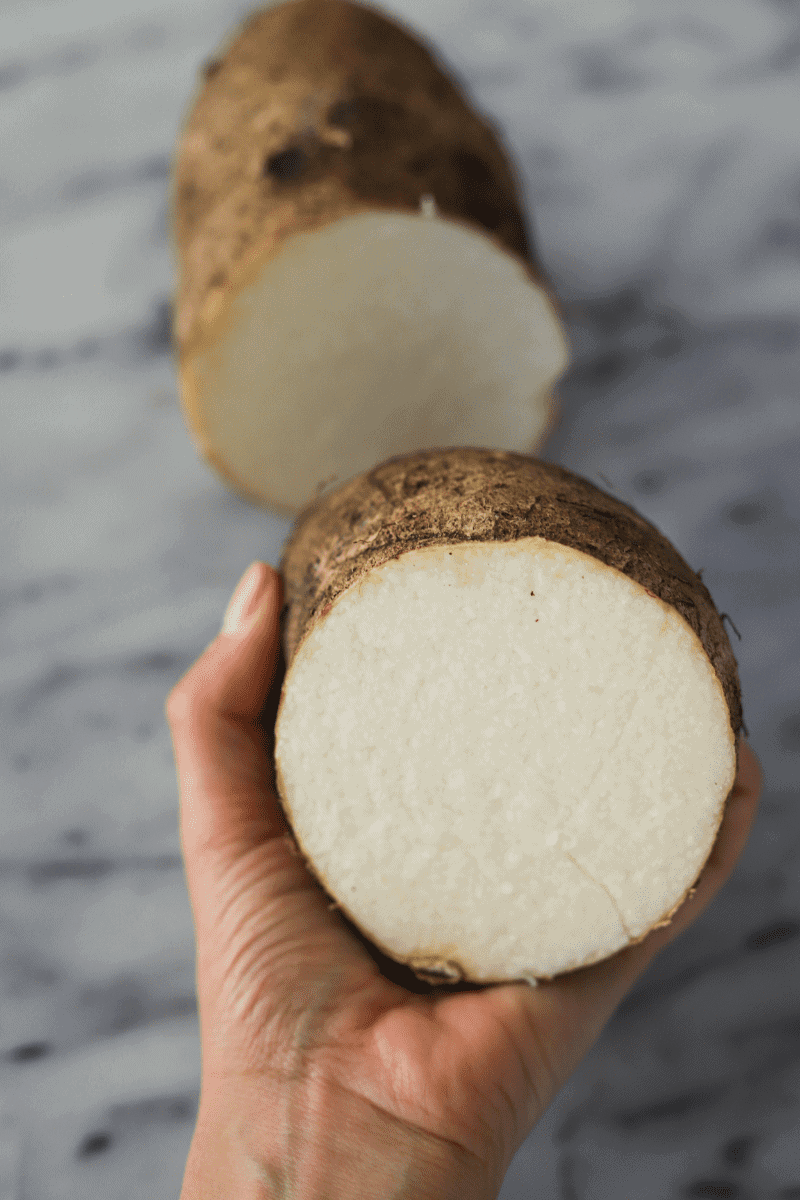 Inhame (called ñame in spanish) means yam. This variety of yam is often large in size with a papery, brown exterior. It's surprisingly easy to cut into and has a firm yet slimy texture (don't worry, the sliminess cooks off). Inhame has a slightly sweet taste.
Just a warning! Be careful when cutting inhame because it can be slimy. You want to make sure you have a good grip on it while cutting. Also avoid touching your face, neck or other parts of your body when you have it on your hands. I personally have broken out by mishandling inhame! Also do not eat raw inhame, it is only safe to be eaten when it's cooked.
Mandioca (also known as yuca or cassava)
This might be one of the more recognizable root vegetables. I use the words mandioca (Portuguese term) and yuca (Spanish term) interchangeably. Mandioca is a firm, starchy root vegetable with a waxy exterior. Yuca has a grainy texture and a mild taste.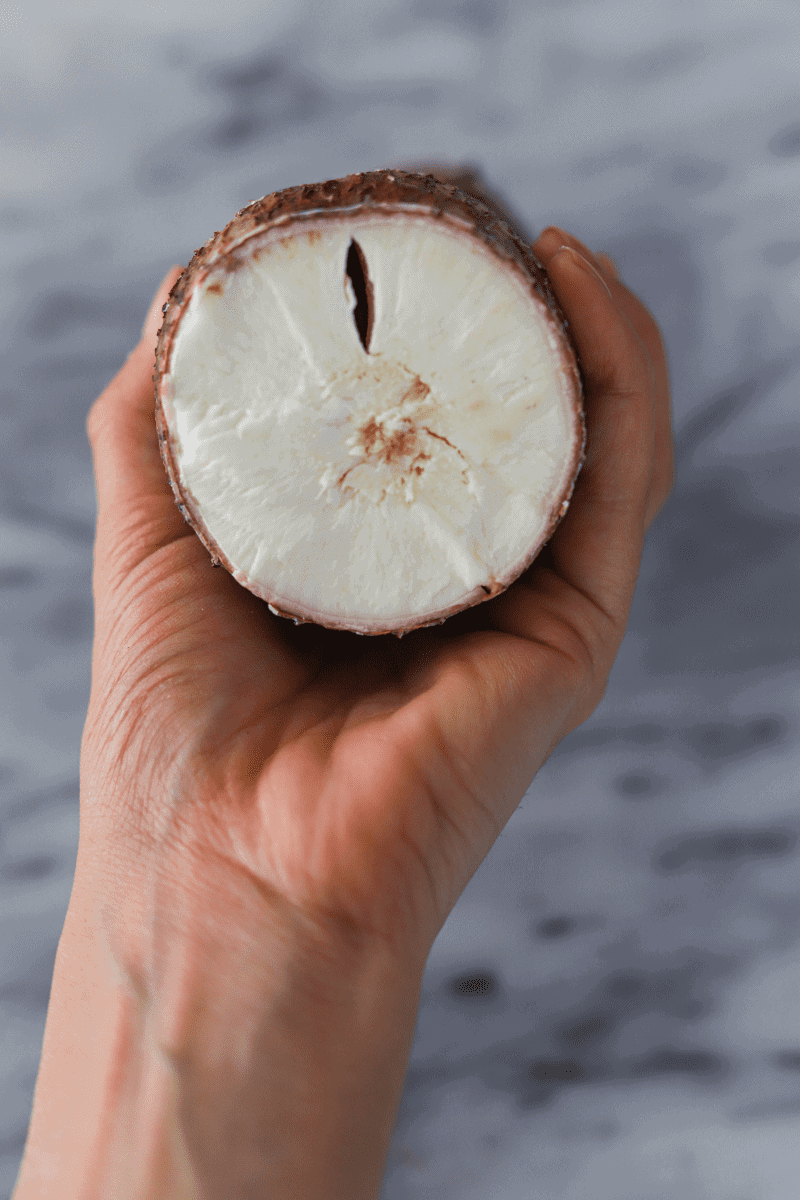 They're very firm and you'll have to apply some pressure when you cut them. A big sharp knife is recommended. They are surprisingly easy to peel though. I usually break the mandioca down into 3 or 4-inch chunks, and then split each down the middle. There's a slight seam where the skin meets the flesh of the yuca. Place the knife under the skin to loosen it from the flesh, and discard the skin.
Batata Doce (Japanese yam)
Batata doce translates to sweet potato which is confusing because we usually think of a brown potato with a sweet orange flesh when we say sweet potato in the United States.
What we refer to as batata doce in the context of Cape Verdean food is a vegetable with a reddish exterior and a slightly yellow flesh. It has a sweet, yet mild taste and can be peeled just like a regular potato.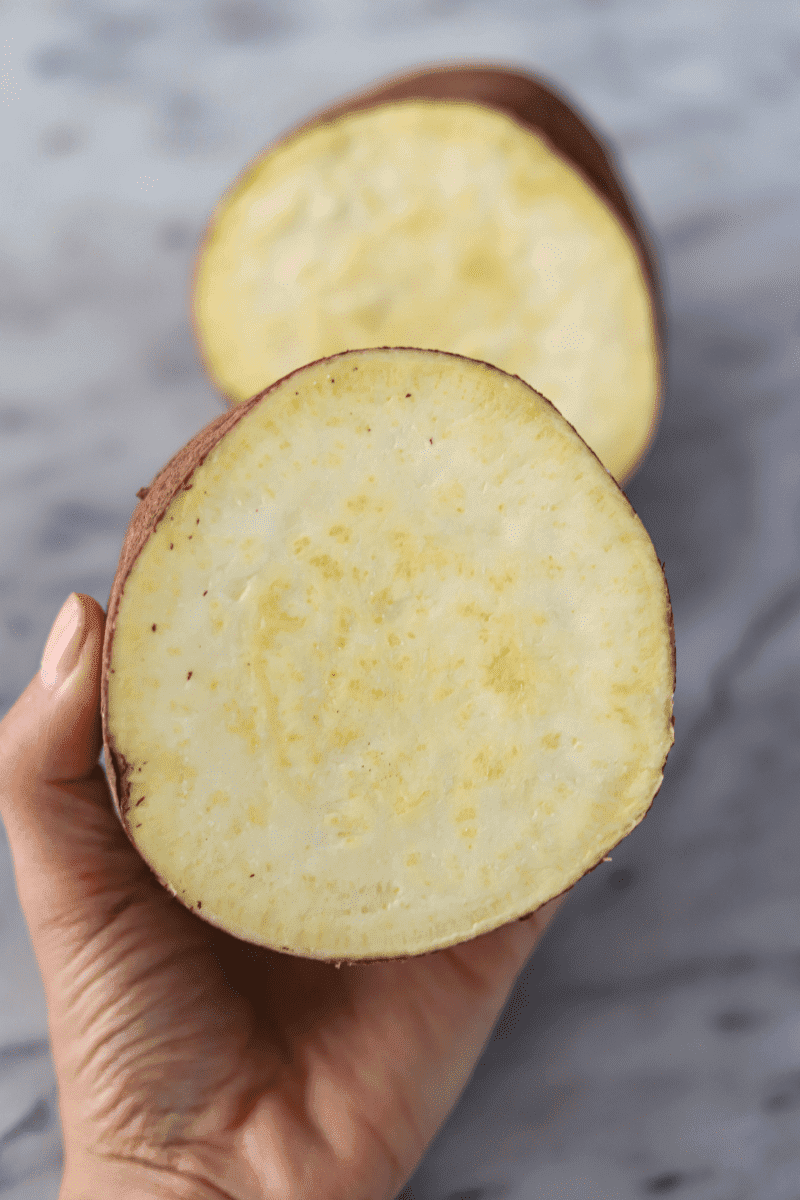 A few tips and tricks for making modje (goat stew):
Season the meat overnight in salt, pepper, paprika and crushed garlic. Letting the seasoned meat rest over night is key to developing the flavors in modje.
Sear your meat! Searing is an extra step that I recommend because it locks in the juices. It takes a little extra time but it's well worth it before stewing it. While searing, it's very important to sear at a high temperature and not crowd your skillet!
Use a 12 quart or 16 quart stockpot – I know 16 quarts seems excessive but it's a good size to have! I like to use a pot slightly larger than what I need to prevent the modje from spilling over.
Use what you can find and what you have space for in your pot. If you can't find inhame at your local store, it's not something that I would lose any sleep over. Also, there are times where I won't use an entire yuca or inhame due to space constraints. Yuca can be frozen for future use, so don't feel like you need to cram everything in your pot!
Add bananas, squash and root veggies at the same time! I know this seems counter-intuitive but this will allow the vegetables to break down and will give you a nice dense broth. I will admit that the broth in the photos is slightly thinner in texture than normal only because I didn't want the vegetables in the photos to look like mush! Expect the starches to break down, it will result in a thicker stew.
How to serve Modje (Goat Stew)
Modje can be eaten as a stand-alone dish, but it's even more delicious when served with an accompaniment like ralon (yellow grits, pronounced hello-n) or cherem (hominy porridge, if you will). Modje also goes well with a simple side of white rice.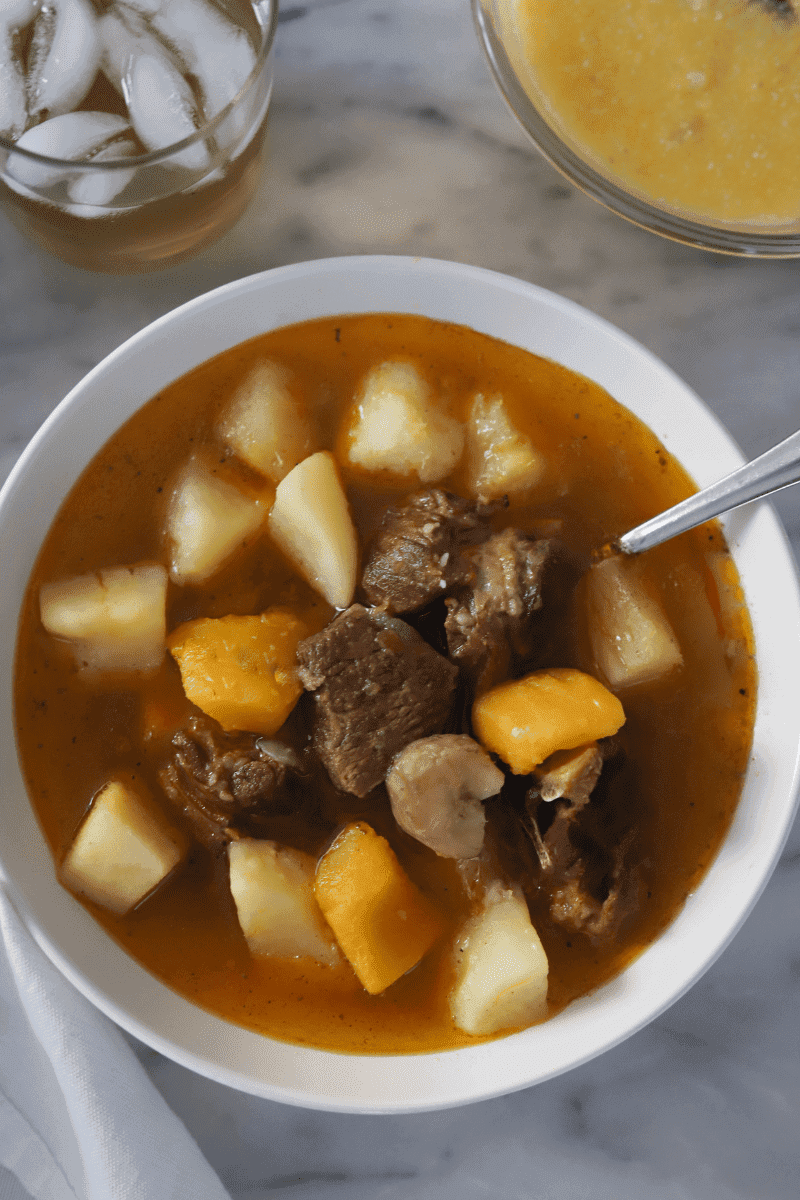 Storing and re-heating modje
Modje reheats very well, and leftovers can be kept for 3-4 days in the refrigerator. As I mentioned earlier, you could argue that modje tastes better on the second day, as the broth has a tendency to thicken in the refrigerator.
I'm going to go ahead and anticipate the question of whether modje can be frozen. Personally, I don't recommend freezing modje because I find frozen modje tends to get a bit gummy in texture. I think it may have something to do with the amount of starch in the dish. I personally have not had luck with freezing it.
Did you enjoy this Modje recipe?
If so, let me know in the comments! I would love to hear how you made out with the recipe! Don't forget that I have an entire collection of Cape Verdean recipes here!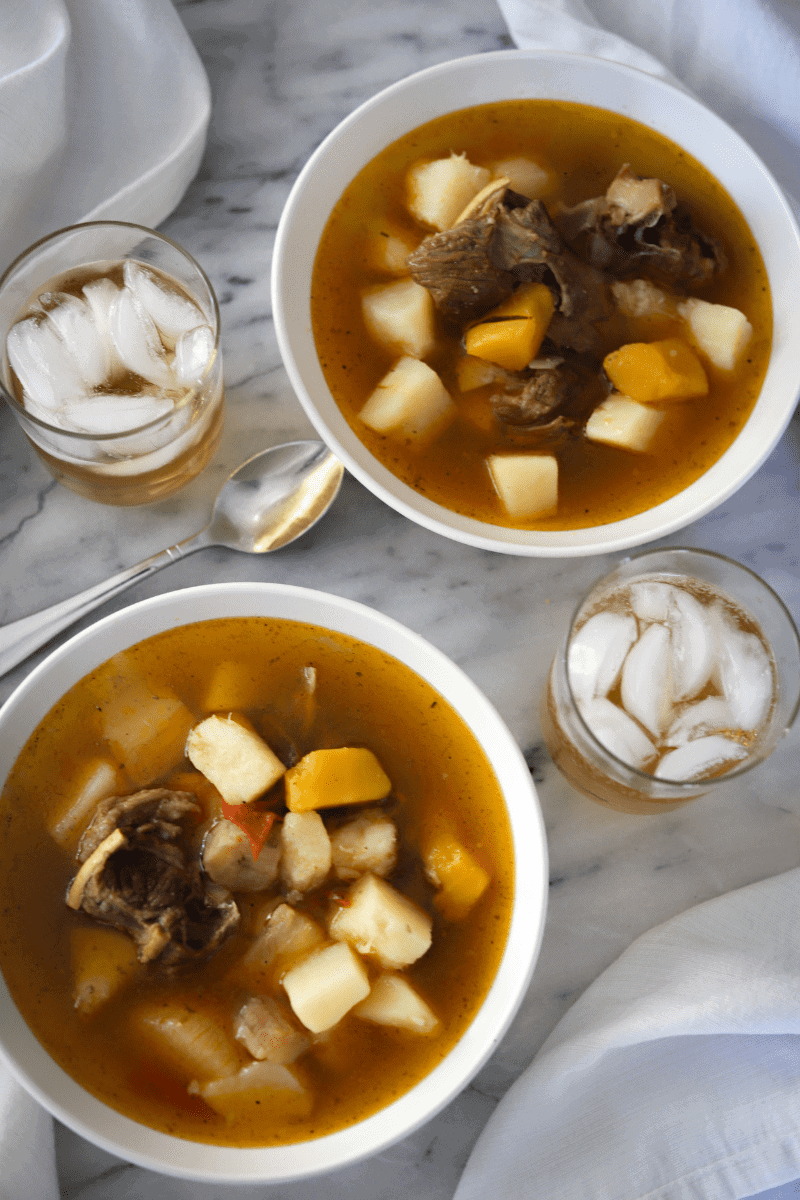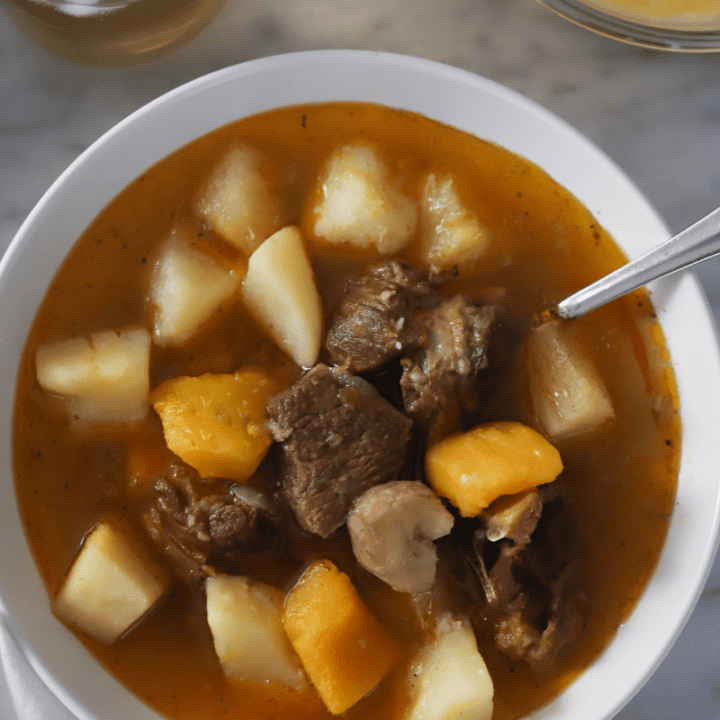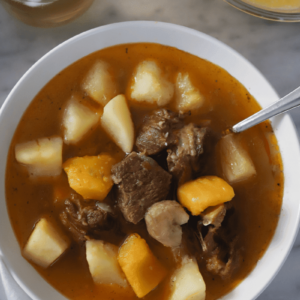 Modje de São Nicolau - Cape Verdean Goat Stew Recipe
Modje is a rich and hearty stew made of goat or lamb meat and root vegetables. It is commonly eaten on the island of S

ão

 Nicolau. Traditional modje is made of goat meat or lamb, but beef or chicken variations also exist. 
Ingredients
Stew Meat 
1 ½

pounds

of lamb

cut into cubes-bone in or boneless is fine

1 ½

pounds

of lamb

cut into cubes-bone in or boneless is fine
Condiments and Seasonings
1

lemon

juiced

¼

cup

white vinegar

½

teaspoon

of paprika

2

tablespoons

of crushed garlic

1

and ½ tablespoons of salt

plus more to taste

½

teaspoon

of black pepper

plus more to taste

2-3

tablespons of olive oil

divided

2

beef or chicken bouillon cubes

large sized cubes, they're usually sold in packs of 6

2

bay leaves
Vegetables/Starch
1

large yellow onion

1

small tomato

quartered

1

acorn squash

approximately 1 pound

1

medium sized batata doce

sometimes called a Japanese yam, approximately 1 pound

1

small inhame

African yam, approximately 1 pound

1

small yuca

mandioca, approximately 1 pound

1

large russet or Idaho potato

1 pound or larger

2

or 3 unripe green bananas
Instructions
Prepare your meat for seasoning: Place all of the meat in a large bowl, squeeze the juice from the lemon over the meat and pour the vinegar over the meat as well. Add enough water to cover the meat, give the bowl a stir and let the meat soak for 10-15 minutes. Drain and rinse the meat, make sure to drain all the water from the bowl.

Season the meat with paprika, crushed garlic, 1 tablespoon of salt, ½ teaspoon of pepper. Let marinate overnight in a covered bowl in the refrigerator.

Prior to searing the meat, remove it from the refrigerator. Drain and reserve any liquid from the bowl.

Sear the meat: heat 1-2 tablespoons of olive oil in a large cast iron or stainless steel skillet. Once the oil and skillet is very hot, sear the meat in batches, about 3 minutes on each side. Space your meat out so you don't crowd the pan, otherwise you won't get a good sear. Transfer the seared meat to a tray or plate.

Heat 1 tablespoon of olive oil in a 12 or 16 quart stockpot. Saute the diced onions over medium heat until soft. Add the quartered tomatoes, bay leaves and bouillon cubes and saute until the tomatoes are cooked down.

Add the goat meat, lamb and half a tablespoon of salt

to the pot and mix everything together. Add about 16 cups of water, cover the pot and bring to a boil. Once the pot reaches a boil, lower the flame and let simmer for 1 and ½ to 2 hours.

While the pot simmers, prepare the vegetables. Peel and cube the potato, Japanese yam (batata doce), and African yam (inhame), yuca (mandioca). Halve the acorn squash, remove the seeds, peel it and cut it into 1-inch cubes. Peel and slice the green bananas into rounds and set everything aside. You can cover the bananas and vegetables in water to prevent them from browning until you're ready to add them. 

After 1 and ½ to 2 hours of simmering, taste 1 spoonful of broth (allow it to cool slightly so you don't burn your mouth) and adjust the amount of salt to your liking. Feel free to add another bouillon cube if you wish but be careful not to over-season.

Add the banana, squash and all of the root vegetables (including the potato) to the pot. Cover and let simmer for 30-40 minutes, or until the vegetables are tender. If you want the starch from the vegetables to break down more, let it simmer for a little while longer until you are satisfied with the texture of the broth. Please note that modje thickens once cooled and stored in the refrigerator overnight. 

Turn the flame off and let  the modje rest (covered) for 15-20 minutes before serving, this step helps the flavors settle. 

Ladle the modje into bowls and garnish with chopped cilantro (optional) and a side of ralon (yellow grits) or a side of white rice.
Notes
You may need to adjust the amount of vegetables and meat to fit your pot
A 12 or 16 quart stockpot is recommended. Resist the desire to fill the pot up to the brim.
For thicker modje, allow the starchy vegetables to cook longer