I swear you guys, if I didn't love to cook so much I would probably order Chinese takeout every day. Ok, I'm exaggerating. That would be incredibly expensive and unhealthy. Yes, takeout is convenient but it also has it's many drawbacks. The biggest problem that I have with ordering takeout is deciding on what the heck I want! The first time I made these incredible orange-glazed sticky wings I was craving a bunch of things at once!
I couldn't decide whether I wanted plain Chinese chicken wings (you know the ones that are big and fried up super-crispy) or if I wanted sticky chicken or if I wanted orange chicken. I ended up deciding on all three. Because why wouldn't I smother some crispy wings in some orange sticky sauce?
Speaking of sauce…
Rest assured, I'm picky when it comes to orange chicken. I'm not just gonna feed you anything! I avoid food-court orange chicken at all costs. Not all orange sauce is created equal! The best orange sauce that I've ever had was at a local neighborhood spot that my Nana and I used to frequent when I was growing up. It was spicy, pungent and had pieces of the orange peel and whole Chinese chilies in the sauce. It was legit, and that's the type of orange sauce that we're making today!
A word of advice to you if you're gonna attempt this recipe. Don't skip the orange peel! It infuses the sauce with so much flavor! If you're sensitive to spice, fine. You have my permission to omit the chilies. But only if you really can't tolerate the heat! FYI-this is a spicy sauce in general so if you don't like spice, I urge you to proceed with caution, even if you're not using whole chilies.
The best time to prepare the sauce is right before you fry your chicken. This way, when you're done frying, you can just heat it up while the chicken is resting and it'll be nice and warm when you go to toss the wings.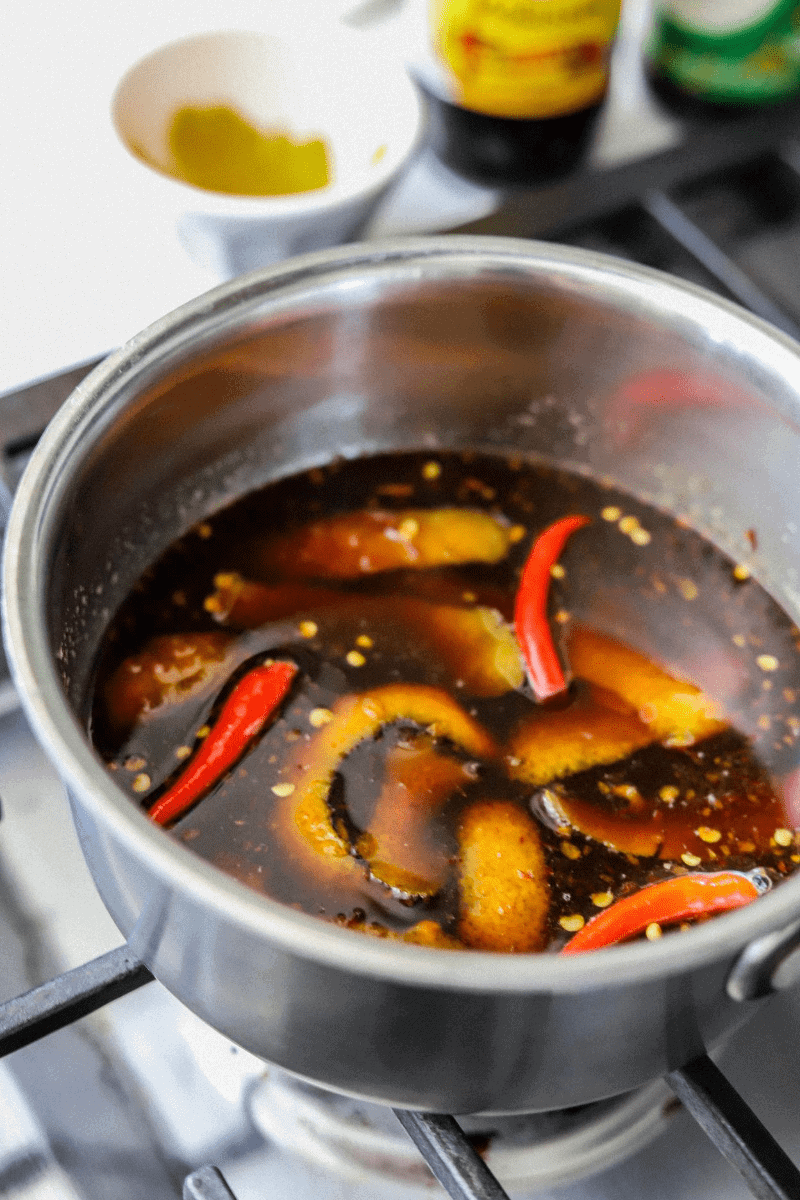 The sauce is really simple to make and only takes about 10 minutes. Molasses and soy sauce give this sauce it's dark, beautiful color. A cornstarch slurry (1 teaspoon of cornstarch and 1 tablespoon of water) acts as a thickener. The sauce will get darker in color and thicker as it cooks.
The wings!
Kind of crazy how we skipped right over the wings and started with sauce, but here we are. Use whole chicken wings! True take-out style wings are large and in charge, and full of juiciness! This is why I always recommend whole wings for frying. Obviously you won't break the recipe if you opt to use wingettes or drumettes, but I recommend using whole wings.
The wings need to soak in a simple marinade made of chili paste (sambal), fish sauce, toasted sesame oil, garlic powder and some kosher salt for a minimum of 4 hours. Marinating the wings overnight is best!
The wings are then coated with a dusting of cornstarch, shaken off, and deep fried in hot oil. Peanut oil is my go to for fried Asian dishes but if you're allergic, canola oil works just as well. I also recommend frying the wings in a 5 quart dutch oven or pot. You'll have to work in batches of 4 or 5 whole wings at a time. If you crowd the pan, the wings won't get as crispy.
If some of the coating comes off during frying, it's no big deal, the wings will still be crispy and delicious! Make sure to turn them at least once to ensure that they get crisp and golden on all sides.
Fry your wings for about 10 minutes to ensure that they get nice and crunchy and that they cook all the way through. A cooking thermometer will register at 165°F when they're done. I'd be really surprised if your wings aren't fully cooked after 10 minutes of deep-frying.
Transfer the chicken wings to a wire cooling rack, and let them rest. Try to space them apart, instead of piling them on top of each other to cool. This will prevent them from getting soggy! Reheat the sauce (if needed) while the chicken wings rest.
The finishing touches
Place the chicken wings in a large bowl and pour the sauce over them. You can flip the wings by shaking the bowl, or you can use a set of silicon tongs to toss the wings with.
Once the wings are evenly coated, arrange them on a serving dish or platter (now it's ok to pile them up!). You can drizzle or spoon any remaining sauce over the wings, and garnish with the cooked orange peel and Chinese chilies. Top the wings off with some thinly-sliced green onions and a sprinkle of sesame seeds.
Trust me, you're gonna love these crispy, spicy, orange-glazed sticky wings!
You might just finish them all without sharing! They're that good!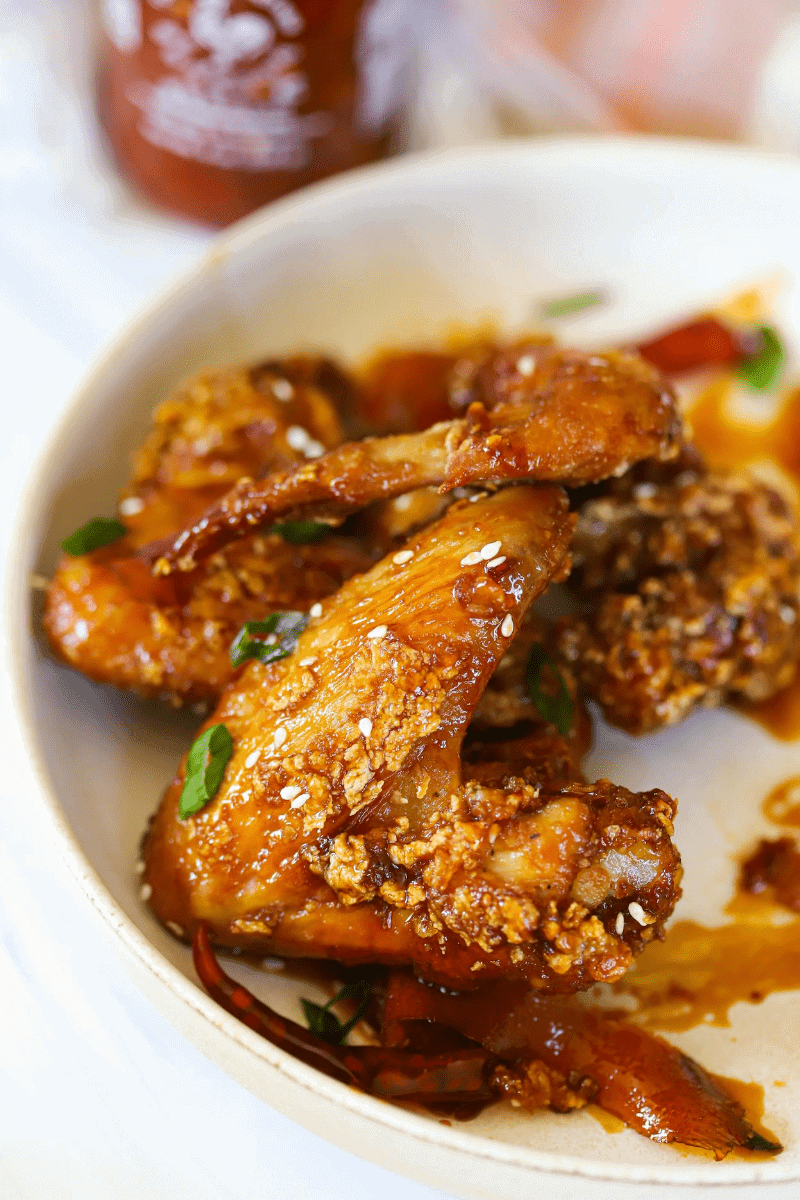 If you want to suck on the orange peels and lick your fingers, go ahead! I won't judge!
If you make this recipe, let me know in the comments and be sure to give it a star-rating below!
Crispy, Spicy Orange-Glazed Sticky Wings
Course: Main
These orange sticky wings are tossed in a sweet and spicy orange glaze that's infused with fresh orange peels and Chinese chilies!
Ingredients
Chicken Wings

8-10 whole chicken wings

1 cup cornstarch

2 teaspoons kosher salt

4 cups peanut or canola oil (for frying)

Marinade

3 tablespoons fish sauce

2 tablespoons sambal (Indonesian chili paste)

3 teaspoons toasted sesame oil

2 teaspoons garlic powder

1 teaspoon coarse kosher salt

Orange glaze

2 whole navel oranges, juiced (this yields about ⅔ cup of juice), reserve the peel

¼ cup honey

⅓ cup molasses

2 tbsp. fish sauce

1 tbsp. soy sauce

1 tbsp. sambal oelek (or any brand of Indonesian chili paste)

1 teaspoon cornstarch mixed with 1 tablespoon water

½ teaspoon toasted sesame oil

Optional: 3 small Chinese chilies with stems cut off

Garnish

1 tsp. white sesame seeds

1 sliced green onion
Directions
Marinate the wings by combining the fish sauce, sambal (chili paste), sesame oil, garlic powder and salt in a medium-sized measuring cup and whisking the ingredients together. Place the wings in a large bowl or zip-loc bag, and pour the marinade over the wings. Toss until the wings are fully coated. If using a bowl, cover in in plastic wrap. Let the wings marinate in the refrigerator for 4 hours, or overnight.
Juice the oranges. Peel one of your oranges (lengthwise) using a vegetable peeler, and set the peel aside. Halve both of the oranges and use a juicer or press to extract the juice from them.

Prepare the sauce by whisking the juice, orange peels, and remaining sauce ingredients together in a small saucepan, over a medium flame. Don't forget to add the chilies! Once the sauce starts to simmer, turn the flame down very low and let the sauce simmer for about 10 minutes, stirring occasionally. The sauce will get thicker and darker in color as it cooks. Once the sauce is done, turn the flame off and cover the pan with a lid to keep the sauce warm.
Heat 2 cups of peanut or canola oil in a 5 quart dutch oven, while the sauce cooks. While the oil is heating, whisk together the cornstarch and kosher salt in a large bowl. Once the oil reaches 350°F, proceed to the next step.
Dredge the wings in the cornstarch/salt mixture one by one, dropping each wing into the oil immediately after it's coated. You can gently shake off any excess cornstarch before dropping the wing into the oil. You want to fry about 4 wings at a time so they don't crowd the pan.
Deep-fry the wings for 10 minutes, flipping them about half way through, so both sides get golden and crispy. Wings that are completely cooked through should register at 165°F using a meat thermometer. Be sure to probe the meatiest part of the wing for an accurate reading.
Transfer the wings to a wire cooling rack, and let them rest for about 5 minutes. (Place your cooling rack in a baking pan to catch the oil.) While the wings are resting, re-heat the sauce if needed. You can remove the orange peels and chilies from the sauce and discard them if you wish, or you can keep them in.
Coat the wings in sauce by placing the wings in a large bowl and pouring the sauce over them. Toss the wings until they're fully coated in sauce. Transfer the wings to a serving dish and garnish them with a sprinkle of sesame seeds and sliced green onions.
Check out these other recipes!
Simple and Spicy Shrimp Pad Thai
Spicy Fried Chicken Sandwich – 3 Ways
Lemon-Roasted Chicken with Garlic and Sage
Don't forget to save this recipe to Pinterest!