Tomato-lovers: I see you! Technically, bruschetta simply means 'grilled bread' in Italian, but we all know the word has kind of become synonymous with tomatoes. Lots, and lots of juicy tomatoes. If it's one thing I get super-excited about, it's fresh fruits and vegetables. I'm not a vegetarian by any means, and I'm not super-health obsessed either. I just love fresh produce. It excites me and no one seems to understand it. So when I was introduced to bruschetta years ago, I instantly became obsessed. It's like a veggie-nerd's dessert, only tomatoes are technically a fruit. If you're a nerd like me, you already knew that! Nerd things aside, first thing we're gonna do is address all of the combinations going on with this dish!
First, you have the combination of fresh, simple ingredients: fresh vine tomatoes, basil, roasted garlic, salt, pepper, olive oil and balsamic. You really can't get any more basic than this. When it comes to flavor, simple is always best! Masking your ingredients is a huge no for me in cooking. Let the beauty of those ingredients shine by selecting produce that is fresh! Your bruschetta is only going to be as good as the tomatoes you choose, so make sure to choose wisely! Both vine-tomatoes and Roma tomatoes work very well in this recipe, so aim to buy those if you can. Kumato tomatoes would be my next choice if vine or Roma aren't available, they are more brown in color but just as delicious and just as beautiful!
The next combination that we need to address is the combination of flavors! My bruschetta has both salty and sweet boxes checked! The saltiness comes from the crispy-flatbread that's brushed with olive oil and sprinkled with sea-salt. All of the sweetness is naturally found in the tomatoes, roasted garlic and balsamic vinegar. I'm no food scientist so I'm not sure why the combination of salty and sweet is so palatable, but it's just one of those things we don't even need to question, we just know it works.
The final combination is the combination of textures! The crispy flatbread (or whichever bread you use) is complemented by the softness of tomatoes. The balsamic vinegar and oil also work together to tame some of the flatbread's crispiness and deliver an absolute treat with a nice bite!
My baby girl Simone and I love to share this recipe during the week. I'm gonna put a very loose definition around the word "share" because she loves to hog this stuff, but I appreciate that I have a fruit and tomato-lover to share my love for bruschetta with. My son on the other hand, won't touch anything that resembles a vegetable with a ten-foot pole! In time, he will learn!
So there you have all the reasons why bruschetta is so stinking good! What makes it even more enjoyable, is the fact that it's so quick and easy to make! Simply roast the garlic, toast up your flatbread (or you can opt use ciabatta or crostini), cut the vegetables and toss 'em up in some oil and balsamic vinegar! Scoop a generous helping onto each piece of whichever bread you opt to use, top with freshly-grated cheese and lunch is served in about 25 minutes!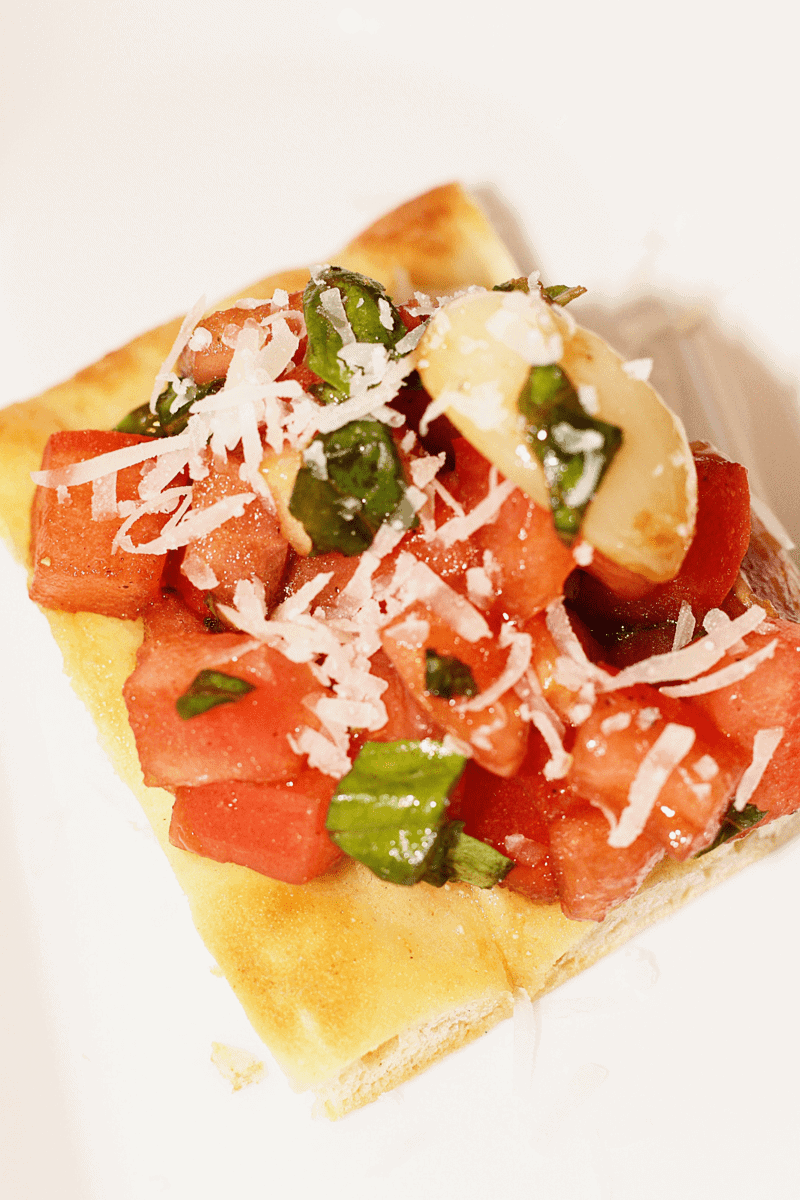 Tomato, Basil and Garlic Bruschetta
Bruschetta is quick, easy and perfect for sharing! Toasted flatbread is topped with tomatoes, basil, roasted whole garlic cloves, and grated romano cheese!
Ingredients
1

pre-made flatbread pizza crust

cut in half

4-6

cloves garlic

2

roma or heirloom tomatoes

8-10

fresh basil leaves

4

tablespoons

olive oil

divided

2

tablespoons

balsamic vinegar

salt and pepper

to taste

¼

cup

pecorino-romano cheese

freshly-grated, for topping
Instructions
Roast the garlic
Preheat oven to 400° F.

Use the flat edge of a kitchen knife to press on each clove of garlic to remove the peel.

Arrange the garlic cloves on a sheet of foil and drizzle 2 tsp. of olive oil over the garlic and fold the foil into a little packet.

Place the packet on a small baking sheet and roast in the oven for 15 minutes.
Prepare the flatbread
While the garlic is roasting, remove the flatbread from the package and place on a baking sheet.

Brush the flatbread with 2 tbsp. of olive oil and sprinkle with a pinch of salt and bake according to the package instructions.
Prepare the tomatoes and assemble
While the flatbread is baking, chop the basil, dice the tomatoes and combine in a bowl.

Add 2 tbsp. olive oil, the balsamic vinegar, salt, pepper, and the roasted garlic to the bowl with the basil and tomatoes and toss until combined and all of the ingredients are coated.

Once the flatbread is done baking, remove from oven, let cool slightly and cut into 2×3 inch rectangles.

Top the flatbread pieces with a generous scoop of the tomato mixture, sprinkle with freshly grated Pecorino-Romano cheese and serve!
Notes
Ciabatta and Crostini seem to be more widely used for traditional bruschetta recipes and can be used instead of flatbread.
Just brush with olive oil and toast until golden and crispy.
Nutrition