When I tell people that I'm traveling to Walt Disney World as a single parent, they either call me brave or crazy. I'd like to think I'm more brave than crazy though! My kids are 1 and 4, and I've done Disney alone with them several times! I'm here to show you how it's done! For the purposes of this post, the term "single parent" simply refers to anyone doesn't have another adult present to help you manage the kids. Within this context, single parenting at Disney has nothing to do with marital status!
It's easy to feel like you're the only single or solo parent at Disney, but believe me you are not! Do not feel weird or out of place! I commend you for braving the parks on your own! Not only have I survived each of my trips, I thoroughly enjoyed each of them! Despite what anyone thinks, single-parent travel isn't crazy! It's a great opportunity to bond with your kids, so if you're down for it then do it! The key to surviving Disney as a single parent is proper planning, setting realistic expectations, and having patience!
If you won't be traveling alone, and are still reading this post, good for you! It's always nice to have another adult with you! My child-friendly tips will help you too, regardless of how many adults are present! Here are some reasons why Disney World is totally do-able as a single parent, and some tips to help you manage your little ones!
1. Disney is kid and family friendly!
This one seems majorly obvious, but Disney was made for families with children, even the single parent ones! You'll never feel awkwardly out of place with a baby or toddler. Each park has rides and attractions suited for every age group, including babies. The entire property is kid and stroller friendly, which we'll get into later on in this post!
Each park has a Baby Center
If you have a baby or toddler, make use of the Baby Care Centers! There's a Baby Care Center in each of the Walt Disney World parks (except for the water parks). Each Baby Center is equipped with a private nursing/feeding area, changing tables, a women's restroom, and a microwave and sink. There's also a TV area with tables and chairs to keep little ones entertained. A full service shop sells necessities like formula, baby food, diapers, wipes, and clothing. There's only one Baby Care Center at each of the parks, but all public restrooms on Disney property have changing tables, so you can change your kiddos anywhere!
Melt-downs are not uncommon!
As a single parent at Disney, tantrums can be especially difficult and frustrating to manage. You can rest assured knowing that tantrums and melt-downs happen like every minute of every day here. Luckily, cast members are super-helpful at cheering your little ones up! Even fellow Disney patrons will likely be un-bothered by your kids' uncooperative behavior. If anything, most of them can relate to dealing with an over-tired, over-stimulated child! Baby Care Centers can be the perfect retreat to take a cranky baby or toddler for some quiet time. Remember you can leave the parks and re-enter on the same day if you feel that your kids need a total break from the parks or a change of scenery.
2. Kids under 3 are free!
If you have itty-bitty kids, you're in luck! Kids under 3 get to enter the parks for free! This makes Disney totally do-able with small kids! This is probably the only time in your life when you'll appreciate having a free-loader on your hands!
As magical as Disney is, make no mistake, it's expensive! Not having to pay for park tickets for everyone in your family frees up some serious cash in your budget! As your kids get older, they'll require park tickets and the cost of your Disney vacations will increase exponentially. Enjoy this time while they're young! Another huge bonus for families flying within the US, is that children under 2 can fly for free on your lap up until their second birthday. This means that their whole trip is basically free!
A lot of people choose to wait until their child is at least 5 to take them to Disney, which I can totally understand. Most people figure pre-school aged kids will have very few, if any memories of their trip. While this is point of view is valid, it's also entirely personal. While some children retain early childhood memories, others don't. My son remembers his trip from when he was 4 quite clearly. Even if he doesn't have any memories of visiting Disney at 4, I will! That, itself makes it worth it to me. The best advice I can give you is to use your own reasoning when determining whether a trip to Disney is right for your young family.
I won't argue that handling a child under 5 at Disney is challenging. However, if you love Disney and want to visit, then go for it! On the other hand if you think you and your child are not ready, I suggest holding off until they're older, or at least express interest in going. Either way, whether to take your children to Disney World at a young age is a personal decision. There's no right or wrong answer!

3. There are food options for everyone!
When it comes to eating at Disney, I do a lot of it! There really is something to eat for everyone! I make it very clear to anyone that I'm traveling with that I'm largely at Disney for the food, and that we'll be making frequent stops for food!
What I largely enjoy is the variety of dining options. There are table-service restaurants for people who love to dine like me. There's also counter-service for those who want a quick meal. There are great snack options that appeal to everyone, and character meals for the kids. Character meals are also great for parents who don't want to stand in line forever to meet with characters!
Character Meals
I make it a point to book at least 1 character meal while at Disney. If your kids are excited about meeting characters, you'll knock out 2 birds with 1 stone. Your kids will be entertained while getting a meal in! The character interactions are brief, but you'll get pictures and autographs at the convenience of your table. I prefer family-style character meals because they are all-you-can-eat, and the food is brought to your table. Certain restaurants, like O'hana, offer family-style character dining. Buffets can be super-tricky for one adult to manage with little ones. This is why I prefer family style when I'm a single parent at Disney.
Outside-food policy
For those of you not interested in eating at Disney for whatever reason, you're still allowed to bring food and non-alcoholic drinks into the Disney parks. Most people aren't aware that you can do this, since most other theme-parks don't allow outside food. Food and beverages just need to be in non-glass containers to be brought in. If your reasons for not wanting to eat at the parks is due to budget, I get how this can be a concern, especially when you're the only paying adult. If it's because you have very low expectations when it comes to park food, Disney food is different! Check out the Disney Food Blog for everything related to Disney food! I urge you to try at least one snack during your visit! You won't be disappointed!

4. Disney is stroller-friendly.
I know better than anyone that strollers are bulky and a pain to set up and break down. At Disney you'll want to have a stroller though, especially as a single parent. I recommend bringing at least an umbrella stroller to Disney if you've got a kid under 6. You're going to do a lot of walking and your kid will get tired at some point. With a 1 year old and a 4 year old, a stroller is a must for me. Even the most energetic toddlers will start dragging by the end of the day and will eventually ask to be carried. No thank you. Little ones also have a tendency to get excited and run off, so a stroller can help keep them contained, and double as a place store all of your things!
Buying vs. Renting
I'm not telling you to buy an expensive stroller before your trip. You can rent one. If your kids don't normally use a stroller, there's no use in buying a new one specifically for this trip. That said, renting a high quality single or double stroller isn't cheap either. I generally pay anywhere from $65-$75 to rent a double from Disney's featured provider for about 5 days. Scooterbug is currently the only provider that Disney will let drop off or pick up at their resorts without you having to be present. You can also rent strollers in the parks for $15 a day, but they're less comfortable and you can't leave the parks with them.
Stroller Parking
Conveniently, every attraction has stroller parking near by. I've left my stroller parked hours at a time to come back my things untouched. Obviously exercise good judgment, and never leave wallets and phones out in plain sight. Cast members and other Disney visitors may re-position strollers occasionally to make room for others.
I need to warn you that managing a double stroller and 2 little ones does get tricky. First of all, they're bulky and pushing one through large crowds isn't fun. People don't like to be bumped with a stroller, but most are forgiving. You'll also need to fold up your stroller before getting on any of the resort shuttles. This can be tricky if you're by yourself with little ones. Don't be afraid to ask other adults or cast members for help if you're traveling alone. Most people will offer their help anyway!

5. There are 4 parks, choose wisely!
There are 4 parks at Disney World (this doesn't even include the water-parks) so you'll never run out of things to see and do. On the same token, don't feel like you need to visit all of the parks in one trip! Be strategic when selecting your parks, and keep in mind the ages of your children. Disney's website has a really helpful guide to planning your trip with pre-school aged kids.
If you're planning a short trip with little ones, it may be a good idea to spend 2 days at Magic Kingdom. It's a big park that has lots of attractions for pre-school aged kids, with no height requirements. Again, don't feel like you need to visit all of the parks in one trip! Our first trip to Disney World was short, and we visited all 4 parks in 5 days! I got burnt out even with another adult present. Doing research in advance will help you determine which parks have attractions that your kids will get the most enjoyment from.
Here are a few highlights of each park to help guide your decision:

Magic Kingdom:
This is my go-to when I'm the only adult on the trip with 2 little ones. In my opinion, the Magic Kingdom has the biggest variety of rides that are suited for babies and small children. When you can ride all together, it's easier to manage expectations with kids of different sizes. You'll also have plenty of opportunities to meet with characters in the Magic Kingdom! There really is something for everyone here. Just beware that generally, this is the most crowded park. You may want to plan to arrive early to get some rides in before peak times, or avoid going on weekends.
I need to mention that this park is full of tasty treats, and it has amazing scenery! Main Street is easy to rush past when you're eager to get to the attractions! Do yourself a favor and take a few minutes to take in this beautiful and nostalgic setting! Main Street has so many vintage shops, restaurants and photo-ops. It's also prime-seating for parades! It's just as beautiful at night, and easy to overlook when you're trying to exit the parks! Try to make it a point to enjoy its beauty at least once during your visit!
One last note, the Magic Kingdom is huge. It's made up of 6 lands and it can take you more than one day to see everything. This is especially true if you have little ones with you. I'm old-school so I always grab a map when I enter the parks at Disney. It helps me visually make sense of where I'm going and map out my day. You can also download the My Disney Experience Mobile App to help navigate the parks and manage your itinerary. I like using a paper map to conserve my phone battery.
Animal Kingdom:
This is the runner up in terms of little-kid friendliness. This a great park for little kids because there's plenty of attractions without height restrictions. The Killamanjaro Safaris attraction is a live-animal experience that can be enjoyed by riders of all heights. You'll get a unique experience depending on the time of day! You could ride at different times of day if the wait time is tolerable and your patience will allow. Getting a Fast Pass, or riding during non-peak times may minimize your wait time.
As a parent traveling solo, I thoroughly appreciate the interactive shows and live character experiences. My kids stay entertained and the shows keep me off of my feet. Little kids love the Festival of the Lion King and the Hakuna Matata Dance Party. Donald's Dino Bash and meeting Mickey and Minnie at the Adventurer's Outpost are a few character experiences that are worth checking out. If your kids schedule allows, check out the Rivers of Light Nighttime Show that takes place in the evening.
For those of you that are lucky enough to be traveling with another adult, the Avatar Flight of Passage, Kali River Rapids and Expedition Everest are all incredible experiences. If you can't ride, at least walk through each of the lands in Animal Kingdom just for the sights and food! The Animal Kingdom is full of great quick-service, table service restaurants and snacks!
Epcot:
If you're a foodie, you'll love the World Showcase in Epcot. For this very reason, I can honestly say that Epcot is my favorite park. I kind of regret skipping this park on my last trip! In hindsight, it would have been a great low-key park for my kids and I to enjoy.
I'll advise you that in Epcot's current state, your itinerary may not be jam-packed if you have small children with you. This will all change later in 2020 though. For now, Epcot is a great low-key park which might be just what you need with little ones. This is a very walk-able park, with plenty for your kids to see, like the Seas with Nemo & Friends, the Frozen Ever After Ride and the Gran Fiesta Tour Starring The 3 Caballeros. Epcot also hosts festivals year-round. Each festival has a unique set of featured displays, exhibits, and culinary treats.
Epcot will be undergoing a complete transformation in 2020, which will bring more little-kid friendly rides and attractions. New additions to Epcot will include a Mary Poppins-themed attraction, Remy's Ratatouille Adventure, a Beauty and the Beast Sing-Along, and Journey of Water inspired by Moana.
Finally, the more popular attractions at Epcot like the Test-Track and Soarin' are really fun but not suited for babies and toddlers under 40″. If you don't have another adult with you, you may need to skip these attractions, but there's plenty to eat, see and do within Epcot!
Hollywood Studios:
Hollywood Studios is one of the most thrilling and exciting parks at Disney if your kids are big enough for the attractions. My family loves this park but on our most recent trip we skipped it, because I felt like I needed another adult with me to get the full experience. I'm not saying this Disney park isn't do-able if you're a single parent with a baby. I just felt that we'd have more to do at the other parks.
Toy Story Land was recently added to Hollywood Studios, which is perfect for little kids. The Slinky Dog Dash and Alien Swirling Saucers have a 32″ height requirement, though. Toy Story Mania, doesn't have a height requirement. Because my daughter is under 30″, we wouldn't have been able to ride the Slinky Dog Dash or Alien Swirling Saucers. This is something you will want to factor in if you are traveling alone with kids of different ages.
If you're still set on doing this park as a single parent with a baby or small toddler, the Animation Courtyard is a great place for you to spend some time. Your little ones can meet with Disney Junior Characters, and live it up at the Disney Junior Dance Party. There are also plenty of live-shows to keep them entertained. Beauty and the Beast Live on Stage, The Voyage of the Little Mermaid, For the First Time in Forever: A Frozen Sing-Along Celebration and Muppet Vision 3D are a few.
Now on to the exciting stuff! Lightning McQueen's Racing Academy just opened up and its for riders of all ages, so definitely something you and the little ones/babies can enjoy! Mickey and Minnie's Runaway Railway is scheduled to open in early March of 2020 and has no height restriction. Star Wars Galaxy also just opened in 2019, so make sure to check that out if you're into that. A lot of the Star Wars attractions do have a height requirement, and you should also anticipate large crowds.
Lastly the food! Woody's Lunchbox is in Toy Story Land and has great snacks for little ones. They also serve breakfast and lunch. The Lunch Box Tarts (think toaster pastries) seem to be a huge hit with everyone! There are other quick-service and table-service restaurants in Hollywood Studios. Sadly, I really didn't prioritize eating during my last visit to this park, but I do have plans to go back and check out a few table-service restaurants like the Prime-Time 50's cafe, the Sci-Fi Dine-in Theatre, and Hollywood & Vine.
Parks Summary
That pretty much completes my highlights, but make sure to check out Disney's website for a complete overview of all of the attractions and dining options by park. My quick overview doesn't even scratch the surface of all that Disney has to offer. My highlights were mainly to give you a glimpse of which attractions/parks are recommended when you're doing Disney as a single parent. The Disney Food Blog is a tremendous resource for all things Disney-food related and Disney's website has a ton of resources for helping you plan your trip!

6. There's so much to do outside the parks:
Now that we've covered all that there is to do inside the parks, let's talk about all the fun there is outside the parks! You don't need to visit/pay for a park ticket for every day of your stay! For our last trip we had 2 "rest" days that were much needed and so much fun! I actually enjoyed my rest days just as much, if not more than being inside the parks!
Non-park days are so necessary! Let me repeat that: "Non-park days are so necessary"! If you're traveling to Disney as a single or solo parent, you'll definitely need some low-key days away from the parks.
Resort Hopping
I really love to explore the resorts, schedule dining reservations and visit Disney Springs on the off days. Your wallet will enjoy taking a break from buying a park ticket! Make sure to watch the weather on the days leading up to your trip, and pack your swimsuit and layers. On our most recent trip, the temperature reached 80 in December and we regretted not bringing swimsuits!
Each of the resorts are unique and you can dine at any of them without having to be a guest. You should book dining reservations in advance to secure your spot though. Also, you can only swim at the resort that you're staying at! During the winter holidays you need to check out the Christmas decorations at the resorts. We went to the Grand Floridian and the Polynesian and the resorts looked incredible!
Disney Springs!
Disney Springs is a must of you're looking to take a break from the parks but are still looking for dining, shopping and entertainment. It's situated on the waterfront and has more than 100 shops and slightly more than 60 places to dine. Whether you're looking for a full-service restaurant, a quick counter meal, or just a snack, there is plenty to choose from. There are also attractions, shows and events to keep you busy, if you're looking for more to do than people-watch. Our favorite attraction was the massive Christmas Tree Trail that didn't cost anything to see!
Just a word of caution: if you go on a Saturday during the holidays it is crazy-busy and super-crowded! Still worth a visit in my opinion, but there were so many people and very long bathroom lines! Next time I'll definitely try going during the week!

7. You can keep your kids on a schedule and set your own pace!
I can totally relate to wanting to see and do it all, but you really need to keep your kids' schedules in mind. Especially when you're a single parent at Disney World! My kids don't have a strict schedule, and their bedtime varies from night to night. Believe me, my kids can hang. However, this does not mean we should be leaving the parks at mid-night or scheduling dinner reservations for 10pm. Yes, your family is on vacation and your schedule may shift a little, but for your own sake, don't try to attempt the impossible!
If your kids get hungry, tired, over-stimulated etc. take a break! Ignoring their needs is not only unfair, it's also setting yourself up for failure! In most cases, your plans can be moved. Don't forget that you can go back to your hotel and rest, if you want to. I'm lucky that my kids are great nappers and sleep just fine in their stroller. Use their nap time to your advantage! Use your down-time to check your phone or grab a snack! If you're debating on going back to your resort, you'll want to factor in where you're staying. Staying on Disney property allows for an easier trip back to your resort, but some of the value resorts and off property-resorts take longer to get to.
Honestly guys, I'm not just saying this just to say it. An itinerary is great to have, but don't be so rigid that your trip becomes un-enjoyable! Kids are kids and unpredictable things happen! Let go of the idea that you have to see and do everything! You'll have a much more relaxed and enjoyable your trip if you do this. Remember that for the purposes of this post you are a single parent! Disney is a lot to manage on your own! Your kids are outside of their normal schedule/environment. You don't have the same amount of control as you normally do over every-day situations.
8. Disney has ample transportation
Ok, so here's the reason why Disney World my go-to when I travel alone with my kids. They make it super-easy to get around without needing a car seat! Last time we stayed off-property, I had to carry a stroller, 2 car seats and luggage while managing 2 kids! The hotel I was staying at didn't have an airport shuttle which made things even harder. Imagine having to carry all that stuff by yourself!
Needless to say I did it, but it wasn't easy and I knew I wasn't doing that shit again! Sure, I could have rented a car at my destination, but I just didn't want the added cost! Overnight parking at Disney isn't free. It also costs extra to add car seats to your rental reservation. This factored heavily into my decision to stay on-property on our most recent trip.
Disney's Magical Express
Let me tell you, Disney's Magical Express made this past trip so much easier. I didn't even know about one of the most useful perks until I called to make airport-shuttle arrangements! When you schedule your Magic Express pickup prior to your trip, Disney mails you tags affix to your checked bags. When your checked luggage arrives at the Orlando International Airport, a Disney cast member will retrieve your luggage at the airport for you! Single and solo parents, let's rejoice!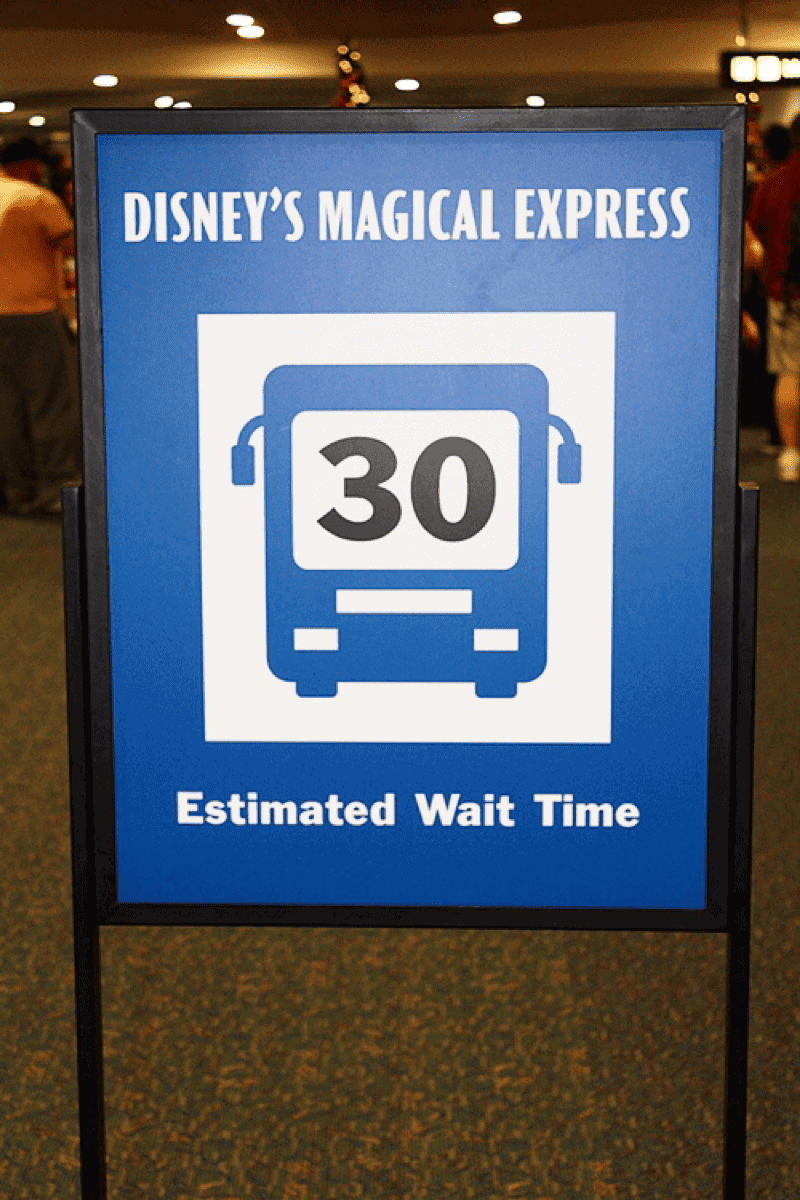 The Magical Express baggage service took so much anxiety out of flying and arriving at Disney that I recommend it to everyone. This makes it so much easier to visit Disney as a single parent. It made my trip so worth the extra money that I put into staying on Disney property. Honestly, the value resorts at Disney don't cost much more than other local hotels. You should definitely have your booking agent price one out for you when you're planning your trip. You can also book your own trip through the Disney Parks website.
On-Property Transportation
Disney on-property transportation is pretty convenient. A lot of people complain about the Disney shuttles being slow and sometimes unreliable but believe me they're not awful. And they're free! The buses depart from the parks to the resorts and vice versa about every 20 minutes. What slowed me down the most, was lugging a huge double stroller. If your kids are bigger and you don't need a stroller, the shuttles are a piece of cake!
If you're staying at a resort on the monorail line, you're even better off! You don't even need to fold up your stroller to get on. You can walk on with your kids seated in the stroller, which I love. If you're going during a crowded season, you may need to wait for a monorail car that has space. Luckily I didn't have any issues finding a car with space during my last trip in December.
Overall, the Disney-provided transportation is pretty good and you won't need car seats. The buses can be slow and delays do occur, so just remember to give yourself plenty of time to get to where you need to go. Of course, nothing beats having your own car or a rental, but for those of us who could do without the extra expense, the Disney shuttles will do just fine!
Lyft and Uber
Lyft and Uber are super-quick, and can be an affordable way to hop from park to park, or from your resorts to the parks quickly. The only downside is that if your kids require car seats, you either have to bring your own or need to request them through the app and pay extra. Since my kids both require a car seat, I couldn't for the life of me figure out how to request a car with 2.
Another drawback of this service for me was that the prices fluctuate depending on demand, so if you need one at peak-times you'll be paying more. When my kids get older and no longer require a car seat, I'll definitely be Lyft'ing and Uber'ing more while at Disney. It really helps with getting to where you need on time!
Minnie Vans
If you have little ones requiring car seats, then Minnie Vans are the perfect service, only drawback is how expensive they are! Minnie Vans are Disney owned, but the program is powered by the Lyft app. Minnie Vans are driven by Disney cast members, so the service is top-notch. You can request up to 3 car seats, and they accommodate up to 6 passengers.
I used the Minnie Van service one time during my last trip to get from the value resorts to the Animal Kingdom Lodge and I paid nearly $40 one way! I opted not to use this service repeatedly as the costs can certainly add up, but they did come through in a pinch! Minnie Van service is also available to and from the Orlando International Airport (MCO), for details and pricing, click here.
9. Take full advantage of luggage and grocery delivery
Disney's Magical Express Luggage Delivery
As discussed earlier, luggage delivery is included in Disney's Magical Express transportation service. This is huge if you're traveling as a single parent! You'll just need to select this free service when you book your stay at a Disney resort.
Luggage tags are mailed to you so that you can attach them to your checked bags upon departure. The tags help cast members identify and retrieve your luggage at the baggage claim, so they can be delivered to your resort. It can take a few hours for your bags to arrive at your room, so make sure to pack any immediate necessities in your carry on. There's no extra charge for this service, although tipping your bellman or hotel staff is customary.
Grocery Delivery
Garden Grocer is a 3rd party delivery service that operates in the Orlando area. I personally haven't used this service since all of our meals were pretty much covered in our dining plan. This is a great service though, if you plan on cooking and don't have precious vacation hours to spend grocery shopping. Even if it's just milk, water, cereal or other quick snacks that you need, you should look into having those items delivered. Don't waste luggage space by trying to carry them with you! Remember, you can bring snacks and drinks into the park! Do not buy bottled water in the parks if you can avoid it! It'll run you close to $5 a bottle!

10. Disney offers babysitting services!
While I've never used baby-sitting services at Disney due to cost, it's an option that might make sense for your family, especially if you want a night out alone or need help in the parks!
Kid's Night Out
Walt Disney World partners with a local 3rd party, Kids Night Out to offer in-room baby-sitting. Kid's Night Out also offers assistance in the parks, which is perfect if you're a single or solo parent at Disney. An hourly rate is charged for the service, as well as a transportation fee and an hourly surcharge after 9pm. You're also responsible for covering your sitter's admission into the parks if there isn't a sitter available who holds as annual pass. Clearly, this is a pricey service so you'll definitely want to consider your budget and comfort level with leaving your kids in the presence of a babysitter. There's more information about this service on Disney's website.
Disney Resort provided Child-Care
Other drop-off childcare services are offered directly through Disney resorts. Captain Hook's Pirate Crew is offered at Disney's Beach Club Resort, and Camp Dolphin is at the Walt Disney World Dolphin Hotel. This service is for potty-trained children aged 4-12, and requires drop off at an activity center within the resort. The programs are managed directly through Disney so your child will be in the care of a Disney cast member. Please note that both of these childcare centers are only available during evening hours and both charge an hourly rate.
Final Thoughts
So there's my Ultimate Guide to Conquering Disney for you single parent travelers! There are tons of services available within Disney to help you manage your trip, so be sure to utilize them! If you're traveling with another adult, lucky you! Take all the help you can get! I bet you'll still find these tips useful!
For those of you traveling alone, ignore the crazy stares, comments and weird looks! You can let everyone know you got this! As one last tip, please remember that this post is just a guide! You should always factor in your family size and comfort level before doing Disney as a single parent!
If you've done Disney as a single or solo parent and have any tips to share, please leave a comment below! I'd love to know how your trip went, what worked for your family and what didn't go so smoothly!
Until next time,
C. Michele