This post may include Amazon links. As an Amazon Associate I earn from qualifying purchases.
What is Birria?! Seems to be one of the questions that I hear most these days. The first time I saw a Birria taco, I was blown away. A crispy taco, already dripping with beef, sauce and cheese and then I get to dunk it in more sauce (consomé)?! Sign me up for that. The best part about this Birria Tacos recipe is that you can use your Instant Pot or braise the beef in the oven. Obviously the oven method requires more time, but I go back and forth between ove-braising and the Instant Pot..
Before we get all crazed and excited (which we have a tendency to do on the internet), let's make one thing clear. Birria is nothing new, it certainly wasn't created by your favorite blogger, or for the internet. It's actually a traditional Mexican stew that's been around for centuries. You can read more about its origins here.
Birria is traditionally made with goat meat, but beef is commonly used. I'm actually no stranger to goat meat, I grew up eating it in my culture, and I know where to buy it. I'm just more accustomed to cooking with beef, so that's why I chose it for this recipe. Depending on where you live, you may be able to get goat meat at your butcher or meat market. Goat meat and beef are prepared the same way.
What you'll need to make this version of Birria tacos:
Time! There are a lot of steps in this recipe! The entire process of making Birria Tacos can take a good 6 hours if you're oven braising, and about 3 hours from start to finish, if you're using the Instant Pot. These timeframes include a very short marinating period. My recommendation is to marinate the meat overnight.
Beef– I normally use a 3-pound bottom round roast. You can use other cuts though like chuck, and stew meat. I prefer to keep the entire roast in tact up until after I sear it. At that point, I'll slice the roast into 3 or 4 large pieces. I find it easier to fish out larger vs. smaller chunks when it comes time to shred. You can do whatever is easier or makes the most sense to you though.
Dried Guajillo and Pasilla chiles. Chiles give the dish its spicy and smoky flavor. My recipe is a pretty mild version of Birria, so if you'd like more spiciness, feel free to use canned chiles in adobo in addition to the Guajillo and Pasilla chiles. Keep in mind that the canned chiles in adobo will definitely kick up the intensity of this dish. For the sake of my kids, I skip them.
Aromatics- this is your quartered onion and crushed garlic. Free to add or substitute whole cloves of garlic. I like to use crushed garlic to season meat with, but a few cloves of fresh garlic can be added to the stew if you want.
Tomatoes- Anything similar to a Roma or plum tomato will work.
Herbs and spices: whole cloves, cinnamon, chipotle powder, cumin, Mexican oregano, smoked paprika, bay leaves, salt and pepper.
Apple cider vinegar, lime juice, olive oil and beef broth
Sugar– just a ½ teaspoon to balance the flavor of the chiles
For the tacos: pickled onions, shredded Monterey Jack cheese (I can never find Oaxaca), fresh cilantro, a sprinkle of grated Cotija cheese and of course, corn torillas.
Instant Pot or Dutch oven: the process of making Birria Tacos is a long one and an Instant Pot will cut down on a lot of time. On days when I have time, I still like to braise the meat in the oven. Oven braised meat yields a slightly thicker consomé.
Step 1: Season your meat
The first thing you want to do is to rub or brush your meat with salt, pepper, chipotle powder, smoked paprika, crushed garlic and a small amount of olive oil. Add bay leaves to the bowl and let the meat marinate overnight if you can. If you don't have this much time, I recommend 1-2 hours, minimum.
Step 2: Sear it and slice
Anytime you cook meat, you should always begin with a good sear on all sides. I use a cast iron skillet over medium-high heat to achieve a nice char on the beef. You can also use the saute function on the Instant Pot, just set it to high.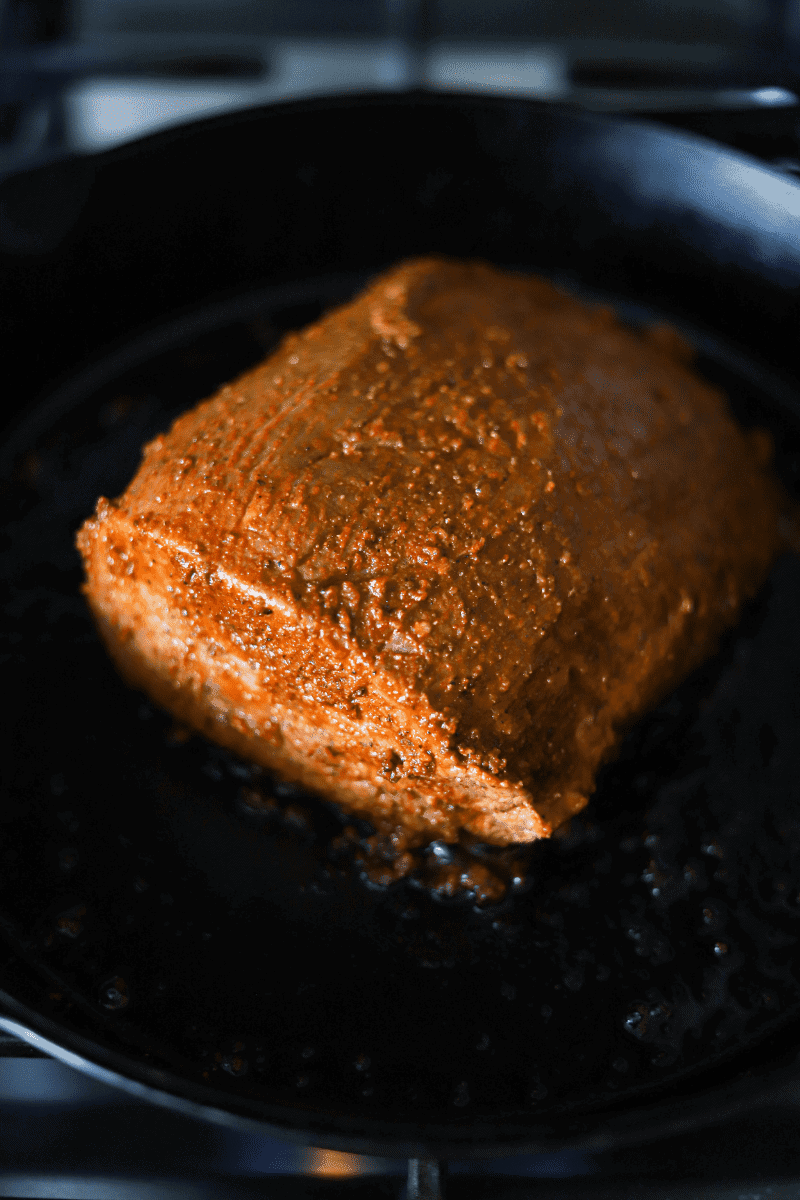 Don't rush the searing process! I leave the entire roast in tact so that the beef doesn't release much liquid. This is key to a good sear. The meat will release itself from the pan when it's ready to be flipped. The best sear also requires patience!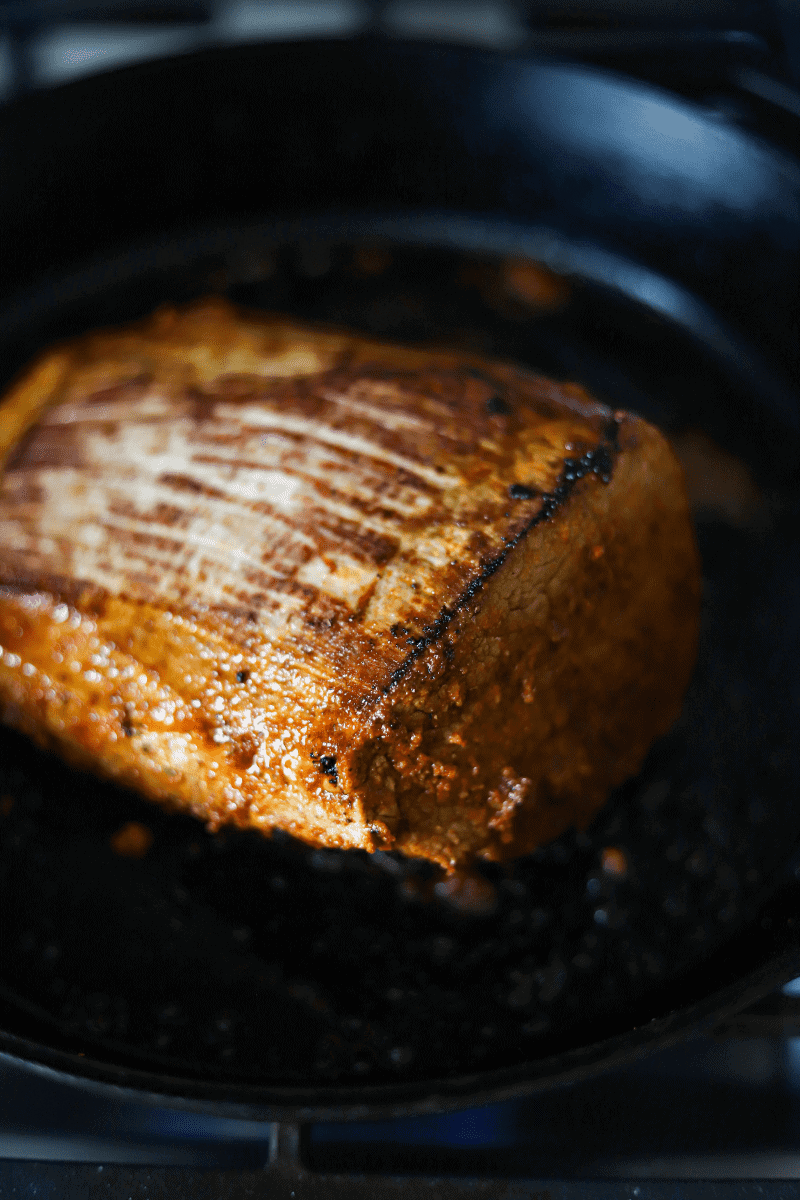 Once the beef is slightly charred on all sides, remove it from the skillet (or pan) and slice it into about 4 large pieces. I do this so that I can cover the roast easily without having to add too much liquid to the pot.
Step 3: Deglaze the skillet and stew the meat onions and peppers for 1 hour
Deglaze the skillet (or Instant Pot) with a little bit of beef broth and whatever seasonings are left behind in the bowl that you used to marinate the meat. Heat the skillet over medium heat and use a metal whisk to loosen the bits left behind from the roast. Once the liquid simmers and most of the bits are released, you're good to go.
Place the roast back in the pan, and add the quartered onions, tomatoes, cinnamon stick, reserved bay leaves, and chili peppers (you'll need to remove the stems and seeds). Pour the deglaze-liquid into the pot, and add enough broth to cover the meat, onions and peppers (about 2-3 cups).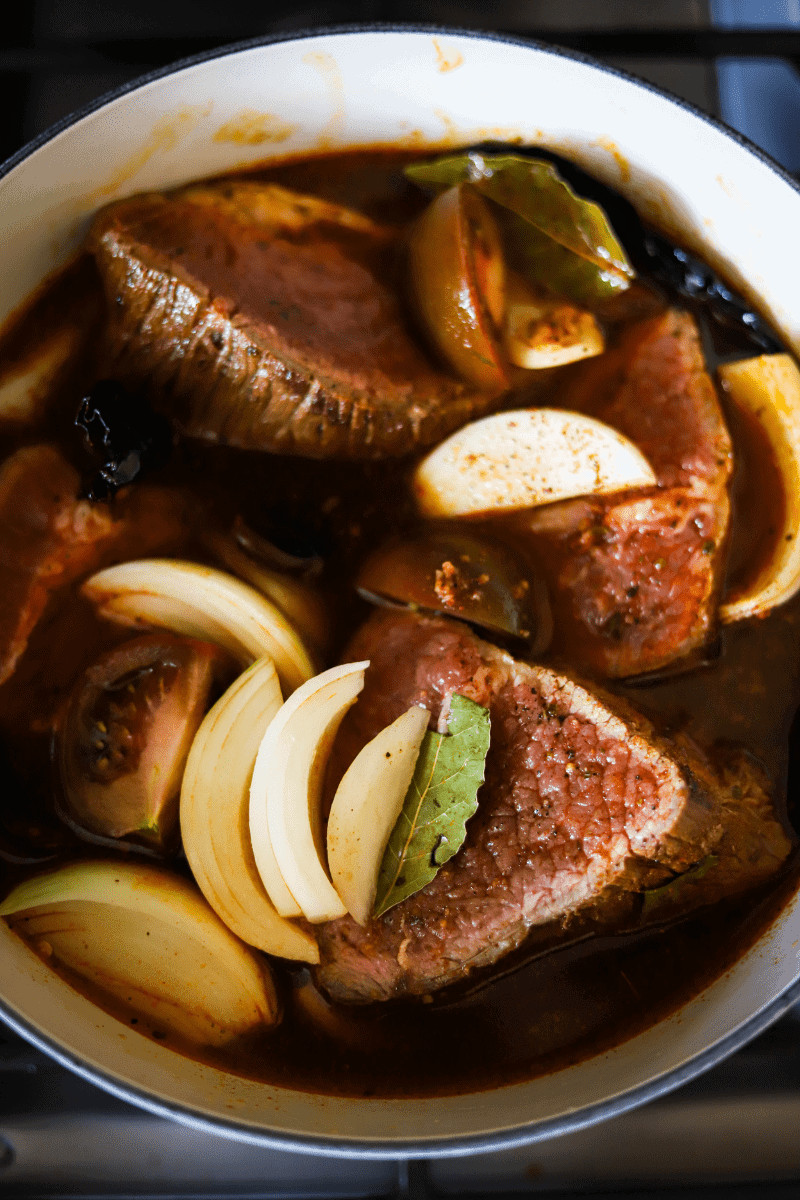 Bring the pot to a boil, lower the heat and let simmer for 1 hour. If you're using an instant pot, you can cut this time down to about 15-20 minutes on the pressure cooker setting.
Once it's done, the meat and vegetables should look like this.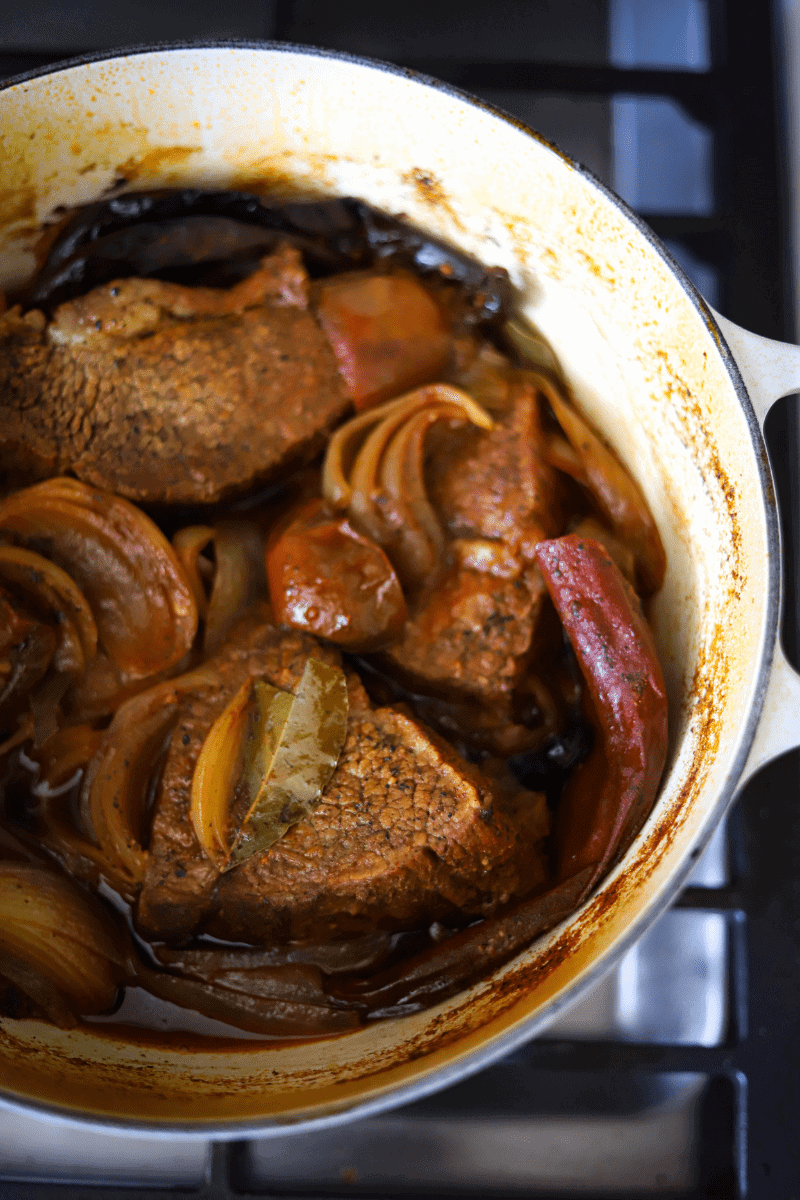 Step 4: Puree the onions and peppers
Strain the onions, peppers, and cinnamon stick. Transfer them to a blender. It may be easier to remove the meat from the pot and then it return it once you've removed everything.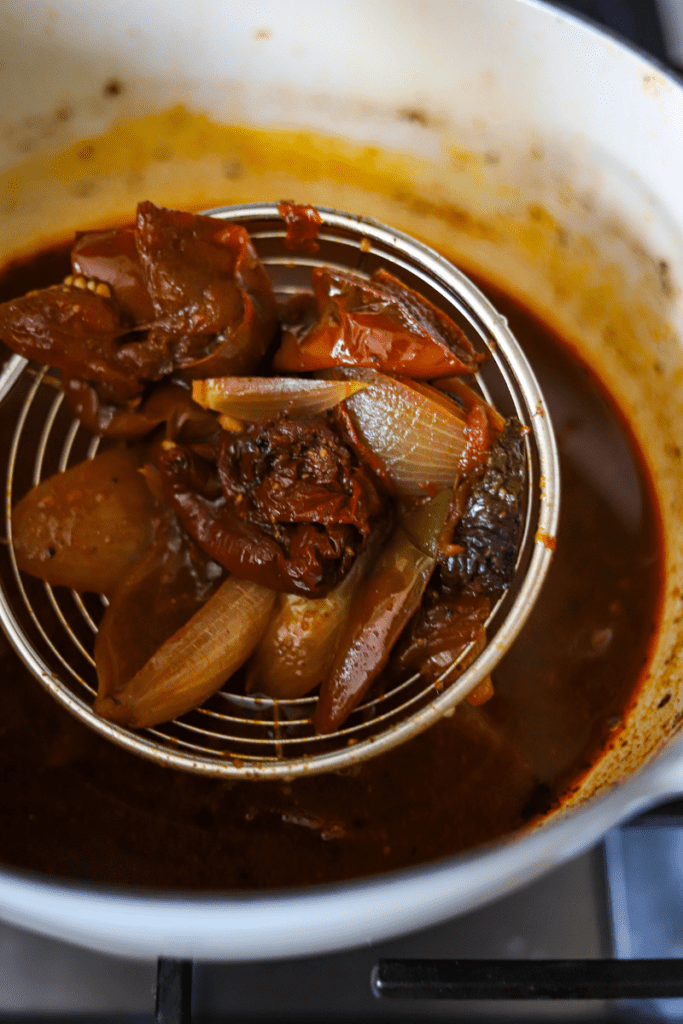 Add the cumin, cloves, sugar, vinegar, oregano, lime juice and a little cooking liquid to the blender and pulse for about a minute.
Place the meat back in the pot and strain the puree over the meat. Top the meat off with just enough broth to cover it. Taste the liquid and add more salt if needed. Braise the meat in the oven at 325°F for 1 and ½ hours, then reduce the oven temperature to 275°F and braise for another 1 and ½ to 2 hours.
If you're using an Instant Pot, you can cook it on the pressure cook setting for about 45 minutes to an hour instead of braising in the oven.
Step 5: Shred the meat
Once the meat is done braising, remove only the meat from the pan, and transfer it to a cutting board. The meat should be tender enough where all you need to do is apply a little pressure with a fork to break it apart. You can leave the consomé in the dutch oven or Instant Pot, it'll be easier to dip the tortillas in when it's time to assemble the Birria tacos.
Store the meat in a covered container until you're ready to assemble the tacos. You can toss the meat in a little of the consomé to keep it juicy and moist.
Step 6: Prepare your fixings
Prep all of the fixings before assembling the Birria tacos. This will make the process of assembling them smooth and less messy.
Slice the onions and place them in a mason jar or small bowl. Pour about a cup of boiling water, ¼ cup of apple cider vinegar and 2-3 tablespoons of vinegar over the onions and cover them. Let them seep for about 10 minutes and drain them.
Cut the fresh limes into wedges and chop your cilantro. Shred/grate your cheeses and set them aside.
Step 7: Fry the tortillas and assemble the tacos
Of all the steps in this recipe, frying the tortillas requires the most patience and practice. I struggled the first few times, but I eventually got it right. Have a few extra tortillas on hand in case you mess up.
You can use a non-stick or cast iron skillet to do this, but non-stick is a tiny bit easier to work with (in my opinion). Heat the skillet, grease it (use olive oil or cooking spray), dip the tortilla in the consomé and fry it in the skillet.
I'm usually able to fit about 2-3 tortillas at a time in a 10-inch skillet. Let the tortillas cook and monitor your flame. You want it to be high enough to fry but no so hot that you burn your tortillas. I keep my flame-dial around medium for this.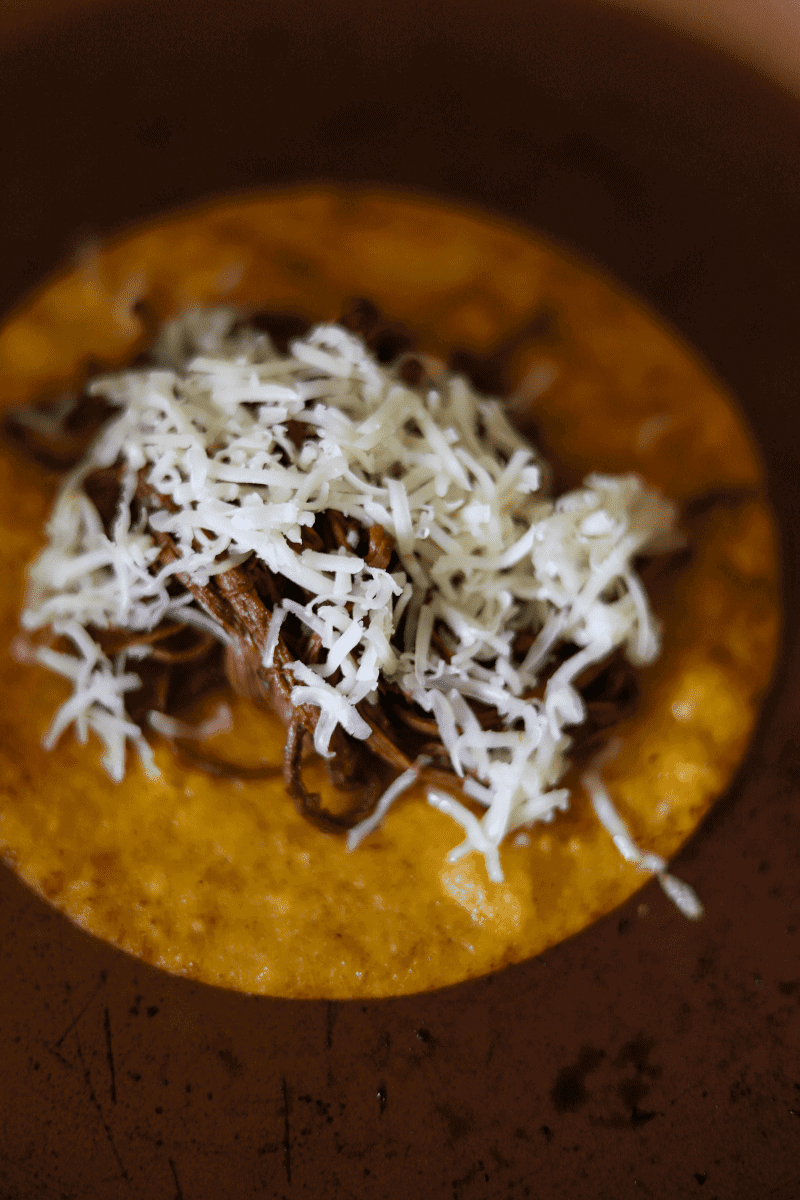 You'll notice that the tortilla will bubble up slightly and appear very soft at first. Don't attempt to flip it at this stage, they'll be too soft and will fall apart. Frustrating when this happens, but it happens. If you watch the tortillas closely, you'll notice the edges start to lift once the tortillas firm up. If you're able to get your spatula under the tortilla and lift with very little resistance then it's ready to be flipped.
Flip the tortilla over and add a handful of beef, cheese and onions. I didn't measure as I was doing this so just use your best judgment here. Don't over-stuff! Once the tortilla has crisped slightly, fold it over to create a taco and let it get crispy on both sides. They might get a little dark, but that's ok!
Step 8: Garnish and serve!
You can serve these Birria tacos as you fry them, or you can arrange them in a single layer on a large baking sheet and keep them warm in the oven until you're ready to serve them all.
Once all of the tacos are fried, assemble them on a platter and garnish with chopped cilantro, a sprinkle of Cotija cheese, a few lime wedges and a side of consomé.
Make sure to serve plenty of consomé for dipping! That's the best part!
Did you enjoy making these Birria Tacos, and which method did you use (Instant Pot or oven-braising)? I always appreciate feedback! Let me know in the comments!
Some other recipes you might enjoy:
Mexican Esquites (Shaved Street Corn)
Roasted Butternut Squash Quesadillas
Easy Morir Soñando with a Hint of Lime
Simple and Refreshing Aguas Frescas – 3 Flavors
Birria Tacos Recipe – Oven-Braised and Instant Pot Instructions
Course: Main Dishes
These delicious Birria Tacos are dipped in hearty consome, filled with beef and melted cheese, then fried to a golden crisp! Oven-braising and Instant Pot instructions included!
Ingredients
Seasoned Beef

3 lb. bottom-round beef roast (whole)

1 tablespoon of crushed garlic

2 teaspoons of salt

1 teaspoon of chipotle powder

1 teaspoon of smoked paprika

½ teaspoon of pepper

2 bay leaves

1 tablespoon of olive oil, plus 2 teaspoons for searing

juice of 1 lime

Consomé

3 dried guajillo peppers-stems and seeds removed

3 dried pasilla peppers-stems and seeds removed

2 plum tomatoes

1 yellow onion, quartered

1 cinnamon stick

1 teaspoon of cumin

½ teaspoon of oregano

½ teaspoon of sugar

4 cups of beef broth

1 tablespoon of apple cider vinegar

6-8 whole cloves

juice of 1 lime

For the tacos

12-16 corn tortillas

1-2 cups Monterey jack cheese

fresh cilantro

lime wedges for garnish

pickled onions*
Directions
Season and sear the meat
Season the beef with crushed garlic, salt, chipotle powder, smoked paprika, black pepper and 1 tablespoon of olive oil. Add the bay leaves to the bowl and cover it with plastic wrap. Let the meat marinate in the refrigerator for at least 1-2 hours (overnight is better).
Heat 2 teaspoons of olive oil in a 10-inch cast iron skillet over a medium-high flame. Sear the roast for about 3-4 minutes on each side (until the meat releases itself). Transfer the roast to a cutting board, and slice it into 3 or 4 large pieces.
Deglaze the skillet using about a cup of beef broth. Lower the heat/flame to medium-low, and use a wire whisk to loosen the bits from the bottom of the skillet. Once the bits are loosened and the liquid starts to simmer, turn the heat off.
Prepare the Birria
Add the beef, deglazed liquid, guajillo and pasilla peppers, cinnamon stick, bay leaves, onions and tomatoes to an instant pot or dutch oven. Add enough beef broth to cover everything (2-3 cups). Bring the pot to a boil, then lower the heat and let the pot simmer for 1 hour. You can use the simmer function if you're using an instant pot. If you want to speed things up, cook it on the pressure-cook setting for about 20 minutes.
Transfer the peppers, tomato, onion and cinnamon stick to a blender with about ½ cup of the cooking liquid, the vinegar, lime juice and remaining herbs and seasonings (oregano, cumin and cloves). Puree on high speed for about 30 seconds to 1 minute.
Preheat your oven to 325°F and strain the puree over the meat using a fine mesh sieve. Discard any skins, and seeds left behind in the sieve. Pour the last cup of beef broth over the roast, and cover it with a lid. Transfer the roast to the oven and braise for 1 and ½ hours. If you're using an instant pot, cook it on the pressure-cook setting for about 45 minutes to an hour.
Skip this part if you're using an Instant Pot! After 1 and ½ hours of oven-braising, check the dutch oven to make sure that there's still enough liquid in the pot. The liquid will look thick at this point. Add a little broth only if needed! Replace the lid and adjust the oven temperature to 275°F and braise the meat for another 1 and ½ to 2 hours.
Remove the beef and shred it! The beef should be tender enough that you only have to press it with a fork to shred it. Shred/break apart all of the meat and set it in a casserole dish. Toss the meat in a small amount of Birria (consomé) and cover it with plastic wrap until you're ready to use it.
Prepare the pickled onions
Slice the red onion into thin half-rounds and pile them into a small bowl or mason jar. In a small saucepan, bring 1 cup of water, ¼ cup of white vinegar and 2 tablespoons of granulated sugar to a simmer. Pour the liquid over the onions. Cover and let sit for 10-15 minutes and then drain them.
Prepare and assemble the tacos
Grease a cast iron or non-stick skillet with olive oil or cooking spray. Heat the skillet over medium heat. Dip each tortilla into the Birria (consomé) before frying (I usually fit 2-3 tacos in the skillet at a time). Let the tortillas become firm before flipping them over (the edges should start to rise and loosen from the skillet on their own).
Add the beef to the center of each flipped tortilla with your desired amount of cheese and pickled onions. Fold each tortilla over and let the tacos crisping on each side. Repeat until all the tacos are assembled (you may need to spray or grease the pan a few times).
Garnish and serve! Arrange the tacos on a platter with a bowl of consomé on the side for dipping. Garnish with cilantro and lime wedges and sprinkle with grated Cotija cheese (optional).