As much as I love the fall, I'd be lying if I said that the end of summer doesn't have me in my feelings. The good thing for me is that I'm all about eating my feelings. This classic spiced pumpkin pie with a hint of maple syrup will lift you right out of your end-of -summer funk. I promise.
One of the things I love about pumpkin pie is that you can make it as easy or as complicated as you choose. Some people opt to make their pumpkin puree from scratch. That person is not me. Tried it once and it was just way too much work and not much more reward than using canned pumpkin. Plus, finding pie pumpkins (or sugar pumpkins) isn't always easy. I do however make an all-butter pie crust from scratch. The from-scratch crust is actually way easier than finding the right kind of pumpkin.
If you're just a store-bought crust type of person (I was for years) that's perfectly fine too! No judgment. Just mix your filling, pour it into your store-bought shell and go!
Ingredients:
Canned pumpkin-yes canned. I used to think pumpkin pie recipes require fresh pumpkin. False. Most people use canned because of the texture and color. Oh and those carving pumpkins that you see everywhere? Not pie pumpkins. You have to find a special kind of pumpkin (either pie or sugar). Using a can of pumpkin is just much easier.
A mix of brown sugar and granulated sugar-this recipe calls for both.
A mix of heavy cream and whole milk-I love the texture of heavy cream in rich desserts but I find that I use all heavy cream it comes out a little too heavy. This is why I use equal parts heavy cream and milk.
Eggs are the base of all custard desserts. They are pretty much what cooks the pie and allows it to set.
Spices- cinnamon, nutmeg, ground ginger, and a pinch of pepper. Yes pepper. I can't explain why it works but it works.
Cornstarch-a thickening agent. Cornstarch is like my best friend when it comes to baking.
Maple syrup-adds a bit more sweetness but also an earthiness to this spiced maple pumpkin pie.
Salt-to balance the flavor
Pie crust- here's a link (again) to my easy, all-butter pie crust recipe. You can also use a store bought crust if you wish.
Is pumpkin pie easy to make?
Not gonna lie, custard pies in general have a reputation for not acting right. I really don't like to decide for other people whether something is easy or hard. What comes easy to someone, may be difficult for someone else, and vice versa.
Creating my own recipe from a blank slate was not easy for me. The good thing about following a recipe is that the trial and error is already done for you. To create this spiced maple pumpkin pie, you'll need to follow the recipe exactly. Exact measurements, exact temperature, exact ingredients, exact timing. I don't offer any substitution recommendations for this particular recipe because pumpkin pies are that finicky.
What's the difference between "canned pumpkin" and "pumpkin pie filling"?
There's actually a big difference. When I say canned pumpkin, I'm referring to 100% pure pumpkin with no other ingredients added. Pumpkin should be the only ingredient listed on the label. The reason I used canned is because the texture is thicker and easier to work with. Fresh pumpkin contains more water and needs to be prepped before you can use it for your filling.
"Pumpkin pie filling", on the other hand is basically pumpkin pie (minus the crust) in a can. It's pre-mixed and has all the eggs, milk, spices and sugar mixed in. This is not what you want for this recipe.
Also, I've been advised by my foodie peers to stay away from canned organic pumpkin because it contains more water, and is more yellow in color.
How do I prevent my pie from cracking?
Follow the recipe. Cracked pies are caused either from over-baking or the pie not setting properly. This pie is baked at 375°F for 55-60 minutes. Over-baking is the most common scenario. As the pie bakes, the eggs expand. If the pie bakes for too long, the eggs expand too much, and that's what causes the pie to crack. The tricky part is that the pie filling continues to cook even as the pie as cooling, so that's why it's not uncommon to see cracks develop as the pie cools.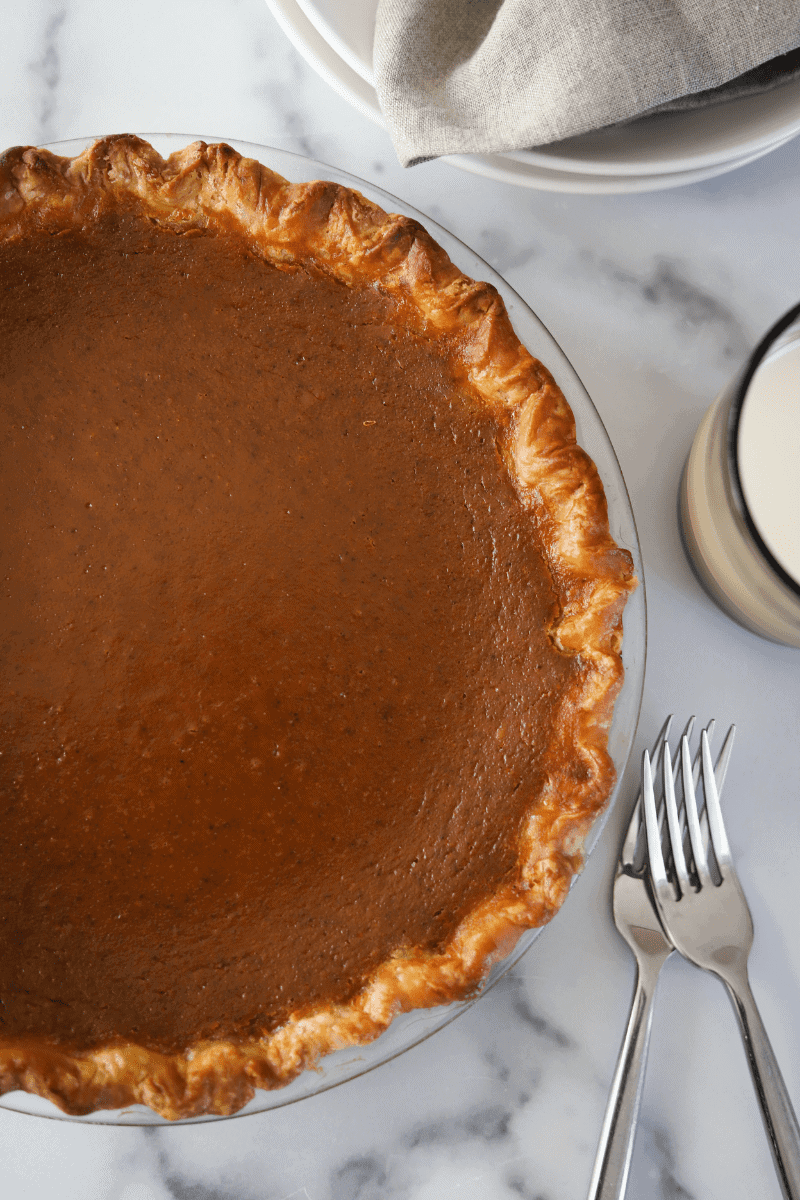 Hairline cracks don't bother me as much as crater-sized cracks do. A huge gash in your pie signals that you over-baked your pie. Please note that pumpkin pies puff up while baking. This is normal and is actually a good sign. Sometimes you'll see what appears to be a crack as the pie rises in the oven, but as the pie deflates, the crack will no longer be visible. That's what happened with the pie in photo above. No visible cracks once the pie deflated. It's very important to place your pie on a cooling rack right after it comes out of the oven so that it starts cooling right away and doesn't continue to cook.
What is blind-baking and do I need to do it?
Simply put, blind baking is when you bake a pie crust before adding the filling. Do you need to blind-bake a pumpkin pie? Different people say different things. I prefer a blind-baked pie crust for pumpkin pie, but I have successfully made this pie without blind-baking.
If you don't blind-bake, the pie crust will still be edible, it'll just have a different texture. I like to blind-bake because I find the crust be be flakier when I bake it first. I also have an easier time slicing the pie and getting it out of the pie dish when I blind-bake.
What special tools will I need?
Here's what I recommend:
9-inch glass pie plate (because it conducts heat better than metal or ceramic). You won't have enough filling for any dish larger than 9 inches.
Spouted mixing bowl– makes it easy to pour the filling into the pie crust.
Pie crust shield or foil– it'll protect your crust from burning, especially if your crust has been blind-baked.
Pastry brush– you'll need one to brush your crust with egg-wash towards the end of baking.
Setting and Serving Tips:
Allow your pie to fully set before you even think about serving it. Because I normally use an all-butter crust, I let the pie set at room temperature for a full 4 hours. Keep your pie on the counter, away from small hands. If your pie is not set properly, your pie won't be firm and it will be a mess to slice.
Letting your pie set in the refrigerator isn't a bad idea at all, but if you're using an all-butter crust, you'll need to bring the temperature of the crust back up to room temperature so that it will slice easily.
I like to keep things really simple when it comes to serving this Spiced Maple Pumpkin Pie. Homemade whipped cream is the only topping or garnish that I use. It's simple to make and the directions are in the recipe below. A dollop on each slice is all you need.
A few other tips before you get started:
Make your pie crust the night before and store it in the fridge until you're ready to use it. A chilled crust holds up best in the oven.
Do not open the oven door until it's time to remove the pie shield. If you open and close it too early it can cause your pie to collapse.
Bake your pie on the lowest rack. That will ensure that your pie crust browns properly. This is especially important if you're not blind baking.
Try not to stress if your pie has a few small cracks. It happens. I tested this recipe repeatedly to ensure that it doesn't crack but every oven bakes differently. Plus everyone interprets a recipe differently.
Store any leftover pie in the refrigerator. Try to eat it within 3-4 days.
Other recipes you'll love
Spiced Maple Pumpkin Pie Recipe
This spiced pumpkin pie is rich, delicious and has a hint of maple. Recipe includes a link to my easy, all-butter pie crust recipe.
Ingredients
Pie Filling
15

ounce

can of pumpkin

½

cup

light brown sugar

½

cup

granulated sugar

3

eggs

½

cup

whole milk

½

cup

heavy cream

1

tablespoon

cornstarch

1

tablespoon

maple syrup

1

teaspoon

vanilla extract

1

teaspoon

ground cinnamon

1

teaspoon

ground nutmeg

½

teaspoon

ground ginger

1

teaspoon

koshersalt

pinch

black pepper
Other ingredients
pie shell

homemade or store-bough

egg wash

(1 egg plus 1 tablespoon of whole milk)
Whipped cream
½

cup

heavy cream

chilled

2

tablespoons

powdered sugar

½

teaspoon

vanilla extract
Instructions
Blind-bake your pie shell (recommended):
Pre-heat your oven to 375°. Make sure that your docked* pie shell has chilled for at least 1 hour.

Place a sheet of parchment paper over your pie shell, and fill the shell to the top with dried beans or pie weights.

Bake the pie shell for 30 minutes. Remove it from the oven, let is rest for about 5 minutes then remove the pie weights and proceed with making your pie filling
Pie directions:
Keep your oven temperature to 375°F.

In a large bowl, gently beat the eggs then add the rest of the pie filing ingredients and and continue to whisk until the ingredients are smooth.

Pour the pie-filling into your pie shell. Place the pie on a baking sheet and cover the pie crust with foil or a pie shield. Bake the pie for 45 minutes. You'll notice the pie inflate slightly and it may touch your pie shield. This is ok.

At the 40 minute mark, remove the pie shield and brush the edges of the crust with egg wash. Return the pie to the oven and bake it for another 10-15 minutes.

Remove the pie from the oven and inspect the pie to make sure that it's set. The edges should be firm and the center should look slightly less cooked. The filling will continue to set as it cools.

Immediately place your pie dish on a cooling rack. Cooling the pie on a rack will ensure that it cools properly and should prevent it from cracking. Let your pie cool for a full 4 hours before serving.
Prepare the whipped cream
Pour the chilled heavy cream and vanilla extract into a mixing bowl and beat it on high speed for about 2 minutes.

Add the powdered sugar and continue to beat the cream for another 2-3 minutes (or until stiff peaks form).

Spoon a dollop of whipped cream onto each pie slice and serve.
Nutrition